Film
West Side Story
Steven Spielberg's version of the classic musical
20th Century Studios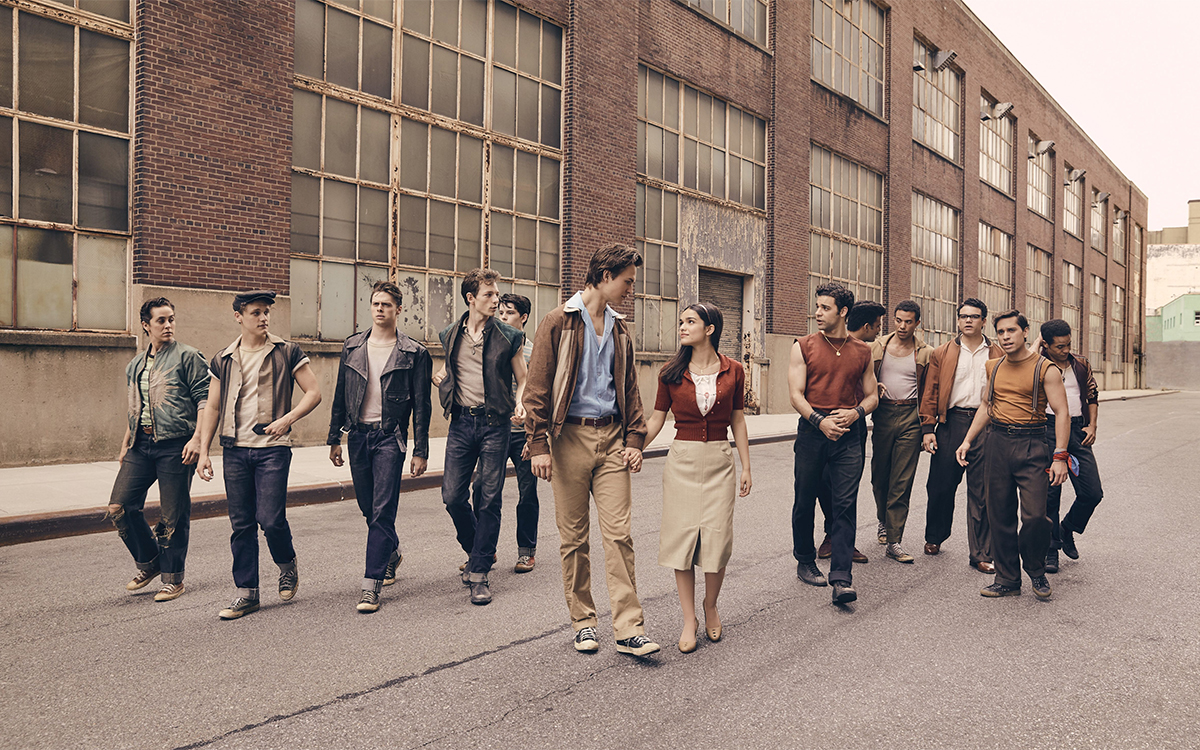 Steven Spielberg obviously relishes challenges. Tackling, at this late stage in his career, his first musical is challenge enough, but directing a remake of one of the most iconic filmed musicals since the talkies arrived might be considered a mixture of chutzpah and lunacy. Luckily, the result is, mostly, a successful mixture of hommage and re-evaluation.
From the opening moments of Spielberg's version of the classic musical by Leonard Bernstein, Jerome Robbins, Stephen Sondheim, and Arthur Laurents (first produced in 1957), Spielberg makes it clear that this will be a considerably grittier version than the much-awarded, Robert Wise-directed film of 1961. At the start of the latter, Daniel L. Fapp's camera hovers over the isle of Manhattan and then swoops down to the tenements of the west side. In contrast, Janusz Kamiński keeps his close to the ground, gliding over the rubble of those now-demolished tenements until we reach a sign announcing 'slum clearance'. Spielberg and his script writer, playwright Tony Kushner, have set the film at the moment when the original film was being shot, when the immensely powerful city planning commissioner, Robert Moses (the subject of Robert Caro's book The Power Broker, 1974), ruthlessly evicted tenants and demolished communities in order to erect that monument to culture: Lincoln Center. We are constantly reminded that the turf over which the white gang, the Jets, and their Puerto Rican rivals, the Sharks, fight and die is about to be taken away from both of them.
Where Boris Leven's design for the earlier film is stripped down, generic urban, Spielberg and his designer, Adam Stockhausen, present a New York of the period. We are shown billboards glorifying the future Lincoln Center, and Maria no longer works in a local dress shop but at the department store Gimbels. This works better in some places than others. Spielberg brings the number 'America' out into the daylight and onto a New York street. It becomes an exuberant, energetic swirl of colour and movement, but it loses Robbins's knife-edge choreography and the wonderfully delivered lyrics of the earlier version set on a roof at night.
Spielberg and Kushner bypass Ernest Lehman's screenplay and go back to the original script. The numbers 'Cool' and 'I Feel Pretty' are restored to their original positions. Spielberg and Kushner are also prepared to make their own adjustments. They develop back-stories for their main characters, some more believable than others. Following on from a 2009 bilingual stage adaptation, they have the Puerto Rican characters occasionally speaking unsubtitled Spanish. Thankfully, they ditch the excruciatingly mawkish dress shop scene between Maria and Tony in favour of a not entirely convincing excursion to the Cloisters. In a wonderful touch, as Tony sings 'Maria' as he wanders through the Puerto Rican neighbourhood, the faces of various Marias appear at windows to see who might be serenading them.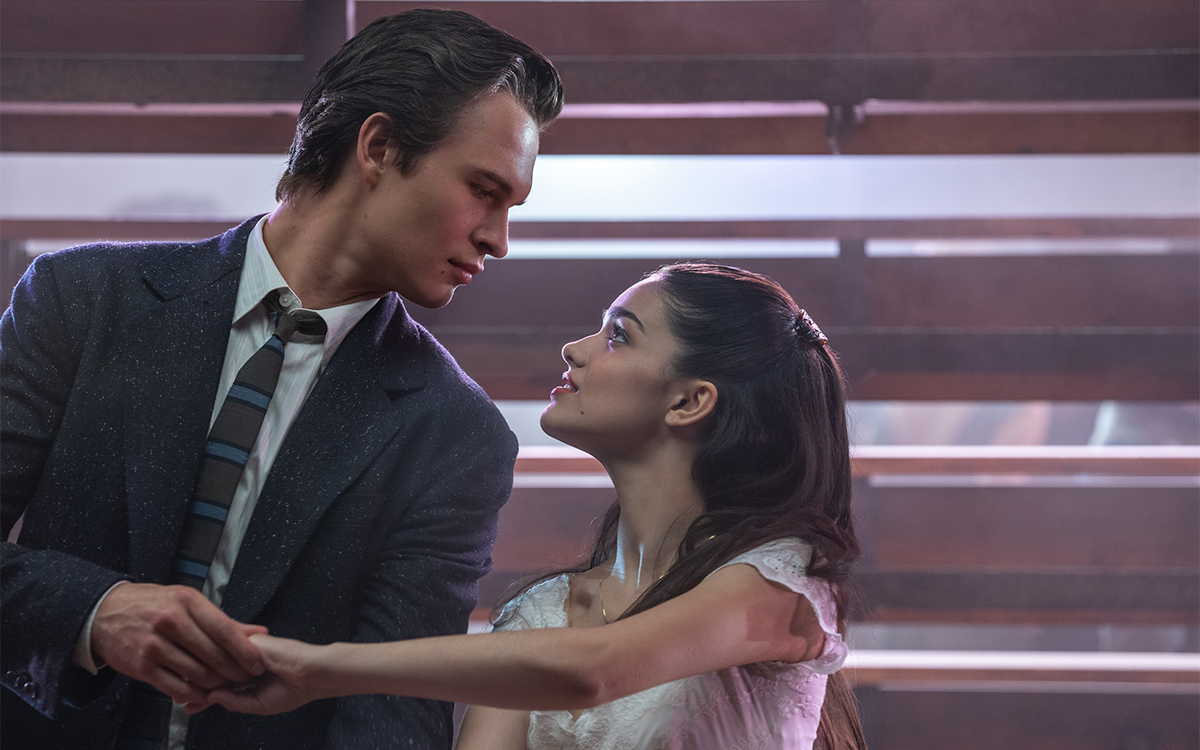 Ansel Elgort as Tony and Rachel Zegler as Maria in West Side Story (photograph by Niko Tavernise/20th Century Studios)
With one notable exception, Spielberg has fielded a strong, dynamic cast. Wise's version is let down by the inadequacies of his two leads, the wan, over-parted Natalie Wood and the terminally bland Richard Beymer. In Spielberg's version, at least one of these problems is triumphantly solved. The young Rachel Zegler (straight out of high school) makes an irresistible Maria. She manages the wide-eyed innocence of the earlier part of the film without ever becoming cloying, and she has the maturity to handle the anger and grief of the later stages. If she doesn't quite land the final speech, that is as much a problem with the work as with her performance. It was originally planned that Sondheim and Bernstein would write a song for Maria to perform at that moment, but it was never written. The later part of the work is short on numbers, and although the present ending works, in its downbeat way, this is a musical after all and a final anthemic number might have been more powerful. Zegler's pure soprano would have been more than adequate to deliver it.
A strong, healthy voice is about the only asset Ansel Elgort's Tony brings to the picture. He's not quite as dull as Beymer, but that is an extremely low bar to clear. In an effort to make Tony rough around the edges, he is supposed to have spent time in one of New York's toughest prisons, but Elgort looks as though the most challenging outing he has faced is summer camp. In the lovers' scenes together, time and again the camera pans from Zegler's yearning, adoring face to the blank mask that is Elgort's.
Maria's brother Bernado is now a boxer. David Alvarez plays him with a nicely understated masculine authority that doesn't degenerate into showy machismo. Mike Faist's Riff, the leader of the Jets, is an interesting deviation from the norm. He plays him as a lost soul whose bluster and aggression cannot entirely cover the self-hatred and despair that gnaw at him. There is a subtle but never overt feeling that the love he feels for Tony may be sexual. Faist originally auditioned for Tony; he would have been a fascinating choice.
As Anita, Ariana DeBose had the unenviable task of following Rita Moreno, but she more than claims the part as her own. Her energy and vitality lift every scene she is in. Together, she and Zegler manage to make almost believable the most difficult scene in the work, when Maria persuades Anita to help her and the man who has killed Anita's lover to escape New York.
One slight disappointment is that one hoped that in this era of gender fluidity more might have been made of the character Anybodys, the tomboy girl (written as transgender in Spielberg's remake) who wants to be part of the gang. Played here by non-binary actor Ezra Menas, Anybodys remains left in the shadows in which they spend so much of their time.
In what is both a tribute to the original film and an inspired piece of casting, Doc, the owner of the local store, has become his widow, Valentina, and is played by Rita Moreno. She becomes the moral fulcrum of the film, and Moreno plays her with enormous authority. As she sings 'Somewhere', she perfectly embodies Spielberg's veneration for the previous version of this classic work and his carefully worked adaptation.
---
West Side Story (20th Century Studios) is in cinemas 26 December.