Theatre
Death of a Salesman
Getting at the heart of Arthur Miller's outcry against inhumanity
Sydney Theatre Company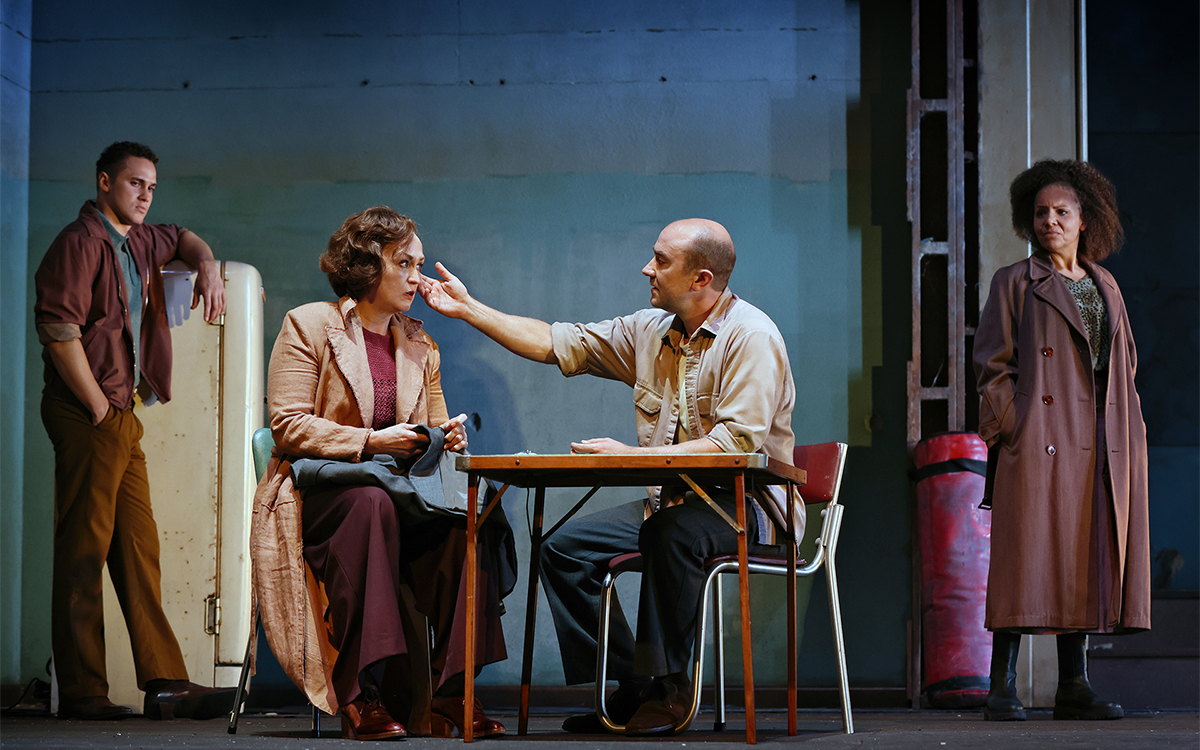 In his program notes, Kip Williams, artistic director of Sydney Theatre Company, talks about the need to 'wrestle' Arthur Miller's great play 'into the present'. But if ever there was a play that speaks, as the Quakers would say, directly to us in our condition, it is this one. When Miller wrote it, he assumed that the postwar boom would not last and that America would head back into another depression. In fact, the boom continued, and for the next thirty years the United States, albeit hesitantly, moved past the horrors of McCarthyism, Vietnam, and the brutal resistance of the south to the Civil Rights Act towards a more just and equitable society. But the election of Ronald Reagan and the last forty years of triumphant, unrestrained capitalism have led us to the Trumpian world where people are either winners or losers and are, in the gig economy, to paraphrase Willy Loman, eaten like an orange and thrown away like the peel. Miller's play is a reminder that being human, in his words, 'is something most of us fail at most of the time and a little mercy is eminently in order given the societies we live in'.
Director Paige Rattray, in her contribution to the program, sets up a series of straw men which she methodically knocks down. Death of a Salesman, first produced in 1949, has been described as many things, but I find it hard to believe that this volcanic work has been often regarded as either 'reserved' or 'tasteful'. Nor has it been much approached as naturalistic, except by the producers of the unfortunate 1951 film version, directed by László Benedek. Rattray rightly emphasises the play's timelessness and universal relevance. In the 1980s, Miller directed a production in Beijing that, in spite of the reservations of many, clearly resonated with its audience.
Rattray's approach is to present the play as a 'memento mori – a ritual that we should perform to remind us of the dangers of losing our humanity to the idea of success'. David Fleischer's set is a vast, empty space dominated by what appears to be a disintegrating proscenium arch resembling a decaying school hall. The action of the play takes place in front of this structure, while in the area behind, the stage as it were, figures congregate like a Greek chorus, observing, chanting, and, on one occasion, 'performing'. Carefully chosen furniture, combined with Teresa Negroponte's evocative costumes, situate us firmly in the era in which the play was written.
In her attempt to create a ritualistic atmosphere, Rattray uses an actor to perform the duties of a priest or shaman, who leads us in to the story by declaiming the stage directions. This turns out to be a major miscalculation. The result is either faintly ludicrous – such as when we are told that Willy moves towards the fridge, or that Biff smokes, and then we watch them do just that – but it also undercuts the actors' ability to gradually reveal their characters. At his initial entrance, Miller describes Willy's son Happy thus: 'Sexuality is like a visible colour on him, a scent that many women have discovered.' Callan Colley is an attractive actor and an excellent Happy, but no one can live up to that hype, and it caused laughter in the audience. Bafflingly, Rattray plays the most shattering scene in the play, Willy's sons' abandonment of their father in the restaurant, for comedy.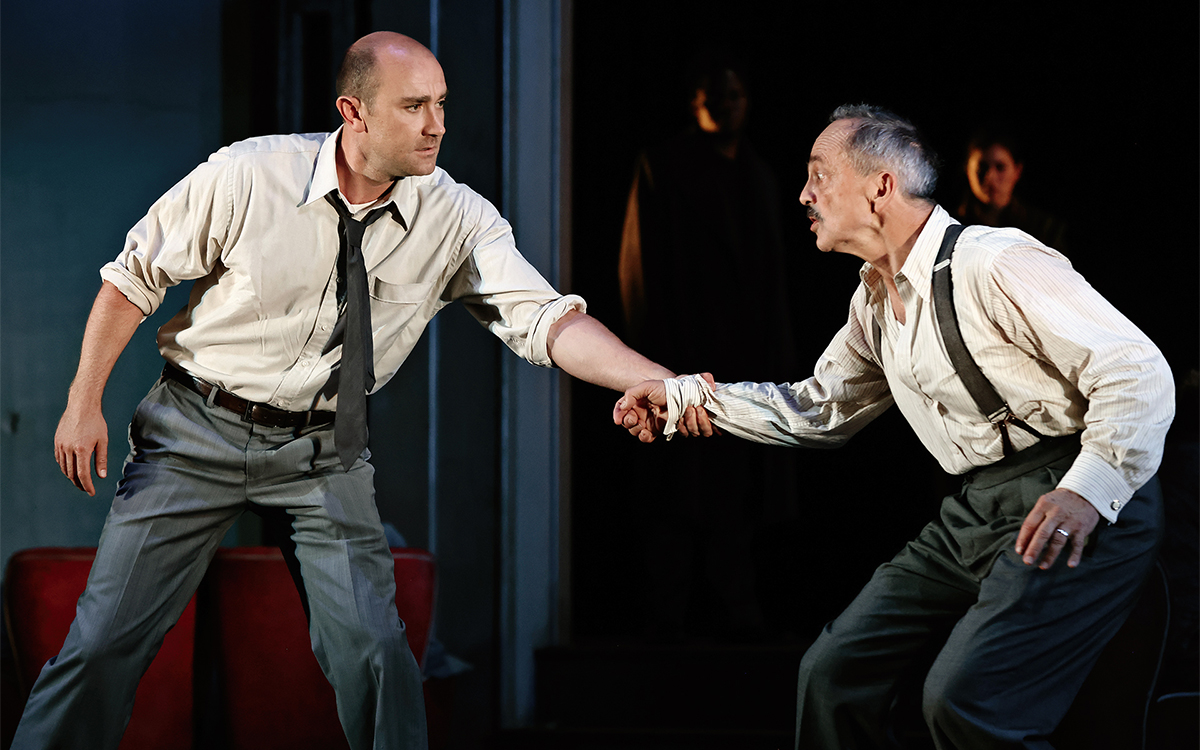 Josh McConville and Jacek Koman in Sydney Theatre Company's Death of a Salesman (photograph by Prudence Upton)
Rattray is fortunate that she has a cast of extraordinary ability who still manage to get to the heart of Death of a Salesman. Willy Loman has been played in all sizes, from Lee J. Cobb's enormous Lear-like interpretation to Warren Mitchell's small man desperately trying to keep his head above the water. Jacek Koman is more in the Mitchell mode. His early scenes are low key, but he builds through the play, and by the time he reaches his confrontations with Howard, his boss, and the great final one with his son Biff, he has the full measure of the role.
Linda (Helen Thomson) also begins quietly, and in her famous speech in the first act, 'attention must be paid' is delivered more as an appeal than as a command. But Thomson gradually shows the woman's steel, and she is ferocious as she rounds on her sons on their return from the restaurant. In the final moments of the play, as all great Lindas do, she breaks your heart.
As Biff, the golden boy gone to seed, Josh McConville balances his cynicism and his naïveté. Together, he and Koman elevate that final showdown into a theatrical moment that will stay with this viewer for a long time.
There is no weak link in the cast, but attention must be paid to Bruce Spence's humorous, humane Charlie and to Philip Quast's grandiose Ben.
Death of a Salesman is Arthur Miller's great outcry against an inhumane society. Unfortunately, that makes it a play that is universally relevant.
---
Death of a Salesman (Sydney Theatre Company) is being performed at the Roslyn Packer Theatre until 22 December 2021. Performance attended 8 December.