Theatre
As You Like It
Radiant Shakespeare from the MTC
Melbourne Theatre Company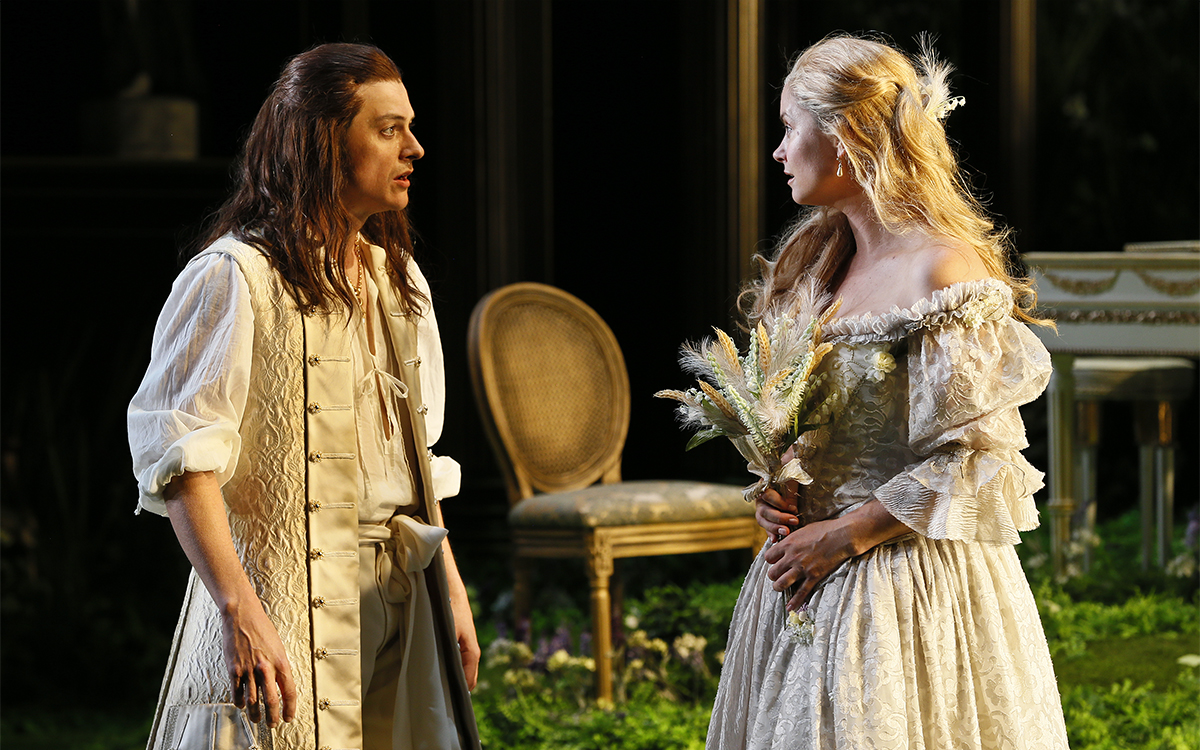 As is often the case with Shakespeare, theories and counter-theories about the provenance of As You Like It (probably 1599 or early 1600) have floated around for centuries. One such theory posits that the play is Love's Labour's Won, the 'lost' sequel – or more accurately second part of a literary diptych – to Love's Labour's Lost (1595–96) and that As You Like It is actually the play's subtitle. This would align with Shakespeare's finest comedy, Twelfth Night, which has the subtitle What You Will. Take that as you like it and make of it what you will.
Certainly, the two plays make fascinating companion pieces: one is about a coterie of smug young men who hide out in a royal park in order to avoid love, the other about a ragtag bunch of outcasts who head to the forest in order to sanctify love. One has four failed attempts at wooing and no happy ending; the other has, as Jonathan Bate puts it, 'four weddings and no funeral'.
Love's Labour's Lost is rather a hard sell these days, stuffed as it is with arcane literary allusions and abstruse word play. As You Like It has had a far happier and more profitable performance history, and it is easy to see why Melbourne Theatre Company programmed it at the end of a very dark year. There is something at the heart of the play that glows, not with pyrotechnical dramatic flair – although it has enough sparking wit to set a house on fire – but with a deep and abiding sense of communion. It is a ritualistic play, and a good performance of it feels like a spiritual offering.
Director Simon Phillips, who triumphed in 2018 with MTC's Twelfth Night, resurrects many of the elements that made that production such a success. There is the baroque setting, with its intricately detailed costumes (this time designed by Alicia Clements, replacing Gabriela Tylesova); there is the cast, led by the gloriously winning Christie Whelan Browne, and again featuring a rambunctious Richard Piper; there is an eye-opening and highly considered set; and there is the sublime music by Kate Miller-Heidke and Keir Nuttall, endearing, soulful, and wise.
By rights, this appliqué of past glories should result in a monstrous patchwork, and yet Phillips pulls off the whole thing sublimely. As You Like It has a very delicate dramatic structure, with a forceful and grim opening act that quickly dissolves into something languorous and discursive, before gathering itself up in a burst of ceremonial joy at the end. This production strikes a confident note from the outset, and if that confidence wobbles slightly in the second half – there is a sense that later scenes have been under-rehearsed – it manages to coast through on the charm of its central performances.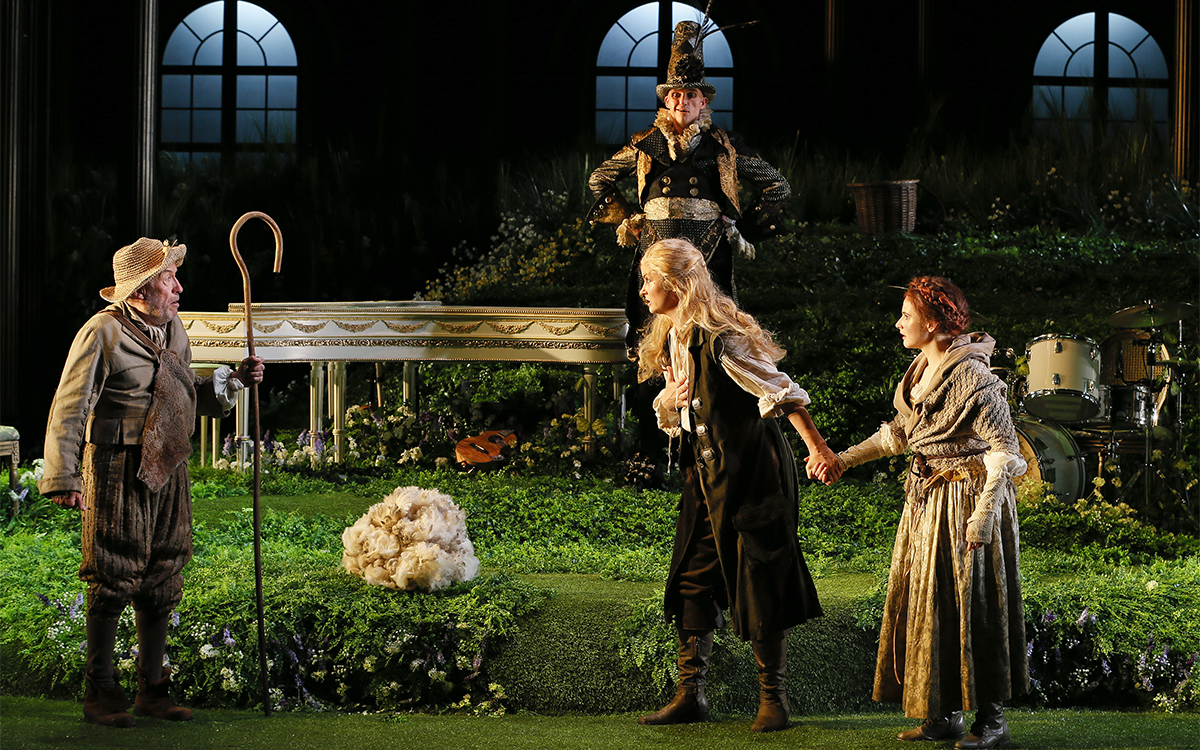 Richard Piper as Corin, Christie Whelan Browne as Rosalind, Daniel Frederiksen as Touchstone, and Georgia Flood as Cecila in As You Like It (photograph by Jeff Busby)
James Mackay brings a breezy sense of goodwill to Orlando, and Daniel Frederiksen is a raucous Touchstone; Georgia Flood is a terrific Celia, compact and generous; Laurence Boxhall and Natalie Abbott are a suitably ditzy pair of lovers as Silvius and Phebe. Tim Walter relishes the part of the melancholy Jaques, his 'All the world's a stage' soliloquy stopping the play in its tracks. Jaques is Rosalind's necessary foil – his considered detachment strikes the key note of ambivalence that offsets all the merriment – and Walter invests the role with a grand nobility. Harold Bloom called Jaques 'merely rancid' but Walter shows that this avowed outsider is more than 'a fool or a cipher', as Orlando would have it. He is the play's true touchstone, the flint that sparks the joy.
Whelan Browne's Rosalind represents the bulk of that joy. One of Shakespeare's finest, most supple creations, Rosalind seems to soar above the play she inhabits, wise beyond measure and yet happily drowning in the very love she manifests around her. Phillips has deliberately muted the gender politics in the play, so Whelan Browne underplays the comedy that can come from the character's extended foray into transvestism and role-play. This doesn't dull the sexual frisson between her and the various lovers, but it does simplify it somewhat; the overall effect is to emphasise Rosalind's abiding generosity of spirit, less a subversive transgressor than a glorious cup-bearer of love. Whelan Browne is a total delight and will only improve as the season progresses.
In some ways, Phillips's production can be seen as a deliberate turning away from those elements of the play that might truly upend the status quo – contemporary audiences are surely ready to see a non-binary actor, for example, play Rosalind (and Orlando, for that matter) – and it cuts some of the truly rancid musings of Touchstone, the mythical Hymen's consecration of the nuptials, as well as Rosalind's divine epilogue that separates the men and women of the audience. This is where the set, designed by Alicia Clements and beguilingly lit by Nick Schlieper, with its verdure growing abundantly within the confines of a large manor, becomes rather telling. This Arden is more a hothouse or giant terrarium, safely contained by convention and power, than a wild and untameable forest. It's a wood within walls.
In its caution and gentleness, Phillips's vision brings the play closer to the concerns of Love's Labour's Lost; you can see the outline of the earlier play as if in a mirror. The final moments – when Orlando's third brother bursts in under an illuminating white light and announces a return to order – are the resolution of the chord that is struck with the announcement of the death of the Princess's father at the end of Love's Labour's Lost. It is a great moment of restitution, a dispelling of a darkness. After a long season of theatre closures, this gorgeous and rousing production, not provocative perhaps but winning and warm, feels like a perfect bringer of light.
---
As You Like It continues at the Sumner Theatre, Southbank until 18 December 2021. Performance attended: 19 November.