Television
Nine Perfect Strangers
An exasperating, bloated game of Cluedo
Hulu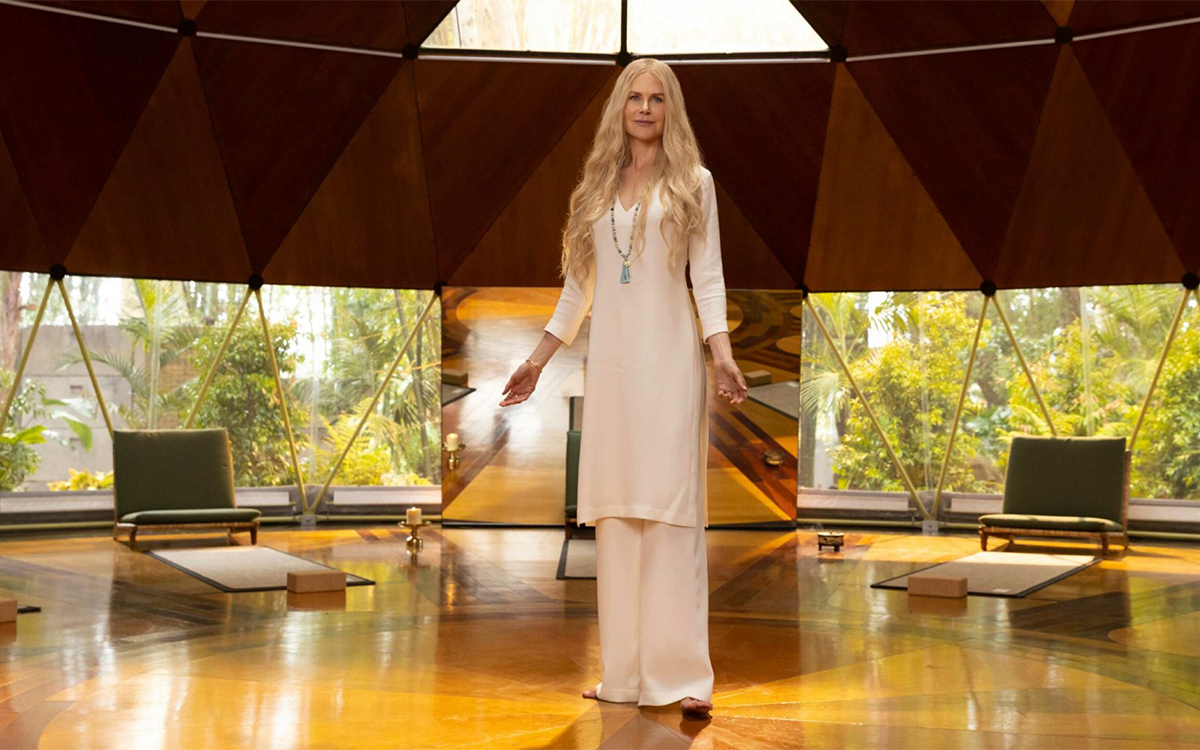 Picture this: a taut, ninety-minute thriller featuring some of Hollywood's biggest names, based on a bestseller from a literary big-hitter. A slow-burn mystery about a group of wealthy strangers, each with their own dark secrets and buried traumas, arriving at a boutique wellness spa for a ten-day retreat. Nicole Kidman starring as the enigmatic, ethereal Russian wellness guru Masha Dmitrichenko, who has specifically chosen these guests to carry out a series of risky experiments involving cutting-edge psychotherapy and mind-altering drugs. An hour and a half of rich character drama and suspense that builds to an intriguing philosophical twist. Now imagine that same story, stretched well beyond the longevity of its initial premise to a bloated eight-hour runtime, robbing it of coherent structure and narrative tension. An unwieldy hydra of tone and storytelling style. An exasperating parade of superficial soul-baring and perfunctory plot table-setting, leaving its exceptional cast treading water week in, week out. There you have Hulu's recently concluded Nine Perfect Strangers, a show that epitomises the era of Peak TV while simultaneously embodying a compelling argument against it.
With the streaming wars in full effect, companies like Hulu, Amazon, Netflix, Disney+ et al. seem to be gravitating back towards weekly release schedules for their premium content, perhaps to prevent shrewd viewers from bingeing an entire series in the space of a thirty-day trial. Or perhaps this is optimistically intended to foster the sort of positive water-cooler word of mouth that made shows like Game of Thrones and, more recently, Mare of Easttown such incomparable hits. But surely, if the first three episodes of your expensive new premium series are borderline unwatchable, won't this release strategy have the opposite effect? Nine Perfect Strangers' middle stretch of episodes does manage to summon some genuine intrigue and deploy some of its talented cast to mildly better effect – but four weeks in, was anyone still watching?
Nicole Kidman seems intent on spending the middle of her career lending her name and considerable star power to a run of always interesting if hit-and-miss premium TV projects. Big Little Lies was an incisive and scandalously fun update to the Desperate Housewives formula, while The Undoing proved a Faustian chore, a comically bad whodunit that crescendoed with Hugh Grant speeding toward the Canadian border, shouting about steamed clams. Reuniting with Big Little Lies' source material author, Liane Moriarty, and TV writer–producer–impresario David E. Kelley, Kidman's Nine Perfect Strangers sits somewhere in the middle: a show heavy on ingredients but frustratingly short on ingenuity.
Consider those ingredients: there's Kidman herself, indulging all her most admirably offbeat performance proclivities, plus Melissa McCarthy, Bobby Cannavale, Michael Shannon, Regina Hall, Asher Keddie, Luke Evans, Samara Weaving, and Manny Jacinto; there's not an uninteresting actor to be seen anywhere on screen. There's the eye-popping beauty of Byron Bay, where the series was filmed, to stand in for California. There's the novel itself, another New York Times bestseller from the queen of airport paperbacks. There's director Jonathan Levine, whose previous films 50/50, Warm Bodies, and Long Shot each displayed a quiet mastery of its respective genre. Then we have music by Marco Beltrami and Miles Hankins (A Quiet Place), cinematography by Yves Bélanger (Brooklyn, Arrival), and additional writing from John-Henry Butterworth (Edge of Tomorrow, Ford v Ferrari), Jessica Sharzer (A Simple Favour), and Samantha Strauss (The Dry). But the overall result is a mystery thriller that fails to either mystify or thrill, capturing lavish landscapes and handsome faces in a manner aesthetically pleasing but thematically disengaged – a tourism ad for New South Wales with a half-decent mystery buried in there somewhere.
The show's best moments are ultimately its two-handers; shared scenes between any combination of the impeccable cast. Shannon makes for a compellingly tragic father figure, while McCarthy continues to bring uncanny warmth and sincerity to her run of wryly comic characters. Cannavale effortlessly turns a one-note brute into a sympathetic addict, and Weaving manages to find humour and humanity in a role written as a thinly veiled swipe at Millennials and influencer culture. But while the whole ensemble is in fine form, they appear visibly exhausted at times, wringing significance from screenplays full of hollow portent, base platitudes, and cheap cliffhangers, and sorely lacking in internal logic. Characters change tack, contradict themselves, monologue endlessly, and become suicide risks whenever the meandering plot requires; others, like Masha's offsider Delilah (Tiffany Boone), are forced to play the same note of righteous worry for the entire runtime.
It would be impossible to discuss Nine Perfect Strangers without reflecting on HBO's word-of-mouth hit The White Lotus, which finished its exceptional six-episode run mere weeks before Strangers premièred. Both series are set at high-class holiday resorts – refuges for the privileged. Both hint at something unsanitary lurking beneath the thin veneers of wealth and propriety. Both have a lot to say about 'wellness', the fractious nature of modern life, and the commodification of our physical and mental health. But The White Lotus was a satire of the highest order; laden with pithy political and societal observation. It embedded us with characters festering from their own privilege, wound them up and set them off, allowing them to dig their own moral graves. Sitting in the unfortunately long shadow of The White Lotus, Nine Perfect Strangers comes up painfully short. Its class commentary runs about as deep as 'rich people have problems too', and narratively its episodes cascade and blend into one another like so many protein smoothies, another unfortunate side effect of Peak TV. Meanwhile, its thriller elements are so sporadic that they are often met with laughter, as when we find Masha sitting in her high-tech, fluoro-green bunker, spying on her guests through a network of hidden cameras – or when she receives a slew of threatening text messages reading: 'Congratulations! It's your LAST WEEK ON EARTH.'
Nine Perfect Strangers belongs to a subset of culture that deals in closure as commodity: will this help me get closure? – or worse, as a competition: how can I get the most closure? It can be infuriating for anyone who has had experience with real-world psychotherapy to watch others fawn over a show that trades meaningful resolution for magical wish fulfilment. Watching Nine Perfect Strangers, I was reminded of Lost – the people-pleasing network thriller directly responsible for the overabundance of trauma-revealing flashbacks in modern television. Other times, I thought of Wakefield, a far superior series (also shot in regional New South Wales) whose creative flourishes never distract from its characters' struggles. Mostly, though, I was reminded of the board game Cluedo, in which a group of wealthy caricatures are summoned to a beautiful location to take part in a slowly unravelling whodunit; pieces move tediously around a well-designed board and hours pass until the initial hook of the game buckles beneath the two-dimensional experience of playing it. As with so many entries in the canon of Peak TV, Nine Perfect Strangers is a passable but forgettable distraction. Even with its bevy of talent and big ideas, it remains the televisual equivalent of a juice cleanse; overhyped and under-nourishing.