Film
Pig
Nicolas Cage navigates a complex and troubled individual
Madman Entertainment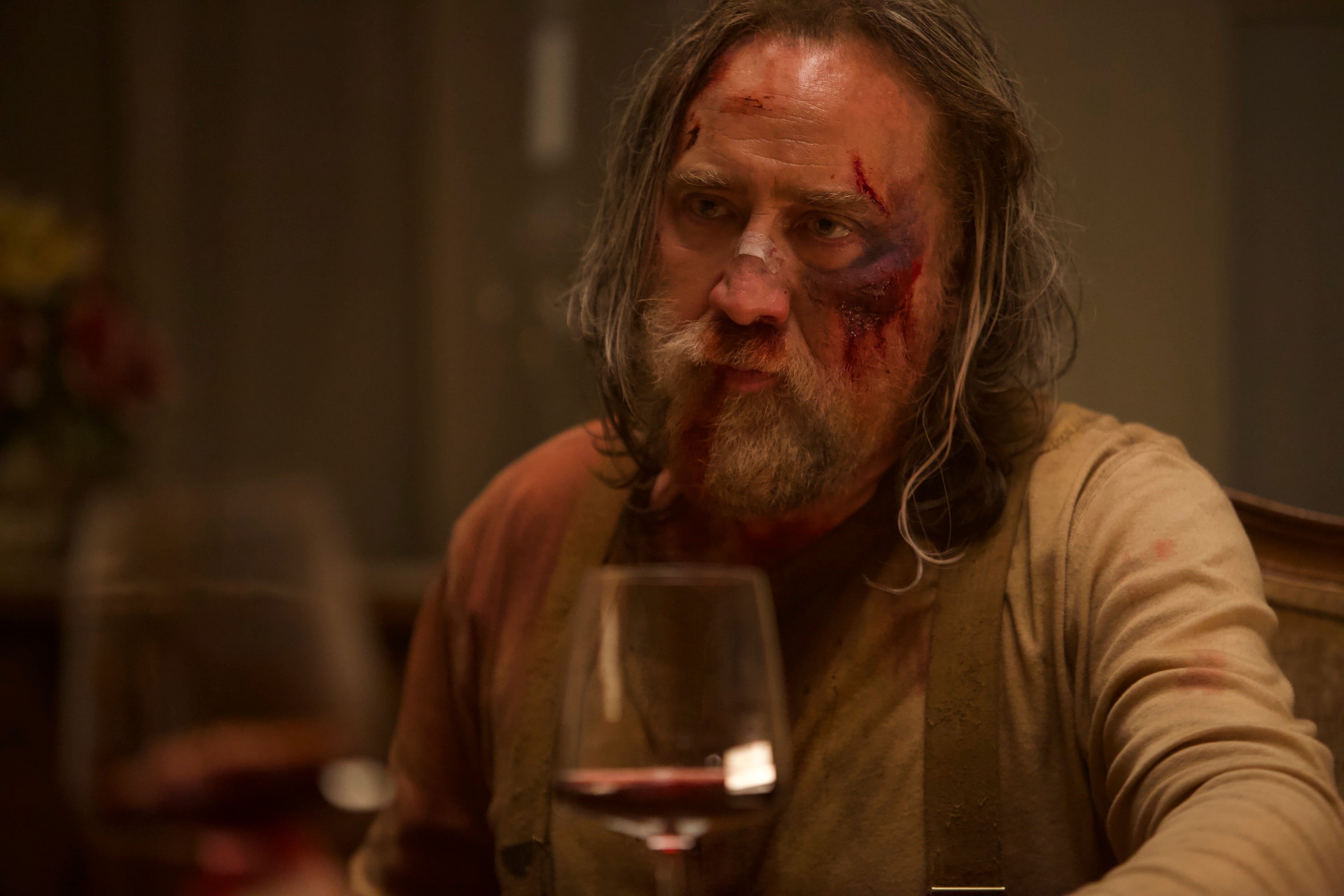 Truffle hunters and the pigs they bond with might be unlikely subjects for a film, yet in 2021 cinema goers have been treated to two films centring on such characters. Earlier this year, the documentary The Truffle Hunters (2020) offered a whimsical tribute to the humble foragers of northern Italy. Now Michael Sarnoski's Pig presents a darker but no less playful portrayal of a fictionalised hunter.
The central character in Pig is Robin Feld (Nicolas Cage), who has gone off the grid and now lives in a cabin in the Oregon woods. It's a modest dwelling that he shares with his truffle pig. The pig is both a source of income and a much-loved pet. Simply addressed as 'girl', the pig is Robin's constant companion; he is clearly affectionate towards her.
Robin's only contact with any form of civilisation occurs once a week when a brash young businessman, Amir (Alex Wolff), arrives in a sports car and collects Robin's latest batch of precious truffles. Amir's casual coarseness and general dismissiveness of the pig feel like a rude interruption to the peaceful, bucolic life we have enjoyed up to this point. Robin's pointed lack of social interaction with Amir tells us that this commercial transaction is born out of necessity and one he barely tolerates.
Robin's simple existence is thrown into turmoil during a late-night burglary in which he is assaulted and his pig stolen. With no one else to turn to, he summons Amir to drive him around in search of the men who stole his pig, a desperate errand that eventually leads to Amir's reluctantly driving Robin into Portland.
Despite their weekly business arrangement, Amir has no idea who Robin is. Along with the audience, he is about to learn in tantalising increments about Robin's past, and how his reputation has taken on mythical proportions since his disappearance from Portland. We are left to speculate as to what could have happened to make him turn his back on the world.
Cage's own reputation has become legendary in recent years, thanks to his lead roles in a string of increasingly violent, vengeance-themed films, such as Mandy (2018) and Colour Out of Space (2019). Fans of the actor eagerly anticipate his next wild and eccentric performance. Certainly, his turn in Pig has all the hallmarks to add to that reputation. The sight of his dishevelled and unwashed countenance in the earlier scenes signals that we are in for a full-bodied performance. It's an appearance that becomes more arresting as the film progresses, with his face becoming more caked in blood and punctuated with more bruises and lacerations with every act of violence he endures.
There is much more to Pig, however, than another full-throttled spectacle from Cage. The film hits its stride in an extended scene in a high-end restaurant where a celebrity chef comes to the table where Robin is dining. It's here that we gain our first real understanding of Robin's past. Since he has been instructed by Amir to restrain his emotions, we witness a more nuanced and understated side to him. The scene speaks to personal values and self-fulfilment; there is a stillness and tenderness to Cage that is spellbinding.
From this point on, we begin to feel the weight of Robin's experience and gain an understanding of the choices he has made. The material allows Cage to invest in one of his most substantial character creations to date, not because he gets to click into that manic-eyed shtick that his fans love so much, but because he has the opportunity to navigate the depths of a complex and troubled individual.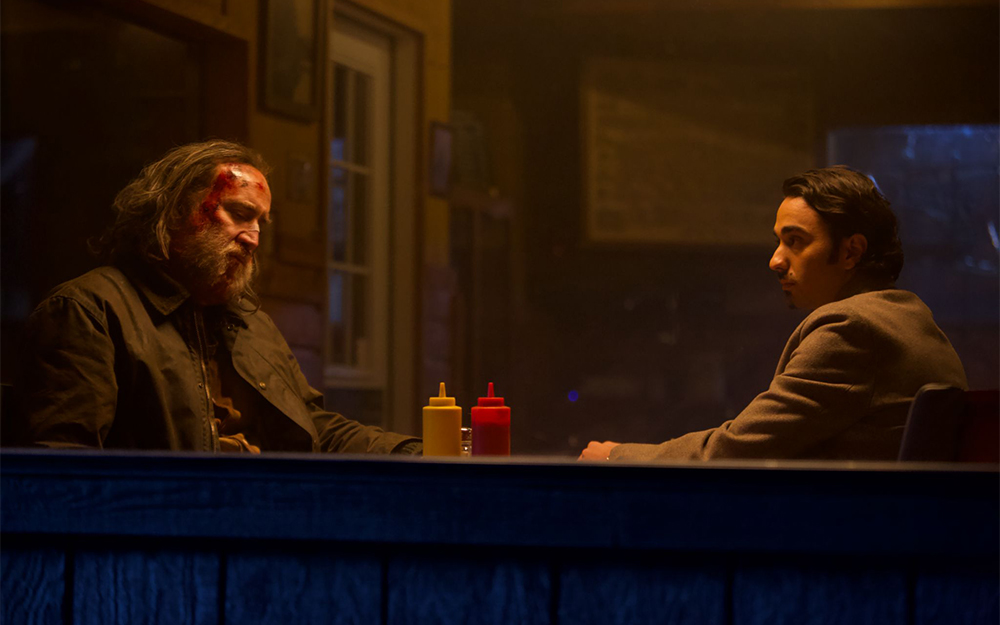 Nicolas Cage as Robin Feld and Alex Wolff as Amir in Pig (Madman Entertainment)
In a considerable acting achievement, Wolff proves more than a match as the circumspect chauffeur accompanying Robin in pursuit of his prized pig. Wolff has already impressed with remarkable supporting turns in Hereditary (2018) and Bad Education (2019) and gamely acquitted himself in M. Night Shyamalan's highly problematic Old (2021). He has also established himself as a strong leading man in his own, writing and directing a début feature, The Cat and the Moon (2019). His classical music-loving Amir starts off being all show and no substance, but slowly his humility and humanity come to the surface. He is far from being a cypher through whom we observe events, and his character's journey is every bit as satisfying to witness as Robin's.
The narrative is interspersed by chapter headings, an increasingly overused device in cinema in recent years, and while this menu theme is in keeping with the story, it's a superfluous touch. A more distracting misstep is the sloppy camerawork during intimate scenes. The concept that a hand-held camera garners verisimilitude is a popular one with contemporary filmmakers, but when the result is poor framing and restless camera movements during moments that require stillness, it has the adverse effect of taking the viewer out of the film.
These criticisms aside, this is an assured début from writer–director Sarnoski. His screenplay is beautifully structured, and with his accomplished cast he has created fascinating and compromised characters.
The promise of Nicolas Cage fireworks will draw in fans, but what impresses are the smouldering ashes. There are trappings here of a comedy-tinged revenge thriller, but ultimately this is a sombre examination of damaged men and their inability to negotiate and express grief.
---
Pig (Madman Entertainment) 91 minutes, directed by Michael Sarnoski. In cinemas 16 September 2021.