Television
Mare of Easttown
How the series dulls the spectacle of disclosure
HBO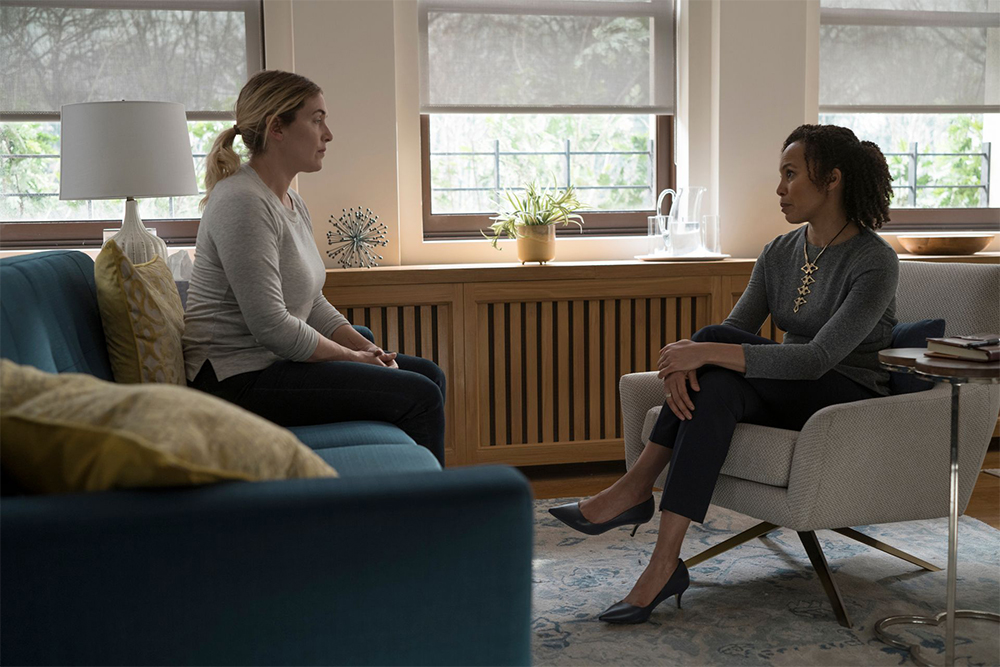 While watching HBO's newest whodunnit series, Mare of Easttown, I was reminded of another crime-fiction drama, The Sopranos (1999–2007). When Marianne 'Mare' Sheehan (Kate Winslet) arrives early for a court-ordered therapy session in the series' fourth episode, I thought of Tony Soprano sitting down for the first of many similar appointments with his therapist, Dr Melfi. Reclining in a chair, Tony offered a lesson in obfuscation. While we knew he was lying when he told Dr Melfi that he worked as a 'Waste Management Consultant', there were still tantalising secrets which he withheld from us – secrets which we hoped to uncover as the series continued.
In Mare's first therapy session, director Craig Zobel substitutes for the clinical mise en scène of Dr Melfi's New Jersey office a brightly lit room, furnished with cushions and plants, brimming with the urban ambience of Easttown's morning traffic. Likewise, writer Brad Ingelsby replaces Tony Soprano's mysterious aloofness with dialogue that favours an honest and calm transparency. Unlike Tony, Mare does not value the keeping of secrets: she does not hide the fact that her son committed suicide two years earlier, or that her marriage broke down as a result. She seems wholly opposed to overstating the tragedy of these experiences by treating them as secrets needing to be withheld, no matter how severe. What she conceals, instead, is how these events have affected her. Mare of Easttown hinges on this approach to concealment. Characters in the show have secrets, but Ingelsby is interested in dulling the spectacle of exposing them. For a show that is ostensibly a whodunnit, such an approach has interesting repercussions for the genre's characteristic investment in mystery and secret-keeping.
In many ways, Mare of Easttown resembles HBO's other recent successes, True Detective (2014–), Sharp Objects (2018), and Big Little Lies (2017–19). Winslet's Mare is a small-town detective investigating the murder of teenage mother, Erin McMenamin. Like the town of Wind Gap in Sharp Objects, or Vermilion Parish in True Detective, Easttown gives a sombre first impression. Stationary shots of tightly packed houses, empty streets lined in sleet, and a freezing river introduce us to a blue-collar town nestled in Delaware County ('Delco' to its residents). It is easy to view these frigid exteriors and Gothic scenes (beautifully captured by cinematographer Ben Richardson) as the perfect setting for any number of macabre mysteries. Certainly, these unplumbed depths exist. But Easttown is a hard place to keep a secret.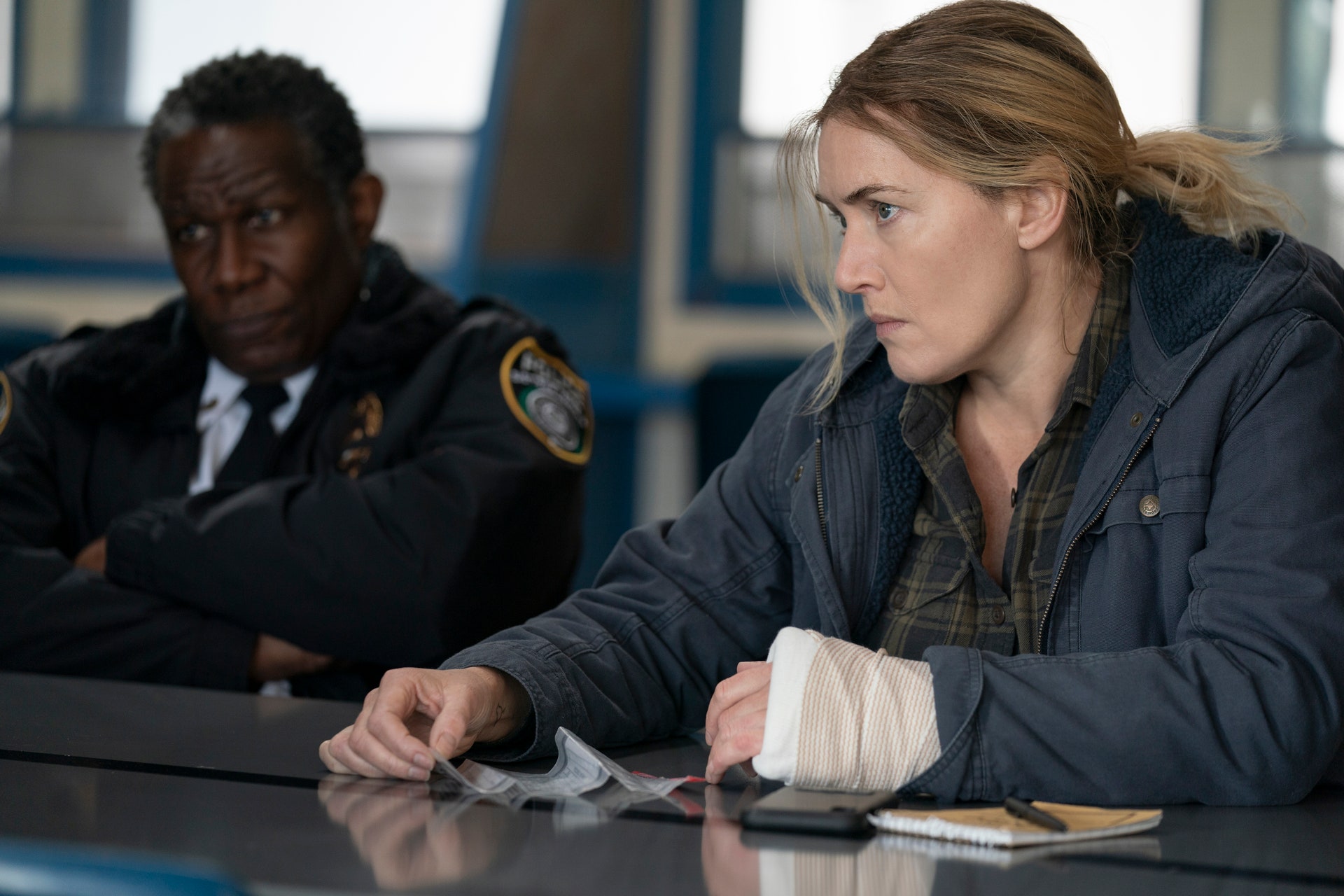 John Douglas Thompson Chief Carter and Kate Winslet as Detective Mare Sheehan in Mare of Easttown (HBO)
Less than two minutes into the series, a scream sounds from a closed window. Soon after, Mare is in the cluttered home of Easttown resident, Mrs. Carroll (a delightful Phyllis Somerville), fielding questions about a mysterious prowler seen stalking her back garden that morning. The two characters wander through Mrs Carroll's home while she tells Mare of the ferret-looking intruder, her cat-loving sister, and an article in the Tribune she simply must read. Their interaction is wryly humorous, and the camera stays tight on their faces in a way that betrays warmth and intimacy, despite the freezing Pennsylvanian weather. Like many scenes in Mare of Easttown, this opening shows us a community leader bearing, with thinly veiled impatience but durable empathy, the responsibilities that come with caring for the people of Easttown – all the while drawing deeply from her vape. While we do not forget about the mysterious prowler or that piercing scream, the scene's casual mood and Mrs. Carroll's comic garrulity dampen any sense of foreboding we might have had. From all sides, the scene understates (perhaps even undercuts) its mysteries and our impulse to solve them. It reveals what the series prioritises instead – its characters.
Like Mrs Carroll, many characters favour a brand of comical volubility that makes it difficult to imagine them hiding anything from anyone. They will say what they think, what they did, and why it matters – should you ask them. Ingelsby's dialogue does not favour sub-text. His characters are not laden with an ambiguity that we must resolve or crack. While talkativeness is often used to diffuse a sense of mystery (as with Mrs Carroll), characters who are less extroverted maintain an understatedly frank demeanour that serves the same purpose.
When Mare's mother, Helen Fahey (Jean Smart), tearfully admits to mistreating Mare as a child, she does so in the middle of a busy chain restaurant with minimal underscoring to counter the chaotic ambience of the surrounding dinner rush. Likewise, when Detective Colin Zabel (Evan Peters) admits to lying about having solved a previous investigation, a close-up loads the revelation with pathos. Tension in the series rarely comes from the discovery of a secret, but from reckoning with the cost of keeping it.
'I hope what [viewers] take away at the end of the show isn't the mystery,' Ingelsby remarked in a recent interview with Indie Wire's Ben Travers. 'I hope what they leave with is that they got to spend time with [Mare] and her family.' To an extent, Mare's family includes the wider community of Easttown. Key to the success of Winslet's stand-out performance, Jean Smart's wry turn as Fahey, and Jean Nicholson's affecting portrayal of Mare's friend Lori Ross, is the way in which each is treated as part of a collective. These stars do not steal the spotlight; they sit within an equally strong ensemble cast to deepen our sense of and connection to the community as a whole.
'Don't expect any big hallelujah moment,' Mare warns her therapist two minutes into her first session. Facing the camera in a tight frame, she might as well have been offering us the same warning. Discovering the tragedies in Mare's past was never the point of these sessions. Likewise, when we finally learn the identity of the murderer, it is not the revelation that matters but rather its repercussions for Easttown. We end the series, once again, with this community – reeling in the wake of the revelation, all the while resenting the fact that the mystery was solved at all.
---
Mare of Easttown is created and written by Brad Ingelsby and directed by Craig Zobel. It is currently screening on Binge.