Art
French Impressionism from the Museum of Fine Arts, Boston
A remarkable exhibition featuring Monet, Renoir, and more
National Gallery of Victoria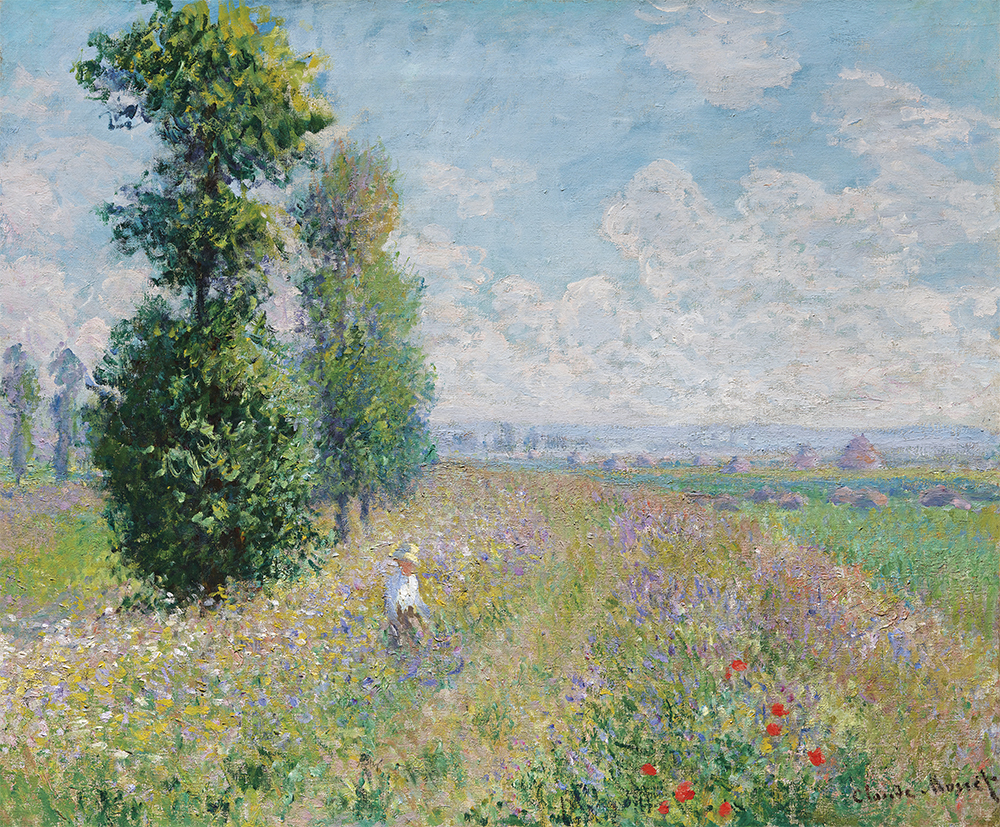 Given that the NGV has postponed Melbourne Winter Masterpieces 2020: Pierre Bonnard until 2023 due to the pandemic, and that international borders will remain closed for the foreseeable future, it is a relief that this major exhibition has gone ahead, notwithstanding a month-long delay because of the latest lockdown. We are indeed fortunate to see Impressionist works from a renowned international museum like Boston's Museum of Fine Arts. French Impressionism, an exhibition of more than one hundred works, features Monet, Renoir, Pissarro, Cassatt, Sisley, Morisot, and Caillebotte. It includes seventy-nine works never before shown in Australia.
The exhibition follows the development of Impressionism as a movement and highlights some of its key moments. It is presented thematically over ten spaces, some artfully divided by stylised and darkened corridors, beginning with early works by Monet and his predecessors in the Barbizon school, with a focus on Eugène Boudin, an important influence on Monet. It then moves through the growth of Impressionism, showcasing some of the major painters and their subject matter, including en plein air landscapes, still lifes, interiors, and scenes of domestic, rural, and urban life. These main themes are accentuated by focused sections that detail the practices and evolution of certain painters such as Renoir and Pissarro. The exhibition concludes with sixteen paintings by Monet, arranged in the manner of the oval gallery at the Musée de l'Orangerie in Paris. Aside from more well-known paintings, there are some fine works that are seldom seen, even in reproduction. The surprise discovery for many might be Boudin, a key exemplar for the Impressionists, who introduced the young Monet to en plein air painting. Baudelaire was the first to note the magic of Boudin's water and sky. Three magnificent seascapes grouped together demonstrate this, capturing the changeable skies of the Normandy coast.
French Impressionism is never a hard sell for galleries, yet the question remains for curators how to present these works, among the most recognisable in the history of art, in a new light. The NGV has managed to do so by situating some of the major examples of Impressionism in their historical and aesthetic context. Indeed, the triumph of this exhibition is its curation, which allows these paintings to emerge as though for the first time through a clever staging of the history of the transition to, and to a lesser extent from, Impressionism.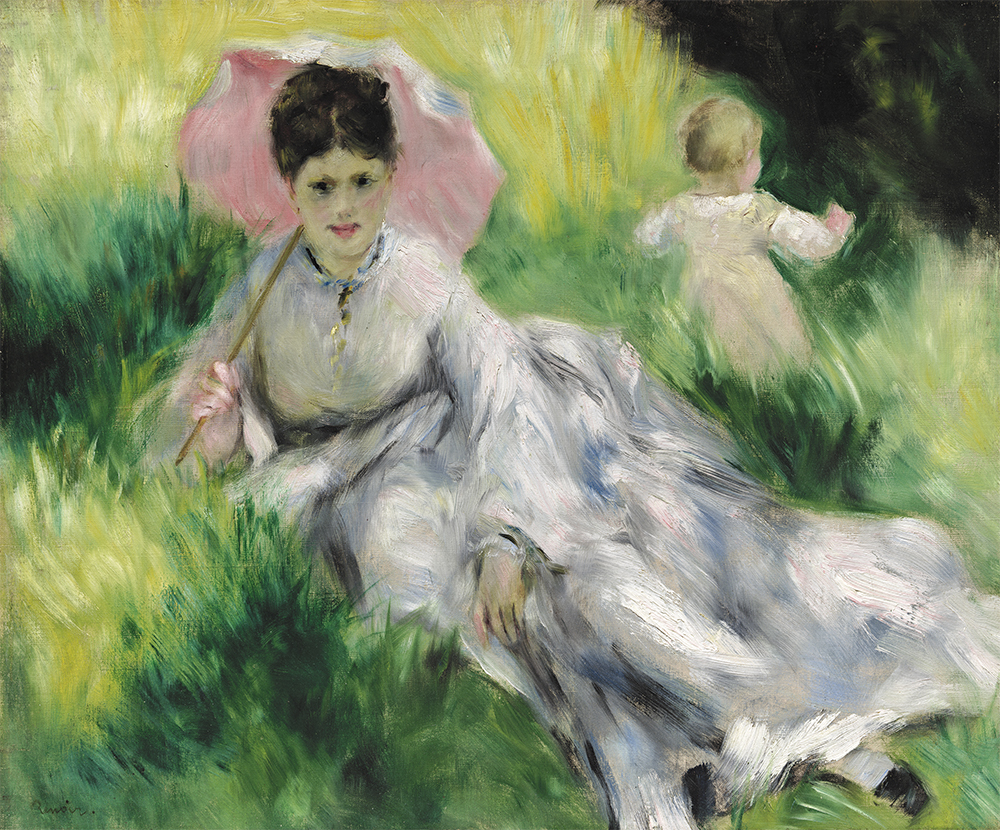 Pierre Auguste Renoir, French 1841–1919, Woman with a parasol and small child on a sunlit hillside, c. 1874–76, oil on canvas, 47.0 x 56.2 cm (Museum of Fine Arts, Boston Bequest of John T. Spaulding Photography © Museum of Fine Arts, Boston. All Rights Reserved)
The narrative that unfolds from space to space is both chronological and photic. The general aesthetic trajectory is from darkness to light, with variations on this theme: from the sombre palette of the Barbizon school (Corot, Rousseau) through the vast grey skies of Boudin and an early muted Venice by Monet (after Boudin, whose Venice is also shown here), to the light-filled riverscape of Sisley and the sunlit fields of Pissarro. There is also a palpable suspense to this unfolding, like waiting for a slow dawn. This may be a curatorial sleight of hand, but it does produce an interesting effect. The works seem brighter, more vibrant, none more so than the Monet canvases in the penultimate room. What makes this exhibition captivating is the point of view it affords not only on the birth of Impressionism but on aspects peripheral to it, such as still lifes, printmaking, pointillism, post-impressionism, and the neoclassical landscapes of Corot. The exhibition has a well-considered curatorial argument that does not detract from the essential pleasure in individual works.
French Impressionism opens with the juxtaposition of two paintings, Monet's Meadow with poplars (c.1875) and Renoir's Woman with a parasol and small child on a sunlit hillside (c.1874–76), very different paintings by very different painters. The shimmering, vivant effect achieved by Renoir's longer brush strokes and almost pastel palette, suggesting movement and life, is a foil to Monet's bold impasto in which time stands still like the striking red flowers in the foreground.
This also establishes the preference for divergent subject matter among the movement's leading painters (landscape for Monet and the figure for Renoir), although the exhibition offers some interesting exceptions in three landscapes by Renoir and a figurative work by Monet. These are among the painters' least-known works and are the exceptions that prove the rule. Although their subject choices differed, both Renoir and Monet were committed to painting the world around them directly from life and en plein air. They first met as students, and it is a delight to discover, when contemplating Renoir's Mixed flowers in an earthenware pot (1869), that he painted it alongside Monet when they were young artists living in Bougival (Monet's version hangs in the Getty Center in Los Angeles). Indeed, much of the exhibition is arranged along the lines of camaraderie and influence: Monet with Renoir, Boudin as Monet's mentor and predecessor, Pissarro as mentor and mentee, the Barbizon School as inspiration. On the subject of influence, She-Oak and Sunlight: Australian Impressionism (NGV Australia until August 21) dedicates a room to the influence of French Impressionism on Australian painting and includes paintings by Monet and a Sisley alongside those by John Russell.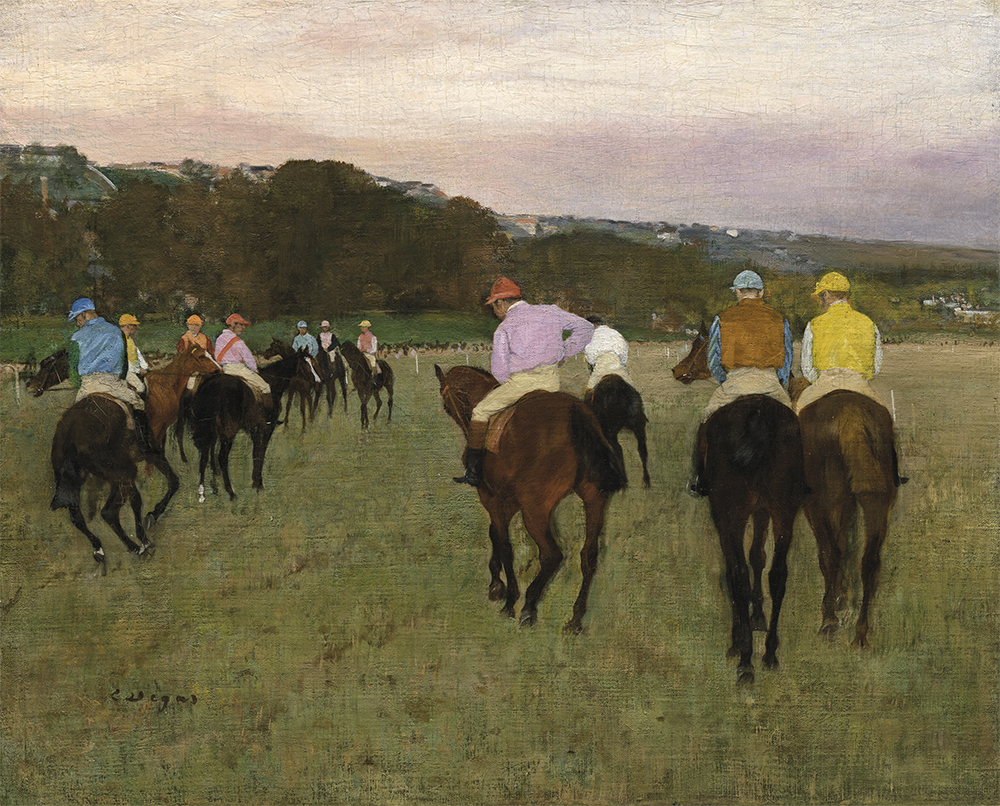 Edgar Degas, French 1834–1917, Racehorses at Longchamp 1871, possibly reworked in 1874, oil on canvas, 34.0 x 41.9 cm (Museum of Fine Arts, Boston S. A. Denio Collection – Sylvanus Adams Denio Fund and General Income Photography © Museum of Fine Arts, Boston. All Rights Reserved)
Moving through the exhibition spaces, one soon becomes aware one is being primed for something bigger. There is a noticeable diminuendo in the second-last room containing etchings by Degas, Pissarro, and Cassatt. The lighting is dimmer, partly due to the fragility of the works on paper, but also to provide the contrast needed for the exhibition's denouement, 'Monet in situ', a magnificent arrangement of canvases from Giverny and the Mediterranean and Normandy coasts, which one enters to an orchestration of Debussy's 'Girl with the flaxen hair'. Monet's coastal scenes, awash with soft golden light and touches of pink and blue, are striking examples of his intention to capture the 'magical air' of the French Riviera.
French philosopher Alain Roger theorised a symbiotic relationship between landscape and its representation, in which our perception of landscape is always mediated through art. Perhaps no other painter has more influenced the way we see the landscape than Monet. Even as these coastal canvases invite fantasies of warmer climes, 'Monet in situ' presents two winter scenes, one of which depicts a low winter sun struggling to break through the cloud and snow. There is a subtle diffusion of yellow light that spreads through the mist like hope and that makes the subsequent canvases seem, from the depths of a Melbourne winter, like delirious dreams of sunlight and sea.
---
French Impressionism from the Museum of Fine Arts, Boston is showing at the National Gallery of Victoria until 3 Oct 2021.
This article is supported by the Copyright Agency's Cultural Fund.