Film
Percy vs Goliath
Rialto Distribution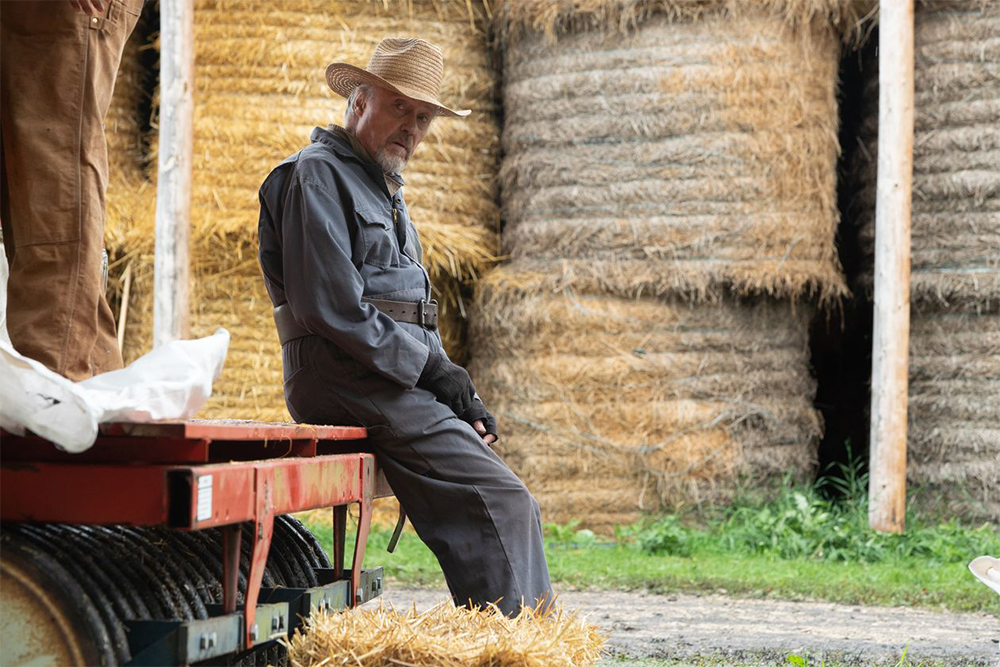 Percy vs Goliath, known simply as Percy in some territories, is based on a real-life legal case of an independent crop farmer who took on a large-scale agrochemical corporation. One can imagine a shared sentiment that the story would make a great Hollywood movie. Problematically, the reason for thinking this is because Hollywood has made this film before, repeatedly. The familiarity and predictability of the events depicted are the very reason why it shouldn't be made into a film.
Taking place in the Canadian province of Saskatchewan between 1998 and 2001, the story centres on Percy Schmeiser, a crop farmer in his seventies. Given that he is played by Christopher Walken, there is some hope that the acclaimed actor will inject some of the off-kilter characteristics that make him such a fascinating presence on screen.
In an introductory voice over, Schmeiser tells us that he is known as a 'seed saver', a farmer that saves his own seeds from previous crops instead of buying them from large corporations. It's a superfluous piece of narration, since it takes us no time to deduce this information from the actions played out before us. Thankfully, this is the only time such a device is used.
Director Clark Johnson brings us imagery and vignettes that demonstrate the harshness of working off the land. In my review of Minari earlier this year, I observed that this has become a common theme in recent films.
Percy vs Goliath most closely resembles the French film In the Name of the Land (d. Édouard Bergeon, 2019), where the protagonist struggles with both the unforgiving elements of nature and the uncompromising demands of an industry that squeezes out the little man. Both films are based on real farmers who have the odds stacked against them, working long hours for little yield, and discovering that industry corporations have created laws that make it almost impossible for independent farmers to survive.
Percy vs Goliath eventually departs from In the Name of the Land when the narrative leaves the canola crops of Canada and becomes a courtroom drama. The agrochemical company Monsanto claims that Schmeiser's crops contain its patented genetically modified canola. He is ordered to compensate the company financially and to hand over his crops. Schmeiser is both affronted that his integrity is questioned and distraught at the thought of being out of pocket when he hasn't knowingly done anything wrong. He is a simple farmer, lacking any knowledge of legal processes. Reluctantly, he puts his fate in the hands of a small-time lawyer, Jackson Weaver (Zach Braff), who is every bit the underdog that he is.
The fate of Schmeiser's case takes a downward turn when Weaver discovers that, even if the patented seeds blow into the farmer's fields, they are still the property of Monsanto. A glimmer of hope arrives when a representative from the lobby group People for Environmental Protection takes an interest in the case. Rebecca Salcau (Christina Ricci) has been fighting for years to prevent Monsanto's genetically modified wheat from gaining a monopoly in international trade. She sees Schmeiser's plight as a way to highlight Monsanto's unscrupulous processes.
The film does gain some level of dramatic momentum as Schmeiser is forced out of the comfort zone of his privacy and becomes an unlikely mouthpiece for the unethical practices of genetic modification. During his visit to India, we learn that farm workers all over the world are under intense pressure and that suicide levels among them are alarmingly high. At this point, we also witness the one scene where Walken is given the opportunity to inject his character with a level of anger and resolve that temporarily jolts the film out of its clichéd template. The anger remains in his eyes for much of the film, but as refreshing as it is to see Walken in a change-of-pace role as an everyman living a simple life, his performance can't elevate the material above what is no more than a standard message film.
Johnson, who has enjoyed a long history as a gun for hire in television, has a directorial approach as simple as his protagonist. The composition of scenes, camera positions, and scene transitions are conventional. There's a lack of sophistication to the filmmaking. In fact, the final scene is so poorly realised, and such a tonal shift, that I momentarily thought the characters were shooting a commercial. Johnson fails to deliver any big moments, and the tone is often dry.
There is one exception that effectively highlights the cultural differences between Ricci's lobbyist Salcau and Schmeiser and his wife, Louise (played beautifully by Roberta Maxwell). They are at lunch in a regional Saskatchewan diner. Salcau cynically remarks, 'I feel like I'm in Fargo,' to which Louise brightly replies, 'I've been to Fargo!' If only the script by Garfield Lindsay Miller and Hilary Prior contained more observations on the personalities involved and their relationship dynamics.
The figure of Salcau proves the most problematic, when she should have been an asset. In a straightforward story of good versus evil, her character is the most complex. She has her own agenda, which, though well intentioned, places her in a position where she manipulates Schmeiser to service her needs to the detriment of his. There was potential to mine this conflict and to chart Salcau's arc from idealistic but ignorant liberal to a more compassionate individual. Instead, she often comes across as shrewish, and there is an element of awkwardness to the staging of many of her scenes.
There are broader themes that could have been explored further: for example, the nature of intellectual property laws. Certainly, Monsanto, producers of Agent Orange and DDT insecticide, is a company reviled enough to make a suitably villainous adversary for a simple crop farmer, but, for the most part, they remain a faceless foe.
Country songs and whimsical folk music fill the soundtrack, keeping the tone light. While this stops the film from becoming maudlin, it often does the gravity of the subject a disservice.
Ultimately, what was intended to be an inspirational story of a hard-working underdog taking on an industry goliath is rendered rote due to unimaginative, by-the-numbers storytelling.
---
Percy vs Goliath (Rialto Distribution), 109 minutes, directed by Clark Johnson. In cinemas 10 June 2021.