Theatre
The Cherry Orchard
A tin-eared production of Chekhov's classic
Belvoir St Theatre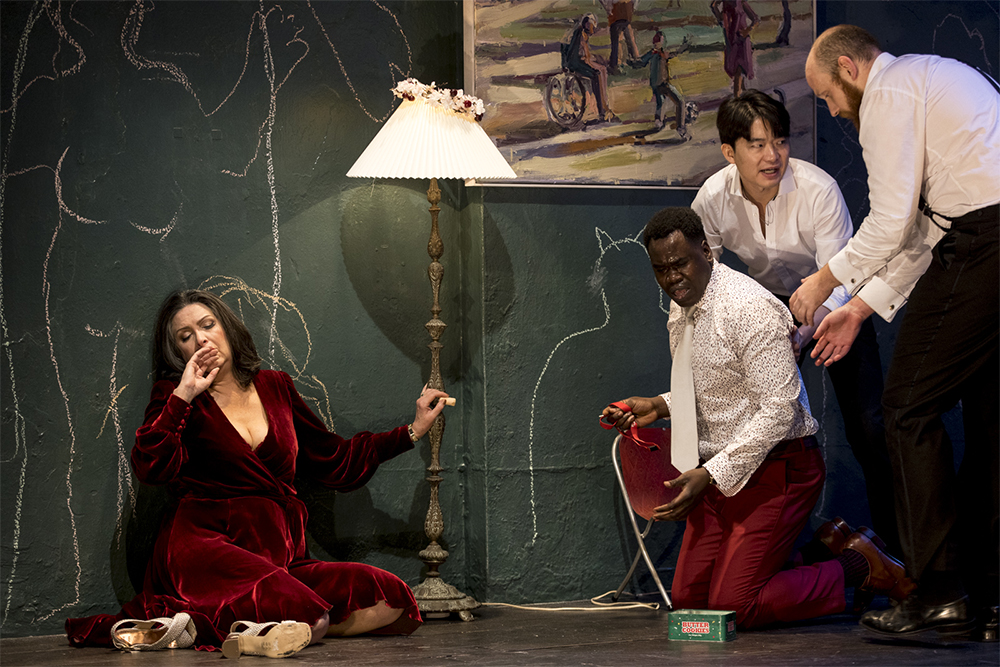 What did Anton Pavlovich Chekhov ever do to Sydney theatre that Sydney theatre should treat him as it does? Since Tamas Ascher's superb STC production of Uncle Vanya hit the stage in 2010, Sydney has been subjected to performances of The Seagull, Ivanov, The Present (aka Platonov), and Three Sisters that, in their attempts to be 'relevant', have ridden roughshod over the subtle, devastatingly acute dissections of humanity with which Chekhov presents us.
That is not to say that there should be a revival of the stately, lachrymose productions of the last century. There is no need to return to what Janet Malcolm describes as 'a kind of sickening piety. You utter the name "Chekhov" and people arrange their features as if a baby deer had come into the room.' Ascher proved that if you find the truth of the characters you will uncover the mix of absurdity and melancholy that is the Chekhovian view of the world. What Nabokov said of the fiction is true of the plays. 'Chekhov's books are sad books for humorous people, that is only a reader with a sense of humour can appreciate their sadness … Things for him were funny and sad at the same time, but you would not see their sadness if you didn't see their fun, because both were linked up.'
Warning bells sounded when director Eamon Flack, in the pre-publicity for Belvoir's production of The Cherry Orchard, described Chekhov, surely the sanest of great authors, as being 'a bit bonkers' and suggested that the writing of the play was 'probably slightly morphine fuelled', as though Chekhov had written it in a drug-induced frenzy. In fact, the writing of the play was a long, painfully slow process, and the dying man was fuelled mainly by koumiss, kefir, and Spanish fly compresses.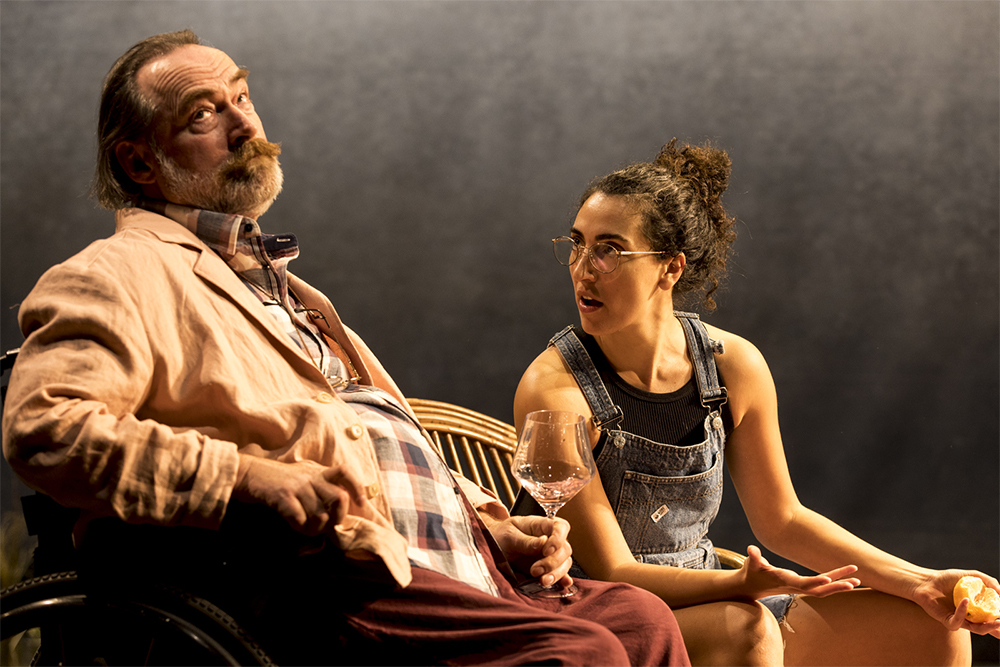 Keith Robinson and Priscilla Doueihy in Belvoir St Theatre's The Cherry Orchard (photograph by Brett Boardman)
The main problem with Belvoir's production is that Flack has set it in what he describes in his director's notes as 'Rushia' – 'not in 1904 but "now" which is a time somewhere between the last and the next hundred years'. Which means, of course, that it is set nowhere. But Chekhov's story of the feckless aristocrats who lose their family estate through a mixture of inertia and incompetence desperately requires a sense of place. We may not need all the extraneous sound effects of the original Stanislavski production, but we do need to have a clear understanding of the house and the orchard that mean so much to their owners, Liuba Ranevskaya and her brother Gaev. As it is, we have a bunch of not very well-presented individuals whose background is completely undefined, wandering around in a vacuum for no apparent reason. Flack says: 'We are not Russians in 1904 so it's weird to think exact fidelity is the truest way to deliver the play's many meanings. The only way to recreate the life of the play is to change it.' But one of the challenges of coming to terms with works from the past is to attempt to understand something of the way the world was perceived then. Adapting a work to pander to contemporary obsessions and make things easier for the audience sells both writer and audience short. We are back with the eighteenth-century adaptations of Shakespeare that 'tidied up' his works and gave Lear and Hamlet happy endings.
For the first two acts, Flack does stick fairly closely to the original play, though a bookcase turns into a wall and Gaev loses his obsession with billiards, which renders meaningless the breaking of a billiard cue in the third act. But with that act's party scene Flack slips the surly bonds of relevance and drifts off into his own theatrical space. In the penultimate scene, he jettisons the lovely moment when brother and sister finally face up to reality in favour of what looks like a police line-up.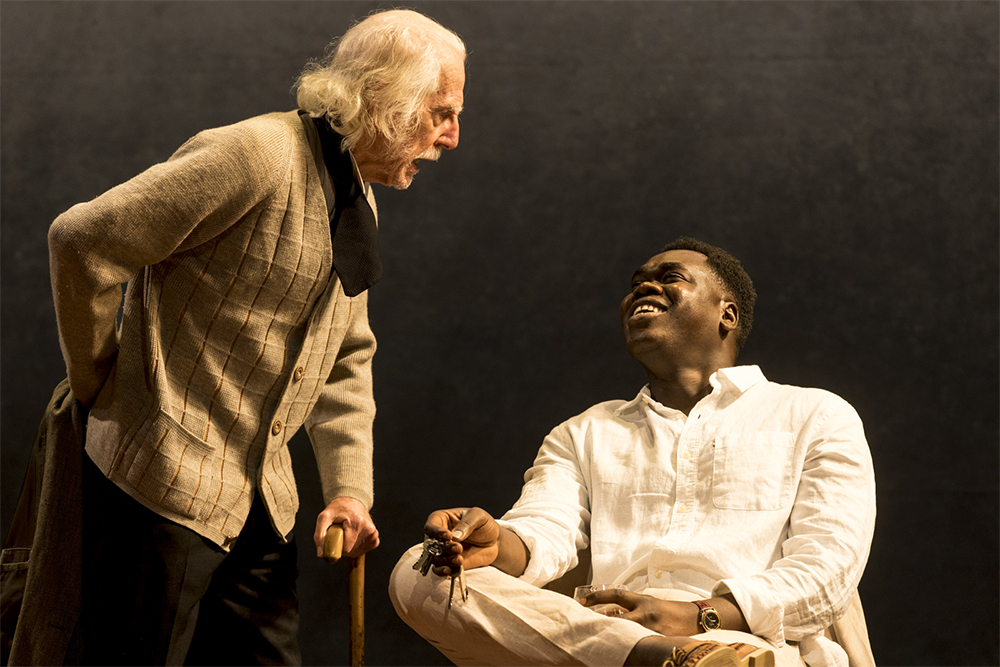 Peter Carroll and Mandela Mathia in Belvoir St Theatre's The Cherry Orchard (photograph by Brett Boardman)
The cast handle the challenges facing them with varying degrees of success. As the unfortunate estate clerk Yepikhodov, Jack Scott makes an endearing, clumsy nebbish. Josh Price is a bluff, sentimental neighbour as Pishchick. Priscilla Doueihy is an energetic presence as the eternal student Petya, but she runs into problems when Chekhov's character, who ardently believes all will be better in the future, suddenly turns into a Gen-Xer and accuses Ranevskaya of being of the generation that has destroyed her chance of happiness. Peter Carroll as the old retainer Firs turns in his patented dodderer. As he shakes a palsied leg at the party, one wonders, after his dancing in Twelfth Night and Galileo, if it's written into his Belvoir contract that somewhere in the play he has to cut a rug. Best of all is Lucia Mastrantone, who, until she is required to turn into a frenetic MC in the party scene, absolutely nails the eccentric governess Charlotta.
The lead roles are more problematic. Gaev is an ineffectual, inconsequential character, and Keith Robinson turns in a rather muted performance. Mandela Mathia, as the upwardly mobile merchant Lopahkin, blusters efficiently but never dips below the character's surface. With Pamela Rabe's Raenvskaya the problem is one of basic miscasting. Ranevskaya is a flighty, superficial woman, capable of affection and compulsively generous, but completely unable to deal with the world. As an actress, Rabe exudes strength and intelligence. It's impossible to believe that she would jettison her inheritance and head back to Paris to a man she knows will bleed her of the little money she has left.
Let's hope that in future Sydney and Chekhov will declare a truce.
---
The Cherry Orchard continues at Belvoir St Theatre until 27 June 2021. Performance attended: June 2.