Television
Shtisel
The exquisite pain of memory made animate
Netflix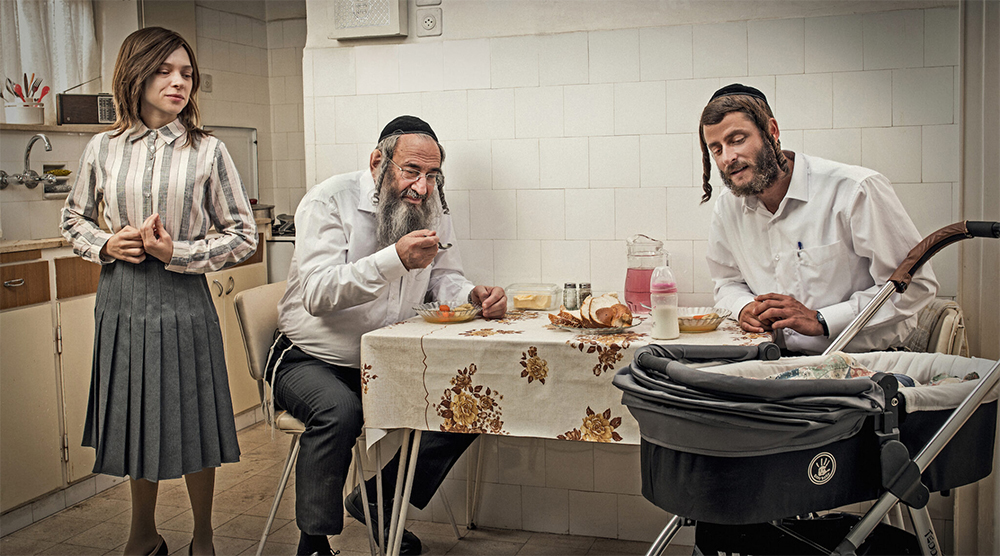 It opens with a dream. A dream that is, as dreams often are, awash in surrealism, disorientation, longing, desire. Dreams, both waking and sleeping, are integral to Shtisel's composition, an Israeli television saga that speaks of the lives of the Shtisels, a family living in the midst of a Haredi (literally 'those who tremble', otherwise known as Ultra-Orthodox) community. The series is a textured chiaroscuro portrait of human experience that leaks pathos and laughter in equal skilled measure.
Currently showing all three of its seasons on Netflix, Shtisel first aired in 2013 and finished production late last year. The title is pronounced 'Shtee-sel'; I wish I could unremember the numerous occasions when people have erroneously switched the two last letters of 'Shti' to say 'Shit-sel', even as they tell me in rapturous tones that they adore it.
For all its dreams, eccentricities, and characters often accused of indulging in 'imaginings' and 'fantasies', the show faithfully represents its world. The production is saturated with Haredi rituals of living. This is present within its soundscape: nuanced states of language shifting between Yiddish and Hebrew and conversations perforated by habitual recitations of blessings before eating and drinking. Waves of chanting, of prayer and learning, wash over the story, and religious songs are sung both in celebration and in pursuit of comfort. Shtisel opens as the family's year of mourning is drawing to its conclusion. In Season 1, the paterfamilias Shulem – played by Dov Glickman in a magnetic performance that merges Chaim Topol's beloved Tevye with Laurence Olivier's Lear – sits at his Sabbath table despondently singing the traditional 'Woman of Valour'. The song, usually directed at the wife and mother of the house, rings hollow in the empty space.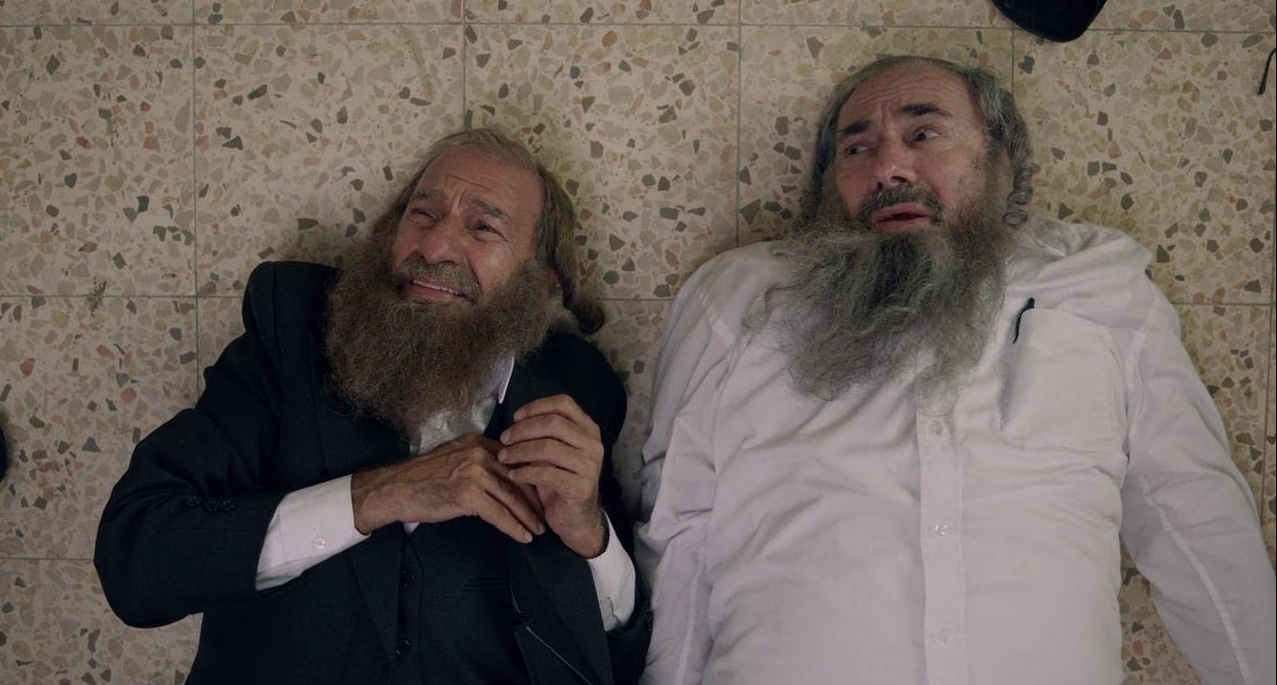 Sasson Gabay as Nukhem and Dov Glickman as Shulem in Shtisel (Netflix)
The gaze of the series' creators, Yehonatan Indursky and Ori Elon, is unfetishised. Indursky was born into a similar community and chose to leave it, while Elon identifies as modern-Orthodox. Haredi Jews are Othered both by their own active disassociation from the outside world and by those outside the community. In Israel, these communities and secular Jews are riven by misunderstandings and intolerances that go both ways. My past experiences of walking in Geulah, the neighbourhood in Jerusalem where the story plays out, were of feeling deeply alien to its streets; they were claustrophobic, physically and psychically. Watching Shtisel shocks one into the recognition that these individuals possess intensely complex inner lives, echoing those people we might encounter in a Tolstoy novel. Several episodes playfully, and often subtly, address this by interrogating phraseology employed to indicate difference. In Hebrew, as in many other languages, the pronoun 'you' appears in both single and plural forms. On several occasions, those who are not Haredi address members of the community with the plural 'you' to make sweeping assumptions. When the art dealer of Akiva – Shulem's youngest unwed child who is soulfully played by Michael Aloni with a depth of vulnerability and the right amount of shlemazel (haplessness) – Kaufman, accuses him of indifference to his private life, he tells himself, 'But why am I surprised. That's how you people are.' Akiva defensively interrogates his use of the plural 'you': 'Haredis?' Kaufman returns in his familiar unruffled tone, 'Why Haredim? Artists.'
Remarkably, given their aversion to technology and outside influences including television, there is a consciousness that Haredis are not merely subjects, that they may gaze back at themselves. In a 2019 New Yorker essay on the series, Indursky spoke of his disquiet over revelations that his primary school teacher and a growing number of Haredi people were watching Shtisel. This unease issued not from a fear of chastisement but from a protective inclination; he had showed it to his parents who didn't have internet, but had asked them not to show it to his nieces and nephews. As Indursky explained: 'A Haredi who watches a representation of himself will inevitably change after watching it … It's what [Max] Weber called "disenchantment." It makes me shudder a little.' Embedded in Indursky's reservations is the understanding that it is one thing to look in the mirror and another to watch oneself arrested on screen. This fondness and respect for the individuals who reside in the community seep through, setting Shtisel apart from shows that focus on an individual who has chosen to forsake religion.
In the profound and marvellous An Inventory of Losses (2020), Judith Schalansky writes: 'the difference between presence and absence is perhaps marginal, as long as there is memory'. Longing for the beloved dead and evoking their vivid presence are not new in television; they were made into an art form in Alan Ball's Six Feet Under (2001–05), a story about a family of a funeral director where conversations were routinely had with the no longer living. Shtisel locates itself in the borderlands of Schalansky's 'presence and absence'; within it memory is animated, painfully, exquisitely. Death is not the traumatic haunting absence, unseen but insidious, that we encounter in the work of Georges Perec. In Shtisel, the dead interrupt, are mutinous, even luminous. They provoke and influence Akiva's art.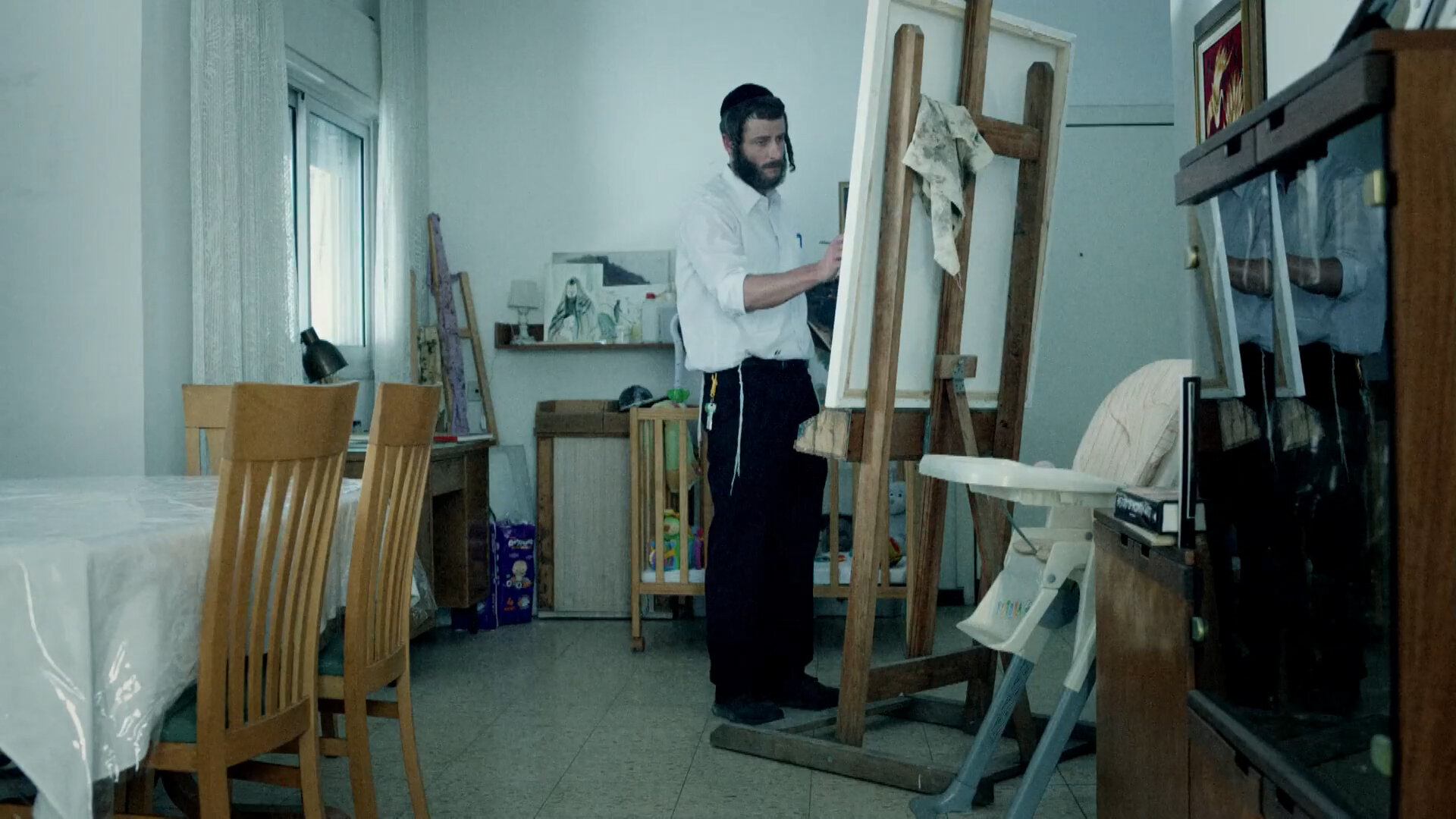 Michael Aloni as Akiva in Shtisel (Netflix)
Wafting through the series, as if smoke issuing from the men's frequent cigarettes, are states of longing for both the past and possible futures. The sensitive score, composed by Avi Belleli, vibrates with wistful cello notes and guitar chords that feel like an echoing of the sonic melancholia in In the Mood for Love (2000), Wong Kar-Wai's filmic apogee of longing. Shtisel does not share a similar art department aesthetic; its dulled colour palette of clothing and food (the kind that warmed Eastern European stomachs) mimics its setting even as Akiva's blue gaze, and later his paintings, intermittently upend its visual austerity. But a scene in its first episode appears to be a direct homage to that of Kar-Wai's voluptuous beauty. In a long moment between Akiva and Elisheva, we witness a close-up of an electric heater's glowing coils; the slow burn intensity sears with what is unsaid.
The experience of longing is not monotonal. At one point, it possesses Shulem's mother Bubbe Malka, the perennially amiable Shtisel grandmother (in her second iteration played by Leah Koenig), and her sidekick, the memorably sharp wit Rebbetzin Erblich (Ruth Geller), as they sit in their aged-care common room. Their bodies, shrunken and furrowed, appear in relief to a group of musicmaking girls who, in a deft tragi-comical move, enter performing a rousing, if not very masterful, rendition of a popular nationalistic song that speaks of the Jewish people's endurance. When Bubbe Malka requests the Yiddish 'Kinder Yoren' ('Childhood Years'), which they don't know, she undauntedly sings it, Erblich joining in. The two friends' warbling voices bear sorrowful witness to their shared experience: 'Sweet childhood years / forever etched in my memory / When I think of those days / I am sad and gloomy / Oy, so quickly have I grown old'. That this scene comes as the Angel of Death brushes close, that it manages to be both splendid and devastating: this is Shtisel's mode of storytelling. This performance, with its commingling of fragility and knowledge, is as resonant as Shira Haas's climactic song in Maria Schrader's Unorthodox (2020).
Unlike other Jewish inter-generational family stories, Shitsel does not centre large family celebrations and gatherings, even if the pursuit of marriage is a perpetual aspiration. Often the Shtisels are alone or there are just two of them. When Shulem's cardiologist advises him to find a female companion to counter his heart troubles, explaining that 'Loneliness is the greatest cause of heart attacks', there is an ache of recognition. Of those who have followed Shtisel through to Season 3, how many of us have resisted the impulse to inhabit the role of matchmaker (a particularly delicious role played first by Kenigsberg and then his inimitable widow Menucha) either for Shulem or his son? This ageing man – for he is, as in life, ageing before us – lodges his way into our own troubled hearts even as we acknowledge his errant and treacherous ways. We continue to hope at each point that Shulem will take the noble path, our faith in him more tenuous than a confirmed atheist turning towards God.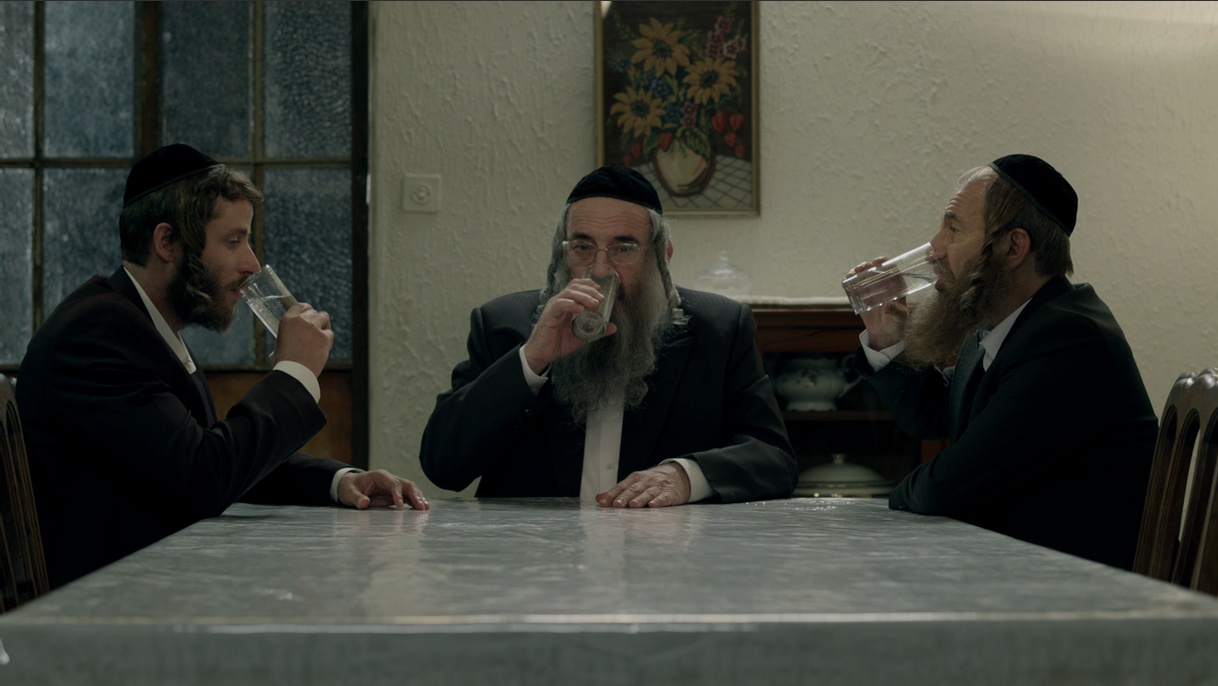 Michael Aloni as Akiva, Dov Glickman as Shulem, and Sasson Gabay as Nukhem in Shtisel (Netflix)
The earlier comparison with Tolstoy's characters is not a flippant one. Midway through the first series, the oldest of the Shtisel grandchildren, fourteen-year-old Ruchami (played by the wondrous Shira Haas), reads bedtime stories to her younger brothers. We note how quickly after the abandonment of her father she has both slipped and been nudged into parental mode, prefiguring what her prescribed role will be in a scanty few years' time. No reading of Goodnight Moon for the Weiss family; although this too would not be a sufficiently kosher book. Ruchami reads instalments from a Hebrew-translated classic solicited from the contraband section under librarian Yuta's desk. The book is Anna Karenina, but its title has been doctored by Ruchami – as wonderful and complex a female character as the book's hero – into 'Hana Karenina' to allay any fears of it being a Gentile book (Hana is Hebrew for Anna). Ruchami has previously devoured George Eliot's Middlemarch, a novel whose preoccupations with small lives and faith are shared by Shtisel. I note that Yuta is an incendiary spirit; the singular female to smoke. She appears in the series merely once; it is like life, people shift in and out of its world, often painfully never to return.
The series echoes the holy text of the Bible and the volumes of Talmud that recur as often as scenes in the kitchen, for it is fecund with connections; at times they alight like glow worms in the mind after the viewing recedes. So, although I countenance this with full cognisance only after devouring all three series as ravenously as if I had wandered through the desert for forty years without manna, I cannot let go of certain resonances. The voice of Avi Belleli in the title track plaintively singing 'Where have all the people suddenly gone?' The Biblical namesake of Hana, Anna Karenina's Jewish iteration, is known for her faith in the face of anguish over her inability to bear children; that this links to the roots of Ruchami's name, derived from words for both compassion and womb, and that this will be the cause of her suffering.
In the same vein, it cannot be coincidental that one of the oft-professed phrases – along with 'Oy vey!' (a Yiddish linguistic sigh) and 'yasher koach' (a note of encouragement that when directed by Shulem to Akiva is mostly laced with disappointment) – is 'Ma Hapshat?'. This can be translated as 'What do you mean?' but it is not a common Hebrew turn of phrase. Instead, the term references one of the four forms of Biblical interpretation, the literal; the other methods being allegorical, comparative, and mystical. In the face of lives in which allegorical, comparative, and mystical meanings pervade, the Shtisels are constantly posing this question: 'What is the pshat (the literal or the simple meaning)?'
The story works as a sum of its parts and as an accumulation of perfect scenes. When I write 'perfect', I mean to say that it works on both a grand and a quiet scale. Let's return to 'Kinder Yoren', the song of the old women Bubbe Malka and Rebbetzin Erblich. That the Yiddish lyrics are incomprehensible to the onlooking teenagers works as a metaphor for the viewer. Shtisel's layers of cultural knowledge might be as meticulously constructed as a mille-feuille, or for devotees Brizel's cheesecake, but those who do not have access to this culturally specific knowledge are not precluded from illumination. They, like the youthful musicmakers, might look on and witness the sacred as revealed in its emotional truths.
That creator Indursky cited Max Weber is revealing, for the word the German sociologist employed, one loosely translated as 'disenchantment', is 'Entzauberung', the literal translation being 'de-magic-ation'. Shtisel works against the inclination to rid the world of its magic, to strip the scales from our eyes. It reminds us that humanity's magic is multitudinous; that some of it lies in our capacity to care for those in our lives – both living and dead – despite their and our flaws. Akiva's namesake is the sage Rabbi Akiva who famously proclaimed that a fundamental precept of the Torah can be found within its commandment, 'You shall love your neighbour as you do yourself.' For viewers of this television series, the possibilities of love extend to the Shtisel family, their dreams and their vivid material ghosts. Such is the ferocity of the attachment it inspires, I feel I have betrayed those family members not mentioned here.
The series might well be issued with a warning, one similar to the moral tale retold by one of its characters. The story is of a man – a Shtisel, of course – who becomes obsessed with Mahler's Symphony No. 5, subsuming himself in it. Eventually, in desperation, he erases his only copy of the music. The character explains, 'Sometimes you feel that something grasps you too much, it pulls you into its midst and a … [person] has to know how to stop before he is pulled in and unable to extricate himself.' Shtisel does exactly this, but how much lesser our lives would be if we did not let it take us over.
---
Shtisel is currently available to watch on Netflix.