Theatre
Fangirls
A joyous rollercoaster of teenage life in the digital age
Arts Centre Melbourne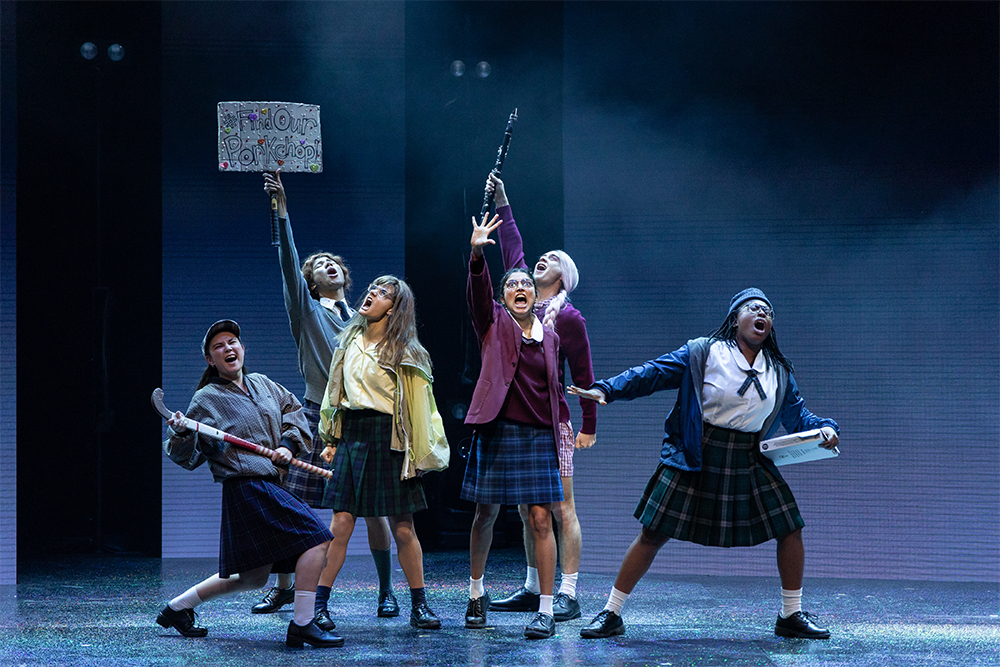 The Australian musical Fangirls is, in both writing and production, of a calibre rarely seen in home-grown musical theatre. With book, music, and lyrics by Yve Blake, Fangirls explores the underestimated power of teenage girls. After its première at Queensland Theatre and Sydney's Belvoir in 2019, this stellar production makes its latest stop at Arts Centre Melbourne, following a run at the Adelaide Festival in March 2021.
The story centres around Edna (Karis Oka), a fourteen-year-old scholarship girl with a gift for writing internet fanfiction and who feels out of place in a school filled with rich children. Edna and her friends Brianna (Shubshri Kandiah) and Jules (Chika Ikogwe) are diehard fans of the band True Connection (a not-so-subtle reference to British boy band One Direction), each with their own hardcore crushes on the lead singer, known simply as Harry, played here by AYDAN. When True Connection (with a hilariously suggestive logo) announces a tour performance in Edna's home town, she can't afford a ticket, and trouble ensues.
Fangirls is a true ensemble piece. For such a young cast, the acting is nothing short of astonishing under the guidance of director Paige Rattray. Oka's Edna is magnificent, her gawky physicality subtly capturing the enthusiastic dance moves of someone not yet quite in control of her limbs. Ikogwe as Jules is hilarious and strong, while her constant putting-down of other girls undoes her attempts to hide her own insecurities. Completing the trio, Kandiah's nervy Brianna is unsure how best to negotiate the difficult situation she has been put in by her friends. Together, they form a frighteningly relatable high-school friendship group. James Majoos as Saltypringl, Edna's queer online fanfiction friend, demonstrates show-stealing charisma as he points out in a moment of gentle sadness that the boys are never invited on stage at concerts. Fangirls' writing and casting celebrate diversity in a way that never veers into tokenism, and reflects the make-up of our communities and millennial attitudes towards inclusivity beyond the stage.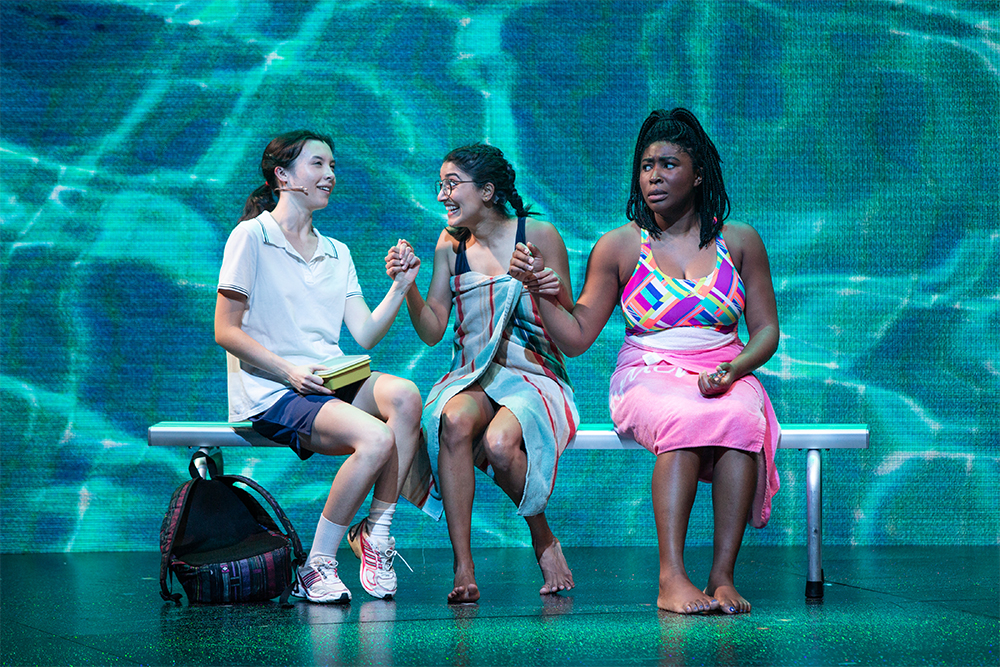 Karis Oka as Edna, Shubshri Kandiah as Brianna, and Chika Ikogwe as Jules in Fangirls (Mark Gambino)
While the plot might not glow on paper, this production from Belvoir is as cohesive as they come. Rattray's precise and detailed direction brings Blake's characters to life, marrying beautifully with David Fleischer's clever set, video, and costume design. Digital screens as major set pieces rarely work well. Here, their judicious use provides the clever flexibility required for Fangirls' constantly changing scenes. Other set pieces (Edna's second-hand chest of drawers, a locker-room bench) are vivid in their creation of space precisely because of their minimal use, inviting the audience to project the details of their own teenage experience onto these identifiable suggestions of time and place. A major highlight (pun intended) is Emma Valente's wildly playful lighting design, shifting from concert stadium to messy bedroom as nimbly and dramatically as puberty's cruellest mood swings. Tight music direction by Zara Stanton and arrangements by Alice Chance support Blake's catchy pop/dance music and laugh-out-loud lyrics. Musically, Blake's motifs tie the show's sprawling elements together with clarity, ease, and depth. Fangirls, however, might have benefited from killing a few more of its darlings. A couple of minor plot points (particularly one about self-harm) track tangentially to the piece's main messages and crowd the action in the second half.
A show about fans of a teenage band risks superficiality, but Fangirls foregrounds true depth in its exploration of teenage life in the digital age. As hundreds of Harry's fans all over the world sing 'Nobody loves you like me' from their bedroom webcams, we immediately recognise that being a fangirl is simultaneously an all-consuming private affair and, paradoxically, something that relies on being shared with others. This relationship between solitude and community is at the heart of Fangirls. With hair flicks from Harry and a screamed 'I'm not being overly dramatic!' from Jules, Blake's musical laughs at itself and at the heightened teenage experience. While comical, this drama resists triviality as Blake explores the occasionally blurry line between pubescent amplified emotion and mental illness. Another major theme in Fangirls is the mutual lack of understanding between parents and their daughters, particularly surrounding the role of the internet in teenagers' lives. While Fangirls had its première before the global pandemic, it is worth considering whether part of this gap might now have been bridged – and consequently, the audience's perspective changed, too – by the way Covid threw all of our social lives head first into the digital sphere.
Surely destined for the stages of Broadway and West End, Fangirls takes its audience on a joyous rollercoaster of absurdist twists, obscuring the boundaries between reality and teenage fantasy. Endlessly witty and surprising, Fangirls revels in the enormity of the mundane, pushes strongly against clichés, and unashamedly reminds us of just how difficult (but fabulous) it is to be a Fangirl.
---
Fangirls is at The Playhouse, Arts Centre Melbourne, until 9 May 2021. Performance attended: April 29.
This review is supported by the Copyright Agency's Cultural Fund.