Theatre
Because the Night
An immersive, choose-your-own-adventure theatre experience
Malthouse Theatre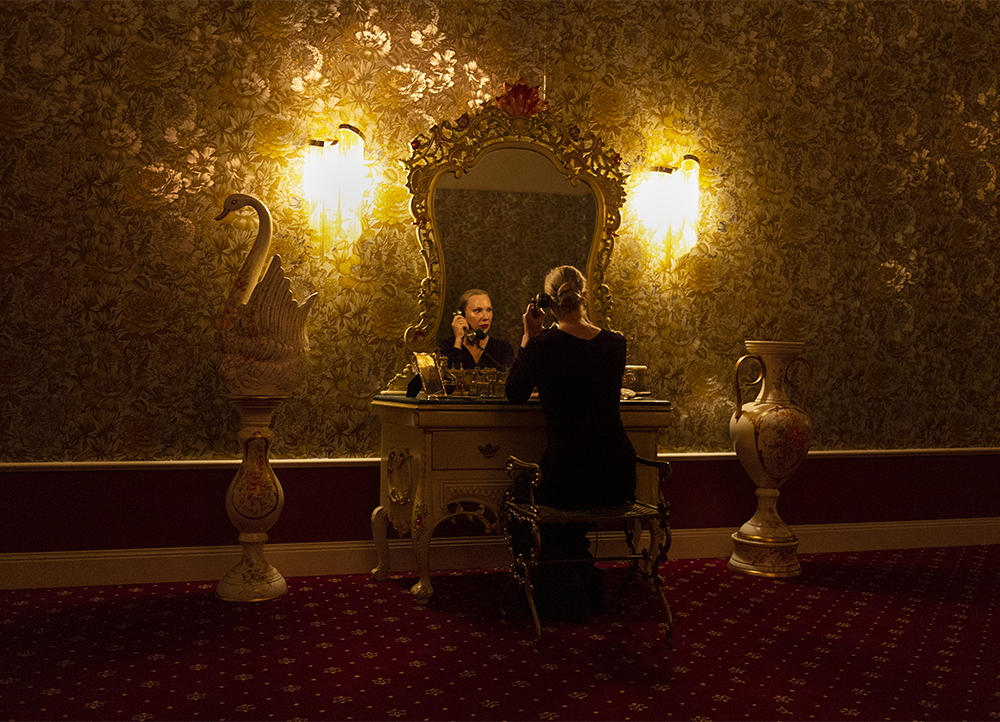 It's the 1980s. Elsinore is a logging town, ruled by troubled royals. The King is dead, Hamlet is paranoid, and Ophelia is having some very strange dreams. Beyond the palace walls, a carnival approaches, the workers are rebelling, and the forest has grown hungry. This is the world of Because the Night, Malthouse's bold return to performance after the shutdowns of 2020.
In the foyer before the show, there is much excited whispering. While other companies have eased back into business with readings and smaller pieces, the Malthouse has plunged headfirst in the opposite direction: a vast, rambling, immersive work of unprecedented scale. It's an intriguing proposition, one that is already proving canny: Malthouse's Instagram comment section is full of excited punters tagging each other, asking 'You in?'. How invigorating to see a major company creating work that attracts new audience members and extends its own capabilities.
There have only been a few large-scale works of this kind in Melbourne in recent years – LA duo Devon Paulson and Lawrence Lewis's Alone (2018) and Broad Encounters' A Midnight Visit (2019) spring to mind. Theatre of this scale is expensive, complicated, and hard to pull off. It's also haunted by the juggernaut that is Punchdrunk's Sleep No More, which has been running in New York for a decade. Because the Night is clearly influenced by Sleep No More – the casual adherence to a Shakespearean text, the interpolation of cinematic references, the casting of the audience as invisible spirits whom the characters cannot see. Because the Night distinguishes itself by including dialogue, functioning more like a traditional play than Sleep No More, with its abstract affective experience.
Once costumed in black cloaks and masks and instructed in our role as silent ghosts, the audience is led through one of three entrances. My group traipses downstairs into Claudia's office (Hamlet's usurping king Claudius here transfigured into a power-suited Nicole Nabout), as she rehearses a public address. From there, we are free to explore the space. Several audience members begin rummaging through Claudia's desk; I duck through an abandoned costume shop and step through a rack of furs into a forest of white Christmas trees. After a year of lockdown, this all-encompassing, open-range world is truly exciting.
The set for Because the Night features more than thirty rooms, each painstakingly styled and dressed by Dale Ferguson, Marg Horwell, and Matilda Woodroofe. The Malthouse is fundamentally transformed and surprisingly disorienting. At its best, where it is too dark to see the seams – in the sweeping mausoleum, the grungy playground, the timber shed – the set is extraordinary. Lighting designer Amelia Lever-Davidson demonstrates her considerable versatility, as comfortable working with Lee Ufan-inspired minimalist sculptural dreamscapes as with offices, bunkers, and bedrooms. Sound designer J. David Franzke's responsive score hums with synthy menace and lets rip in the thundering finale. Through this world roam six characters lifted from Hamlet: the prince himself (Keegan Joyce), Ophelia (Artemis Ioannides), Gertrude (Jennifer Vuletic), Claudia (Nabout), Laertes (Ras-Samuel Welda'abzgi), and Polonius (Syd Brisbane). They bear little resemblance to their namesakes: Hamlet and Polonius have lost their swagger and punnery, while the women have vastly expanded roles. In the original, Shakespeare's women are fragile and two-dimensional. Here, they are full of spunk, pluck, and rage. They stalk the halls of the set with fanatical purpose.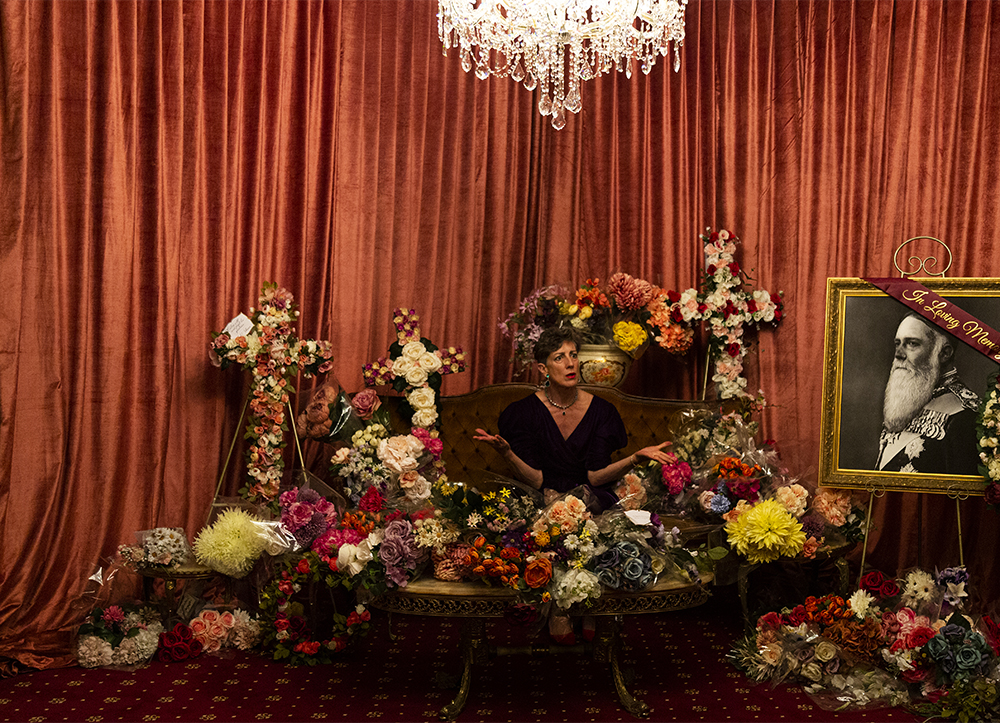 Jennifer Vuletic in Because the Night (Pia Johnson)
Ophelia is by far the richest character in this production. She is witchy and wisecracking, driven by visions and revelations, and her journey is one of transformation. She is haunted by the apparent suicide of her mother and increasingly obsessed with the local traditions the royal family has been trying to suppress in the townsfolk. Armed with a set of bolt cutters, she uncovers the dark colonial genesis of the town and the suppressed history of her ancestors, who maintained and served the forest. It's a clear metaphor for Australia's genocidal past, and it's executed with style and gravity. Claudia, too, is satisfyingly complicated: queer, powerful, torn between love and duty, consumed by the attempt to undo the corrosive structures of her own empire.
There are some gripping sequences in Because the Night: Joyce's Hamlet stalking around the gymnasium, knotted with anxiety and breathless rage, punching tennis balls as they rocket out of a launcher. The sequence ratchets up exquisitely to the moment of Polonius's death. Gertrude pointing a pistol at her own reflection, testing her mettle, is testament to Vuletic's power and nuance as a performer. The show's final scene crackles with electricity, tearing up much of the original narrative in favour of a gutsy reckoning with the forces that surround the town.
The major problem with Because the Night is that there is just so much going on. There's considerable tension between the Hamlet narrative, here hollowed-out and modernised almost to the point of being unrecognisable, and the new mythology written to flesh out the world (by Kamarra Bell-Wykes, Ra Chapman, and director Matthew Lutton). The carnival gathering outside, the men dying in the woods under the boughs of 'widow maker' trees, the pagan rituals centred around mystical triangles – it's all rippling under Because the Night, rarely able to rise to the surface. Now and then it intrudes: The moment when Gertrude lifts the carpet in her bedroom to find a mess of black mould is spine-tingling. Mostly, though, the show is over-stuffed with content. Where Sleep No More repeats thrice each the evening, allowing the audience member to split their time between rummaging through drawers and following different narrative threads, Because the Night forces the participant to choose which part of their experience they are willing to sacrifice.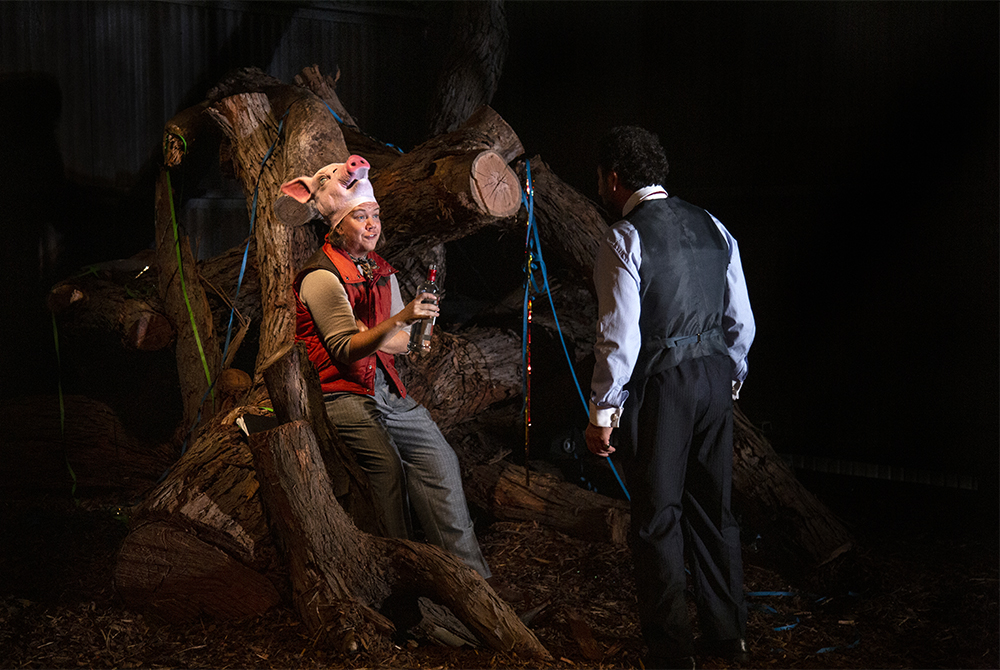 Harvey Zielinski and Rodney Afif in Because the Night (Pia Johnson)
A confession: I saw the show twice on opening night, and my two experiences differed radically. When audience members enter the theatre, ushers assure them, 'There is no correct way to experience this work.' For me, at least, this was not true. The first time, I dashed through the set in a state of breathless FOMO. I rushed around in a kind of panic, trying to see every room, following the sound of distant shouting, only to find actors in fallow moments. I read paste-ups and pamphlets and felt frustrated when they didn't seem to impact the plot. I tried to see everything, and in doing so didn't see much at all. There were some spare tickets for the 8:30 pm show. This time, I had a plan. I followed Hamlet and Ophelia almost exclusively. It was as though I had stepped into a totally different production. This one contained complexity, humour, and shock. I found no fewer than five rooms that I had missed the first time. The threads of politics and paganism were much fuller.
You'll never see everything in Because the Night, which is the intention. Comparing notes with friends after the show is part of the experience. Even after two sessions, my partner described moments that made me want to barge straight back in. You could see this show six times and discover new things. If you can only go once, though, pick an actor and stay with them for more than a scene or two.
Because the Night isn't a perfect work: it would do well to jettison its flimsy attachments to Hamlet and lean into the mythos it has created to hold the story. As a theatrical experience, though, it feels vibrant and new, bursting with possibility. It's wonderful to head back into performance with such a bang.
---
Because the Night is being performed at the Malthouse Theatre from 23 March – 26 June 2021.
This review is supported by the Copyright Agency's Cultural Fund.