Theatre
My Brilliant Career
A new adaptation of Miles Franklin's famous novel
Belvoir St Theatre
My Brilliant Career may not be Belvoir's first post-pandemic show, but it's surely the most joyous. Hot on the heels of a government exemption raising audience numbers to seventy-five per cent capacity, the mood on opening night was exuberant – almost as exuberant as Sybylla Melvyn, My Brilliant Career's impossible yet impossible-not-to-love protagonist.
Miles Franklin's autobiographical first novel had a famously rocky start. When it was published in 1901, the twenty-one-year-old author had two requests: that her name be changed to the masculine 'Miles', to avoid any paternalistic critiques; and that the novel's self-deprecating title, 'My Brilliant(?) Career', be retained. Both were ignored: publishers removed the question mark; and while Miles Franklin was credited as the author, Stella was outed as 'just a little bush girl' by poet Henry Lawson in his preface to the text. Moreover, Franklin herself had a complicated relationship with the work, demanding that it be withdrawn from publication nine years later, and writing in its stead the 'corrective' sequel, My Career Goes Bung, which was published in 1946.
In her new adaptation, playwright Kendall Feaver draws on both novels, Franklin's childhood memoirs, and biographies of the author. In the program notes, she writes that casting such a wide net allowed her to 'honour [the novel] by excavation to reveal the beating heart'. The result is a one-two punch of success, a play that breathes fresh life into the original novel, while also feeling as relevant as ever to a generation of women who, despite being told that they can 'have it all' in work and life, realise that love and ambition are often mutually exclusive.
Feaver is no stranger to portraying complicated women. Her 2018 début, The Almighty Sometimes, won the Nick Enright Prize and the Victorian Premier's Prize for Drama for its depiction of the fraught relationship between a mother and a daughter who is going through a mental health crisis. Not surprisingly, she gives free rein to the complexities and contradictions of Franklin's outspoken heroine.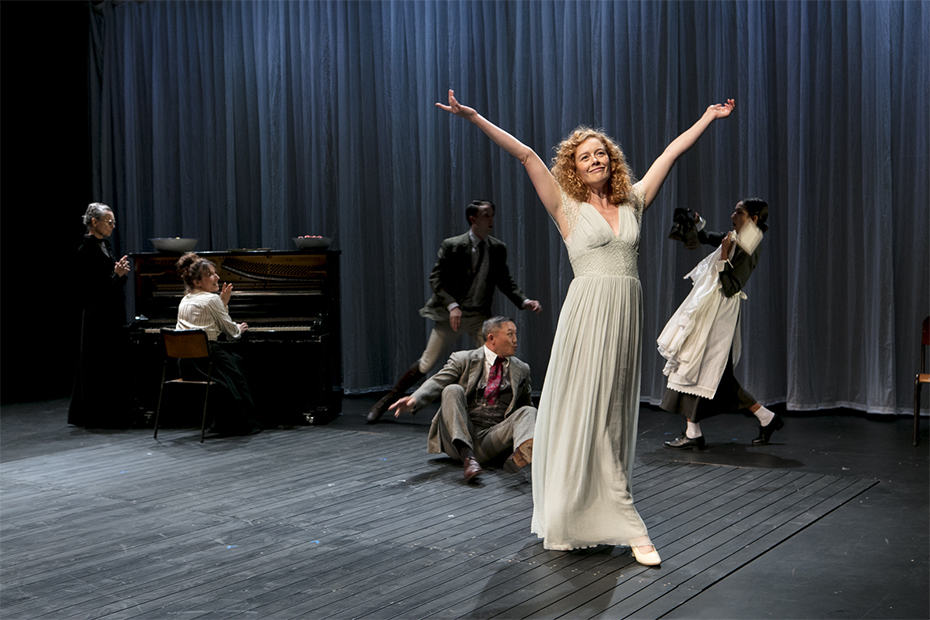 Nikki Shiels and cast in My Brilliant Career (Brett Boardman/Belvoir)
'This story is all about myself,' Sybylla (Nikki Shiels) declares in the opening moments of the play. 'I make no apologies for being egotistical.' She is a young woman both out of time and place. Too smart, too outspoken, too ambitious for the dusty dairy farm she is forced to call home – let alone for turn-of-the-century Australia – she hungers for something bigger than the life of marriage, children, and farming expected of her. Her father (Jason Chong) cares more about his next drink than his family; her exasperated mother (Blazey Best) simply wants to curtail her waywardness. Salvation comes via an invitation to live with her grandmother at Caddagat, the family homestead. Here Sybylla finds the life of books, art, and music of her dreams, as well as the attentions of several suitors: the condescending Frank (Tom Conroy) and wealthy landowner Harry (Guy Simon). Yet even with the certainty of love and riches hovering over her, she is restless. Unconsciously or not, she knows it is independence she wants, not marriage.
Shiels, as Sybylla, crackles with life, from her tangled mass of blonde curls to her scuffed Blundstone-clad feet. Her Sybylla is louder and stroppier than that of the novel or Judy Davis's depiction in Gillian Armstrong's 1979 film, but she is no less engaging for that. Shiels does not balk at Sybylla's contradictions: for all her talk of independence, we also feel her hunger for love, and her longing and frustration at herself for being different. 'Why were not a new dress, everyday work and an occasional picnic sufficient to fill my mind?' she asks as she struggles to be happy with her lot in life.
The supporting cast is equally adept, playing multiple roles with aplomb. Conroy is gloriously stuffy as the English overseer Frank, whose boorish attempts to win Sybylla's hand are roundly ridiculed by her, while Tracy Mann brings a twinkling eye to the role of the straight-talking Aunt Gussie.
Director Kate Champion balances the play's initial exuberance with its darker second act, in which Sybylla is forced to repay her family's debts by working as a governess to the uncouth McSwat family. Her despair at this turn of events is brilliantly illuminated (with help from lighting designer Amelia Lever-Davidson) in a nightmarish scene when the family looms out of the dark to enact various dinnertime atrocities (eating with their hands, throwing food on the floor) while a horrified Sybylla writes plaintive letters home.
Robert Cousins's set is appealingly bare bones: there's little more to it than a piano (either in or out of tune, depending on the circumstances), a set of chairs, and a white curtain, while the costumes (also by Cousins) cleverly demarcate Sybylla's transition from girlhood to womanhood and emancipation.
By the end of the play, Sybylla might not have made her escape to Sydney, but she finally sees life clearly and knows what she must do in order to live it on her own terms. More than a century later, that path may be a little clearer, but this adaption is a reminder of how much work still needs to be done.
---
My Brilliant Career is at the Upstairs Theatre at Belvoir St Theatre until 31 January 2021. Performance attended: December 10.