Art
Looking Glass: Judy Watson and Yhonnie Scarce
TarraWarra Museum of Art
Just inside the first large gallery space at the TarraWarra Museum of Art is a wall-size photograph of a cemetery in a palette of muted greys. The graves are homogenous, modest, tilting with age. Scattered among the headstones are sun-bleached plastic flowers and concrete teddy bears clasping empty concrete vases. In front of the photograph stands a mortuary table bearing blackened glass objects.
The site is Woomera Cemetery. The glass bush plums are 'darkened and deformed to represent … children born without body parts', according to a wall plaque for Only a Mother Could Love Them (2016). Each embryonic, spherical form is punctured with a lipped, lopsided hole, like a bubble burst in lava; stems resemble severed umbilical cords. Around the corner, Fallout Babies (2016) – bush plums in opaque white glass – stand on hospital cribs.
Kokatha-Nukunu artist Yhonnie Scarce was born in Woomera, where, from 1956 to 1963, radioactive dust and clouds drifted from Maralinga, the site of British nuclear testing conducted with the support of the Menzies government in a grim extension of the terra nullius conceit that this was 'empty' wasteland. The impact on Aboriginal children and infant death rates is still surrounded by silence, Scarce tells me at the media preview. It does not feature prominently in the public imagination – not like Chernobyl or Fukushima. Chernobyl has its chroniclers and memorialists, not least Svetlana Alexievich in Voices from Chernobyl (1997). In her Nobel lecture, she channelled a visceral tale of intergenerational damage in the immediate aftermath of nuclear disaster – a young first-response fireman become 'an object requiring decontamination', his wife bribing night janitors in order to visit him in his isolation chamber: 'A few months after his death, I gave birth to a little girl, but she lived only a few days … We were so excited about her, and I killed her … She saved me, she absorbed all the radiation herself … But I loved them both.'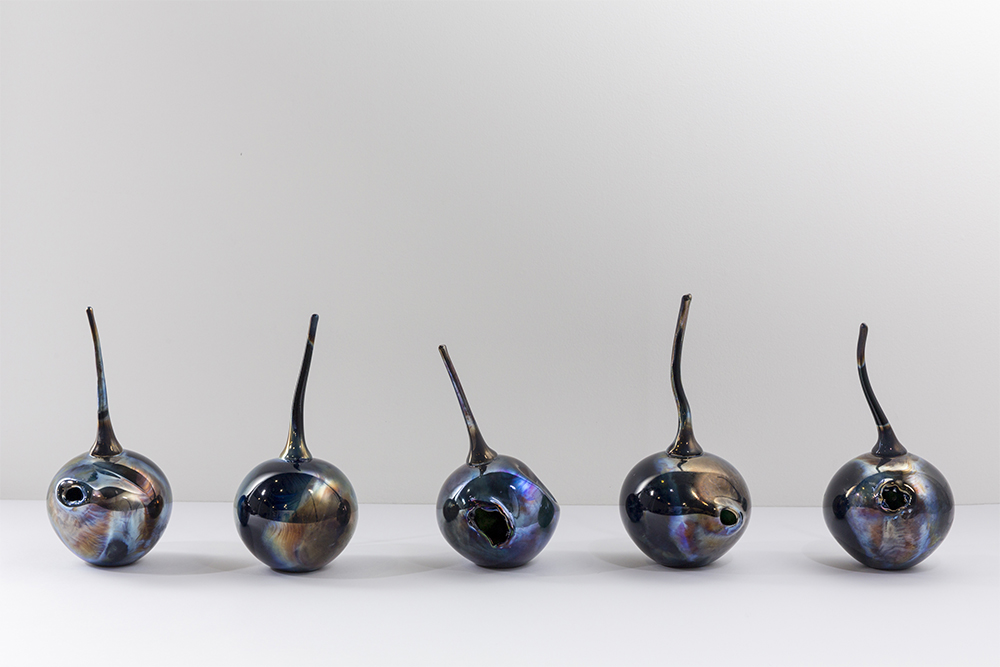 Only a mother could love them, Yhonnie Scarce, 2016 (TarraWarra Museum of Art)
Decades later, some of the most haunting images of Chernobyl are of residents drawn irresistibly back to their forbidden homes and gardens, subsisting among abandoned buildings. Deer roam deserted roads through which trees and bushes sprout. Urban landscapes return to nature, just as Alan Weisman envisages in his book on climate change, The World Without Us (2007) – a reminder that humans are a biological species that can be annihilated.
Scarce's work deals, in comparison, with a lack of iconic imagery or public mourning. In an interview with Hetti Perkins, curator of Looking Glass, Scarce discusses Australia's dearth of memorials to mark places of Indigenous destruction and trauma. Physical memorial and anti-memorial sites – so abundant in Berlin, for instance – offer the opportunity for remembrance, acknowledgment, and pilgrimage.
'Why aren't Aboriginal people shown that respect?' Scarce asks Perkins. Movingly, Perkins replies: 'I think that as Indigenous people we carry around a reservoir of grief within us and there's no place to mourn.'
Scarce takes glass, hand-blown, shaped by her own breath, as her medium of memorialisation. Its associations are multiple: the force of atomic blasts transformed sand of the desert floor into lakes of glass; craters were treated as burial grounds, radioactive earth interred within earth and vitrified to prevent seepage; shards of glass decorate the graves of her people at Koonibba Mission Station.
Cloud Chamber (2020), an installation of hundreds of glass yams suspended from the ceiling alludes to the 'black mist' of radioactive fallout. Each tapering vessel is lovingly crafted, flecked and bruised with greys and transparent inky blacks – standing in for human bodies, for a staple tuber food gathered by Aboriginal people, for contaminated land, water and air. They could be wind chimes. A wild gust or sudden movement would send them smashing into one another. The viewer must circle them with caution.
Bush bananas in Hollowing Earth (2016–17) are wrought in pale and seductive yellow-greens of uranium glass. Like the bush plums, the fruits bear wound-like apertures, a mutation bursting from within.
Judy Watson's work also parses the long and inconclusive aftermath of violence and tragedy. 40 pairs of blackfellows' ears, lawn hill station (2008) features cast beeswax ears hammered to the gallery wall with rusty nails. Each ear is distinctively shaped, a proxy for its owner, like a fingerprint or a worn shoe. The piece reanimates an act of colonial barbarity discovered by Watson in an account from 1883. On Waanyi country in north-west Queensland, the area inhabited by Watson's ancestors, Jack Watson (no relation) nailed ears of Aboriginal people to his homestead wall. As with Joseph Beuys's use of fat, the ears have an air of disturbing mutability. Too much heat and they could melt, traces of the original atrocity disappearing like the victims. The artist keeps them firmly in our gaze.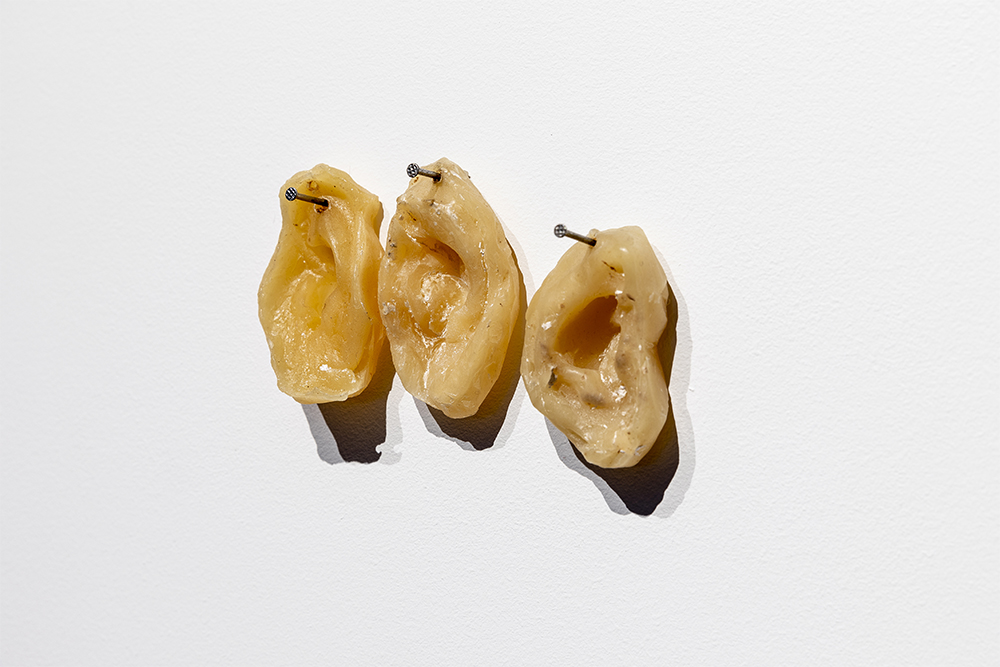 40 pairs of blackfellows ears lawn hill station, Judy Watson, 2008 (TarraWarra Museum of Art)
The narratives that inform and, indeed, are inseparable from these works are shocking. They are still fresh, travelling down generations, the artists attuned. These are living histories, urgent and raw, tangible in the present – probing for response from sufferers and audience alike. The Great Australian Dream is not what it seems, Perkins writes. 'It is, in reality, a nightmare, a shimmering mirage, a candle in the coming storm.'
And yet Watson's work is also a celebration of resilience. A horizontal display cabinet contains dozens of finely crafted bronze and porcelain resistance pins (2018), which reference 'awls' or needles, used as cloak, nose and ear pins, digging sticks, and artisan tools. They were also inspired by trade unionist and suffragist Emma Miller, who used her hat pin to protect herself and other women during Brisbane's Black Friday general strike in 1912. A small woman in her seventies, she pierced the rump of a police commissioner's horse as the crowd was being run down by mounted police. The commissioner was thrown and the charge abandoned. Miller's act is 'remembered in the hearts and minds of the community' as a symbol of courage and tenacity in the face of adversity.
Watson's raw, unstretched canvases – resembling prints as much as paintings – are produced through pooling fluid pigments, scraping, scrubbing, and layering. Her most recent works, shown earlier this year at Ikon in Birmingham (Looking Glass is a collaboration between Ikon and TarraWarra) deploy recurrent motifs of the standing stones and stone circles she visited in the United Kingdom, a means to work with Scottish, English, and Irish cultural heritage on her father's side.
Pale outlines of upright stones repeat across the walls, some like stencils, others in-filled with daubs of white that remind me of weather patterns you can watch swirling across the continent on the Windy app. These ghostly forms coexist with the spine of a bunya pine, a head of kangaroo grass, a length of hand-twined string, a stone tool, a net, a bone. Some perform a virtual repatriation of Aboriginal cultural materials held in collections such as the Museum of Archaeology and Anthropology at the University of Cambridge, where Watson was permitted to handle objects, her DNA mingling through touch with that of her community. Silhouettes of these objects form a palimpsest with the standing stones, a 'collective memory' of culture, says Watson.
While these are quiet, lyrical works, they allude to the spectre of Perkins's coming storm. Spot fires, our country is burning now (2020) brings red into a palette otherwise dominated by blues and ochres. Delicate whorled forms, as much coronavirus as ember, flare at the edges of white stone.
Other works pay homage to the passage of water through Country, but even they are elegiac. Eighty per cent of freshwater springs running in the 1800s across the Gulf of Carpentaria, Watson says, 'are no longer working due to interference by people and animal stock', drought, climate change, and mining companies.
Yhonnie Scarce's and Judy Watson's works – charged with a determination not to forget, acutely sensitive to historical narratives, balancing a politics and a poetics – remind us that Australia's past treatment of land and people requires as much reckoning as its future.
---
Looking Glass: Judy Watson and Yhonnie Scarce continues at TarraWarra Museum of Art until 8 March 2021.