ABR Arts
Oliver Sacks: His Own Life
A poignant portrait of a lyrical neurologist
Madman Films
Admirers of Oliver Sacks (1933–2015) may think a documentary on the famed British neurologist and author is superfluous given the number of books published on him in recent years. Lawrence Welschler's memoir And How Are You, Dr Sacks? (2019) is impressively comprehensive. Sacks' own partner, Bill Hayes, provided more insight with Insomniac City (2017), and Sacks himself produced two memoirs, Uncle Tungsten: Memories of a chemical boyhood (2001) and On The Move: A life (2015). It is this second autobiography that would seem the final word on the subject, yet the documentary Oliver Sacks: His Own Life offers its own rewards. While it covers much of the same ground as On The Move (Sacks actually reads excerpts from it for the camera), the opportunity to see him on screen, speaking with such candour, feels like a privilege that sets it apart from the written word.
Director Ric Burns has been given unprecedented access to Sacks and to those close to him, including his editor Kate Edgar, his peers, and, most importantly, Bill Hayes.
The year is 2015. Sacks has just published On The Move, which chronicles his adult life, but a final chapter is about to emerge. Sacks has just been diagnosed with liver cancer and has been told he doesn't have much longer to live. Sacks addresses the news with calm pragmatism. His looming mortality seems to embolden him further to talk openly about himself, something he has refrained from doing most of his life.
When asked if he is first a doctor or a writer, Sacks proclaims that he is equally both and that the two are inseparable. Given his extraordinary empathy and compassion for his patients, and his ability to write vividly about them as individuals and to compellingly diarise their conditions, it's hard to believe that Sacks was such a late bloomer professionally.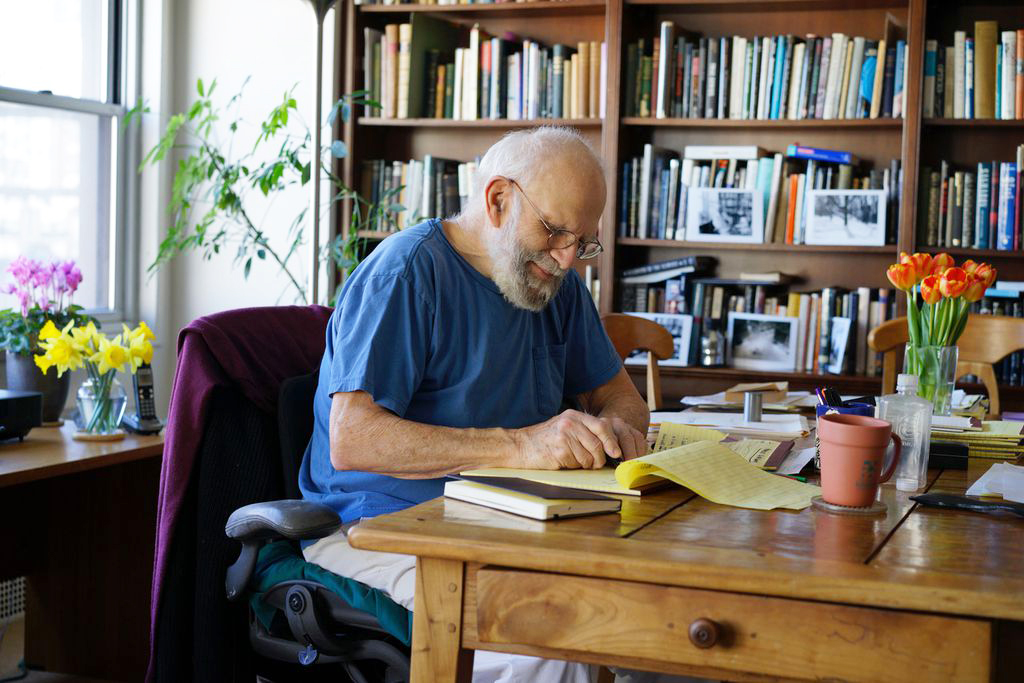 Oliver Sacks writing at a desk (photograph taken by Bill Hayes)
The documentary brushes over many of Sacks's books. Burns chooses to give priority to his second book, Awakenings (1973), which documented Sacks's first years as a neurologist at the Beth Abraham Hospital. There he encountered patients that had been afflicted with encephalitis lethargica, or sleeping sickness. Some had been in a state of catatonia for more than forty years. Sacks's ability to perceive that a number of patients appeared to be cognizant beneath their frozen exteriors led to the patients being treated with the drug L-Dopa. This resulted in a miraculous transformation whereby the majority of patients broke out of their unresponsive states and began to move and speak with comparative ease.
Despite the pioneering results of his work, and the subsequent book that defied medical journal traditions by engagingly and humanely representing patients, Sacks was roundly ignored and denounced by the medical establishment. At the time of its publication, Awakenings sank without a trace.
Rejection was a recurring theme in Sacks's early years, and the documentary focuses equally on his personal life. On learning of his homosexuality, his mother called him an abomination and said she wished he'd never been born. He fled England for a new life in America, but his first attempt at companionship when he arrived in San Francisco dealt another crushing blow, which would later lead to a period of celibacy that lasted thirty-five years.
When Sacks describes his destructive youth, which involved an enormous amount of amphetamines, thirty-six-hour high-speed motorcycle rides, and obsessive bodybuilding (which culminated in him setting a Californian record of squatting 120 kg), it's hard to reconcile such activities with the gentle, curious, and compassionate doctor who cared so deeply about his patients.
Sacks's approach of humanising his patients, to treat the person and not the disease, is what is remarked upon time and again in the film. In his own words, he claims that as a doctor 'you bring yourself and you interact'. To this end, there is a surprising amount of footage of him from the 1960s and 1970s, a towering bear of a man, interacting with various patients.
The most valuable moments, though, are those in the present. We see him surrounded by those he loves. The story of his late bonding with Hayes is especially gratifying given how much he shunned personal relationships for so many years.
Sacks is such an enthralling raconteur that Burns wisely refrains from inserting himself in the picture. He's content to put a camera in front of Sacks, and Sacks readily obliges by entertaining the room with sharp observations, a mischievous sense of humour, and his honest recollections of an extraordinary life. His companions are equally forthcoming, often providing details of Sacks's achievements and great qualities, which the subject himself would be too self-deprecating to mention.
Sacks' books on various neurological disorders, including The Man Who Mistook His Wife For a Hat (1985), Seeing Voices: A journey in the world of the deaf (1989), and Musicophilia: Tales of music and the brain (2007), were distinguished by his humaneness. It's unsurprising that his self-eulogy would be so moving. We hear him speak it as the film ends, and it is the perfect reflection of who he was.
Oliver Sacks: His Own Life is a very satisfying two hours spent with a fascinating and inspiring figure. The Oliver Sacks novice will be astounded by the life he led, while the devotee will gain an even deeper appreciation of a remarkable man.
---
Oliver Sacks: His Own Life (Madman Films), 111 minutes, directed by Ric Burns. In cinemas 3 December 2020.