Film
Mank
Inside the murky origins of Citizen Kane
Netflix
Despite nearly eighty years having passed since its release, Orson Welles's Citizen Kane (1941) is never far from the centre of cultural discourse. Aside from the fact that it tops 'greatest movie' lists with monotonous regularity, Citizen Kane often comes into view in somewhat quirky ways as it relates to today's world. For example, there was Donald Trump's much-publicised and much-derided misunderstanding of the film's message, and few years ago there a the strange report of Welles having been posthumously 'forgiven' by the family of William Randolph Hearst, the wealthy press baron who inspired the character of Charles Foster Kane.
The mythology and mystique around Citizen Kane have grown to the point that the film seems to have developed its own cultural gravitational pull. Into its orbit are drawn scholars, critics, artists, musicians, novelists and filmmakers seeking to celebrate or reinterpret it. Mank, director David Fincher's first film since Gone Girl (2014), is the latest instalment. Based on a script by Fincher's father, Jack, who died in 2003, this is a labyrinthine, dizzying onslaught of non-linear storytelling that juggles various plotlines, none of which is really dominant. Mank also features a large and disorienting cast of characters, and is replete with witty and arch dialogue that moves at bewildering speed.
Mank is not about Welles. Instead, it covers a tumultuous period in the life of Herman J. 'Mank' Mankiewicz, a famed Hollywood screenwriter of the 1920s and 1930s who made a pivotal contribution to The Wizard of Oz (1939), among other films. Mankiewicz co-wrote Citizen Kane with Welles, a fraught process that irreparably damaged their relationship. Fincher's sympathies lie firmly with his titular hero, not only sidelining Welles in the writing of Citizen Kane, but presenting him in several scenes as a smirking, almost vaudevillian, villain.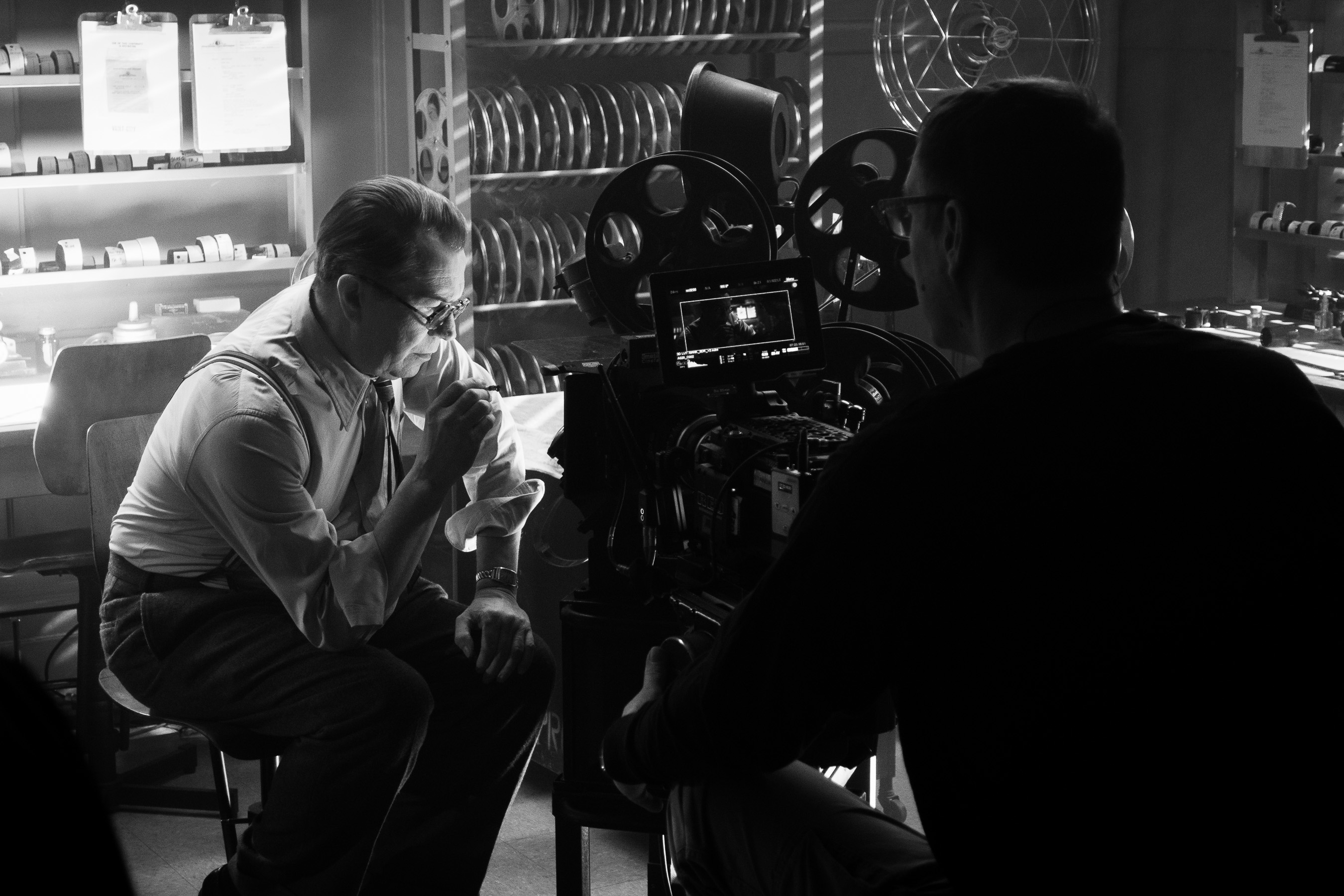 Gary Oldman as Herman J. 'Mank' Mankiewicz in Mank (Netflix)
Mank, shot in elegant black and white, opens with Mankiewicz (Gary Oldman) being helped into bed in a remote house in the Mojave Desert – he has a broken leg, the result of a car accident. He is also a raging alcoholic confronting a lack of supply. It is 1940 and Welles (Tom Burke) has sent Mankiewicz to this isolated spot to write the script for the former's new film project that will, as Welles puts it, 'hunt the great white whale', a reference to Hearst. A ninety-day deadline becomes sixty on Welles's whim, and the weeks drift by with the bedridden screenwriter dictating to his secretary Rita Alexander (Lily Collins) and trying to find alcohol.
After anchoring itself in this scenario, Mank leaps about in time, revisiting various points in Mankiewicz's recent past. These flashbacks cover so many different people, events and conflicts that it is difficult to say what exactly is the essence of this film. However, two principal narratives do emerge. The first is how Mankiewicz came to know Hearst (Charles Dance) and his mistress, the actress Marion Davies (Amanda Seyfried), with whom Mankiewicz developed a strong rapport. His memories of the couple inform the screenplay as he lies in bed in the 'present', and Hearst is brutally transformed into Kane. However, Susan Alexander Kane, the character whom many assume is based on Davies, is a more complex figure, and Mankiewicz strenuously denies that she is directly modelled on his friend Davies.
The second saga in these flashbacks is the influence of Mankiewicz's employer, the studio Metro-Goldwyn-Mayer (MGM), on the 1934 Californian gubernatorial election that pitted Republican Frank Merriam against author and socialist Upton Sinclair, the Democratic candidate. Mankiewicz is disgusted by MGM's propaganda films for Merriam funded by, of course, Hearst. Merriam won; Sinclair blamed the films. This was one of several perceived injustices that motivated Mankiewicz to hunt the white whale.
If all this sounds confusing and somewhat dry, that is because Mank is both of these things. Even the most attentive viewer will have difficulty keeping up, and numerous scenes, such as one where Mankiewicz spits out a drunken diatribe to Hearst and studio boss Louis B. Mayer (Arliss Howard) during a dinner party, are utterly interminable and indulgent. The film also exists in its own obscure (though brilliant) linguistic universe, which might alienate some viewers. Then there is the question of whether knowledge of Citizen Kane and its making is necessary to appreciate Mank. The answer is a categorical yes.
Mank is, however, redeemed in some spectacular ways – many technical. Two scenes stand out as impeccably controlled set pieces. In one, Mayer walks Mankiewicz and his brother Joseph (Tom Pelphrey) through the MGM lot, cynically but joyfully espousing the studio's dubious values. Mayer, played superbly by Howard, struts around and holds court with a charisma born of power that is as absorbing as it is disturbing.
Another scene sees Mankiewicz and Davies strolling through the grounds of Hearst's opulent residence, Hearst Castle (the inspiration for Xanadu in Citizen Kane), surrounded by enclosures of elephants, giraffes, and monkeys. The dialogue here is uninteresting, but this sequence contains a remarkable rhythm and choreography that recalls an MGM musical, such is the synchronicity and precision of Oldman and Seyfried's physical movements. Seyfried flutters across paths and onto walls and fountains with Oldman providing a supporting hand or shoulder. It is a strange, fascinating scene for which cinematographer Erik Messerschmidt deserves particular credit.
Oldman is exemplary throughout Mank. Undoubtedly one of the film's intentions was to showcase Mankiewicz's legendary wit, which is acerbic, literary, self-deprecating, and lightning-fast, and Oldman inhabits this sad clown, slurred words and all, with empathy and restraint. His dynamic with the flawless Seyfried is among the film's highlights.
Strong performances also come from Collins as Alexander, Tuppence Middleton as Mankiewicz's long-suffering wife Sara, and Ferdinand Kingsley as the unfriendly, brash MGM producer Irving Thalberg. Dance's hawk-like features are perfect for a character as imposing as Hearst. Then there is Burke as Welles, who drifts in and out of the film. Burke does a serviceable job in a role that would be easy to overplay, given the famous musicality, theatricality, and downright exquisiteness of Welles's speaking voice.
---
Support the magazine that supports Australian writers.
Subscribe for as little as $10 a month.
---
Plenty of coverage of Mank has focused on the question of who deserves credit for writing Citizen Kane. While writing his screenplay, Jack Fincher was probably influenced by Pauline Kael's famous two-part essay 'Raising Kane', which appeared in a 1971 issue of The New Yorker. The essay controversially proclaimed Mankiewicz to be the sole author of the Citizen Kane screenplay, without any meaningful input from Welles. (According to David Fincher, his father's original Mank script had to be revised because it was too much of a hatchet job on Welles.)
Kael's thesis, however, has been widely debunked – Welles made many key amendments to the script after Mankiewicz handed him his draft. This is not touched on in Mank. In fact, the question of credit for the Citizen Kane script only emerges late in the film – any conflict over who wrote what is barely more than a sidenote.
For me, the release of Mank comes at an interesting time. Recently, my father died, and one memory that keeps emerging is of watching the BBC documentary The Orson Welles Story (1982) with him one night many years ago. My father, who was eight when Citizen Kane came out, leaned out of his seat, caught my eye, and said, 'When I was young I used to want to be like Orson Welles you know.' I mention this because for a generation of people Welles was a heroic, quixotic figure who strove for grand achievements in various artistic pursuits – an adventurer, innovator, idealist, and polymath.
Fincher offers a mild challenge to this image. In revealing the undeniable importance of Mankiewicz to Citizen Kane, Mank implies that Welles's ongoing reputation as some kind of other-worldly genius is an exaggeration – something Welles himself, who grew modest in old age, would probably have welcomed. By celebrating Mankiewicz, Mank gently steers the conversation about Citizen Kane away from the ubiquitous Welles for just a moment. Despite its flaws, Fincher's passion project is a worthy tribute.
---
Mank (Netflix), directed by David Fincher, is currently playing with a limited theatrical release and will be available on Netflix on December 4.