Opera
Così fan tutte
WA Opera
British director Nicholas Hynter's production of Così fan tutte premièred at Glyndebourne in 2006. WA Opera's Music Director Chris van Tuinen programmed it for their 2020 season. The set, costumes, props, and furniture were shipped to Perth, and the season substantially sold out. Then Covid-19 struck, and theatres (and Western Australian borders) closed.
Restrictions within Western Australia have since eased. Venues reopened in June with a limited capacity of two square metres per person (even this has now been waived for seated events). Physical distancing is encouraged but not mandatory; there are no masks in sight. In comparison with most of the world (and much of the country), we're living on another planet here.
Rehearsals for Così commenced in September with an entirely local cast; the Glyndebourne rehearsal director Bruno Ravella communicated with local assistant director Margrete Helgeby Chaney via Zoom. The season was oversubscribed because of the reduced venue capacity, so tickets had to be returned. Reviewers and guests were invited to the dress rehearsal on October 22, which is when I saw the show. (The season opened on October 24.)
What follows is therefore a review of the dress run. As a casually dressed van Tuinen (who also conducted) announced on the forestage of His Majesty's: this was a rehearsal, the show might have to stop now and then, and the singers might occasionally 'mark' in order to save their voices for opening night.
In fact, while I detected a degree of vocal restraint at least initially, this became less noticeable as the performance (and the audience) warmed up. If anything, it lent an engagingly conversational quality to the singing, from the recitatives to some of the arias. Along with the informality of the occasion, the intimacy of van Tuinen's approach to the score, the playfulness of the cast, and the subtlety of Hynter's production – all this contributed to the opera's capacity to captivate and challenge us.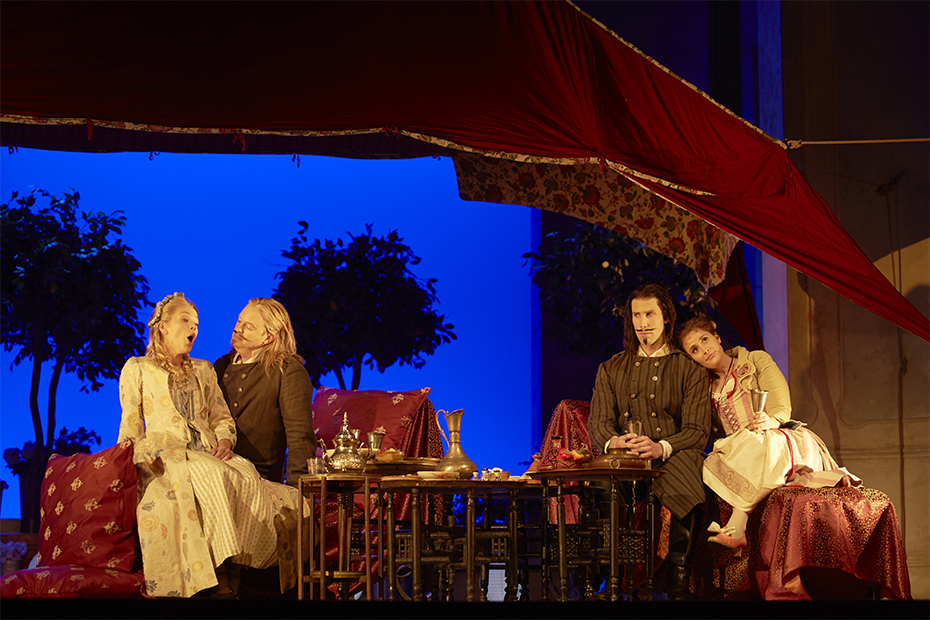 Paul ONeill as Ferrando and Sam Roberts Smith as Guglielmo and Prudence Sanders as Fiordigli and Ashlyn Tymms as Dorabella in Così fan tutte (James Rogers/WA Opera)
First performed in Vienna in 1790 and set in contemporary Naples, Così is a notoriously problematic work, largely because of the alleged absurdity and offensiveness of Da Ponte's libretto, which deals with two male friends (Ferrando and Guglielmo) who are in love with two sisters (Dorabella and Fiordiligi). The men are convinced by an older 'philosopher' (Don Alfonso) to test the women's fidelity for a wager by pretending to go to war and then returning in disguise as 'Albanians' in false moustaches in order to woo each other's fiancées. Needless to say, after encountering some initial resistance, they succeed (and therefore lose the wager), with the assistance of the sisters' maid, Despina, who accepts money from Don Alfonso in return for facilitating the deception and encouraging her mistresses to accept the attentions of their 'new' suitors (as well as disguising herself as a doctor and later a notary who finally 'marries' the two new couples as part of the subterfuge). The denouement sees the men revealing themselves, the women asking for their forgiveness, and the two original couples apparently (if uneasily) reconciled.
Condemned by Beethoven and Wagner for its frivolity and immorality, the work largely disappeared from the repertoire in the nineteenth century. It returned to favour in the twentieth century largely because of Mozart's sublime music, which is still felt to be incongruous with Da Ponte's libretto. It's now more likely to be accused of misogyny – not least when all three male characters bitterly proclaim (in the words of the title) 'Thus do all women!' – or, perhaps more precisely and revealingly, 'All do likewise!'
Such objections seem to fall short of the opera's true purport. As the title – and even more clearly the subtitle, 'The School for Lovers' – suggests, it's not only the women but also the men who are exposed and taught a lesson. For me, Così is about the loss of innocence in any relationship. It's also about having a sense of humour, perspective, and, most importantly, forgiveness.
Hynter's production allows all this to speak for itself. Vicki Mortimer's predominantly white, cream, or bone-coloured set and costumes are faithful to the work's original setting, and Paule Constable's lighting evoke the Neapolitan sun together with its attendant shadows. The effect is reminiscent of Canaletto's vistas of eighteenth-century Venice, together with the largely decorative human figures who populate them. All of this makes the characters seem like puppets or pieces on a chessboard. The sense of a great game is augmented by sliding screen doors that divide the stage horizontally. These are manipulated by Don Alfonso, as well as a duo of servants, to conceal or reveal the two suitors in various guises or emotional states. They also facilitate a series of transformations in the garden terrace beyond the drawing room where most of the action takes place. Upstage of the terrace is a vast cyclorama representing a cloudless blue sky.
Within this simple but stunningly beautiful frame, the cast brought the characters energetically to life. One the ironies of the opera is that they become more individualised – and their feelings more intense – once the game of deception and betrayal begins. This does not mean that the solution to their problems lies in having affairs or changing partners, but in becoming more realistic and honest with each other and themselves.
Much-loved local bass baritone James Clayton as Don Alfonso reined in his voice and brought intelligence and wit to the role of the puppet-master pulling the strings. There was complexity and depth to the performance as well, notably in the flash of malevolence that emerged in his solo recitative 'Non son cattivo comico!', which reminded me of his Iago for WA Opera in 2014.
As his partner in crime, soprano Penny Shaw was a deliciously comic Despina, with a subversive consciousness of her status as a maid, exploited by (and here taking revenge on) the ruling class. This is Shaw's first principal role with the company after having served in the Chorus for twenty years. Judging by the audience's response, one can only hope that it will be the first of many such engagements.
As the more conflicted of the two sisters, soprano Prudence Sanders was a radiant Fiordiligi. She was outstanding in her two great arias: 'Come scoglio', a parody of outraged purity, and 'Per pietà, ben mio, perdona', a hushed acknowledgment of fallibility. As her more easily swayed sister, mezzo soprano Ashlyn Tymms was a warm-voiced and tender Dorabella, charmingly so in the aria 'E amore un ladroncello', where she acknowledges the power of love to sway our hearts and minds.
Local and international star tenor Paul O'Neill was in glorious voice as Ferrando, touchingly so in his declaration of faith in fidelity in the aria 'Un aura amorosa'; but he also conveyed a complex ambivalence when Fiordiligi finally yields to his advances in the duet 'Fra gli amplessi in pochi istanti'. In contrast, the rich-voiced baritone Sam Roberts-Smith was a swaggering Guglielmo, his imposing physique lending itself to broad physical comedy during his 'seduction' of Dorabella (although at times this verged on assault). However, he also found great tenderness (and even compassion) in their Act II duet, 'Il coro vi dono'.
One of the blessings of the WA Opera is having the WA Symphony in the pit, and they responded with great sensitivity to the delicacy of van Tuinen's conducting. Outstanding work came from the wind players who provide such colour and richness to this most autumnal of Mozart's operas – especially clarinettists Allan Meyer and Lorna Cook, horn players David Evans and Julia Brooke, and trumpet players Jenna Smith and Peter Smith.
In closing, I can't help acknowledging how fortunate I felt to be enjoying live opera in an actual theatre in a manner currently impossible elsewhere in the country (or the world) – despite the apparent absurdity of having a reduced audience capacity but patrons seated next to each other. I also can't help remarking on the pleasure of seeing an entirely local cast rise to the occasion without a single weak link. If only this were the case more often: local artists would be able to maintain professional careers without having to travel constantly, move abroad, or supplement their income with other work; local companies would be able to develop genuine artistic identities; and local audiences would be inspired by a sense of loyalty to those artists and companies in order to support a truly sustainable local industry.
---
Così fan tutte, presented by WA Opera, continues at His Majesty's Theatre on October 27, 29, and 31. Because of ticket restrictions, our reviewer was able only to attend the final dress rehearsal on October 22. You can also read earlier reviews of Così by Peter Rose: from the Metropolitan Opera (2016) and Opera Australia (2019).