Television
Mrs. America
Hulu/FX
There's a surprising moment in the 2018 documentary film Ask Dr. Ruth when Dr Ruth Westheimer rejects the idea of being labelled a feminist. Both her daughter and granddaughter are attempting to convince her that she well and truly fits the bill, but Dr Ruth – a ninety-year-old Holocaust survivor, patron saint of sex therapists, noted LGBT+ ally, and lifelong advocate for women's reproductive rights – laughs it off, presumably because the word 'feminism' means something different to her than to the other generations of women in her family. It's also a word that's historically prone to being twisted, bastardised, and sensationalised by those against it, weaponised and aggrandised by those passionately for it. From a generational standpoint, Westheimer can't see herself as a feminist hero. But true heroes often don't realise that's what they are in their story, in much the same way that villains rarely understand they're the villain in theirs. It's not until the forty-minute mark of the first episode of FX and Hulu's Mrs. America that we realise that Phyllis Schlafly (Cate Blanchett) is the villain of hers. It's the first of many subversions in this exceptional mini-series about a key chapter in the evolution of feminism in twentieth-century America.
It is the early 1970s, and the Equal Rights Amendment (ERA) – which would guarantee equal legal rights for all Americans, regardless of sex – has passed both the House and the Senate, meaning that thirty-eight of America's fifty states must now ratify the amendment for it to become constitutional law. Leading the charge is the powerhouse National Women's Political Caucus (NWPC), including Gloria Steinem (Rose Byrne), Bella Abzug (Margo Martindale), Shirley Chisholm (Uzo Aduba), Betty Friedan (Tracey Ullman), and Jill Ruckelshaus (Elizabeth Banks). The ERA is enjoying widespread bipartisan support from Democrats, Republicans, even President Richard Nixon himself; by all accounts it is a golden window of opportunity for progress. That is until Phyllis Schlafly, a supremely cunning conservative advocate from Illinois, catches wind of the ERA and makes it her personal mission to snuff it out. We spend the series bouncing back and forth between the progressive women's movement and Schlafly's conservative 'STOP ERA' faction, witnessing each party's victories, setbacks, and manifold political tactics. When the feminist 'libbers' start to win ground in Illinois, Schlafly's housewives bake bread and bring it to the State Capitol building, handing it out to male legislators with notes that read: 'To the breadwinners, from the breadmakers'. Illinois would not ratify the ERA until 2018.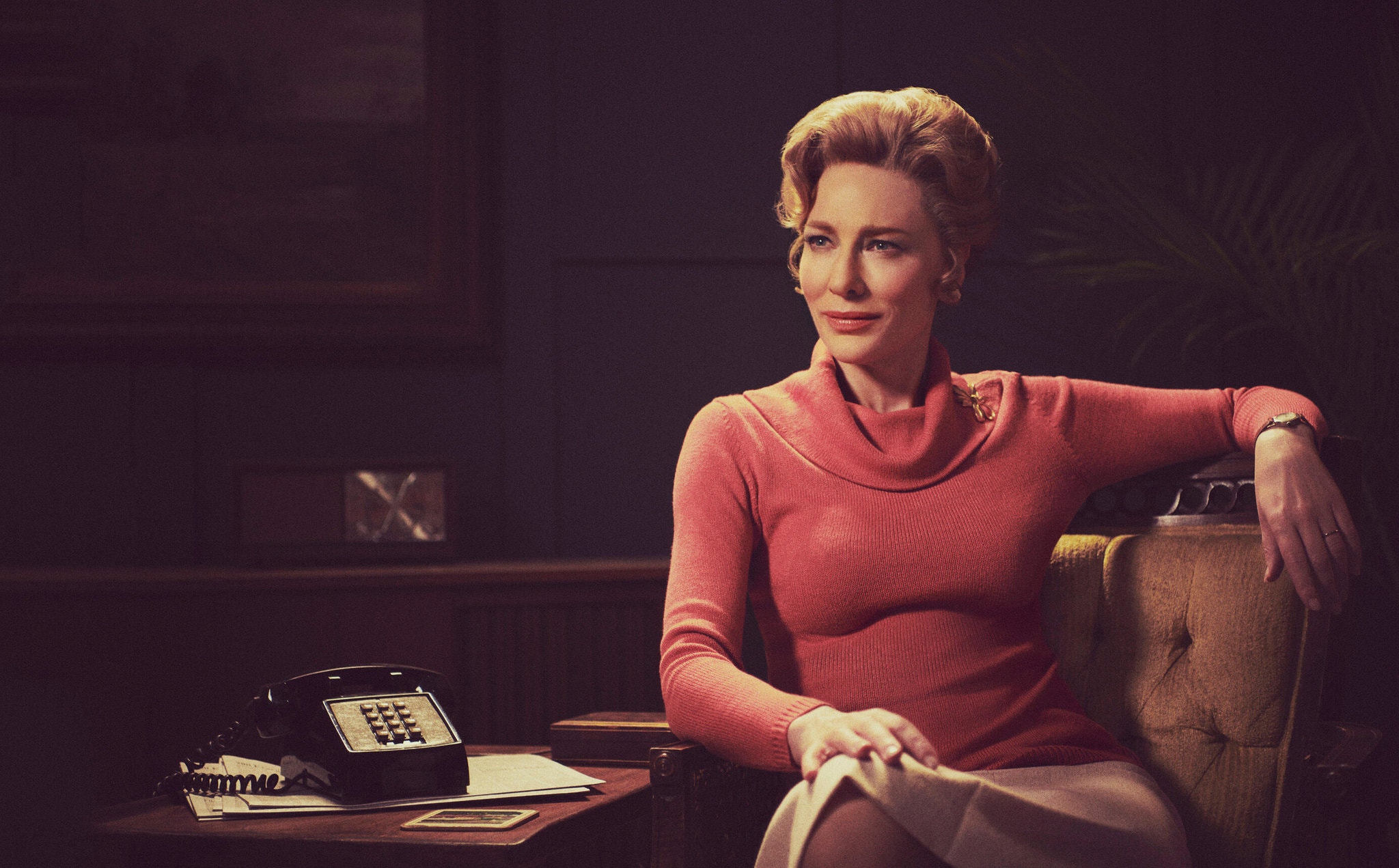 Cate Blanchett as Phyllis Schlafly in Mrs. America (photograph by Pari Dukovic/FX/Hulu)
The conservatives' rationale for wanting to block the amendment stems from a distrust of liberal values, a fundamental resistance to change, and a paranoid distortion of the facts. If gender equality becomes constitutionally enforceable, STOP ERA argues that soon their daughters will be drafted to Vietnam. Housewives will be expected to complete their domestic duties and hold down a nine-to-five job. What next? 'Taxpayer-funded abortions, state-run daycare, women in foxholes.' 'A feminist totalitarian nightmare.' (Characters often reference feminism and communism almost interchangeably.) To them, these 'equal' rights threaten to take away the rights they already have, and the comfortable lives they enjoy.
Over the course of nine meticulous episodes, Mrs. America becomes less about the women's movement specifically and more of a dissertation on privilege in general, and how it shaped – and continues to shape – the United States. Even among the enlightened ranks of our second-wave feminist heroes, women of colour and lesbians are frequently overlooked. Betty Friedan, landmark feminist author and founding member of the NWPC, also coined the term 'the Lavender Menace' to describe queer women, whom she saw as a threat to women's liberation as a whole. In one episode, she effectively slut-shames her daughter and refuses to let her leave the house wearing a low-cut top. These would be unthinkable traits in a modern-day feminist public figure, but Mrs. America reminds us that even on the right side of history, it takes time to get everything right. While Friedan represents the old guard, others like Gloria Steinem argue that no woman can be considered truly equal while other women are left behind, heralding the intersectional feminism that has entered mainstream progressive politics today. Even in the STOP ERA camp, more centrist women like Schlafly's close friend Alice (Sarah Paulson) are appalled when conservative members from Texas liken the threat of gender equality to the supposed travesty of racial integration.
This all might make Mrs. America sound terribly academic – but it's also a ton of fun. It has all the trappings of a prestige American political period drama, with stunning 1970s fashion and a killer soundtrack to match. Both the wintry suburbs of Illinois and the raging feminist parties of Manhattan benefit from grainy, lived-in cinematography that is smartly interspersed with clips of real-life protests and conventions. And while the characters' individual relationships are the heart and soul of the show, the hushed philosophising and back-room politics are routinely punctuated by high-stakes public and on-air debates between the two sides, which inevitably erupt in spectacular dramatic fashion.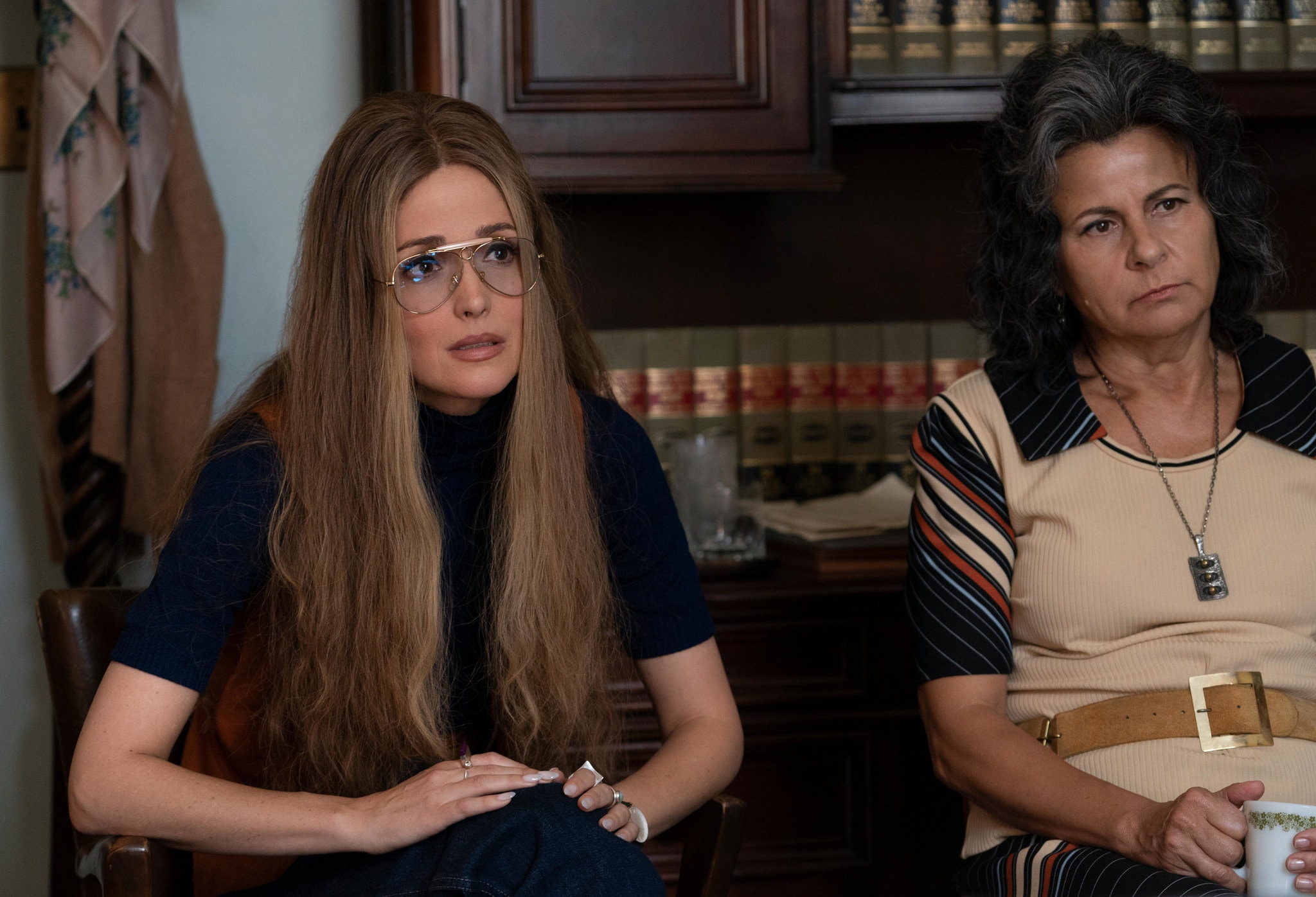 Rose Byrne as Gloria Steinem and Tracey Ullman as Betty Friedan in Mrs. America (photograph by Sabrina Lantos/FX/Hulu)
At the centre of it all is Cate Blanchett as Schlafly, our eminently watchable anti-hero. Having lost two runs for Congress, Schlafly maintains a voracious appetite for power. She is a born organiser and a gifted public speaker, well versed in matters of national security, who dreams of one day becoming secretary of defense. But when a trip to Washington ends with her being asked to keep minutes in a meeting rather than share her thoughts on nuclear disarmament, we see her change tack. She decides to throw her considerable talent and resources behind a political issue she knows the men in the room will listen to her opinion on: the Equal Rights Amendment. The real tragedy of Schlafly's campaign, and the consequences it had for every woman in America, is that she was never particularly bothered by the ERA until she was left with no other way to make Washington notice her.
It's a bold move anchoring the story of women's liberation in the United States from the perspective of its most vocal opponent, but it also makes sense – because ultimately, the joke is on Schlafly. While never labouring the point, Mrs. America frames her as an obvious hypocrite; she is clearly subject to the same discrimination her so-called enemies are attempting to liberate themselves from, but she is too proud to see it. A number of scenes begin or end with nameless men in the foreground making inappropriate remarks about Schlafly's appearance, just out of earshot. Her trip to Washington is tinged by unwanted sexual attention from Republican Representative Phil Crane (James Marsden). And her filibustering on the sanctity of stay-at-home mothering often cuts to scenes of her black maid, Willie (Novie Edwards), feeding and raising Phyllis's family. The real kicker, of course, is that Schlafly is a picture of feminist ideals: mother, career woman, advocate, lawyer, and author of twenty-six books (the last being the posthumous The Conservative Case for Trump, published in 2016).
As Schlafly's movement picks up speed, followers, and influence, she becomes less and less sympathetic – even appearing as a satanic vision in a friend's dream – but every second of Blanchett's performance is mesmerising. Her acting borders on telepathy; she conveys volumes of thought with the slightest twitch of an eyebrow. And Blanchett is in good company – the ensemble cast is as much an all-star line-up as the real-life figures they portray. Rose Byrne is captivating as Gloria Steinem, the outspoken poster child of the women's movement. Margo Martindale is terrific as Bella Abzug, constantly arguing for the caucus to make small moral concessions for the sake of long-term good. And Uzo Aduba is heartbreakingly good as Shirley Chisholm. The third episode, 'Shirley', details her run for the Democrats' presidential nomination – the first black woman to do so. It's a story that deserves a mini-series of its own.
Mrs. America's episodes are all titled this way – starting with 'Phyllis', then 'Gloria', through to 'Shirley', 'Bella', 'Jill', and so on. Each depicts a week, a month, sometimes a full year in the movement and how that eponymous woman contributed so profoundly to it (or detracted from it). The final episode takes place in 1980, nine years after the pilot, and is simply and ominously titled 'Reagan'. Mrs. America is a rich anthology of personal biography, but it's also a crash course in American history. The ERA ground to a halt three states away from ratification. Phyllis Schlafly's vanity project turned the tide of popular opinion and changed the nature of public discourse, ushering in the fortieth president of the United States and the staunch conservative backlash that came with him. In its final two episodes, Mrs. America is about the fight for the soul of the Republican party, as it is gradually pulled further towards the right. The rhetoric of Schlafly, and the generations of commentators she informed, is shown in no small way to be responsible for the extreme partisanship that exists in the American political system today.
There could not be a better time for a series like Mrs. America. It praises community mobilisation and celebrates figureheads of a movement who insisted on making the personal political. It is also a warning – in case we still needed one – of how progressive movements are derailed when the truth is abused and when opportunities for some are presented as threats to others. It also shows us just how easily privileged individuals can seize the reins of democracy to further their own self-interests. As Phyllis Schlafly begins to drum up support for Ronald Reagan in 1980, she dons a pin bearing his campaign slogan, 'Let's Make America Great Again'. Forty years later in the United States, a man accused of multiple sexual assaults is a Supreme Court Justice, nine states have begun the process of overturning legalised abortion, and on average, women earn eighty-one cents to every dollar made by men.
---
Mrs. America is available to watch on Foxtel in Australia.