Television
Mystery Road
Bunya Production / ABC
NOTE: This review contains spoilers for Mystery Road: Series 1.
---
As a genre, the western springs from colonial tension: tension between the old ways and the new; between the native people and an invading population; between humans and the land itself; between lore and the law. There are no westerns set in Britain. And while the gunslinging adventures of cowboy frontiersmen may have receded into the background of American culture, the genre remains ripe with critical and narrative potential for more freshly colonised countries like Australia.
While it's never entered the mainstream the way it did in American film and television, the western has had a foothold in Australian culture since moving pictures began. The world's first feature film was The Story of the Kelly Gang, shot in and around Melbourne in 1906. Australian filmmakers have been returning to that creative wellspring ever since, with films such as Robbery Under Arms (1957), The Chant of Jimmie Blacksmith (1978), The Man From Snowy River (1982), The Tracker (2002), and The Proposition (2005). The year 2017 saw one of our greatest westerns in Sweet Country, directed by Warwick Thornton (Samson & Delilah [2009]), one of two pre-eminent Aboriginal filmmakers at the helm of ABC's second series of Mystery Road. Thornton shares directing duties with Wayne Blair (The Sapphires (2012], Top End Wedding [2019]).
Mystery Road, which premièred in 2018, is a serialised continuation of the adventures of Aaron Pedersen's cowboy hat-toting Indigenous detective Jay Swan, from 2013's franchise-starter Mystery Road and its sequel, Goldstone (2016). Those feature films from writer–director Ivan Sen were a high watermark for Australian cinema, and the series has proven equally successful, winning the Logie for Most Popular Drama Program (no mean feat for a gritty, Indigenous crime series set in remote Western Australia that casts Ernie Dingo as a paedophile councilman). The distinctive interplay of story and setting makes Mystery Road immediately comparable to other countries' international crime-drama exports, like the ever-popular slew of 'Nordic noir' (The Bridge, The Killing, Midnight Sun, et al.). Mystery Road has proved to be a massive hit in France.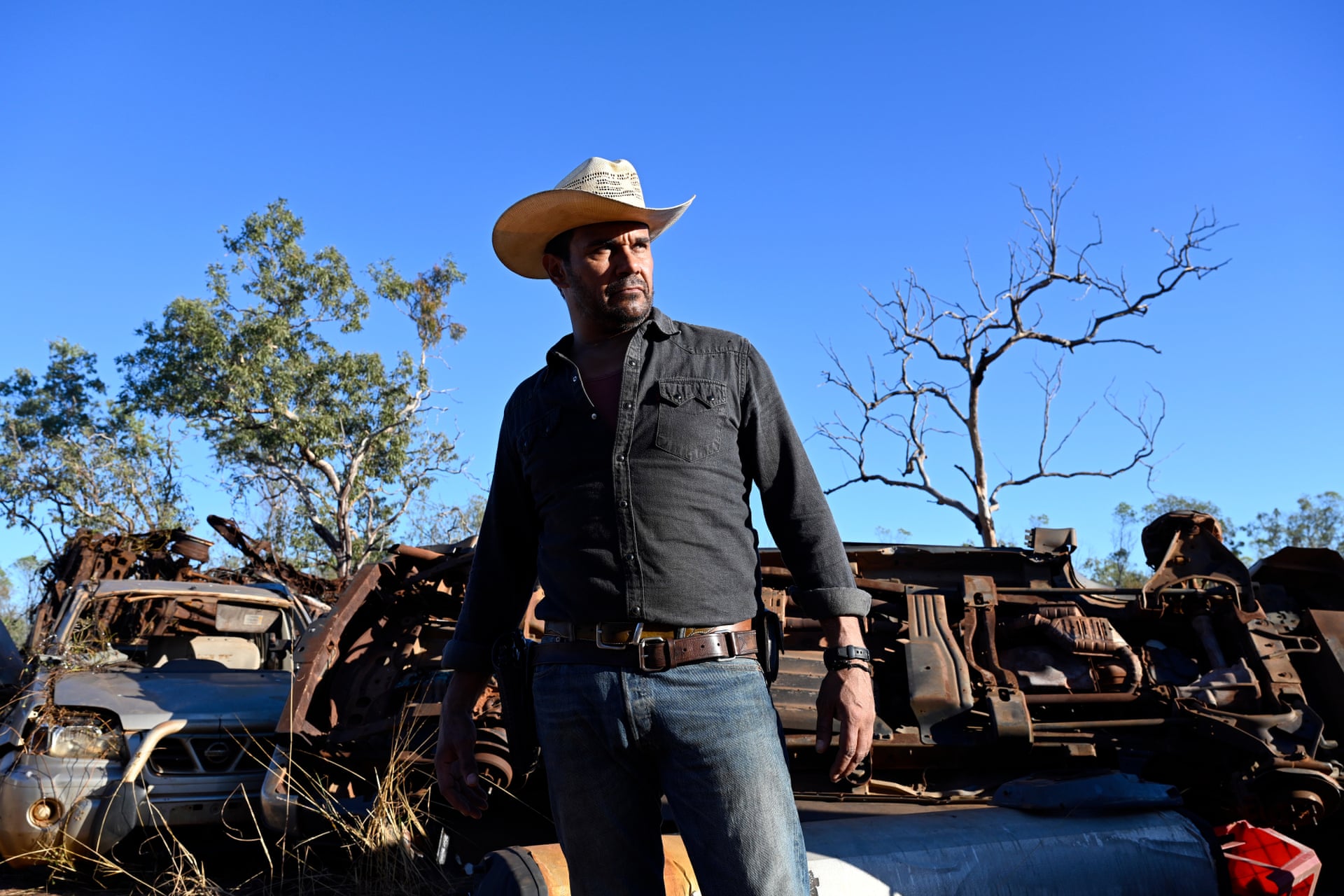 Aaron Pedersen as Jay Swan in Mystery Road (photograph by David Dare Parker/ABC TV)
In this second series, Jay Swan arrives in the far-flung coastal town of Gideon, summoned by the discovery of a headless corpse in the mangroves. He believes the body is connected to a state-wide methamphetamine operation he's been tracking for years – his own great white whale. Soon he finds himself partnered with constable Fran Davis (Jada Alberts) – a young Indigenous policewoman haunted by the disappearance of her cousin ten years earlier – and butting heads with the incompetent (and perhaps corrupt) Senior Sergeant Owen Cross (Mark Mitchinson). Gideon is a place 'at the edge of the earth,' where 'no one cares who deals drugs or dies'. There are dodgy pearl fishers, secretive small-town priests, drug pushers, junkies, flunkies, tattooed bikers, and troubled teens aplenty. There's also an archaeological dig led by Professor Sandra Elmquist (Sofia Helin, on loan from the aforementioned The Bridge), that's stretching those colonial tensions to breaking point. Elmquist has been granted permission by traditional land owner Amos (Rob Collins) to excavate a sacred site, hoping to find physical evidence of civilisation that will reaffirm Australia's First Peoples as the oldest living culture on earth. Her scientific saviour complex isn't making her any friends in the local Aboriginal community, especially when she uncovers a bag of bones on the dig site that might belong to Fran's missing cousin.
While Mystery Road takes its thematic cues from the western, its storytelling structure and visual language are pure hard-boiled detective thriller. This second season especially embodies the moniker of 'outback noir'; floodlights from four-wheel drives reflect on coastal mudflats like rain-slicked city streets. A woman's high heels traipse through red dirt. The rhythmic hissing of a sprinkler system underpins a high-stakes shootout at a roadside motel. As in the best detective stories, all our hero has to do is pull one loose thread to unravel a rotten hotbed of corruption and iniquity. This is where the detective genre has always excelled: as social dissertation in pop-culture packaging, where one simple crime gives rise to a detailed analysis of broken systems, societal, judicial, governmental, or otherwise. That makes it another story mode uniquely qualified to pick apart modern-day Australia, where the buck never stops quite where it should. These stories suggest that there is always someone higher up the food chain, profiting from other people's suffering, and it is characters like Jay Swan, in the tradition of so many no-nonsense lawmen before him, that have the nose to detect them and the will to unmask them.
The hard-boiled detective feels especially useful in the twenty-first century, for it is one of the few archetypal characters that encourages a male lead to inhabit multiple modes of masculinity. While a true western trades in cardboard-cutout male heroes, the detective is both a celebration of maleness and a lament for its limitations. Philip Marlow, Sherlock Holmes, Bruce Wayne, Jay Swan – they are all talented, intelligent, and damn good at their jobs, but they are also addicts, liars, bad fathers, worse husbands, and terrible communicators. The first series of Mystery Road drove this point home too strongly at times, bogging Jay's storyline down with family drama that felt ancillary to the plot, and forcing him to run gauntlets of backstory – where usually a detective (or cowboy for that matter) would be understood purely through action and decision-making. Series 2 wisely reins this in while finding a role for Jay's long-suffering ex-wife Mary (Tasma Walton) that is not only compelling in its own right but essential to the story. Everything about Series 2 is more streamlined, while still building on what came before. The violence is tenfold what it was in the previous season, the body count nearly countless, the blood thicker, the sun harsher, the gunshots louder, the bikies meaner. And yet it never suffers from the dreaded bloat of so many sequels. Even with its twisty plot and lavish visuals, every aspect of the production feels keenly focused.
Aaron Pedersen is terrific as Jay Swan, effortlessly exuding world-weariness and brusque charm. He is one of Australia's best leading men, playing what is becoming one of our most iconic characters. The cast around him is another roll-call of familiar faces and first-rate performers, all apparently having the time of their life with the material they have been given. Gary Sweet gleefully chews the scenery in a Hawaiian shirt and Panama hat, while Callan Mulvey pulls off a delicate balancing act as the shady retired cop wooing Jay's ex-wife. While nearly every character undergoes a fully satisfying transformation, the emotional weight of the season falls squarely on Jada Albert's shoulders as Fran, who becomes the lynchpin of the archaeological dig storyline. Instead of dovetailing with the main drug-bust plot, this vignette becomes its own parallel series. If Jay's crusade is to fix things in the here and now, then Fran's is to right the wrongs of the past. The bag of bones discovered at the dig site leads her down a rabbit hole of local secrets while offering an extended, poignant meditation on custodianship, and the prickly question of who 'owns' the past.
Where the previous season partnered Jay with Judy Davis's Senior Constable Emma James, mining the relationship and its inherent power dynamics to great effect, this season's choice of a buddy cop for Jay is even more interesting. Fran became a policewoman to protect her community, but Jay is a living testament to where those good intentions get you; he's loathed by blacks and whites alike, considered a traitor to his culture. Jay is a lone cowboy, an obstinate gumshoe, set in his ways. And if genre history tells us anything, it's that men like that change rarely, if ever. Jay may be fated to repeat the same mistakes, sequel after sequel, series after series, but there's hope for Fran and others like her as she navigates that tension between the old ways and the new. This unique perspective is what makes Mystery Road so much more than just Logie-worthy Aussie TV; it is vital and evocative Australian storytelling.
---
Mystery Road is produced by Bunya Productions and is currently on ABC and streaming on ABC iView.