Film
Hearts and Bones
Madman Films
Post-traumatic stress disorder is a slippery condition to pin down and portray. Cinema in general struggles to convey the depth and nuance of mental illness, especially when it stems from trauma. We're often left with frenzied flashbacks, bombastic sound design, and overripe performances that skirt dangerously close to parody. A mental illness is like a haunting, which may be why genre cinema – especially the horror genre – has recently found such success exploring the topic. Luckily, Hearts and Bones begins with a sequence so brutally efficient in its devastation we need no further convincing of Daniel Fisher's (Hugo Weaving) ongoing condition. It takes up no more than five minutes of screen time, but this tragedy signifies a tipping point in the war photographer's lifelong balancing act between observation and culpability.
The second feature from Ben Lawrence (who wowed us with his 2018 documentary début, Ghost Hunter), Hearts and Bones is a restrained and delicate dance of shifting responsibility, empathy, and guilt. As a lauded, white Australian war photographer Dan Fisher makes for an instant and ingenious stand-in for so much of the Western world's voyeuristic fascination with war zones, conflict, and tragedy. He has documented atrocities across the globe, and, while his critics level accusations of 'misery porn' against his more explicit images, Dan simply asserts that he 'shoots what his conscience tells him to'. This line is a clever bit of armour on Dan's part – we all know that even the most objective observation comes with an element of accountability.
After the film's harrowing prologue, Dan has returned from Iraq to Sydney and is struggling with his escalating PTSD when that accountability comes knocking at his door in the form of Sebastian Ahmed (Andrew Luri), a South Sudanese refugee-turned-taxi driver. Sebastian heard an interview with Dan on the radio and wants him to document the community choir he runs for other African and Middle Eastern refugees. At first, Dan prevaricates, offering to sign a book of his photos and find Sebastian a more willing photographer. But when Dan's partner Josie (Hayley McElhinney) reveals she is pregnant and Dan has a panic attack, Sebastian is the one to rush him to hospital.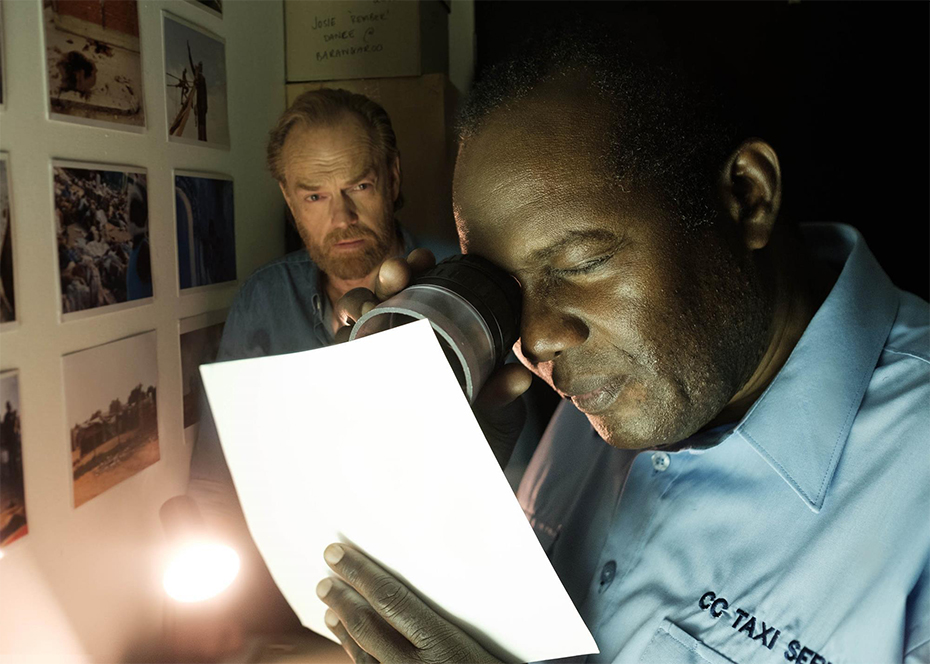 Hugo Weaving and Andrew Luri in Hearts and Bones (photograph via Madman Films)
This is the beginning of a moving but complex bond between the two men. Dan visits the community choir, hears the other refugees' stories, and even meets Sebastian's family: his wife Anishka (Bolude Watson) and his daughter Kalmira (Arrawai and Samira Masiang). Anishka has another child on the way, same as Josie, and we discover that Dan's reluctance to start a family stems from further trauma that he and Josie are yet to properly reconcile. It weighs down their every interaction; silent, heavy, and oppressive. Hearts and Bones is filled with lovers and families sharing their lives in every outward sense yet isolating themselves emotionally.
Dan documented a massacre in Sebastian's village in South Sudan fifteen years earlier, but doesn't even remember it. It's just another war-torn village in a long line of war-torn villages. What's more, his memory has holes in it from the PTSD, and from one too many close encounters with rogue mortar fire and IEDs. Dan is preparing a retrospective exhibition of his work, and Sebastian has one request: that he not display any of the photos from his village. They're 'a door to the past' and a world of trauma he has spent his entire adult life escaping – not to mention hiding from Anishka. What to do when one man's personal history is another's life's work? Both have witnessed terrible things – the difference is, Dan was profiting from the act of observation. He was there by choice.
The film cleverly conveys the starkly contrasting lives of its central couples. A shot of Sebastian discovering a plume of blood on a hotel sheet at his industrial laundry day job intercuts bitingly with Dan and Josie calmly observing the new washing machine in their apartment. The script from Lawrence and Beatrix Christian highlights Dan and Josie's privilege without ever condemning them for it, and wrings immense sympathy from Sebastian and Anishka's situation without ever feeling exploitative. And while the film never quite returns to the same intensity of that opening sequence, that's okay. With so many things on its mind, it's only right that Hearts and Bones takes time to ruminate, scrutinise, and ultimately arrive at no easy answers. The film is at its best when it trusts its own subtext – when we're watching Dan and Sebastian wrestle silently with their correlating traumas. At its weakest, the film veers toward melodrama as the script and performances strain under the weight of some questionable character choices, improbable coincidences, and arbitrary conflicts that feel over-engineered to bring the narrative to a head. Even a third-act bombshell, suggesting that the script might yet have a few tricks up its sleeve, is quickly folded into the existing drama and effectively waved away.
No matter, though. The film's provocations are ultimately more important than its specifics. It's a work of unwavering and commendable empathy, holding space for characters both privileged and disenfranchised and sensitively underlining a raft of tragic commonalities that connect us across divides of race, country, and culture. During one of their most moving exchanges, Sebastian acknowledges that Dan has seen terrible things and suggests that he is 'not strong enough to bear witness alone'. If Hearts and Bones has a message to proclaim, it's that nobody is strong enough to bear witness alone. Trauma forces us inward where its poison spreads unchecked. The best, and most difficult, thing is to open ourselves to others. Dan and Sebastian's relationship is a timely reminder of this, and the cathartic closing of a loop between observer and observed.
---
Hearts and Bones (Madman), directed by Ben Lawrence, was to be released in cinemas in April 2020. It will now be released on digital platforms (May 6) and DVD (June 3).