Opera
Salome
Victorian Opera
For all its intense brevity, Salome is notoriously difficult to stage and perform. Richard Strauss might have adroitly described his opera (first performed in 1905) as 'a scherzo with a fatal conclusion', but his great admirer Gustav Mahler was closer to the mark when he said 'deeply at work in it … is a live volcano, a subterranean fire'. Both points of view were more than justified by this generally fine performance of Salome.
The eminent Strauss biographer Michael Kennedy had it right when he said that the huge orchestra acts almost as a stream of consciousness, telling us 'what is in the characters' hearts and minds before they know it themselves'. This was certainly evident from the practically faultless playing of Orchestra Victoria under Victorian Opera's artistic director, Richard Mills. He conducted with dignity and purpose, allowing the music to speak for itself. In fact, many details of the score emerged with extra clarity, especially since some players, including percussion and horns, were positioned in the aisles at either side of the pit. Only in the true climactic moments did things threaten to become a little overwhelming. Interestingly, this only heightened the sense of drama. The evening belonged to the musical performances.
I wish I could say the same for Cameron Menzies' curiously dislocated and confusing production. In his program note, he says the production 'has tried to simultaneously look forward and backwards', to biblical times, the era of Oscar Wilde's original play (1891), and into this century. All this chronological head-turning proved, in reality, a mishmash of styles, periods, and mannerisms that never quite coalesced into anything really meaningful. Only occasionally – for example, during Salome's monologue – did undue fussiness or distraction yield to something more compelling.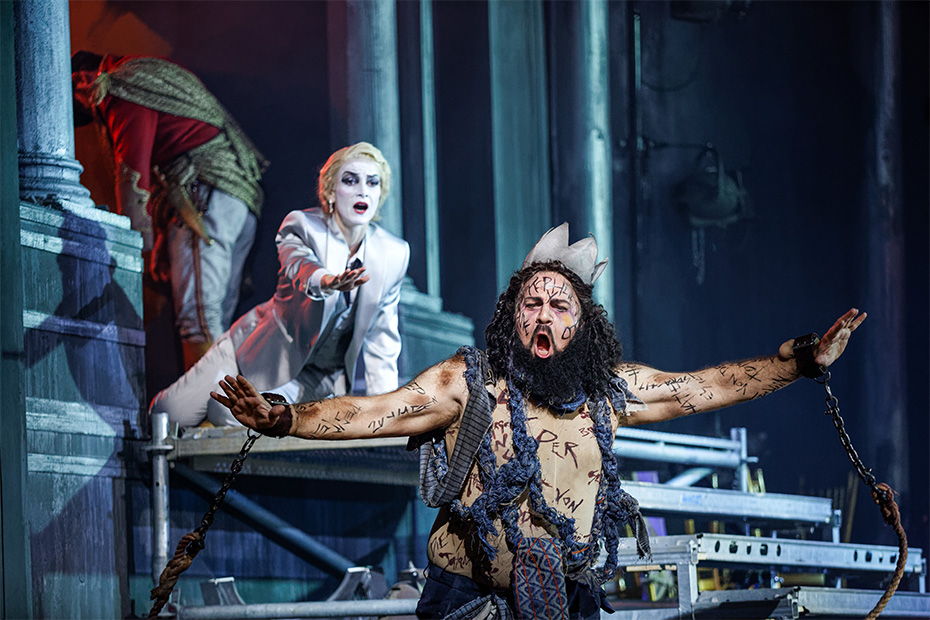 Vida Miknevičiūtė and Daniel Sumegi in Salome (photograph by Craig Fuller)
One vital element went missing. Was Namaan, Herod's Executioner, on a day off? Instead of this silent and ominous character's terrifying moment, bearing the head of Jochanaan on a silver platter, the gruesome object was merely shoved through a curtain into Salome's waiting hands, as if she had ordered a pizza (a pizza on an aluminium tray, judging from the clatter it made as Salome hurled it into the wings).
Christina Smith's rundown, proscenium-within-a-proscenium set echoed the Palais itself but was of little practical use, providing a limited, narrow corridor for the main action, with occasional forays into the set's stage boxes.
Anna Cordingley's peculiar, suit-all-epoch costumes didn't help, especially the ridiculous clown suits for Herod and Herodias, which really belonged in Luna Park next door. And why was Salome in a suit, then a half-suit-half-gown? Gavan Swift's lighting design veered from the gloomy to the high-beam; the latter, deployed during Jochanaan's entrance and exit, succeeded only in blinding the audience.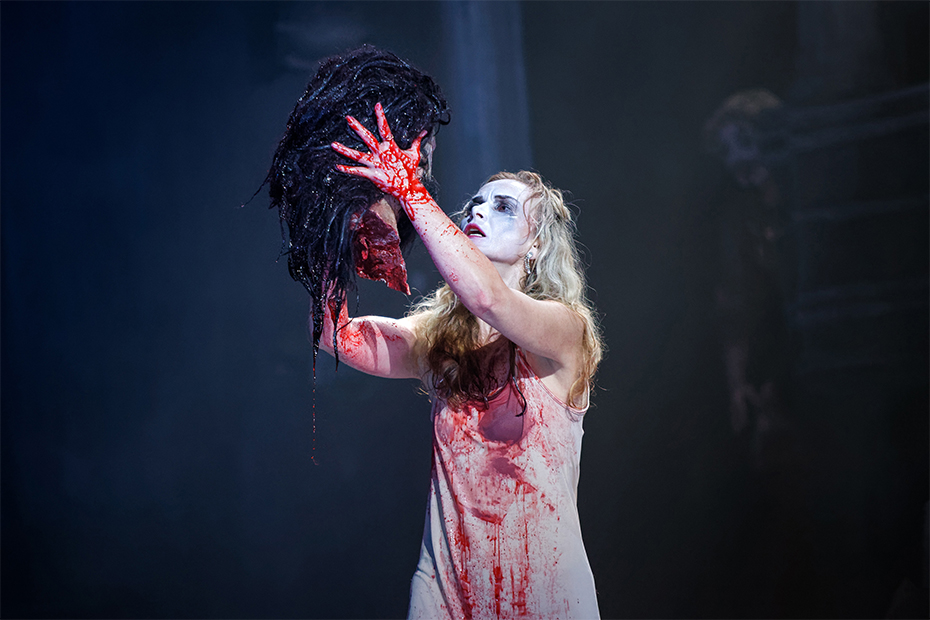 Vida Miknevičiūtė in Salome (photograph by Craig Fuller)
The singing was, for the most part, strong and persuasive. The Lithuanian soprano, Vida Miknevičiūtė, was heroic in the name part. This may have been her Salome début, but it was clear from this, the second of three performances, that the role is already well under her skin. Miknevičiūtė sang with formidable accuracy, supple and piercing (though never strident) tone, and a febrile, dramatic presence. She did her own dance (quirkily choreographed by Elizabeth Hill-Cooper) – but then it's hard to think of any Salome in recent memory who hasn't. All of this places Miknevičiūtė in my personal pantheon of Salomes of lighter voice: even the composer insisted, not all of them have to be Isoldes or Brünnhildes.
Ian Storey was a tremendous Herod, singing with subtle power, as well as with flawless diction. Liane Keegan's Herodias was a true dramatic match, if a little forced at the top. Daniel Sumegi's zealous Jochanaan made the most of his on- and offstage proclamations. In smaller roles, James Egglestone as the ill-fated Narraboth and Dimity Shepherd as Herodias's Page were exemplary – even given the latter's odd stage business with her mistress, complete with identical gestures and matching long cigarette holders.
The Jews – Paul Biencourt, Daniel Todd, Timothy Reynolds, Carlos E. Bárcenas, and Raphael Wong – were suitably argumentative and musically precise. Simon Meadows and Douglas Kelly were good as the Nazarenes; and Kiran Rajasingam was a notable Cappadocian (surely a Baptist-in-waiting). Alex Pokryshevsky and Jerzy Kozlowski were sterling Soldiers; and Kathryn Radcliffe a nimble Slave.
It takes courage and fortitude to stage Salome, and, for the most part, Victorian Opera is to be credited. The audience on Tuesday loved it – and it's always worth remembering that the work still has the capacity to enthral and shock. The pity is that it received only three performances (the final one is on Thursday). For all the production's dramatic inconsistencies, the commitment to musicianship and performance carried everything else before it.
---
Salome is being performed by Victorian Opera at the Palais, St Kilda, until 27 February 2020. Performance attended: 25 February.