Film
The Professor and the Madman
Transmission Films
When the British author Simon Winchester published the book The Surgeon of Crowthorne in 1998, the idea was, according to his editor, to 'make lexicography cool'. The non-fiction work told the bizarre and oddly uplifting Victorian-era tale of the autodidactic linguist and scholar Sir James Murray and his relationship with William Chester Minor, a retired American army surgeon incarcerated at Broadmoor Criminal Lunatic Asylum. Despite serious mental illness, Minor was a vital contributor to Murray's gargantuan task of creating the Oxford English Dictionary (OED), an endeavour that began in 1879.
Renamed The Professor and the Madman for US publication, Winchester's book became a bestseller. Lexicography was indeed made sufficiently cool for Mel Gibson to buy the film rights in 1998. Twenty-two years later, the film has now reached us, with Gibson himself and Sean Penn in the lead roles. This is an intriguing cinematic curiosity, elusive in tone, compelling at times, yet riddled with flaws.
There is further backstory to explain why the film has reached cinemas under something of a cloud. Gibson, along with director Farhad Safinia (Apocalypto), wanted to shoot further scenes at Oxford University after filming had wrapped in 2016, to add authenticity (Trinity College Dublin filled in for Oxford otherwise). The film's backers, Voltage Pictures, refused, which prompted Gibson's Icon Productions to unsuccessfully sue to prevent its release. Acrimony surrounding the production became so bad that Gibson refused to participate in promotional activities, and Safinia did not lend his name to the project: the director is the fictional 'PB Shemran'.
The film was released quietly in the United States in 2019 and met with reviews that ranged between dismissive and brutal. However, The Professor and the Madman is no disaster. While the problems are numerous, Safinia has infused his film with a great deal of heart and a strange, eccentric grace.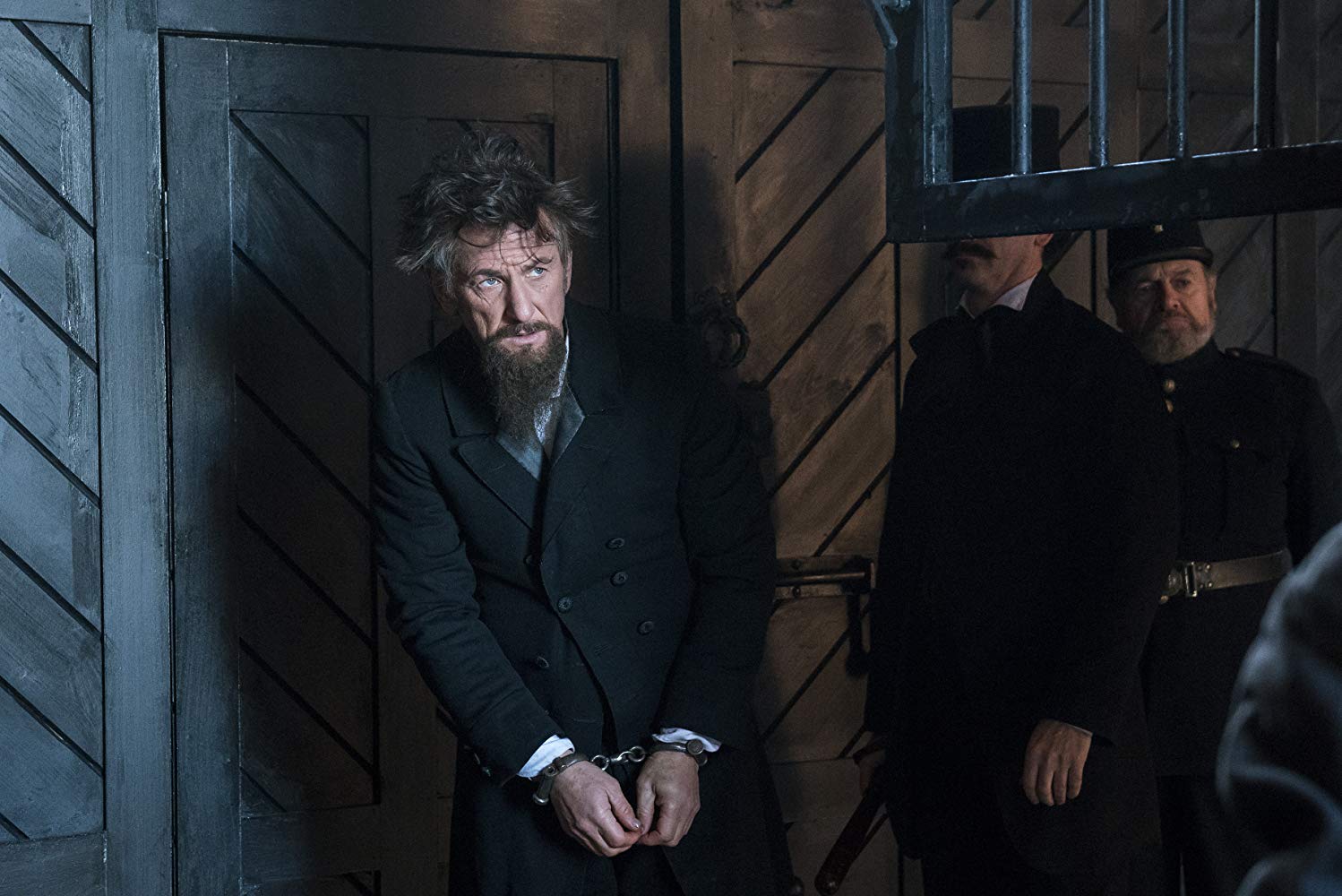 Sean Penn as William Chestor Minor in The Professor and the Madman (photograph via Transmission Films)
The film opens by showing how Minor (Penn) came to be institutionalised. The surgeon suffers delusions and hallucinations as a result of his traumatic experiences in the American Civil War. He believes that he is being pursued by a man who is trying to kill him. Driven maniacal by this, Minor ends up chasing an innocent man through the streets of London and shooting him dead on his doorstep in front of his family. Minor is acquitted of murder on grounds of insanity and sent to Broadmoor.
Murray (Gibson), meanwhile, is a gifted Scottish polymath and philologist who is enlisted begrudgingly by the stuffy hierarchy at Oxford University Press (OUP) to oversee the creation of the OED, a project that had remained stunted despite twenty years of work by academics. This is partly due to the fact that 'the language is developing faster than our progress', as stated by Frederick James Furnivall (Steve Coogan), one of Murray's few supporters at Oxford.
Murray and Minor come together after Murray puts out a public call for help compiling the dictionary, asking for readers to note the use of certain words in historical texts and send the references to Murray and his team. Working from his room at Broadmoor, Minor takes to the task with frantic enthusiasm.
Minor's research is a revelation for Murray. The pair eventually meet in person and become close friends. Plotlines running alongside this friendship and the dictionary's creation are the course of Minor's mental illness, his complex relationship with Eliza Merrett (Natalie Dormer), the widow of the man he killed, and Murray's struggles with threats from senior figures at OUP and their attempts to sabotage his work.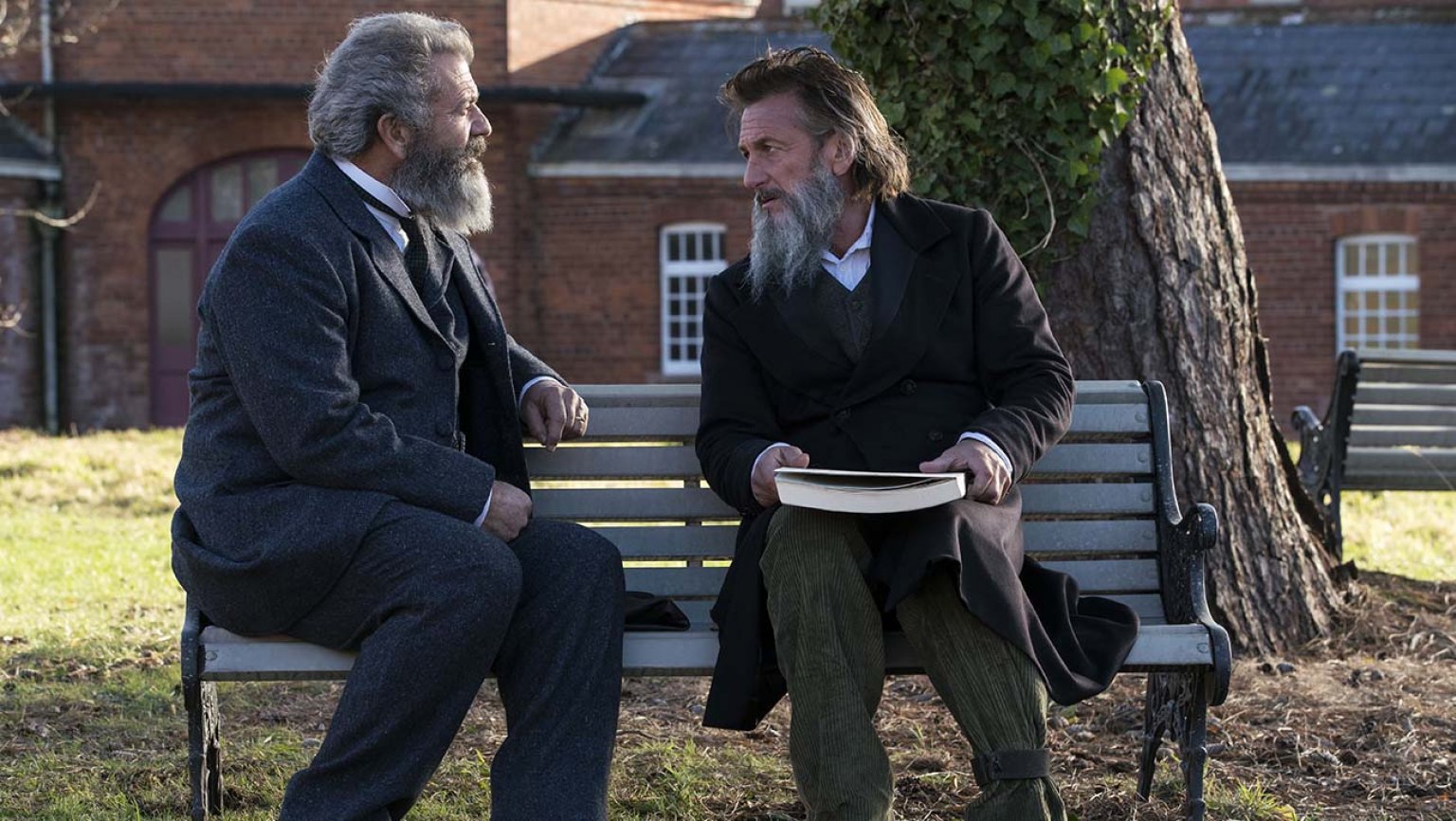 Mel Gibson as James Murray and Sean Penn as William Chestor Minor in The Professor and the Madman (photograph via Transmission Films)
The Professor and the Madman is a likeable film for a number of reasons. Visually, it is impressive: those opening shots of dark London streets have a foreboding sense of noir that later returns for scenes in the gloomy interiors of Broadmoor. The camerawork is adroit. In one scene, a distressed Minor is interrogated by his psychiatrist, Dr Richard Brayne (Stephen Dillane), with the camera moving quickly and jerkily around them, employing unusual angles. The style reflects Minor's jittery and paranoid mental state, as well as the unpredictable nature of life in such an institution.
Despite the occasional moment of extravagant over-acting, Penn does an admirable job as Minor. There is certainly chemistry between the two lead men, particularly in the scene where they meet for the first time. Dillane is also a charismatic presence as Brayne, who is initially sympathetic to Minor but ultimately is portrayed as a harmful influence. Another standout is the always-excellent Eddie Marsan as Minor's kindly warden, Muncie.
The film also presents some interesting discussion of language and how it was viewed in Victorian literary circles. For example, at one point, characters debate whether the dictionary should be informed by the puritanical, élitist views of the academy. For them, the volume should act as a corrective agent to 'establish strict rules banning [linguistic] offences' as the conceited scholar Max Müller (Lars Brygmann) puts it. Murray and Furnivall, on the other hand, believe English to be a flexible, evolving entity: corruption for one side is progress for the other. Clearly, this idea has some relevance to the present day and how things like technology and multiculturalism are reshaping language.
These appealing aspects of The Professor and the Madman are compromised by the film's many failings. Chief among these is the sloppy treatment of its female characters. It is, of course, historical fact that the dictionary's inception was an almost exclusively masculine endeavour. Therefore, Safinia (who co-wrote the screenplay with Todd Komarnicki) must rely on Dormer as the widow Merrett and Jennifer Ehle as Murray's wife, Ada, to present well-written, complex, and compelling women. The film fails wholly in this. Dormer's Merrett, initially a fairly one-dimensional grieving widow, eventually develops sympathy for Minor after he helps her financially, and he teaches her to read. This brings about a troubling power dynamic between the two, and reduces Merrett to merely a device by which the theme of Minor's mental illness can be developed. Ehle, meanwhile, has even less to do as little more than the doting wife and mother while her husband carries out his 'heroic' work.
The film's weaknesses pile up. Saccharine dialogue is plentiful. 'If I'm to fashion a book, I'll need a spine,' Murray whimpers to his wife at one point, one of many painful lines. Minor's illness is treated with uncomfortable flippancy at times. Gibson's and Ehle's Scottish accents, and Dormer's cockney, are awkward at best. The film's 'villains', the OUP bigwigs, are so simple as to be caricatures.
Nevertheless, The Professor and the Madman is worth seeing – if only for the fact that the making of a dictionary is such odd cinematic subject matter. It is a film of sincere intentions, solid acting, and technical skill. It might even be said that the myriad flaws somehow add to its appeal as an idiosyncratic, peculiar work.
---
The Professor and the Madman (Transmission Films), directed by PB Shemran, is in cinemas February 20.