Theatre
'Home, I'm Darling' (MTC)
Melbourne Theatre Company
Judy and Johnny live a blissful 1950s life. While he readies himself for a day at the office, she twirls around the kitchen preparing his breakfast. They are, they declare, 'sickeningly happy … utterly content'. The twist that comes at the end of the first scene of Home, I'm Darling has been heavily signposted in pre-publicity, so it's not giving anything away to say that we are not in the 1950s at all. This is contemporary England, where Judy (Nikki Shiels) has abandoned her job in finance to be a full-time homemaker, leaving real-estate salesman Johnny (Toby Truslove) the sole breadwinner.
Judy and Johnny's immersion in the 1950s is comprehensive. Their car, their refrigerator, their clothes, their furniture and furnishings: all are authentic, either purchased on eBay, or fashioned by Judy from vintage materials. Groceries are transferred from contemporary packaging into classic canisters, chores are organised according to a strict schedule, and Judy is forever 'daisy fresh' when Johnny comes in the door from work. She has his slippers at the ready and a cocktail prepared.
The brilliance of Laura Wade's 2018 play Home, I'm Darling is its concept, the way it nestles together past and present, questioning (in a Britain weighed down by Brexit) whether the 'gingham paradise' of the 1950s was as rosy as, in hindsight, it seems.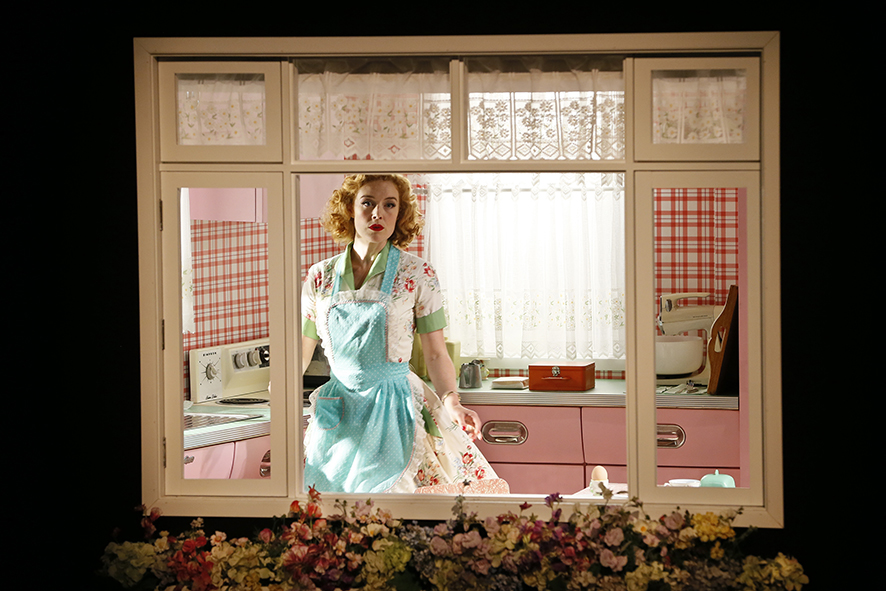 Nikki Shiels in the MTC's Home, I'm Darling (photograph by Jeff Busby)
For Judy, choosing to live as a 1950s housewife means more than keeping the house as neat as a pin and greeting her husband each evening with a home-cooked meal. It's about creating a place of order, a safe space that not only conjures memories of time spent with her late father, but also counters the disarray of the commune in which she lived with her mother and her mother's Campaign for Nuclear Disarmament comrades. It's only when she is immersed in the 1950s, Judy insists, that she truly understands who she is.
All couples engage in some manner of pretence, of play-acting, as they negotiate their relationship with each other and with the outside world, and here Wade – best known for her sensational account of the British ruling classes in Posh (2010) – conveys the sense of comfort, even self-preservation, derived from such games. By embedding this posturing within the figure of the 'traditional wife' – a movement flourishing in online spaces – Wade explores shifting attitudes towards divisions of labour, and the social and political position of women, posing the charged question: Is every choice a woman makes necessarily a feminist decision?
There is a nervous sort of energy pulsing through this production, one that shifts between the assured and the tentative, particularly when it comes to the comic bite of Wade's script. Full of colour and movement, every scene change is a flurry of 1950s music and dance, a distraction that ultimately detracts more than it embellishes. Sarah Goodes's direction emphasises the performative aspect of Johnny and Judy's life, a fabrication underscored by Renée Mulder's dazzling set and costume design. Yet for every sharply realised moment – an increasingly tense afternoon tea where Johnny learns whether or not he has been promoted; Johnny and Judy renegotiating their relationship – there are patches that tend towards the toneless and prosaic. Apart from the early twist, there are few genuine surprises.
Nikki Shiels has a flair for physical comedy, and she imbues Judy with a necessary complexity. Toby Truslove's Johnny is endearing, managing a difficult transition from contentment to dissatisfaction, as the tension between his home and working lives proves unbearable. Izabella Yena, as Johnny's boss, brings a nice blend of business and bemusement. And as Judy and Johnny's best friends – a couple also enamoured of the 1950s, but without Judy and Johnny's obsessive dedication – Peter Paltos and Susie Youssef enliven the action whenever they appear, Paltos's creepy #MeToo moment offering a stark demonstration of the darker underside of 1950s attitudes.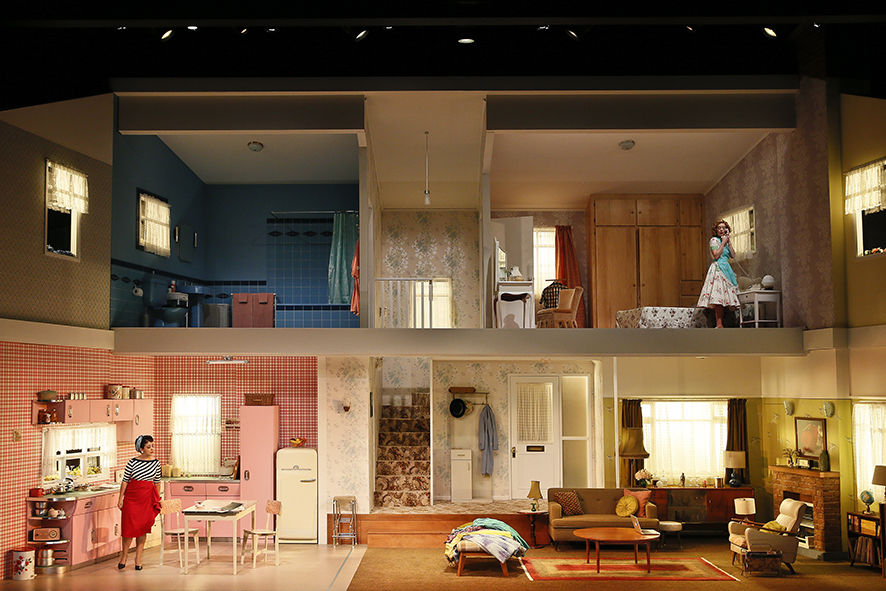 Susie Youssef and Nikki Shiels in the MTC's Home, I'm Darling (photograph by Jeff Busby)
The only disappointment in the cast is Jane Turner as Judy's mum, Sylvia. Aside from being too young to play Sylvia (it's difficult to believe that anyone Turner's age would have such a detailed memory of the 1950s), Turner's natural comic talent has been overly constrained. On opening night, there was a sense of the role inhabiting Turner, rather than Turner inhabiting the role. As a result, Sylvia's condemnaton of Judy's 1950s idyll – on which much of the balance of the play depends – lost much of its force.
As Posh demonstrates, Wade is not afraid of making big political statements. Here, however, there is a disconcerting edge to the sexual politics of the play's resolution. That change is imposed on Judy rather than being driven by her – by her own insights and her own choices – is regrettable. So too that Wade largely sidesteps many of the social and political issues implicit in the play's concept. Even a brief expedition down the rabbit-hole that is #tradwife demonstrates the degree to which the 'choice' to live as a traditional housewife – the inclination towards nostalgia – has been co-opted by right-wing groups in order to promote misogynistic and racist agendas, including the restoration of a pre-feminist patriarchy. This is not to suggest that Wade needed to infect Johnny and Judy with similar impulses, but she might have gone further than a fleeting acknowledgment that life in the 1950s wasn't so great for people who weren't straight, white, and male. She might have intimated something more of the odious end of the #tradwife spectrum and its latent threat to principles of diversity, equality, and genuine choice.
Home, I'm Darling continues at the Southbank Theatre, The Sumner until 29 February 2020. Performance attended: January 24.