Art
Water
Queensland Art Gallery and Gallery of Modern Art
Water. Life on earth can't exist without it, but beyond the perfunctory, how often do we think about this essential element or about our relationship to it? This is the question at the heart of the blockbuster exhibition Water at the Queensland Gallery of Modern Art (QAGOMA). Through literal and allegorical renderings about water in its various incarnations, the exhibition invites contemplation on the ways that water impacts our lives, as individuals, communities, and more broadly as co-inhabitants of an increasingly fragile planet.
Curated by Geraldine Kirrihi Barlow, the gallery's Curatorial Manager, International Art, Water is at once monumental in scale and ambition, and wonderously intimate. The show comprises a wide-ranging collection of apporoximately one hundred works from global artists. It includes photography, moving image, painting, sculpture, and installation pieces.
On the opening weekend, Brisbane's skyline is veiled in a smoke haze from the bushfires raging across the country, a timely reminder that conversations about the state of our environment need to be had in all quarters of society. While the exhibition is not intended as an overt statement of protest about the climate crisis, it is designed to convey what is at stake at a time when the ecosystems that sustain life on Earth are in peril. So much of what is considered in these works of art – rising tides, escalating temperatures, the loss of natural habitat, the degradation of waterways – is reflective of what is happening at this precise moment.
Barlow has curated a provocative, illuminating, and at times playful collection of works informed by an intellectual rigour that acts as the current that guides this show thematically, spatially, and temporally. In an increasingly visually led society, the visual arts are essential to introducing new ways of thinking about social issues. This is where Water is truly outstanding. With an exciting fusion of internationally renowned and lesser-known artists, Water is in a constant state of transformation, like the element itself.
The exhibition opens with RE-FORMATION, 2019, a striking installation work by Indigenous artist Megan Cope, who has created a coastal oyster-shell reef known as a 'midden' from cast-concrete shells and black sand-like copper slag. Middens were formed by Australia's First Peoples from discarded oyster shells; they played a crucial role in the health of coastal ecosystems acting as a barrier to erosion and also as a filter system. By the end of the nineteenth century, the majority had been destroyed through dredging and mining. As we search for solutions to protect our waterways, there are calls to return to the practices of the first custodians of this land.
Megan Cope, Australia, RE FORMATION (Noogoon/St Helena Island), 2016–2019. Cast-concrete oyster shells, copper slag / Dimensions variable. Purchased 2019 with funds from the Contemporary Patrons through the Queensland Art Gallery | Gallery of Modern Art Foundation Collection: Queensland Art Gallery | Gallery of Modern Art Photograph: Installation view, GOMA, Brisbane, 2019. Photographer: Natas ha Harth, QAGOMA. Images courtesy: The artist and THIS IS NO FANTASY, Dianne Tanzer & Nicola Stein. © Megan Cope
Cope's work is one of a number of large installations. Another is Danish-Icelandic artist Olafur Eliasson's Riverbed, which fills an entire gallery, its scope breathtaking. Natural rocks of various hues, sizes, and shapes rise toward the distant horizon across an expansive gallery space. A small stream meanders through this grey, desolate landscape, which is bereft of life, its dark passage a memory of a once healthy river system that flowed for aeons. Standing at the entrance to this vast room, I feel quite small and am hesitant to step onto the rocky landscape, years of 'do not touch' embedded into my gallery etiquette. Yet this is exactly what Eliasson wants us to do. Traversing Riverbed is an act of self-direction that becomes a collective search for new pathways.
Active participation is one of the features of Water, and it enlivens the gallery experience. William Forsythe's The Fact of Matter, a choreographed landscape of large gymnastic rings suspended from the ceiling, challenges visitors' athletic skills. Navigating the rings as you cross an imagined rising tide requires an agile approach, of body and mind. To reach the other side also necessitates ingenuity, determination, and courage.
Cai Guo-Qiang's Heritage is an epic 'end of days' installation that comprises tonnes of sand, gallons of water, and ninety-nine animals, predators and prey, standing side by side as they drink from a lake in harmony. The animals, many life-sized, are carved from polystyrene and covered in goat hide. This collection features species from around the world, including tigers, giraffes, polar bears, and wombats – animals that would not be seen together in nature. The only mark of disquiet in this utopian view is the ripple across the water's surface from a single drop of water, a visual metaphor for the fragility of peace.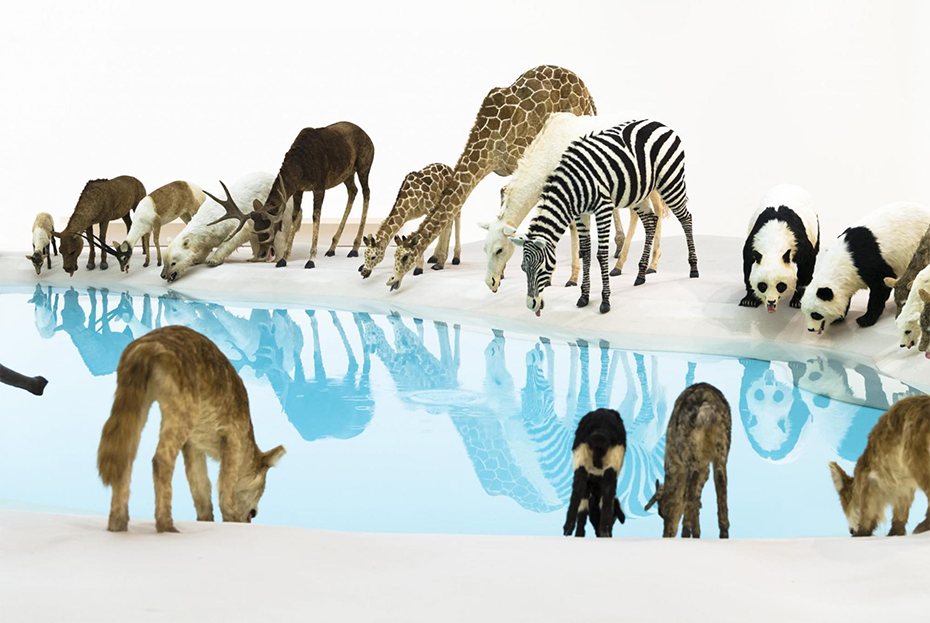 Cai Guo-Qiang, China. Heritage (installation view), 2013. Animals: polystyrene, gauze, resin and hide. Installed with artificial watering hole: water, sand, drip mechanism. Purchased 2013 with funds from the Josephine Ulrick and Win Schubert Diversity Foundation through and with the assistance of the Queensland Art Gallery | Gallery of Modern Art Foundation / Collection: Queensland Art Gallery | Gallery of Modern Art / © The artist Pictured: Gallery of Modern Art, Brisbane, Australia. Photograph: Natasha Harth, QAGOMA
Juxtaposing these large installation pieces are works that bring Water close to a meditative experience. Australian Paul Blackmore's lyrical underwater photographs from his series Heat capture swimmers as they rise through the deep teal blue of the sea towards the surface. These pictures evoke the sensation of being cocooned by water, where sounds are muted, colours diffused, bodies buoyant. New Zealand's Laurence Aberhart's long-term photographic survey Last Light captures the line of the horizon where water meets ether at the close of day. Aberhart uses a nineteenth-century wooden camera, technology that involves long exposures, resulting in ethereal images that are at once documentary and abstract.
The late Peter Dombrovskis's work also allows for quiet reflection, the extraordinary majesty of his photograph Giant Kelp (1984) an affirmation of the beauty to be found in the wilderness, a reminder of what we may lose. Dombrovskis's photographs were central to the Australian environmental movement in the 1970s and 1980s; his photograph of the Franklin River became the iconic image for the NO DAMS campaign in 1982.
Other works that signal protest include the series by French-Swiss visual artist Julian Charièrre: The Blue Fossil Entropic Stories. In creating this collection, Charièrre climbed onto several icebergs floating in the Arctic Ocean off Iceland, where, over eight hours, he applied the flame from a gas torch to the ice in an act he describes as 'artistic intervention'. In these billboard-sized images, Charièrre is seen as a small, destructive figure, his presence unnatural, and symbolic of the damage that humans can visit on natural structures that have formed over millennia.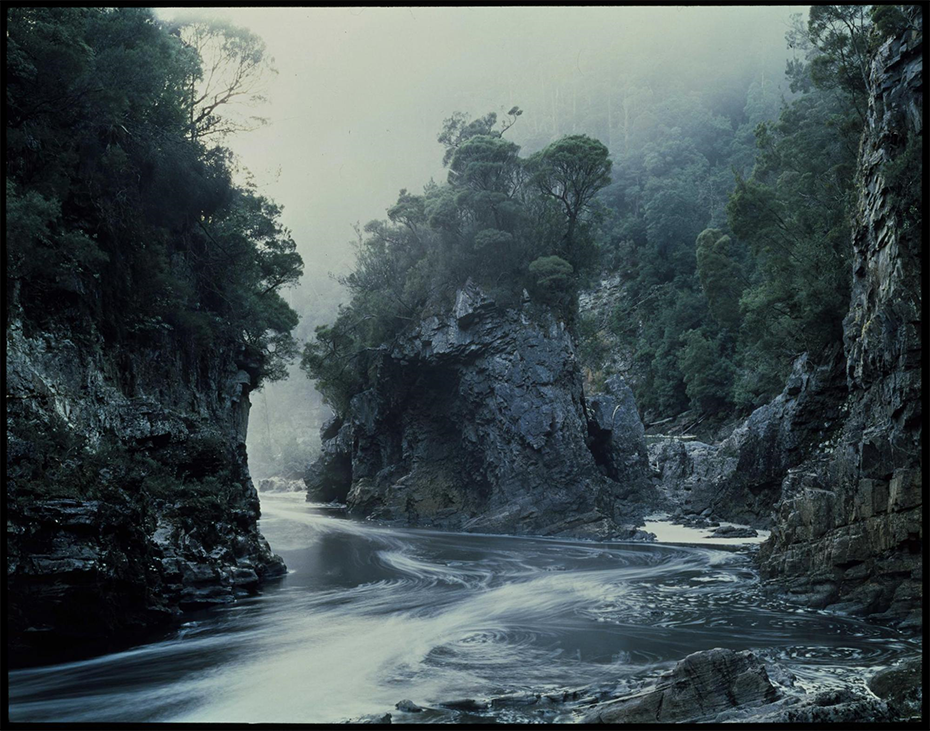 Peter Dombrovskis, Australia, 1945–96. Morning Mist, Rock Island Bend, Franklin River 1979, printed 2019. Epsom inkjet print on Canson Baryta Prestige 340gsm paper, with 10mm KapaMount (exhibition copy) / 63.5 x 86.3cm (sheet); 66.3 x 89 (frame). Courtesy of National Library of Australia and Estate of Peter Dombrovskis
One of the more playful bodies of work is Patrick Pound's collection of photographs, which depict reflections in water and divers suspended above the water. These dual narratives are presented on opposing walls, the small images that are usually viewed in a photo album or on a computer screen arranged in long, horizontal displays. Pound works with found objects sourced from around the world, and his curation of these single images creates a peculiar and humorous visual dialogue about the connection between water and photography, and our relationship to both.
Water also features moving images. In New Zealander Angela Tiatia's performance video Holding On, the artist is filmed lying down on a cement slab at the water's edge as the tide washes over her. The ebb and flow of the water is at once calming and threatening; Tiatia has to increase her grasp to avoid being washed out to sea. This video was made on Tuvalu in 2015, the island nation at imminent risk of disappearing due to rising sea levels.
New media artist Michael Candy was commissioned to produce a work for Water, the result of which is his short film, Little Sunfish. The star is a palm-sized robot built by Candy, a replica of the Tokyo Electric Power Company's prototype used to investigate the damage to the Fukushima nuclear reactor following the 2011 Tōhoku earthquake. In Candy's film, the robot escapes from Fukushima to travel across the ocean. On its journey, Little Sunfish encounters various marine life, including a giant cuttlefish that attempts to eat it. Yet the robot is the threat as it unwittingly leaves a trail of radiation.
Little Sunfish is one of a number of conceptual works in the show. Another is London-based artist David Medall's Cloud Canons No. 25. This soapy foam sculpture continually changes form as water and soap combine to create bubbles that ooze through plexiglass tubes twisting and turning into various shapes before evaporating. In cajalia, Melbourne-based German artist Vera Möller presents a landscape inspired by the aerial roots of mangroves that grow in Westernport Bay in Victoria. Hundreds of tiny white stick-like sculptures with illuminated tips sit in a bed of fine sand. As the light changes colour, so does the reading of the work; neural pathways make way for a gathering of figures, before turning into an aerial view of a vast urban city. Kiho Moana is a massive weaving that rises from the ground to the ceiling in a wave-like formation. Made from sixty blue polythene tarpaulins by New Zealand's Mata Aho Collective, the work not only honours 'contemporary Māori culture, through the familiar material of the tarpaulin, but also the traditional figure of the taniwha, a powerful water spirit that lives rivers, lakes or the sea'. This significant work takes centre stage in a gallery where the walls have been darkened, adding to the dramatic impact of the weaving. Propelled by the shift in the air around it, it moves as if it were breathing.
Vera Möller, Germany, vestibulia 2019 (detail). Modelling material and acrylic / Dimensions variable © Vera Möller Courtesy: The artist and Philip Bacon Gallery, Brisbane Installed in 'Water', GOMA, 7 December 2019 – 26 April 2020. Photograph: Natasha Harth, QAGOMA
This sense of movement is also present in Indigenous artist Judy Watson's painting string over water (walkurrji kingkarri wanami). Varying shades of cobalt blue meld with white and gold to evoke a sense of rising up through the water to greet the light. Watson sees water as 'the hidden jewel that feeds the country'. Within this watery landscape floats black string, which is used as 'a metaphorical link to family and ancestry'. This string was once made by the women in Watson's family.
As with all exhibitions, there are works that warrant a second viewing. I find myself standing again in front of Peter Fischli and David Weiss' Snowman. Encased in his climate-controlled cabinet, there is something intriguing about the incongruity of seeing a real, life-sized snowman against a backdrop of sub-tropical foliage and white summer light. Here, the snowman's existence is reliant on an artificial atmosphere. Gazing at the snowman, with his crooked smile, I am also aware that I too stand in an unnatural environment, the airconditioned gallery sheltering me from the blistering heat of a 38oC day. Like the snowman, our modern world is a construct that is increasingly at odds with the natural world.
Largely, as a species, we seem to have forgotten that we are organic beings that need to live in harmony with our environment. Through the multiplicity of artistic narratives presented in Water is the story of our interconnectedness. This exhibition is a spirited reminder that we must act to save our planet's ecosystems, for what is at risk is our very existence. Yet the message is not one of a looming apocalypse but one of hope that humanity will find a way forward.
---
Water is being exhibited at the Queensland Gallery of Modern Art until 26 April 2020.