Music
Musician of the world: A tribute to Andrew Davis
One day, whilst I was in King's College, Cambridge, a friend of mine asked if I would conduct a small group for a performance of a Haydn divertimento. From then on I knew that conducting was the career in music that I would follow.

Andrew Davis, 2002
The trouble with musical longevity as it affects conductors, especially ones we see often, is they are always the age we expect them to be as against the age they once were. From the vantage point of the present, therefore, it is tempting to regard Sir Andrew Davis as having always been the person he is now; a sort of reverse-Peter Pan whose youth we are incapable of imagining.
This is not to say that Davis is all that old. Seventy-five is relatively middle-aged for a conductor – the Melbourne Symphony Orchestra is indeed fortunate to have had him as chief conductor for six of these years. Besides, as those who have known and worked with him for many years attest, he has never lost his irrepressible effervescence allied with the innate sense that making music is something to be relished rather than merely endured. These qualities, though, have always been tempered by constant scholarship, experience and diversity – the last of which, as Davis himself has recalled, have been of paramount importance:
It all goes back to one afternoon in Cambridge, where I was organ scholar at King's. Thurston Dart came up to me and asked what I was going to do with my life. I answered that I was going to be a conductor. He was slightly taken aback and suggested a glass of sherry. So we went off and drank a great deal of gin. In between swallows he told me that I must specialise. That was the one piece of advice from him that I never took.
One could safely say that diversity was there right from Davis's professional beginnings. Indeed, following his Cambridge University Musical Society debut with that Haydn divertimento, came far more challenging repertoire with the society: Schoenberg's Five Pieces for Orchestra, Op.16; Alban Berg's Violin Concerto; and Harold en Italie, by Berlioz.
A little later, in 1969, the twenty-five-year-old Davis was one of four conductors performing at a young British conductors' seminar in Liverpool. The reviewer for The Times noted the 'exceptional calibre' of the two youngest: Davis and his almost exact contemporary John Eliot Gardiner. It was Davis's account of William Walton's Symphony No.1 'which showed almost complete identification with its spirit. There was tremendous force as well as sustained argument in his performance of the opening movement, the bitter irony of the Scherzo was fully captured, and an astounding vitality informed the finale.'
A year later, Davis was an associate conductor with the BBC Scottish Symphony, in Glasgow. Five years after this, he was appointed music director of the Toronto Symphony. He was well on the way.
Davis has long been regarded not merely as a musician, but as an explorer and an evangelist eager to guide you through his musical world, to explain and interpret its greatness but also its foibles. This same proselytising spirit of advocacy and adventure – of conveying considerable knowledge accrued from a lifelong professional calling – is to be found in that other celebrated and revered English cultural institution David Attenborough (although his traditional territory is the planet rather than the Proms).
✦
Orchestras respond to all kinds of different stick techniques, and to different personalities. One develops one's own way of doing things. The ability to communicate is not something you can learn, but you can learn how to make different sounds happen. I never like to go into a performance feeling that the orchestra is insecure. I don't like to give them too many surprises.

Andrew Davis
How to explain the alchemy between a conductor and an orchestra? How does the will of one person constantly work its magic upon one hundred or so separate and often contrary minds? What makes the conductor–orchestra magnetism so attractive or (in more cases than one might imagine) so repellent?
Davis definitely belongs in the first category. Two things intrigue me. The first is why, over a career spanning almost half a century, his relationships with the international orchestras or institutions of which he has been music director have been so mutually lasting and fulfilling? In addition to the Toronto Symphony Orchestra (1975–1988), there have been lengthy spells at Glyndebourne Opera House, Sussex (1988–2000), the BBC Symphony Orchestra (1989–2000), the Lyric Opera of Chicago (2000, contract extended to 2021), and, of course, the MSO (2013–2019).
The other intriguing thing is that three of these five orchestras – Toronto, BBC, and, most recently, the MSO – have appointed Davis their conductor laureate, assuring regular returns for the equivalent of pastoral visits.
He must have been doing something right. But what? I did some sleuthing.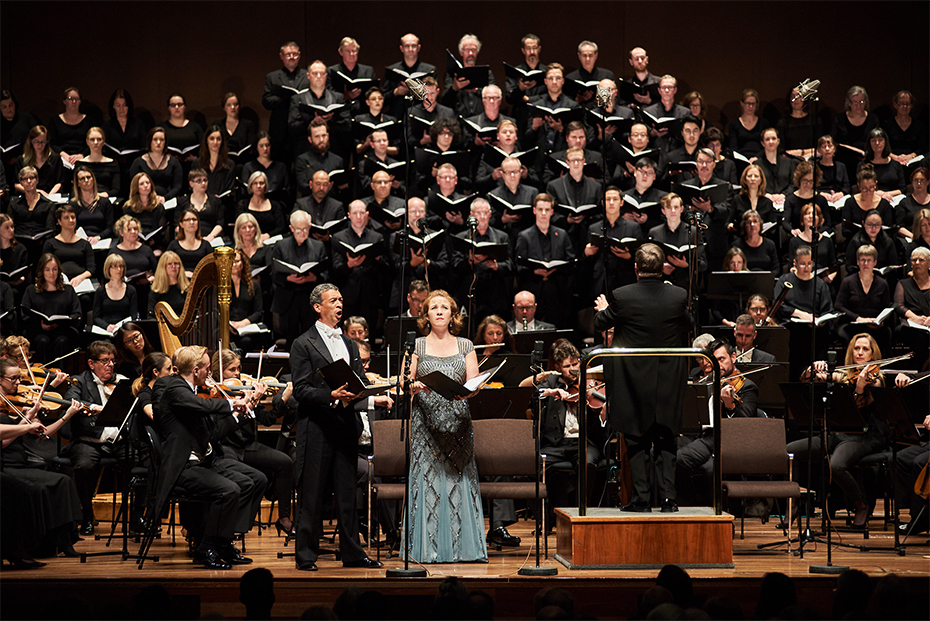 The Melbourne Symphony Orchestra performs L'Enfance du Christ in 2018 (photograph by Daniel Aulsebrook)
Toronto Symphony
The history of the orchestra records that, back in 1974, the selection committee to find a new music director, winnowed thirty names to five, each of whom conducted the orchestra during the season. The choice put to the board was unanimous, and Andrew Davis got the job.
There was perhaps a sense of destiny involved that went back to 1967, when Davis first went to Toronto, to attend an organists' convention: 'I had a sense that this was some place that was not just another place I was just visiting, and, sure enough, nine years later I was music director there,' he recalled.
As the TSO history noted, 'This would be Andrew Davis's first full-time appointment with an orchestra and, as such, it would allow him to develop his own individual style with the TSO. Over time, as it proved, his 'efforts for and dedication to the orchestra had transformed from 'just another symphony orchestra' to a virtuoso ensemble.'
[…] Davis represented many different musical styles and interpretations. He was confident in the position he had undertaken. In the early interview, he said: 'Age doesn't enter into it. An orchestra can form an opinion of a new conductor within a quarter of an hour, and if he can prove his abilities, they will accept him.' Trumpeter Johnny Cowell said: 'We all knew very early that Davis was the one. The talent was there at the first rehearsal.' At rehearsals, Davis shunned the tantrums of the old-style podium lions used to rant and roar to achieve their musical goals. He used humour as his preferred approach. At difficult rehearsals he could be heard to say, 'I might as well save my breath to cool my porridge.'
Loie Fallis, Toronto's vice president of artistic planning, has worked with Davis for many years. She sees the various threads that bind Davis and this orchestra as naturally extending across continents to embrace his other orchestras.
What seems to link his leadership in all of his orchestras is: important or historical tours; operas-in-concert; mentoring young composers, conductors, instrumentalists, singers, youth orchestras, etc.; his compositions, arrangements or orchestrations (Messiah being a big project; his connection to choral music and masterpieces; keyboard works for organ or harpsichord; recordings of unique or significant repertoire; his brilliant programming sense; and support of local composers and artists.
BBC Symphony
In 1988, Davis was appointed as chief conductor of the BBCSO by the then controller (director) of BBC Radio 3, the late John Drummond, who noted in his memoirs that he had known Davis since his early beginnings. Drummond arranged for Davis to work with the orchestra for a month's try-out period.
The results were immediate and electric. After the first concert, [concertmaster] Rodney Friend asked me if I had plans for Davis. Even the normally grouchy Players' Committee sent word that they hoped he was on my list. We met and talked at length. He was the right age, had the right ideas, was willing to undertake new repertory as well as a wide range of older music and – not necessarily an important factor, but nevertheless useful – he was British and not flinch at the Last Night of the Proms. Some of his predecessors, including Boulez and Rozhdestvensky, had always ducked out of that.

[…] considering the many different and sometimes conflicting qualities that the BBC Symphony Orchestra job demands, few people could have fulfilled them as conscientiously as [Davis] did over what stretched to a ten-year tenure.
More recently, the BBCSO's current general manager, Paul Hughes, defined what makes Davis tick:
I guess the easiest way to express what it is about Andrew that enables him to retain his multiple relationships is anecdotally. Few conductors of my experience have the range of repertoire and interest that Andrew does, and the honesty and probing quality of his music-making, combined with his genial manner and his loyalty, endears him to us especially – both the BBC Symphony Chorus, of which he is President, and the BBCSO, of which he is Conductor Laureate. He is as much loved by the management team as he is by the musicians, and that's a rare feat.

I'm very fond of Andrew and we've been through some good times and less good times (change of chorus director was a tricky period) but our mutual respect and friendship has remained intact.

His time at BBCSO was characterised by a meticulous management of diary while he was our chief conductor and music director at Glyndebourne during [the] Proms period when it was all happening simultaneously. And his love of finding the best airline deal for his travels and his evident delight at sharing how he did it, makes him the closest thing to omnipresent that I know! Maybe that's how he maintains such close relationships in so many places.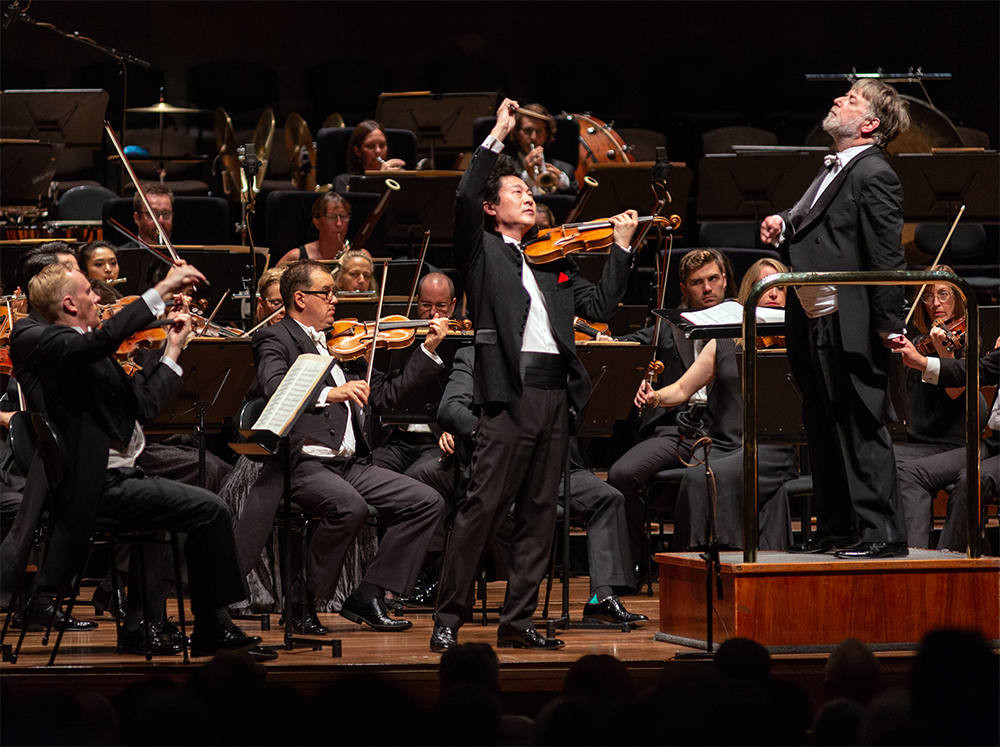 Violinist Lü Siqing and conductor Andrew Davis performing with the Melbourne Symphony Orchestra in 2019 (photograph by Ivan Kemp)
Glyndebourne
The twenty-nine-year-old Davis conducted his first ever opera performance, at Glyndebourne, on 2 August 1973: Richard Strauss's final opera, Capriccio. 'A wonderful way to start, and it's very easy to start with an opera that is about opera!' Davis recalled some years later.
The review in Opera magazine noted the conductor 'did himself proud, directing the performance with considerable confidence, a natural feeling for accompanying singers […] and a lively sense of how to cope with the quick conversational changes'.
Davis was persuaded into the pit at the behest of house's then music director, the late John Pritchard, who had advised his young assistant, 'Well, you know, the thing about opera is that there are more things that can go wrong, but when they all go right, there's nothing like it!'
He was right. As Davis recalled, 'I fell in love not only with the opera, but with the total experience of the art form.'
He also fell in love with Glyndebourne's 'pit band', the London Philharmonic Orchestra, which he described as 'a simply beautiful orchestra that produces a fabulous sound'.
Davis's twelve years at Glyndebourne were to define him as an opera conductor, and augured well for his long association with another opera company, an ocean's breadth and then some from the Sussex Downs.
Chicago Lyric Opera
From the outset of his musical directorship in the Windy City, Davis gave it the commitment it required. 'I didn't want to just fly in and do my shows and fly out again. So, that's how we've ended up,' he recalled.
The company's general director, Matthew Freud, regards his music director as 'incredibly special', saying,
[…] he is both a wonderful conductor, a wonderful music director in terms of being committed to company-building and he's a wonderful human being. Those of us who have been in this business for a while realise that those three qualities rarely come together.
Over almost twenty years, Davis's work with the Chicago Lyric Orchestra has, one critic says, transformed a solid ensemble into something 'exceptionally responsive and versatile'. His musicians agree:
[Principal clarinet] Charlene Zimmerman […] recalled. 'He's so easy to work with; his rehearsals are very pleasant and the end result is really nice for everybody. […] Even in the worst possible situations, he uses humour to make his point […] That's something that orchestras like because nobody feels put down.'

[Principal flute] Marie Tachouet … especially values Davis's attention to detail. 'He's very good at evaluating what needs work, and how to best go about it.[…] He's very gracious when he conducts. A lot of conductors would only be focused on the bigger things.'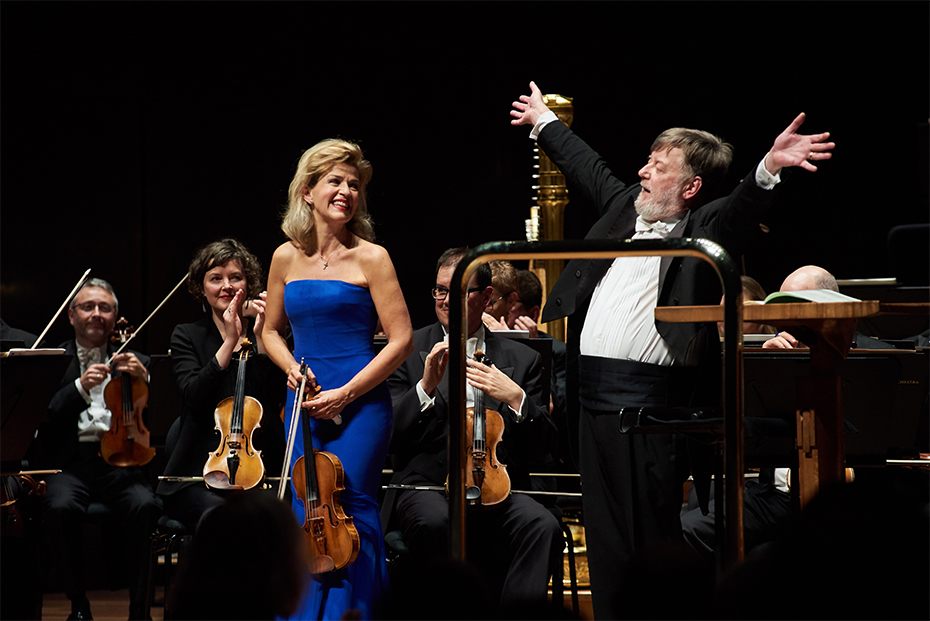 Anne-Sophie Mutter and Andrew Davis in 2018 (photograph by Dan Aulsebrook)
Melbourne Symphony Orchestra
When Davis was appointed the MSO's chief conductor seven years ago, I interviewed him about his tasks and expectations. 'What now?' I asked.
There are so many things I learnt in Toronto and Chicago. You have to be a kind of ambassador for the institution you represent. Be passionate about it and not bashful about going out singing its praises and raising money for it. More important is the sense of the public's perception of the orchestra, seeing us as a very important part of Melbourne life. […] There's a serious love for the orchestra among the people of this city, and we're going to make it even more so. […] I think there are no heights to which this orchestra can't rise. I think this is a great orchestra. I hope I'm here for a reason and that my presence makes things better than they are.

[…] I've made a commitment, that's the point. There've been a few orchestras I've fancied over the years, and they might have fancied me ... but this is only the third orchestra in my career of which I've been in charge.
Indubitably, as we shall discover throughout this publication commemorating the MSO–Andrew Davis era, that commitment had paid multiple dividends; a windfall not merely for the musicians and for Davis, but for that other vital ingredient in the trinity of what makes a performance: the audience.
---
Michael Shmith's article is reprinted with kind permission of the author and the MSO, which published it in Sir Andrew Davis: Chief Conductor, Melbourne Symphony Orchestra 2013–2019 (MSO, $99 pb), a tribute to Andrew Davis at the completion of his chief conductorship.