Art
Hugh Ramsay
National Gallery of Australia
'Australia I think does not yet realise what she has lost in him but she will in time & I & some others I know will do what we can to make his memory live.'

Letter from John Longstaff to John Ramsay, 3 October 1906
It is with the artist John Longstaff's words of condolence, quoted above, that the Hugh Ramsay exhibition at the National Gallery of Australia in Canberra draws to a close. Ramsay (1877–1906) was a promising Australian Edwardian painter who lived and worked for a time in Europe at the start of the twentieth century. His works constitute some of the most innovative and visually arresting examples of early-twentieth-century painting in Australian collections, while his sketches and illustrated letters tell of the experiences of youth and travel in the exuberant period that preceded the Great War.
The current exhibition and its associated catalogue reveal the prodigious nature of Ramsay's output, with a focus on the genre in which he excelled: portraiture. Nonetheless, it is hard to view the artist's oeuvre outside of the spectre of his early death from tuberculosis at the age of twenty-eight. Heaviness hangs over a retrospective that covers a mere fourteen years of artistic production. Viewed in a more positive light, the current exhibition constitutes a humbling testament to what can be achieved in a very short space of time.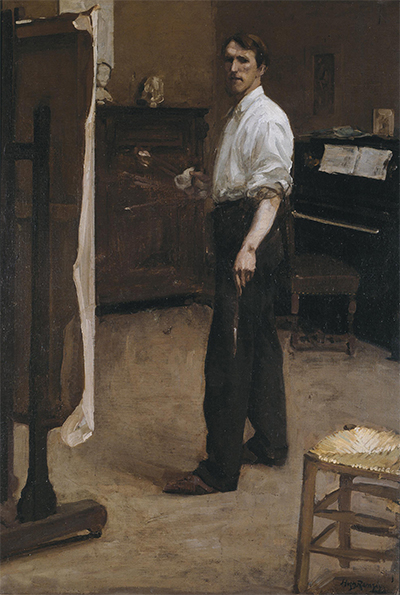 Hugh Ramsay, Portrait of the artist standing before easel, 1901–1902, oil on canvas, 128 x 86.4 cm. Bequest of the executors on behalf of Miss E.D. Ramsay, 1943 National Gallery of Victoria, Melbourne
Despite the brevity of Ramsay's life and career, curator Deborah Hart takes up Longstaff's mantle and seeks to keep his memory alive. The show starts with Ramsay in Melbourne displaying his artistic skill as a student at the National Gallery School. The nude and figure studies on display constitute an apt starting point for an artist who continued to experiment with tone and brushwork in his renderings of human faces and hands. A sombre note is introduced with two macabre Victorian narrative paintings: At Last (1896) and Anxiety (c.1899). The former depicts a sick mother in a humble interior, accompanied by her two children, hands clasped in thanks or supplication towards the approaching middle-class women in black coats and dresses. The narrative is clear: the bourgeois saviours have come 'at last'. The artist's sisters, Madge and Jessie, also make their first appearance; Madge is in mourning, holding a book, while Jessie wears a white dress with blue ribbons and holds a doll. We will witness them grow up over the course of the exhibition – a moving testament to the familial bonds that Ramsay's art records.
In 1900 Ramsay travelled to Europe, remaining primarily in Paris until ill health forced him to return to Melbourne in 1902. In his Parisian work, we see scenes of the artist's studio in Montparnasse, and get a sense of the bohemian experience of expatriate artists with little money but great ambition. At this point, Ramsay also clearly took up smoking cigarettes, a necessity for any avant-garde artist. New characters are introduced, including George and Amy Lambert, whom Ramsay met on the ship out from Australia, the artist's world having evidently expanded. At the same time, Ramsay increasingly turned his attention towards his own self-image. (Models, of course, cost money; painting one's own visage is free.) At this point in the show there is a predominance of self-portraits by Ramsay and portraits of Ramsay by fellow artists – a case study in how we see ourselves and how others see us. The mythological subject painting, Venus and Adonis (c.1901), along with Consolation (1901) and Nude Reclining (1901), come as surprises, returning us to Ramsay's earlier figure and nude studies, as well as the themes of loss and grief.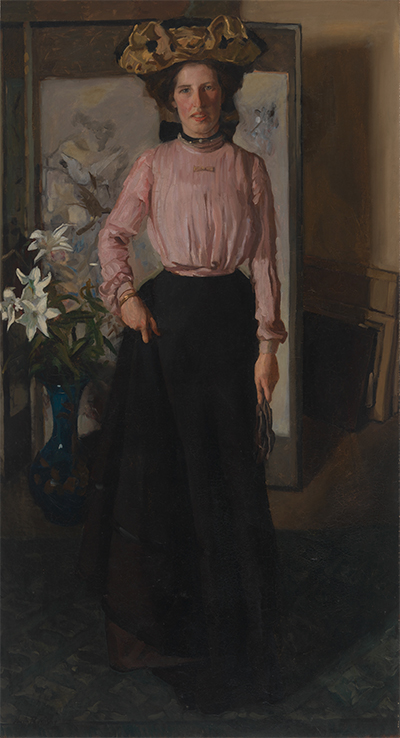 Hugh Ramsay, Madge, 1902, oil on canvas, Gift of Janet and John Wicking in memory of Madge, Janet's mother and Hugh Ramsay's sister 1996 National Gallery of Australia
Portraits and self-portraits offer rare opportunities to stand in the place of the artist or mirror, and come face to face with individuals now relegated to history. That Ramsay attempted to paint Nellie Melba's likeness when she visited his studio in Paris in 1902 constitutes a poetic vignette about the kinds of interactions that portraits have the potential to record. To my mind, the most fascinating portrait on show is Madge of 1902. The artist's sister stands upright, in full length, wearing a formidable gold and black hat, pink blouse, and black skirt. She appears beside white lilies in a blue vase and in front of a grey, white, and brown screen. The explanatory panel includes quotations from letters sent by Hugh to Madge (significantly, many of the panels in the exhibition include quotations from Ramsay and his contemporaries): the first letter, written soon after his sea voyage to Europe, describes Madge and her 'splendid hat' as the last thing he saw as his ship pulled away from the dock; the second, dated 18 October 1901, refers to Madge in a 'cerise silk blouse' and 'black skirt' at her début, which Ramsay was unable to attend. And then there is the portrait itself, produced on the artist's return to Melbourne. The work, viewed in relation to the artist's correspondence with his sister, merges the experiences of leave-taking, adventure/absence, and return – mirroring the trajectory of the artist's life and the exhibition it inspired.
The retrospective draws to a close with works produced by Ramsay on his return to Melbourne, such as An Equestrian Portrait (c.1903) and Two Girls in White (or, The Sisters) (1904). It is worth viewing Two Girls in White, a strikingly relaxed study in whiteness, no doubt inspired by the work of James McNeill Whistler and John Singer Sargent, while standing in front of a photograph of Jessie, Nell, and Madge on display in a glass case in the centre of the room. Generally, the family resemblances in this room are striking. Again we see Ramsay turning his attention to his own face in a series of self-portraits that show him pointing a finger, wearing glasses, and boasting facial hair. What we do not see is the artist as invalid. Rather, an unfinished portrait of Mrs Lily Robertson (1905) and an ornate but understated bereavement card represent a life and career cut short, and a reputation on the brink of revival.
---
Hugh Ramsay is being exhibited at the National Gallery of Australia from 30 November 2019 to 29 March 2020.