Art
Story Time: Australian Children's Literature
National Library of Australia
Like a party where you hope to see famous faces, this exhibition offers the familiar – the Green Sheep, the wombats, the Magic Pudding – but also the chance to meet half-remembered friends and to make new ones. Story Time: Australian Children's Literature, the result of three years' work by curator Grace Blakeley-Carroll, features works from NLA's collection and beyond. In the exhibition's companion book, Story Time Stars, Blakeley-Carroll writes that, 'regardless of whether we have children in our lives, we were all once young and many of us hold dear the stories of our childhood'.
Original artwork is essential for an exhibition of this scale. The scope ensures that displayed items include manuscripts, hand-written and typed; artist's dummies, roughs and proofs; printed editions of the same work with different illustrators, in diverse languages and different media; promotional material and realia such as toys, figurines, clothing, and puppets; and even a windcheater (featuring Snugglepot and Cuddlepie).
The case holding work by Ethel Turner is evidence of the richness of the collections the exhibition draws on. The Library's Literary Manuscripts and Correspondence collection is home to the droll, handwritten list of reasons why Turner wrote Seven Little Australians. She had heard Little Lord Fauntleroy had made £20,000 for its author, Frances Hodgson Burnett, and she could certainly use that kind of money. Books in the case came from the Australian Printed Collection; a poster advertising the 1970s television serial adaptation is housed in Pictures and the Asian collection houses Japanese and Chinese translations of that novel.
The first exhibit the visitor confronts is A Mother's Offering to her Children (Australia's first published book for children [1841]), but the exhibition is not chronological. Story Time is curated thematically under Family, Friends and Identity; Funny Tales; Environment and Animals; and Other Worlds.
I was momentarily disappointed that the first illustrations seen in the first gallery, entitled Living Knowledge, were by Nora Heysen. The information panel acknowledged that the 'growing understanding among non-Indigenous Australians that their stories should be told by, or with the consent and direct involvement of, the communities from which they originate'. However the wonderful wall of artwork by Lardil man Goobalathaldin (Dick Roughsey) for The Rainbow Serpent more than made up for this. Goorialla's mouth glows a brilliant campfire red to entice the brothers to their transformation into rosellas, and every brushstroke can be seen. These vibrant paintings, owned by the National Museum of Australia, are a demonstration for the visitor of the difference between the original artwork and pictures seen in a book reprinted many times in the forty years of its existence. Please, HarperCollins, is it possible to re-photograph this book from the originals?
Shaun Tan and his publisher Hachette have lent artwork for the exhibition – very fitting, since his work has transformed the idea of what Australian children's books can do, and be. The exquisite detail of his working, and his finished drawings, can be examined in detail; they will be popular with visitors. At the exhibition's end is a room where adults and children are invited to share story time of their own. There's even a bed to sit on, and Tan's Academy Award-winning film The Lost Thing is playing on loop.
A personal highlight was seeing the magnificent edition of Ida Rentoul Outhwaite's Elves and Fairies. This book's production and publication was driven by the artist's husband, Grenby Outhwaite, in a manner that would be a model for twenty-first-century marketing. The story was retold in wonderful detail by Kate Riley in the La Trobe Journal in 2006. It was also a treat to see the spectacular collage of Jeannie Baker glowing with the luminescence of a sunny day's snorkelling.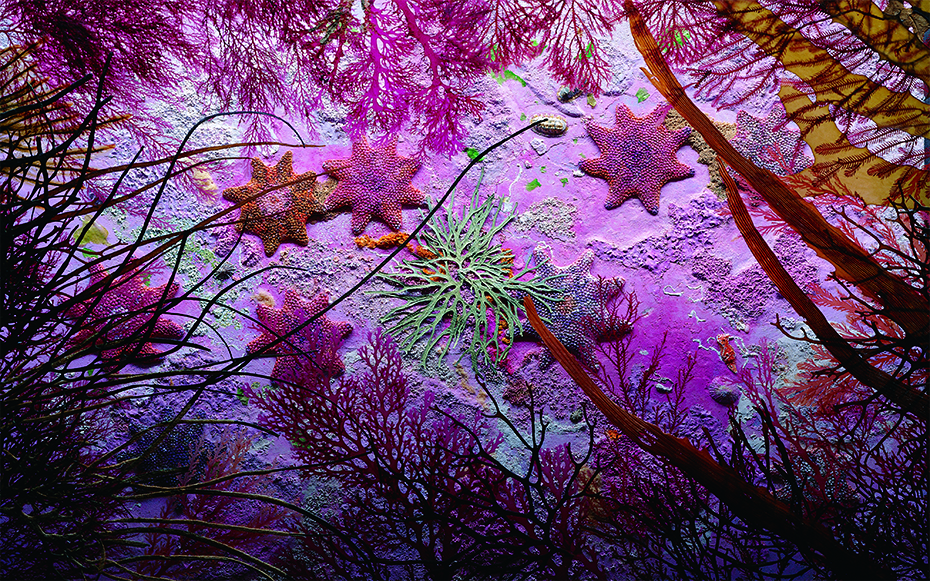 Jeannie Baker artist, Jaime Plaza photographer, Collage for The Hidden Forest Endpapers 2000 book published by Walker Books, Jeannie Baker Collage Collection, nla.cat vn8036259
Bob Graham, Donna Rawlins, Mem Fox, Judy Horacek, and Nadia Wheatley offer through their papers a tantalising glimpse into the world of book making for a living– dummies, roughs, proofs, and promotional work. Films, audio adaptations, and merchandising, which have helped characters stay alive through generations, are on display as well.
Fifty of the 250 items on display come from the National Collection for Australian Children's Literature, based at the University of Canberra. This collection, staffed almost entirely by volunteers, is campaigning for a permanent stand-alone home. This exhibition will do much to promote the need for it.
NCACL's Director, Dr Belle Alderman, has contributed to Story Time Stars, which offers a delightful guide to some of the characters represented in the exhibition – famous or not.
---
Story Time: Australian Children's Literature is being exhibited at the National Library of Australia until 9 February 2020.