Art
Keith Haring | Jean-Michel Basquiat: Crossing Lines
National Gallery of Victoria
In Keith Haring / Jean-Michel Basquiat: Crossing Lines, the National Gallery of Victoria presents a double portrait of the late, iconic, New York-based artists Jean-Michel Basquiat (1960–88) and Keith Haring (1958–90), becoming the first public museum to place their careers in direct dialogue. The retrospective presents many of both artists' signature works. The vibrant juxtaposition creates a narrative of two ambitious rebels as rising stars in 1980s New York as well as a compelling snapshot of the heyday of the city's bohemian Lower East Side.
Crossing Lines has been guest-curated by the art historian and curator Dr Dieter Buchhart, after his recent monograph exhibitions on Basquiat (Fondation Louis Vuitton and the Barbican Art Gallery) and Haring (Musée d'Art Moderne de la Ville de Paris). It is crammed with more than two hundred works of art: mainly paintings and drawings but also journals, notebooks, painted objects, documentary photographs, and even MTV video footage of the young Basquiat as a fashion model and Haring body painting celebrities like Grace Jones.
In a nod to 1980s glamour, one of the rooms is filled with portrait photographs taken by the French expat fashion designer and photographer Maripol, shot mainly in the club scene showing edgy poseurs strutting for the camera, their asymmetrical clothing, dramatic make-up, and tousled hair typifying the era.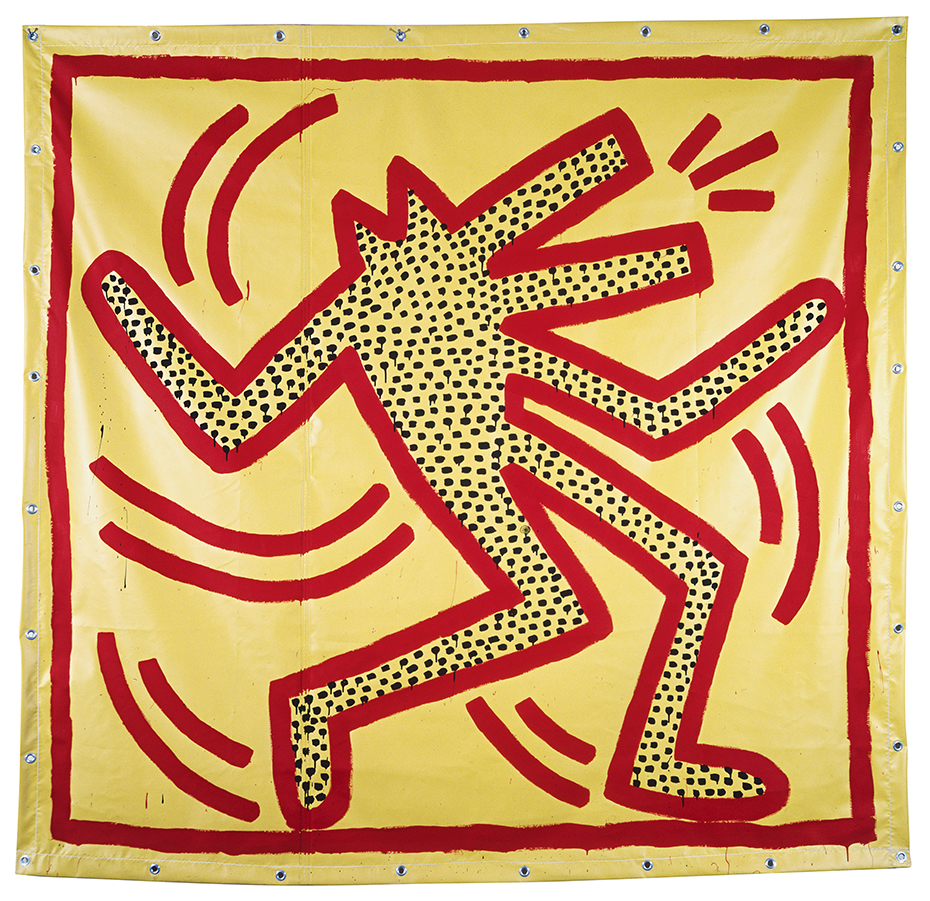 Untitled, 1982, Keith Haring, synthetic polymer paint on vinyl tarpaulin, 213.5 x 220.0, J W Power Collection, University of Sydney, managed by Museum of Contemporary Art, purchased with funds from the J W Power Bequest, 1982 © Keith Haring Foundation
The exhibition charts a broad chronology from Haring's and Basquiat's early years, including collaborative works made shortly after the artists met in 1979 at the Manhattan School of Visual Arts where Haring was a student; their immersion in street culture and graffiti; their subsequent move into the commercial gallery world; and their forays into the fashion and music scenes. Throughout, a sense of youthful exuberance abounds.
While both artists made lively paintings and drawings, the differences in their visual languages and socio-psychological temperaments are stark. Basquiat's works burn with a frenzied artistic energy and a sketchy, expressionist aesthetic that continued throughout his career. His paintings and drawings reveal an intuitive grasp of how textures and colours can briskly interact – almost at cross purposes. Oilsticks and crayons in contrasting hues zigzag across the canvas, and wet paint is gouged with the end of a brush. Words are scribbled across surfaces and later scratched out. There is the feel of an artist working at furious speed.
Yet within the restless dynamism and unmistakable drawing facility of Basquiat's images, something both juvenile and melancholy is evoked. The subject is often a solitary figure: a scrawny young man with dark skin, isolated against a chaotic ground. Faces are cartoonishly drawn with goggle eyes, pug noses, and barred teeth, seemingly childlike yet also vacant and unknowable. The notebook drawings expose this sense of isolation, but it persists even in the larger paintings, with their more complex compositions.
Untitled (Pollo Frito) (1982) writhes with frenzied mark-making. A disembodied head drifts on a sizzling orange ground, while patches of the canvas are violently inscribed with pithy signifiers: 'danger', 'broken glass', and 'pollo frito' – a Spanish term for fried chicken but also a racist slur for black Americans. Ishtar (1983), seething with energy, is studded with stick figures, floating heads, and a palimpsest of words: 'Ishtar', the Mesopotamian goddess of war and love, scrawled across the surface multiple times alongside more enigmatic references.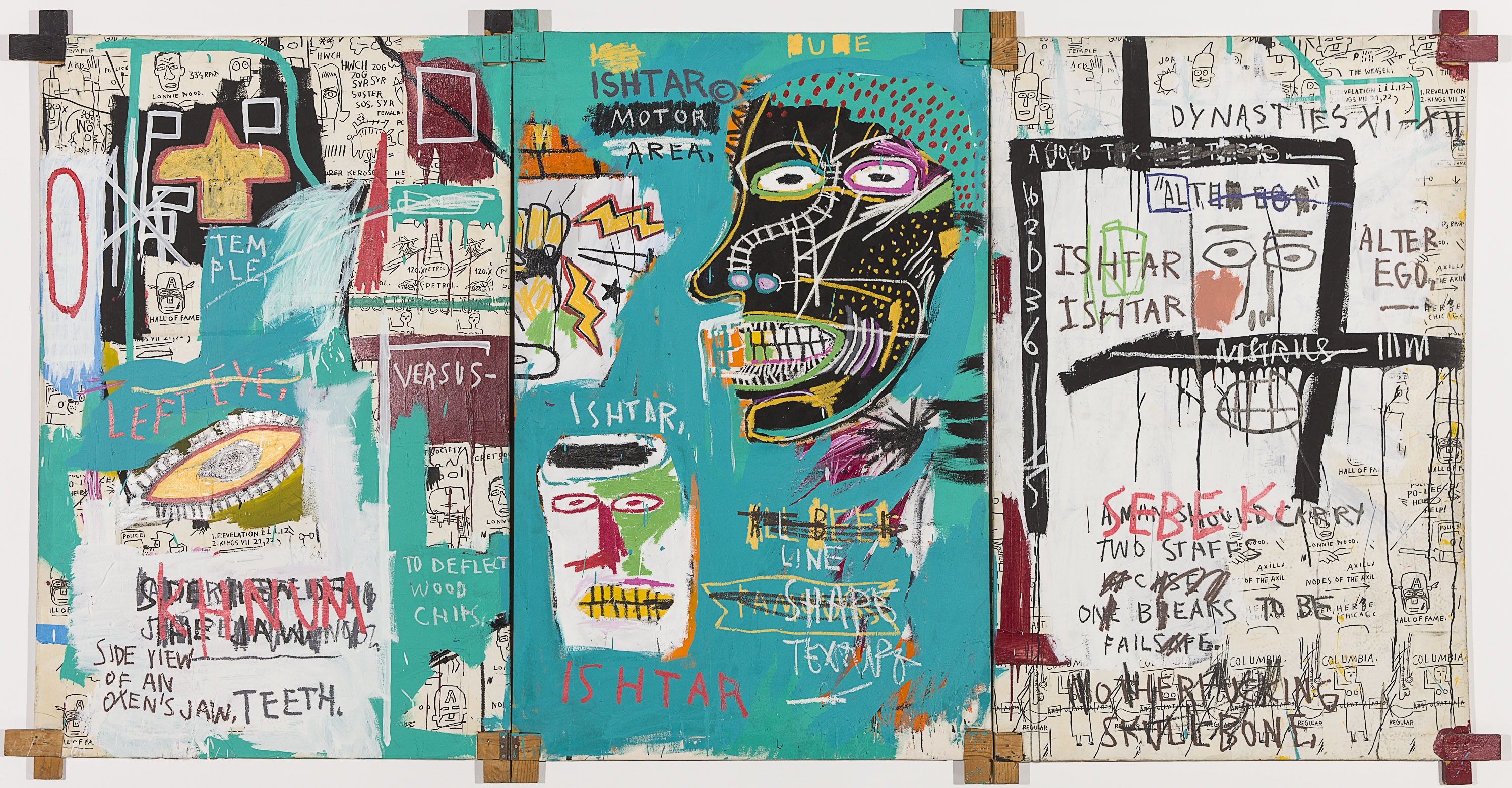 Ishtar, 1983, Jean-Michel Basquiat, synthetic polymer paint, wax crayon and photocopy collage on canvas and wood, 182.9 x 352.0 cm (overall), Collection Ludwig, Ludwig Forum für Internationale Kunst, Aachen, © Estate of Jean-Michel Basquiat. Licensed by Artestar, New York
Haring's work, as animated as Basquiat's, expresses its dynamism in a contrary way. The figures are not depicted through nervously sketched lines but in a reductive, schematic manner. Their bold graphic lines and gender neutral forms suggest the early-twentieth-century Isotype (International System of Typographic Picture Education): the graphic system for visually translating statistical data into pictorial form, developed by the scientific philosopher Otto Neurath in Vienna in the 1920s. In a historical twist, Haring's notational forms unwittingly pre-empt the vernacular of emoticons and emojis now routine in contemporary digital communication.
Certain motifs recur across Haring's works: crawling babies and jumping dogs, but mostly the unisex cipher as an irrepressibly dancing figure. Often placed in absurd scenarios, the exuberant movements of these figures suffuse the images with an upbeat vitality and humour. Untitled (1983) presents a warped bacchanal of quivering schematic forms: a giant caterpillar balancing a mainframe computer and a sword-wielding figure surrounded by a trio of headless dancing men. The whole scene pulses with energy.
In Untitled (1982), two schematically rendered angels raise their arms jubilantly above a crawling figure enveloped in a mushroom cloud, which could also be read as an Afro hairdo. More political meanings percolate beneath the surface comicality: the mushroom cloud signifies the lurking nuclear threat of the Cold War as well as a more specific reference to the partial meltdown of the nuclear reactor at Three Mile Island in Haring's home state of Pennsylvania in 1979.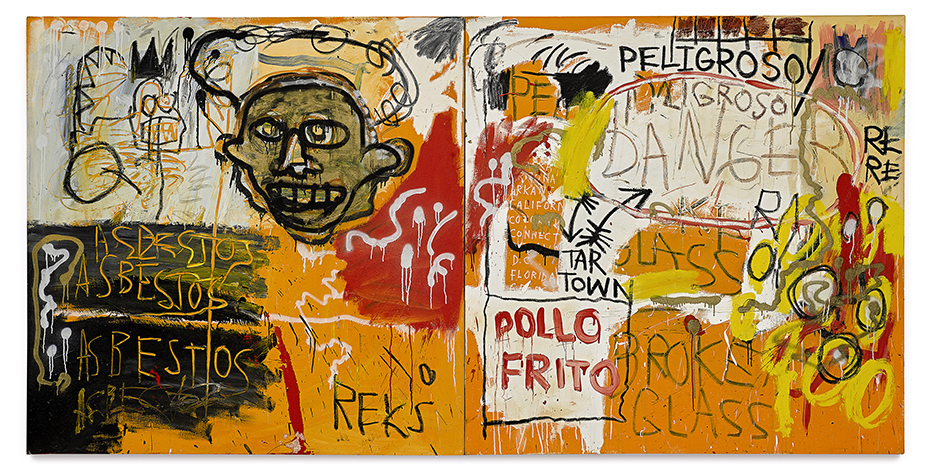 Untitled (Pollo Frito), 1982, Jean-Michel Basquiat, synthetic polymer paint, oilstick and enamel on canvas, 152.4 x 306.1 cm, Private European collection, courtesy of John Sayegh-Belchatowski © Estate of Jean-Michel Basquiat. Licensed by Artestar, New York
Basquiat's works similarly hold latent signifiers of dissent: Untitled (Pollo Frito), for instance, includes the word 'asbestos' in reference to the 1982 downfall of Manville Corporation after years of asbestos-related injury claims. Indeed Basquiat's very impetus to represent dark-skinned figures in his works can be interpreted as a mode of racial resistance and a precursor to the contemporary movement of #blacklivesmatter.
While art charged with political mission is now not uncommon, Basquiat's and Haring's protest at the evils of corporate capitalism and racial violence did not adulterate their love of the subcultural worlds of indie music and fashion, the fertile ground of the subway and the street. Their idiosyncratic aesthetic visions, so redolent of an epochal era of New York, are fuelled with a sheer vivacity that continues to effervesce.
---
Keith Haring / Jean-Michel Basquiat: Crossing Lines is being exhibited at the NGV International from 30 November 2019 to 13 April 2020.