Opera
Turandot
Opera Australia
Reviewing the recent production of Madama Butterfly in Adelaide, I dwelt on Giacomo Puccini's ceaseless search for new subjects between operas and how he considered everything from a Zola novel to the historical Marie Antoinette before settling on the story of Cio-Cio San.
The path to Turandot, his final, unfinished opera, was similarly curious. Puccini, the world's most famous composer, turned sixty in December 1918. One month later he was in Rome for the first Italian performances of his Trittico. Then he began searching for a new libretto. Giovacchino Forzano, librettist of Suor Angelica and Gianni Schicchi (both 1918), proposed an opera on the character Christopher Sly from The Taming of the Shrew – another great insomniac, like Calaf, his ultimate replacement ('Nessun dorma'):
Am I a lord, and have I such a lady?
Or do I dream? Or have I dreamed till now?
I do not sleep: I see, I hear, I speak,
I smell sweet savors and I feel soft things.

(Christopher Sly, from the Induction)
Forzano went on to write the play, but Puccini never wrote the opera. That task fell to Ermanno Wolf-Ferrari, whose opera Sly would première at La Scala at 1927. Instead, Puccini enlisted Giuseppe Adami – librettist of La rondine (1917) and Il tabarro (1918) – to collaborate with Renato Simoni on a new project. They flirted with the idea of an opera called Fanny, adapted from Dickens's Oliver Twist (Fanny being based on Nancy), before turning to Count Carlo Gozzi's play Turandot (1762), which Puccini had seen in Berlin, a German adaptation produced by Max Reinhardt. Gozzi described his play as a fiaba Chinese tragicomica in cinque atti (tragicomic Chinese fairy story in five acts). Puccini considered it 'the most normal and most human of all Gozzi's plays'. In the nineteenth century, there were seven operas about Gozzi's famously icy heroine; Busoni wrote his own Turandot seven years before the Puccini.
The gestation was tortuous, and the libretto underwent many changes over four years. Adami and Simoni compressed Gozzi's play into three acts, with many alterations along the way. One example: Gozzi's play ends with Turandot seeking forgiveness for her cruelty towards the male sex and assuring the audience that she really loved all those nice people in the 'legendary past'.
Puccini became increasingly fretful, impatient. In 1923 he wrote to Adami:
It is quite impossible. Perhaps – and maybe there's no perhaps – I too am no longer possible … I am not quite at the stage of crying 'Muoio disperato' [I die despairingly], but very nearly … I am very, very much afraid … I am a poor, unhappy man, discouraged, old, abject, nothing! What am I to do? I don't know. I'll go to bed and sleep to escape the torture of thinking.
Later he contemplated returning his advance ('I don't feel comfortable in China,' he said).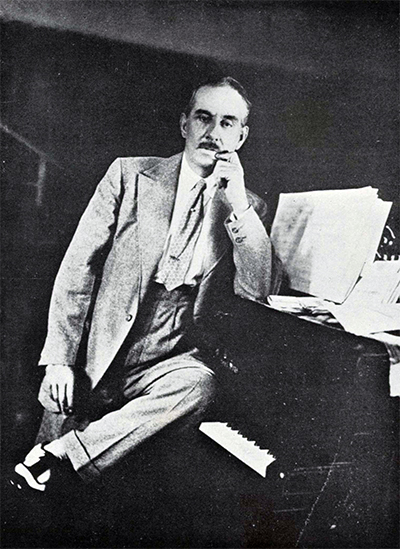 Puccini at the time of Turandot
In 1923 Puccini, a lifelong smoker, began to complain of a sore throat and persistent cough. By March 1924 he had completed the orchestration of Act III up to the death of Liù. Puccini, after a breach of many years, was reunited with Arturo Toscanini, first conductor of La bohème (1896) and La fanciulla del west (1920). In October 1924 he predicted that the opera would be staged incomplete. By then he had written everything but the Act III duet and the finale. He died in Brussels on 29 November 1924, several days after a gruesome operation for throat cancer.
Franco Alfano, a minor composer, was hired to complete the opera. The première took place at La Scala on 25 April 1926. In an act of piety towards Puccini or spitefulness towards Alfano, Maestro Toscanini (who had already ensured that Mussolini, whom Puccini admired, was barred from La Scala) laid down his baton after the death of Liù and told the audience, 'Here ends the opera left incomplete by the Maestro, who died at this point.'
Within a few months, Turandot had been produced in Buenos Aires, Dresden, Vienna, New York, and London, such was the speed with which new operas travelled in those days.
Graeme Murphy's production of Turandot is now almost thirty years old, but it doesn't look it. This must be one of the best things he's done for Opera Australia. (The company also presented Turandot as the 2016 Handa Opera, directed by Chen Shi-Zheng, with an 'imposing and flamboyant' Turandot from Dragana Radakovic.)
Overseen by revival director Kim Walker, Murphy's production looks superb on the wide stage at the State Theatre. The opening scene, as yet another of Turandot's hapless suitors is dispatched, was galvanising, despite the myriad forces on stage and the endless transitions.
The eponymous princess – one of opera's more extreme characters, and not perhaps the sharpest dagger in the armoury – doesn't sing until the second scene of Act II, though sing she then emphatically does, with one of the most taxing of Puccini's arias for dramatic soprano ('In questa reggia'). Earlier she does of course appear on a balcony, tacitly ordering the execution of the latest male upstart. Turandot – steely-voiced, steely-hearted – is the holder of a millennial grudge. Thousands of years ago, her ancestress Princess Lo-u-Ling was ravished and killed by a foreign invader, and Turandot considers herself the avenging reincarnation of her ancestress.
Turandot is one opera's most challenging roles. Famous exponents have included Eva Turner, Birgit Nilsson, Ghenna Dimitrova, and Éva Marton. Maria Callas sang it about two dozen times in her mid-twenties before abandoning the role (apart from a valiant, imperious 1957 recording for EMI). Callas attributed some of her early vocal problems to this scorching role. Joan Sutherland never sang it on stage, but her unexpected and luminous 1972 Decca recording suggests that she should have done so.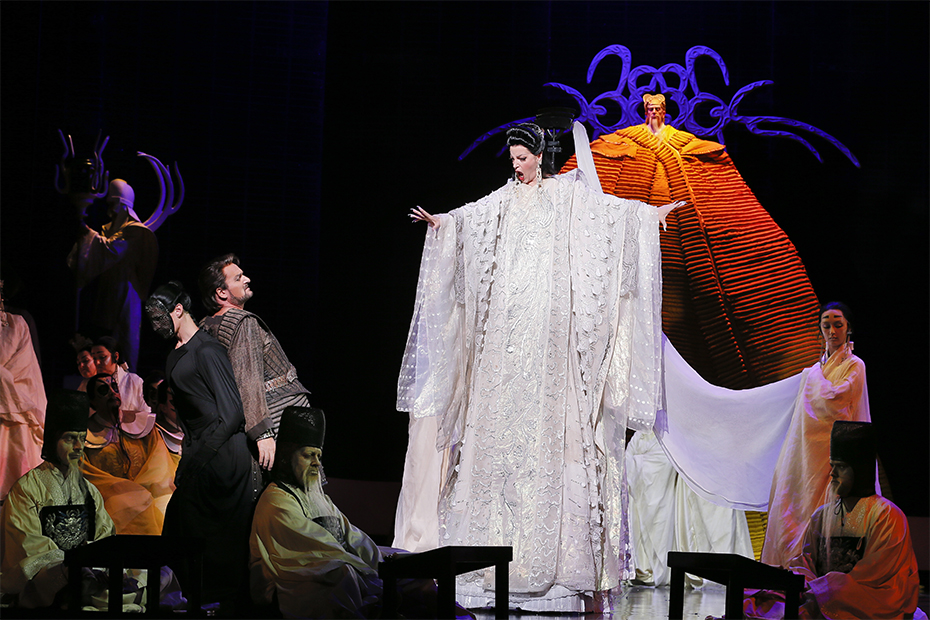 Walter Fraccaro as Calàf, Lise Lindstrom as Turandot, and Graeme Macfarlane as Emperor in Turandot (photograph by Jeff Busby)
The Turandot on this occasion was the American Lise Lindstrom, who first sang it for Opera Australia in 2015 (Sydney). She knows the State Theatre well, of course, having sung Brünnhilde in Wagner's Ring cycle (Melbourne, 2016), a performance for which she rightly won a Helpmann Award. I reviewed those three performances for ABR. Of the concluding one in Götterdämmerung, I wrote: 'Lindstrom is a revelation: magnificent to behold on stage, with a cutting voice and fearless high notes.'
Turandot, in some ways, is an impossible role – haughty, frigid, neurotic, endlessly gesticulatory, the ultimate sadist – but Lindstrom, looking glamorous in the late Kristian Fredrikson's long white beaded gown, was coruscating throughout, and when she did finally sing 'In questa reggia' – with its fierce progression and rising pitch – she was assured, rising to the high C at the climax when Calaf (the latest contender for her hand) has the temerity to join her. Lindstrom was equally impressive in the Act III duets and ensembles.
Our Calaf, Walter Fraccaro, was making his début with the company. Not a natural actor, he seemed hesitant at the start, and he had to cope with some tricky stage manouevres before his famous Act III aria, 'Nessum dorma'. His is a ringing Italian sound. Often Fraccaro approached Calaf's many high notes from below, but when he hits them he exults in them.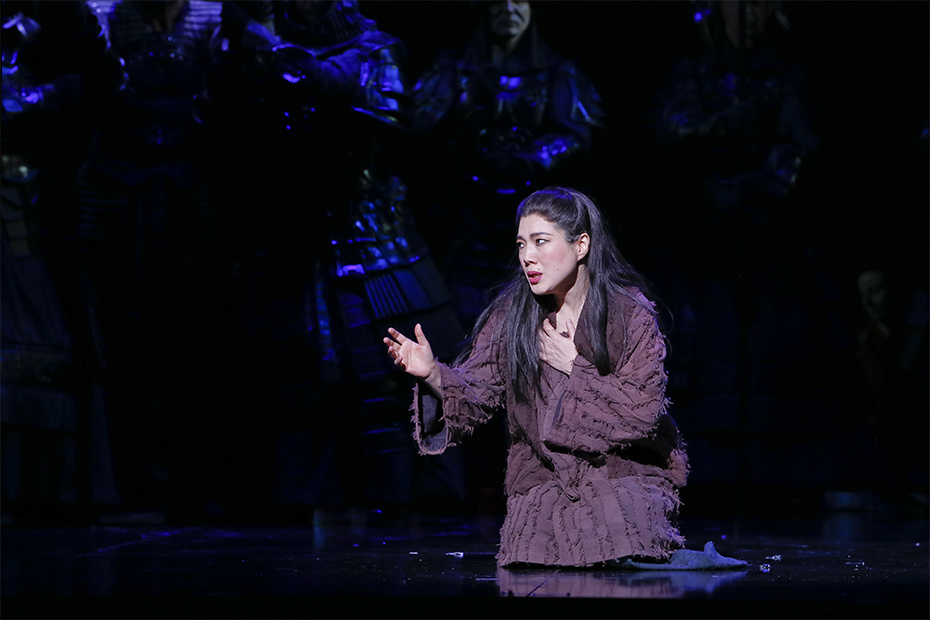 Karah Son as Liù in Turandot (photograph by Jeff Busby)
The evening really belonged, as it so often does, to Liù, on whom Puccini lavished some of his loveliest music. The slave girl comes on early, leading the blind Timur (Richard Anderson), the deposed Tartar king who turns out to be Calaf's long-lost father. To music of inspired simplicity, Liù recalls the day when Calaf smiled at her. The soft B-flat on which she says this becomes, as Charles Porter noted, a kind of musical signature for Liù. Korean soprano Karah Son (a former student of Mirella Freni, herself a famous Liù) hit the note magnificently and was equally impressive in the Act I aria 'Signore, ascolta', which Puccini based on a Chinese folk song.
Son was even better in the long scene leading up to Liù's brutalisation and suicide. Torture brings out the best in Puccini (Porter noted its odd attraction for the composer). There is such a bloom to Son's radiant voice; it carried remarkably in the big theatre. Joan Carden was an affecting Liù when she sang here in this production in 1995; Son was equally memorable. It's hard to recall a more striking recent Melbourne début. Now we can only look forward to Son's Mimì in Sydney in the New Year. For Puccinians, Son's Liù is a performance not to be missed.
Ping, Pang, and Pong – the emperor's three chief ministers, mischievous and cynical until the end, when, to their surprise, they soften – can outstay their welcome in this opera, but Murphy directs them artfully and they never seem de trop. Ping, Pang, and Pong – sung by Christopher Hillier, Virgilio Marino, and John Longmuir, respectively – were divertingly good. Just like their make-up, the three ministers aren't really characterised individually; they form a kind of single musical entity, though Ping has more music than the others. Hillier was exceptional as Ping; the young baritone seems likely to make a deep impression as Sharpless in Melbourne next year, opposite the formidable Hiromi Omura as Cio-Cio San.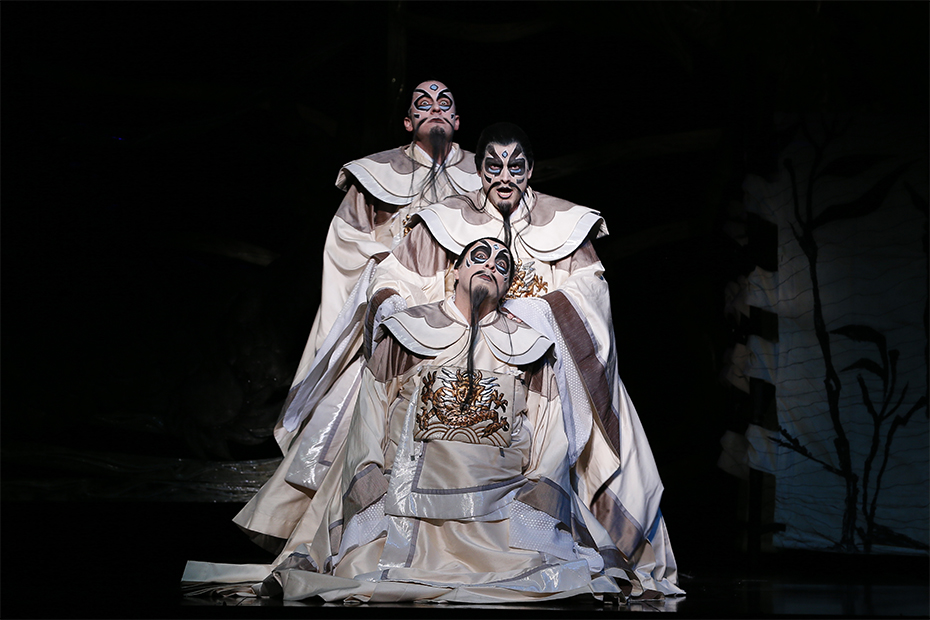 Christopher Hillier as Ping, John Longmuir as Pong, and Virgilio Marino as Pang in Turandot (photograph by Jeff Busby)
Rarely has Orchestra Victoria sounded better than it did under Christian Badea. As in La fanciulla, Turandot shows Puccini at his most inventive. Instruments, always subtly deployed, include celeste, glockenspiel, xylophone, and the Chinese gong. Badea drew sure, emphatic tones from the start, with some outstanding work from the brass and percussion. There was playing of great subtlety and beauty during the lunar interval, the ashen response to the death of Liù, and the magnificent nocturnal beginning of Act III. This performance from Orchestra Victoria augurs well for tomorrow's opening of Faust, with Gounod's grandiose score.
The chorus in Turandot, from the clamorous outset, is more active than in any other opera by Puccini. Often fortissimo and behaving like a character in its own right, it is pushy, opinionated, and baleful ('Turn the grindstone' they cry as the executioner appears). The chorus helps to determine the action to an unusual degree in Italian opera. It enjoys one of the most exquisite moments in the opera: the invocation to the moon in Act I, which reminds us, with its Impressionist colourings and striking harmonies, that this may be Puccini's most innovative score, always worthy of occasional revisitings – especially when it features two outstanding sopranos.
With this production and the Faust that will follow, Anthony Hunt, the outgoing Chorus Master, leaves the Opera Australia Chorus in exceptional form. It is one of the glories of this company. (Paul Fitzsimon, company conductor and répétiteur, takes over with La bohème on New Year's Eve.)
---
Turandot, presented by Opera Australia, continues at the State Theatre, Arts Centre Melbourne until 6 December 2019. Performance attended: November 19.