Theatre
The Beauty Queen of Leenane
Sydney Theatre Company
In a cramped, dismal cottage on the Galway–Mayo border, the theatre's most poisonous mother–daughter relationship since Electra battled Clytemnestra is being played out on the stage of the Roslyn Packer Theatre.
The Beauty Queen of Leenane is Martin McDonagh's first and most performed play. Premièred in 1996 when McDonagh was still in his twenties, the play toured Ireland, moved on to London's West End and later Broadway, gathering a swath of awards. The Sydney Theatre Company had for some time been trying to engage Rebel Wilson, and when she suggested McDonagh's play they agreed. Wilson dropped out in the early stages of planning. Nevertheless, on paper the STC has put together a strong cast and production team. Why then is the result less than the triumph one might have expected?
McDonagh's work has always sharply divided opinion. His Irish plays, with their mixture of blarney and violence, have often been described as a blending of J.M. Synge and Quentin Tarantino. To his critics, they are clichéd caricatures of Irish life punctuated with bursts of ultraviolence inserted for their shock effect. Others, this reviewer included, see in them an unsentimental compassion combined with an absurdist sensibility. Mag and Maureen, the central characters, in their desperate codependence are not that far from Beckett's Vladimir and Estragon.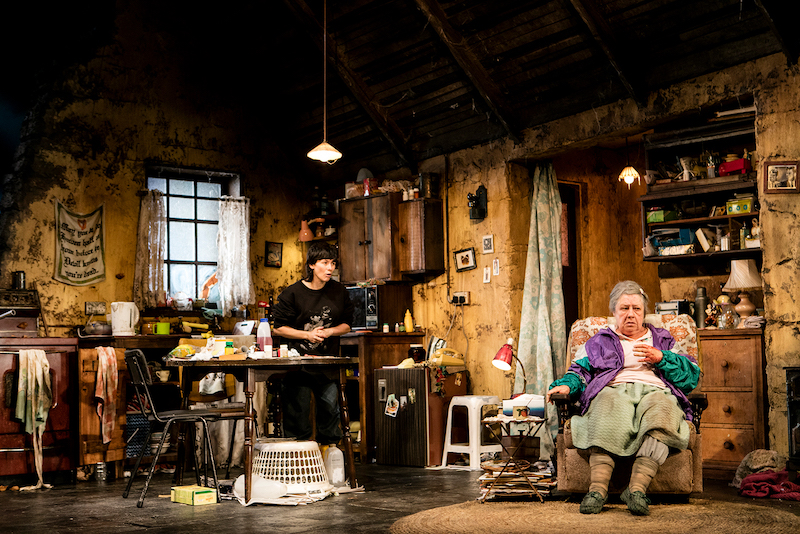 Yael Stone and Noni Hazlehurst in The Beauty Queen of Leenane (photograph by Brett Boardman)
Maureen, a forty-year-old spinster, is a daughter who has been saddled with the care of her impossibly demanding seventy-year-old mother Mag. They spend their days bickering over minutiae. Mag grumbles that Maureen makes her Complan too lumpy. Maureen is exasperated by the fact that Mag insists on emptying her chamber pot down the sink. Their drab lives are brightened by an invitation to a party at which Pato Dooley, an erstwhile neighbour now working in London, to whom Maureen is obviously attracted, will be present. In spite of her mother's objections, Maureen goes and discovers that the attraction with Pato is mutual. To Mag's horror, they begin a relationship. The play becomes a battle between Maureen's desire for love, sex, and freedom and Mag's determination not to be dumped into an old folk's home.
It was going to be a challenge to put a small-scale, four-hander piece on to a stage as large as the Roslyn Packer's, but from a design point of view director Paige Rattray and designer Renée Mulder have succeeded brilliantly. At the play's opening we see a cottage that is somehow both quaint and forbidding perched on a steep hill, with a plain backdrop suggesting space and sky. The set then revolves to show us the cottage's cramped, grungy interior. We immediately get a sense of the rugged beauty of the environment contrasted with the narrow, limited lives of its inhabitants.
The production's problems stem from Rattray's approach to the play. In her production notes, she claims that the play expresses McDonagh's deep empathy for his characters. She says of Mag and Maureen that she wants 'to access the softer side of both characters' and claims that Mag has a 'concern … for Maureen's wellbeing'. But Rattray is confusing empathy with compassion. In their different ways, both Mag and Maureen are monsters. Maureen means it when she wishes her mother dead, and Mag's only concern for her daughter's well-being is that she should stay healthy enough to be at her mother's beck and call. The compassion comes from the fact that it is the cramped, straitened circumstances of their lives that has made them this way. They are as comically grotesque in their way as is, say, Lady Bracknell, and they need to be played with the same sort of heightened naturalism. To soften them dilutes the humour of the piece and turns the play into exactly the mix of quaint Irishness and gratuitous violence of which its critics accuse it.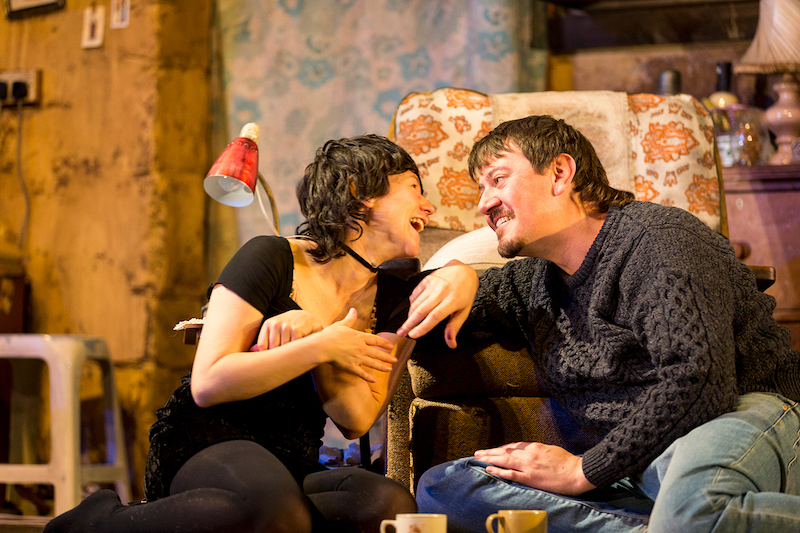 Yael Stone and Hamish Michael in The Beauty Queen of Leenane (photograph by Brett Boardman)
The edge of Noni Hazlehurst's Mag may have been softened, but Hazlehurst is too good an actor not to have her moments. The truculent deliberateness with which she empties her chamber pot in the forbidden place, and the beady-eyed focus with which she concentrates on a letter she longs to open but for the moment cannot, are instants to treasure. Her effectiveness is blunted by the unfortunate fact that Yael Stone, as her major sparring partner Maureen, is decidedly miscast. Her lightweight performance is not helped by the fact that her attempt at an Irish brogue makes much of her dialogue incomprehensible.
The men fare better. Shiv Palekar brings comic energy to Pato's younger brother Ray. As the kind but ineffectual Pato, Hamish Michael makes the most of the only character who could in some way be considered sympathetic. With the long speech that opens the second act, he managed to quieten the opening-night audience, which, as ever, seemed anxious to laugh at everything comic or not.
It is a major challenge to get the balance right in Martin McDonagh's plays, one that the STC on this occasion has not managed to achieve.
---
The Beauty Queen of Leenane, presented by the Sydney Theatre Company, continues at the Roslyn Packer Theatre until 21 December 2019. Performance attended: November 22.