Theatre
Kiss of the Spider Woman
Melbourne Theatre Company
Argentine writer Manuel Puig's 1976 novel Kiss of the Spider Woman seems to have shed most of its cultural specificity with each new iteration. Most people know it from the 1985 film that transposed the action to a Brazilian prison, for no conceivable reason other than the fact that the director was Brazilian (Héctor Babenco). The 1992 musical, with a book by Terrence McNally and music and lyrics by John Kander and Fred Ebb, goes a step further, and sets it in an undisclosed South American country – as if all political hells were the same, as long as they were subcontinental.
Puig's novel came right in the middle of a real massacre, a real disappearing of his country's people. His two protagonists – the Marxist revolutionary prisoner Valentin (Adam-Jon Fiorentino) and the transgender window dresser Molina (Ainsley Melham) – are synecdoches of the 30,000 victims of Argentina's Dirty War, known as the desaparecidos. The political and the apolitical alike were rounded up and tortured, which lends the novel a revolutionary zeal that is difficult to detect in the adaptations that followed.
Even neutered of its political fervor, it is admittedly a solid set-up: a gruff, staunchly heterosexual man having to share a cell with a flouncy 'homosexual' (the complication of trans identity is so utterly diminished here it fails to register) comes to see his own humanity reflected in the courage and humanity of his fellow prisoner. It's a dynamic that flatters the straight man, who only has to demonstrate an iota of compassion and empathy before he is eulogised, and seriously subjugates the trans woman. Given that this precise dynamic plays out in the Hollywood film Philadelphia, released a year later, it's clear this is what constituted political wokeness in the early 1990s.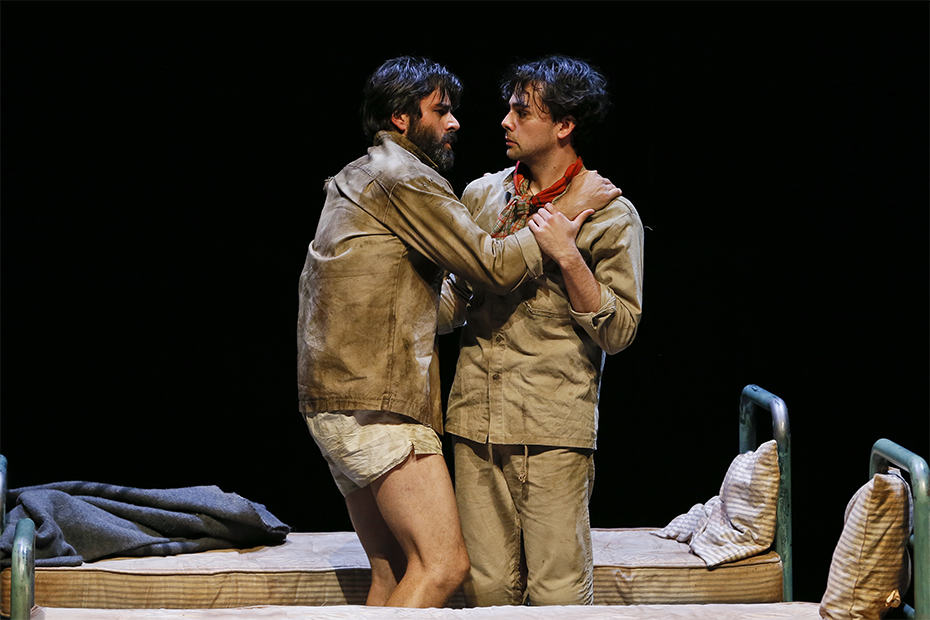 Adam-Jon Fiorentino and Ainsley Melham in Kiss of the Spider Woman (photograph by Jeff Busby)
The story's central conceit, and presumably the reason Kander and Ebb were attracted to the material, is that Molina is an obsessive cineaste who summons the figure of her favourite screen idol, Aurora (Caroline O'Connor), whenever prison life becomes de trop. This gives the composer and lyricist several opportunities to break out of the dramatic situation and indulge in the kind of musical numbers that wouldn't look out of place in a Cole Porter show. This is by no means an unworkable idea, the interior fantasy life as relief and contrast to suffering, but the writers are never quite sure how they want to utilise it. Is Aurora a figure of pathos, an emotional security blanket, or is she a figure of resistance, an icon of the nation's spirit? Does she function primarily as comic relief, as in the hilarious opening number to the second act, 'Russian Movie/Good Times'?
The Spider Woman is a character Aurora played in one of her movies, the only role Molina remembers with terror and revulsion. Her function is easier to grasp because it is one-dimensional: she represents death, and her kiss is the seal of fate on the prisoners' brief and brutal lives. Molina feels she is coming for him, and the question of whether Molina will betray Valentin to the sadistic Warden (Burt LaBonté) before she arrives provides the musical with its sole tension. O'Connor is surprisingly ineffectual in this mode; more campy than vampy, she relies heavily on her natural coquettishness, but she isn't remotely sinister or alluring. The musical comedy razzle dazzle of Aurora suits her better, but then she never quite transcends the limitations of the part, nor finds a way to sell the garbled concept. Even her usually reliable movement is strained and awkward, and the nasal quality in her voice threatens to resolve into self-parody.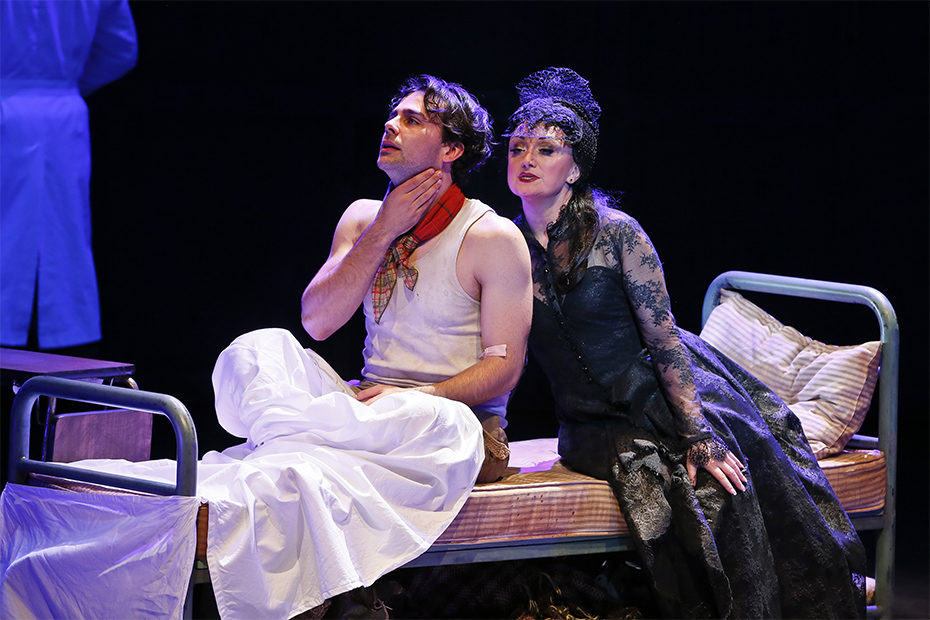 Ainsley Melham and Caroline O'Connor in Kiss of the Spider Woman (photograph by Jeff Busby)
Fiorentino looks the part of the sturdy revolutionary, and shows some lovely tenderness late in the piece, but his voice is stretched almost to breaking point by the vocal demands of the role; his upper register in particular isn't nearly confident enough. Melham, who has spent the last couple of years both in Australia and on Broadway playing the eponymous character in Disney's Aladdin, excels as the desperately compromised but ultimately dignified Molina. It's a part that comes with a lot of baggage, having won William Hurt an Oscar in 1986, but Melham sweeps it all aside to carve out a portrait of great care and restraint. He's the soul of the show. Often it feels as though he is dragging the work through its own purgatorial paces. LaBonté and Natalie Gamsu are excellent in support.
Director Dean Bryant is a frustrating talent; his productions range from the disastrous to the sublime, and this one veers precipitously between these poles, sometimes within a single scene. There are plenty of fine moments – an early quartet between the two prisoners and the women in their lives, 'Dear One', and a rousing rendition of 'The Day After That', are both deeply poignant – but the transitions from one mode to another fail to convince, and Bryant never manages to settle on an overarching tone that can accompany the show's disparate modalities. Andrew Hallsworth's choreography doesn't help, packed with the sort of kicks and pops you'd expect in a Vegas showroom, but utterly at sea with the work's more naturalistic leanings. Alicia Clements's set and costumes are good, flexible, and ingenious. And Matt Scott's lighting is rich and responsive.
This probably looked like a sure bet on paper: Bryant has a solid track record with quirky material (his 2016 Little Shop of Horrors for the Hayes was superb) and Kander and Ebb proved they could tackle deeply political work in a musical theatre context with the legendary Cabaret (1966). The director has publicly stated that the show wasn't worth doing unless he could cast O'Connor, but this hasn't saved his production; it may even have given it the kiss of death. It is a deeply flawed show from a dramaturgical perspective, but rather than paper over these flaws, Bryant's approach highlights them – it leaves the cast horribly exposed. Confused, inconsistent, and wilfully apolitical, Kiss of the Spider Woman is a poor testament to the victims of Argentina's Dirty War and an unsatisfying end to MTC's year.
---
Kiss of the Spider Woman, presented by the Melbourne Theatre Company, continues at the Sumner Theatre until 18 December 2019. Performance attended: November 22.