Theatre
Oil
Red Stitch Actors Theatre
It is scary to contemplate a world without oil. Whether we acknowledge it or not, oil is at the heart of our everyday lives. The Western world has depended on it for over a century. It has given us heat, light, comfort, and control. But modernity is built on a finite resource, and we are hurtling towards a time when there will be no more oil left to tap. What will happen then?
Young English playright Ella Hickson's Oil (2016) takes the history of humanity's addiction to oil and renders it in a beautifully rendered portrait of a mother–daughter relationship. When we first meet May (Daniela Farinacci), she is pregnant and living in an overcrowded family farmhouse in 1889 Cornwall. The food is rotten, the candles barely cut through the darkness, and everyone is freezing and hungry. It seems like a miracle when a Texan businessman (Darcy Brown) arrives in the middle of a winter's night with an oil lamp that burns like daylight. May dips her finger in the kerosene, and brings it up to her face, enchanted.
'There are millions of years, right there on the end of your finger,' says the businessman.

'How can a million years fit on one person's finger? Magic?'

'Near enough.'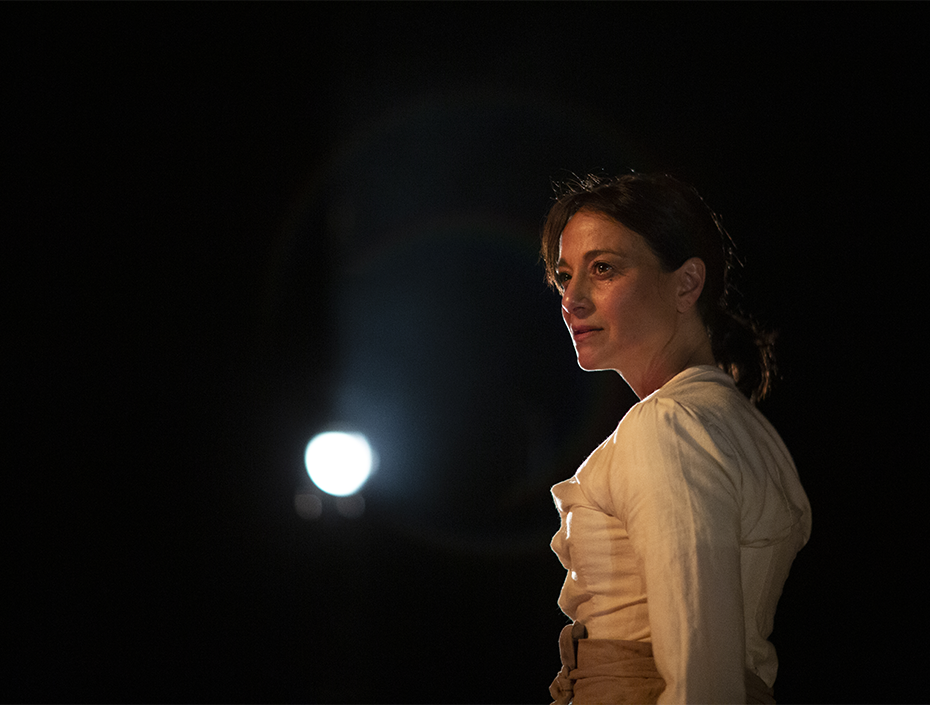 Daniela Farinacci as May in Oil (photograph by John Lloyd Fillingham)
It is as though this first encounter with oil instils in May the ability to step into the future and become a sort of time-travelling everywoman. As she traverses 162 years, May and her daughter Amy become the conduit for Hickson's exploration of the Western world's reliance on oil; they travel from Cornwall to 1908 Persia to modern-day Iraq and into the future. But this is not a climate-change play but one about mothers, daughters, and the price of dependency and power.
Oil was a huge success when it opened in London in 2016. Red Stitch Actors' Theatre has given the play its Australian premiere in its new venue, the Cromwell Road Theatre. Directed by Ella Caldwell, this production doesn't quite rise to the challenge posed by Hickson's demanding script, but it still contains enough energy to sustain the three-hour epic. It suffers from being in a venue that is unfamiliar to the ensemble and director. The traverse seating, with the audience lining either side of the stage, makes it almost impossible to see all the actors at once. In a play that is so much about connection and relationships, the staging makes the performances feel fractured and underdeveloped.
The play also suffers from some poor lighting design. The long opening scene, set in 1889, is lit solely by candles and oil lamps, resulting in near darkness. The decision to use historically accurate light sources in the opening scene is ambitious, but poor execution and dimly lit faces prevent the audience from connecting with the characters for the first twenty minutes. This makes for a slow start. As we move through the decades, the pace improves.
Oil has a ten-person cast, which is significantly larger than many of Red Stitch's productions, and it feels like unstable ground for the ensemble. Caldwell's direction has a frenetic quality, full of awkward blocking and a tendency to skim across important moments in the script. The production is at its strongest in scenes between Amy and May; domestic intimacy is closer to Red Stitch's (and Caldwell's) comfort zone, and it shows. As international politics play out – literally – around the kitchen table, May and Amy come into their own.
Farinacci gives an intelligent and considered performance as May; her dexterity allows her to maintain May's core personality while changing her physicality with each shift in time. As with many of the cast members, Farinacci struggles to maintain her West Country English accent. As Amy, Hannah Fredericksen moves from childhood to middle-age throughout the play. While her physicality isn't as assured as Farinacci's, she portrays an earnest young woman full of conflicting desires. The fierce and troubled love between mother and daughter drives the play; together the two women give us some of the more intimate moments of the play.
Oil uses Amy's growth to map the development of the oil industry, positioning the Western world as though in late adolescence, consumed by an uneasy combination of hedonism, arrogance, and uncertainty. 'It's my job to protect her future from the passions of the present,' says May about Amy. But as mother and daughter live out the future consequences of the Western Empire's greed, we are left with the troubling impression that it may be too late for us all. The Age of Oil is ending – it gave us a perceived freedom, but there are consequences that we are only just beginning to acknowledge and that may yet leave us shivering, powerless, in the dark.
---
Oil
is being performed by Red Stitch Actors' Theatre from November 17 to December 15. Performance attended: November 16.