Theatre
Light and The Dark Master
OzAsia Festival
At a time of increasingly bellicose nationalism and ever-proliferating flashpoints of contested history, it's no surprise to find multiple works at this year's OzAsia Festival exploring, and in some cases provoking, these global fault-lines.
Light (★★☆), a collaboration between writer Thomas Henning of Melbourne's Black Lung Theatre and Malaysian producer–designer collective TerryandTheCuz, takes as its point of departure the lives of Francis Light and his son William, the first surveyor-general of South Australia. The history books tell us that in 1786 Francis laid claim to the island of Penang on the north-west coast of Peninsular Malaysia, and that, fifty years later, William set out his plan for the city of Adelaide: a grid of wide streets and large public squares ringed by parklands. Less than three years later, William was dead from tuberculosis, the bulk of his papers and possessions having been destroyed in a fire at his North Terrace office.
If that sounds like a lot to condense into two acts of theatre, you'd be right. As Gavin Yap, who performs the part of William, says at the show's outset: 'Light is a near-impossible task: ninety-eight years of semi-remembered history across four continents, performed by three actors, in under two hours.' The story of William's parents, Francis (Martin Blum) and Martinha (Junji Delfino), would in itself provide ample material for a play. Having claimed Penang as part of Martinha's dowry, Francis then sold the burgeoning colony to the East India Company – notorious by the late eighteenth century for its brutal, militarised profiteering – only to see the region descend into a sort of gangster's paradise frequented by the likes of the infamous pirate Captain Kidd (Yap, in one of many small roles).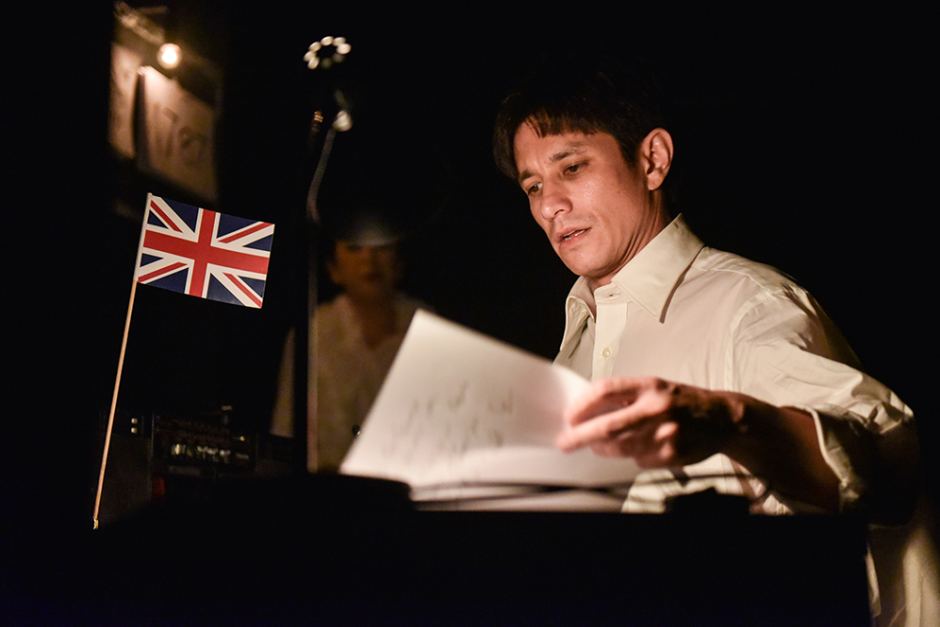 Gavin Yap as William Light in Light (photograph by Darshen Chelliah)
Rather than being played straight, all of this history is put through the revisionist wringer. Henning's direction and writing are loaded with a punkish, DIY sensibility that aims for maximum irreverence. Anachronisms – mobile phones, contemporary patois, up-to-date costumes – abound. The exposition is breathless and exaggerated, the style bordering on camp as one sacred cow after another is slain with relish (it's strongly suggested, for example, that it was William's deputy, George Strickland Kingston, who was actually responsible for the design of Adelaide).
And yet, a seriousness of purpose remains: namely, exposing the ways colonialist narratives have systematically obscured the experiences and contributions of women and Indigenous peoples ('good for nothing except menial labour and slavery', as one particularly egregious example of imperialist racism in the play has it). Essential human truths are picked apart, too. Whatever the play has to say about William's record as a colonial administrator, he is nevertheless rendered with sympathy as a man bedevilled by compromised idealism and an existential search for 'the moment that makes you'.
There is no mistaking the ambition of Henning and his team, nor the merit of their aim to radically unsettle histories written almost exclusively by the powerful and oppressive. When the play works, it's exhilarating stuff, ragged and propulsive. When it doesn't, which is more often than not, it registers like a lesser episode of Horrible Histories, indulgently conceived and amateurishly executed (it cannot have helped that this première season was plagued by technical difficulties, including the set's being held up by Australian Customs for a week). I hope between now and its second outing – in Georgetown, Penang, no less – the makers embark on some unsentimental revisions of their own story.
Like its near-namesake The Dark Inn, which was presented at OzAsia in 2017, The Dark Master (★★★☆) is the work of Japanese playwright–director Kuro Tanino. Both works, utilising impressively lifelike sets by Takuya Kamiike, take place in present-day rural Japan, over which the threat of modernity hangs like a storm cloud. Both see hapless tourists stumble across venerable but fading institutions – the inn of the first play's title, a bistro of thirty-five years standing here – only to be pulled, seemingly without chance of escape, into faintly absurd, and increasingly macabre, situations.
In The Dark Master, the tourist is a young man (played with comic brio by Koichiro F.O. Pereira) who is coerced by the limping, alcoholic master (Susumu Ogata) into taking over from him as the bistro's cook. The young man, a gormless, unemployed backpacker from Tokyo who has, by his own admission, never so much as picked up a knife in his life, begins to prepare meals – each cooked live on stage – according to the master's instructions, relayed via a 'microscopic' earpiece from an unseen upstairs room (the audience is privy to these instructions by means of headphones donned at the beginning of the show).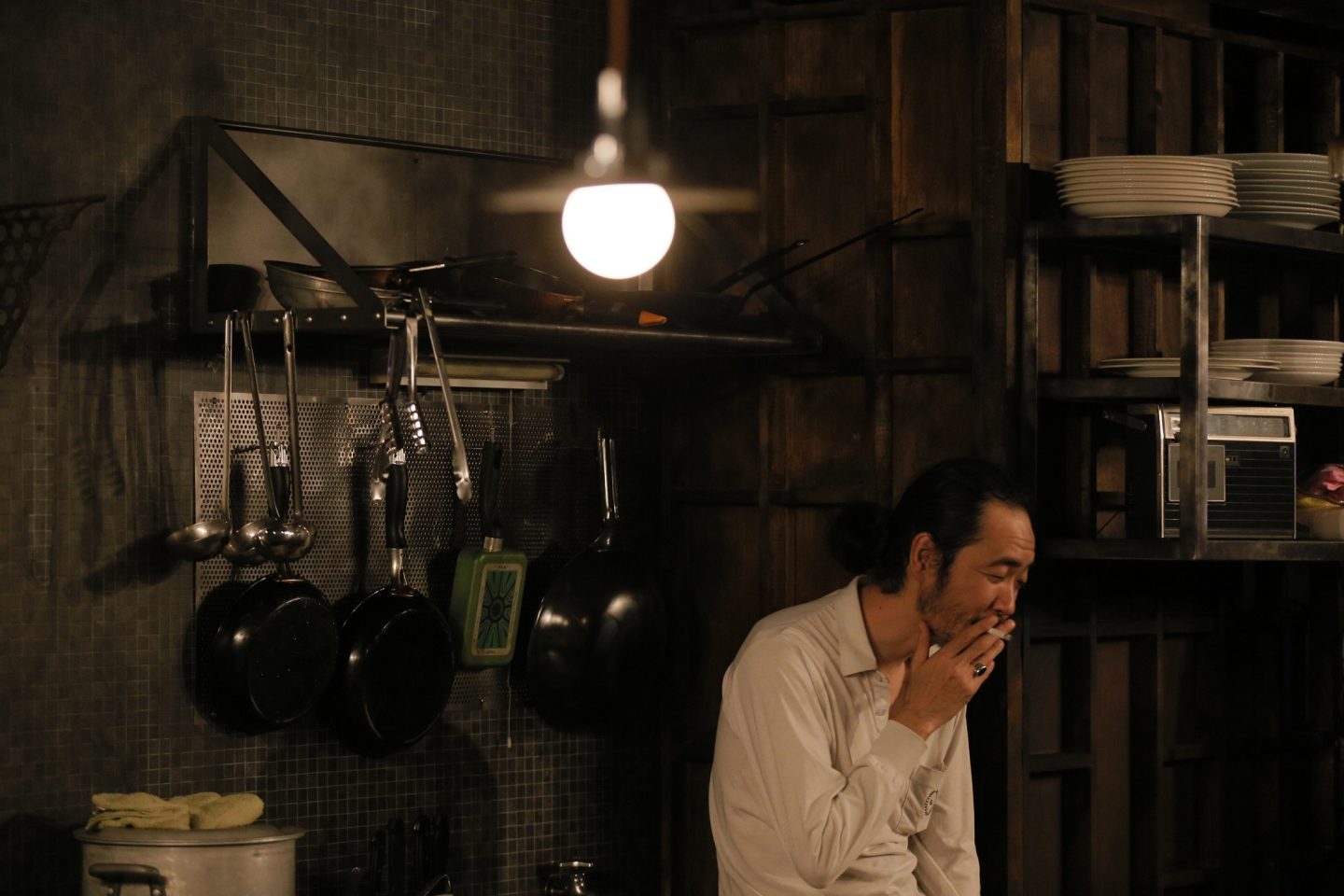 An image from The Dark Master (photograph by Takashi Horikawa)
Over the course of thirty-three days, the young man learns to cook everything from steak to gourmet omurice (a sort of fancy omelette), attracting a growing number of patrons to the bistro, including a suspiciously cashed-up Chinese man (Masato Nomura) (though, curiously, none seem to notice the change of cook).
Performed in Japanese with (not always elegant) English subtitles, The Dark Master plays out as a cross between a farce and a Bildungsroman, the relationship between jejune apprentice and unseen, world-weary master mined for all its comic worth as the former is ushered, bunglingly at first but with increasing confidence, into the world of manhood (sex, cigarettes, Scotch). Even if the audience's ability to hear the master's commands is never interestingly developed, the whole remains compelling – wryly amusing, deftly performed, and enlivened by the smells of real cooking in the theatre.
The more I thought about it afterwards, however, the more troubled I was by the play's nationalistic overtones. A sharp commentary on Japan's boom-and-bust cycles of economic prosperity gradually emerges. At one point, reflecting on the human cost of recession, the master laments the moving away of friends and his resulting loneliness and heavy drinking. Ultimately, it's hard not to read the young man's journey as an initiation rather than as an apprenticeship, an allegorical muscling up to China, personified by the rich customer who completes the young man's subsumption into the role of the master by threatening and beating him up, leaving him with a limp.
Perhaps a sly critique of Sino-Japanese geopolitics was at work (certainly, the scene in which an old Japanese war song plays over one of the young man's encounters with a sex worker leans towards the satirical). But the play's scary denouement, in which the bistro is battered from all sides by the Chinese man's thuggish associates, would appear to suggest otherwise.
---
The OzAsia Festival is running from 22 October to 8 November 2019.