Matteo Garrone likes to peel back Italy's skin to expose what writhes beneath. The director's earlier breakout film Gomorrah (2008), an unforgettable sprawling epic, explores the Camorrah crime syndicate from its bottom-feeding wannabes to its corrupt political élite. Reality (2013), a satirical tale of a fishmonger going to desperate lengths to become a reality-television star, is a nod to Silvio Berlusconi's amoral regime and surreal legacy. In these films, as well as others in his oeuvre, Garrone dissects morality and power, using the slow ruination of the quasi-innocent to evoke the grisly reality of Italy's underbelly.
Dogman, his latest film, opens with bared teeth. A snarling white pit bull, straining against a heavy chain around its neck, bites at the camera. Trying to soothe it, crooning 'Sweetie' as he washes its muscular back with a rag, is Marcello (Marcello Fonte), a meek but caring man who runs a dog-grooming parlour in the middle of town. Everyone seems to know everyone here, and Marcello is well liked. Aspiring to be decent, he strives to uphold his reputation as a hard-working and dependable man. He chews the fat at a small diner, plays soccer at night with local men, and adores his young daughter, Alida (Alida Baldari Calabria). Taking breaks from the salon to take her on vacations, he scuba-dives with her. They hold hands among schools of fish.
He also sells cocaine, a side hustle that has lured the business of the baleful Simoncino (Edoardo Pesce), a volatile, scar-ridden, boxer-nosed gangster who plagues both Marcello and the townsfolk. Simoncino does what he wants. He turns up unannounced at the parlour for a bump, doesn't pay, snorts it in the bathroom, and ignores Marcello's pleas to hide it from Alida. When he shatters a slot machine with his head and breaks the nose of a man at the diner, the locals conspire to have him killed. Simoncino, not so much persuading Marcello as physically forcing him, embroils him in violence and deception. Despite this, the naïve Marcello remains a sort of friend to him. He defends Simoncino, more than once saves his life, parties with him, and is seemingly attracted to the doors he opens and the power, however threatening, that he holds. However, the relationship soon becomes unstable, and a series of events causes Marcello to face the ire of the townsfolk and a conflict that threatens to consume him.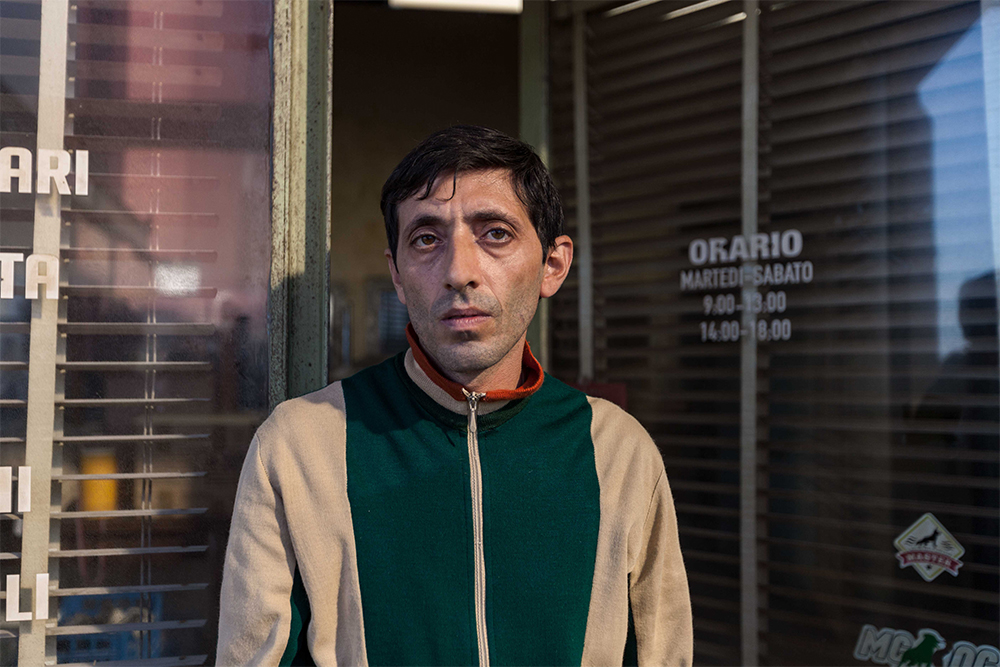 Marcello Fonte as Marcello in Dogman (photograph by Greta De Lazzaris)
Cinematographer Nicolai Brüel beautifully presents Dogman's callous environs of a desolate town surviving in otherwise dead surroundings. It is filmed on the same concrete-lined seascape as Gomorrah, the 'parco degli abusivi' or Park of Abusers, a gloomy seaside resort in southern Italy. Flesh-grey skies loom, characters walk around in crepuscular light, and seaside villas decay like cadavers. Garrone told Brüel he saw Dogman as a 'modern western', so he shot the film using an anamorphic lens. Typically used for westerns, the lens allows for a unique range of cinematic qualities: a greater depth of field, more landscape detail, and a particularly heightened rendering of light and lens flare. Dogman thus feels intimate. Faces and figures are stark amid the decrepit scenery; colours and light, though drab and desaturated, feel intense and visceral. Production designer Dimitri Capuani should also be commended here, having helped to craft such a dreary, depressing bleakscape. The grit is tangible; you feel immersed.
Such cinematic care elevates Fonte's brilliant performance as Marcello, a contradictory, tragicomic character depicted as tender yet pathetic, cunning yet self-sabotaging. Like those of an abandoned animal, Fonte's ingratiating smile and large doe-eyes bring a humanity to Marcello upon which the film relies – otherwise it may have descended too far into depravity. He is frustrating: we lament his choices and question his intentions, yet he remains endearing. Fonte rightly won the Best Actor Award at the 2018 Cannes Film Festival, a significant feat after years of peripheral roles in a handful of films, such as '(Uncredited) Citizen' in Martin Scorsese's Gangs of New York (2002). Fonte's casting was somewhat of a happy accident too – Garrone discovered him working at a community centre while casting for Simoncino at an ex-convict theatre show.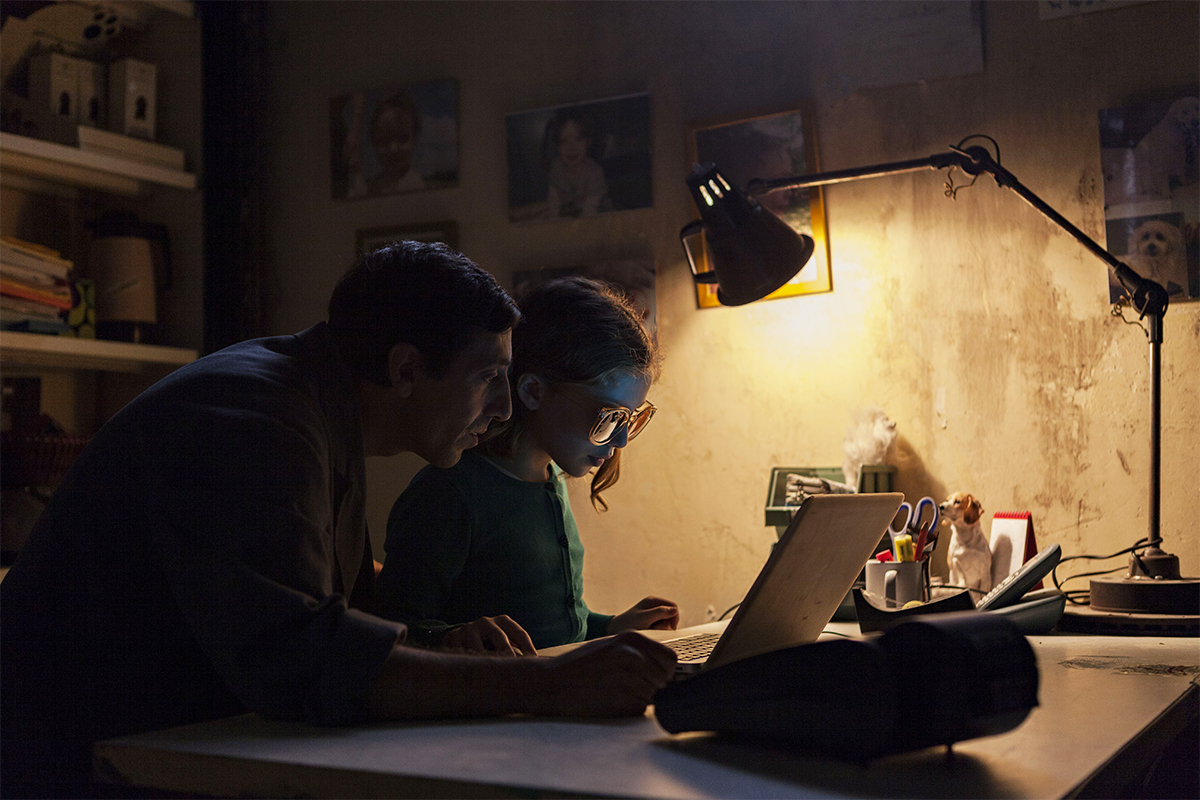 Marcello Fonte as Marcello and Alida Baldari Calabria as Alida in Dogman (photograph via Palace Films)
Unfortunately for such an exemplary film, there are some gaps in the plot. Marcello at one point is sent to prison, and all signs indicate that he will barely survive. After a somewhat incongruous fade-to-black, he emerges unscathed, and the narrative continues without explanation. Also, Marcello's ex-wife and Alida's mother, credited only as 'Madre Alida' and played by Laura Pizzirani, is a cardboard cut-out of a character. More involvement from her would have given the tenuous dynamic between Marcello and Alida greater depth.
Italian gangster cinema reveres the alpha male, but Dogman turns its attention to the beta. In its telling of Marcello's loss of innocence, it is a modern-day fable, a neo-realist western, a David-and-Goliath saga. It's also based on the true story of Er Canaro, which was much more bloody and bizarre.
Dogman, a stellar depiction of morality and the bear-trap of power, is a memorable tale of revenge best served cold.
---
Dogman (Palace Films) is directed by Matteo Garrone and is in cinemas 29 August 2019.