Music
The Great Symphony: Simone Young Returns (QSO) ★★★★★
'Violas should be seen and not heard,' quipped Malcolm Sargent. Classical music lovers know very well that the viola is ripe for ridicule and has inspired countless jokes. In this concert, the viola was enjoyably celebrated as a worthy solo as well as accompanying instrument. Brett Dean's Notturno Quieto, an Australian première, begins with a viola solo, as does Bartók's Viola Concerto.
Dean's composition had its first performance in June 2018 during a concert farewell for Simon Rattle, who had commissioned it (Dean was a violist with the orchestra from 1985 to 1999). As a composer, he spotlights the viola section, which, after a solo viola introduction set against an agitated shimmer, expands into a restlessly searching episode until it is eclipsed by a woodwind chorale. Dean's music artfully plunders each orchestral section's colours, though the prescribed timbres are non-traditional. For instance, there is a prolonged stretch of eerily muted trumpet strains. Theatrical, the music is replete with intricate rhythms and grows into an explosive and triumphant sonic peak. Retreating gradually and travelling back to the opening's stillness, the final trembling terrain is heard as a peaceful afterglow.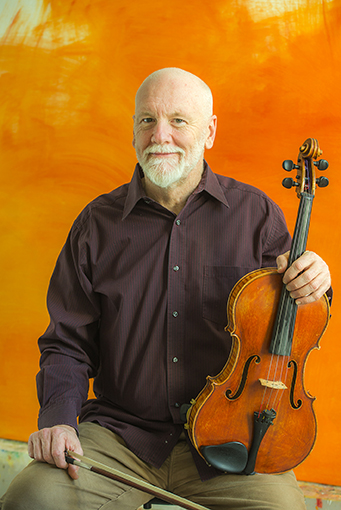 Brett Dean (photograph by Bettina Stoess)Given the provenance of the piece, one might wonder whether Dean's work was a metaphor for Rattle's idiosyncrasies as a conductor or if it reflected the conductor's brilliant tenure in Berlin, which got off to a shaky start. If Dean's music triggered questions and demanded a second hearing for a full appreciation, there was no doubt about Simone Young's admirable, precision-powered conducting. Young marshalled superior performance of the programmed contemporary and historical works.
Supposedly, behind every viola concerto is a brilliant player. William Walton's Viola Concerto was written for Lionel Tertis. Schnittke's Concerto exists because of the virtuoso Yuri Bashmet. The inspirational player behind Bartók's Concerto was William Primrose, a player who eventually moved to Wollongong and had an influence on the Australian Chamber Orchestra's Richard Tognetti. Solo repertoire for the viola penned before the twentieth century is light on, though Telemann's Concerto in G composed in 1722 is a popular staple. Writing for solo viola and orchestra is challenging, for the instrument's mellow, enigmatic voice can easily be overwhelmed by a large ensemble's robust sonorities.
Nils Mönkemeyer's winning stage presence in Bartók's Viola Concerto and his insightful shaping, flamboyance, and superb technical skill in the cadenzas, which herald each of the first movement's important structural moments, made his performance riveting. His tone was varied and superlative. When the music called for it, he delivered an unusually big, fat sound. Young's balances between sections and between ensemble and soloist were sensitive to Mönkemeyer's vision. She gave him room to shape heartfelt solos and to engage meaningfully in dialogue with the orchestra. Bartók's predilection towards Hungarian folk music is well known, and the soloist's dancerly manner and winning synergy with Bartók's spiky tunes and asymmetrical rhythms created an image of a free-spirited country fiddler stamping his foot, playing his heart out, surrounded by a delighted crowd in a rustic setting.
Simone Young is a multi-tasker and can juggle many things at once. She does everything to ensure success and cues almost every entry point from individual solos to a variety of ensemble combinations. Her hands command the beat; her body embodies the rhythm, expresses emotional content, and anticipates what's coming next. She evokes a lighter mood by dancing with her hips. Her left hand is lithe and expressive and works independently from her right. In short, she's a class act, fascinating to watch.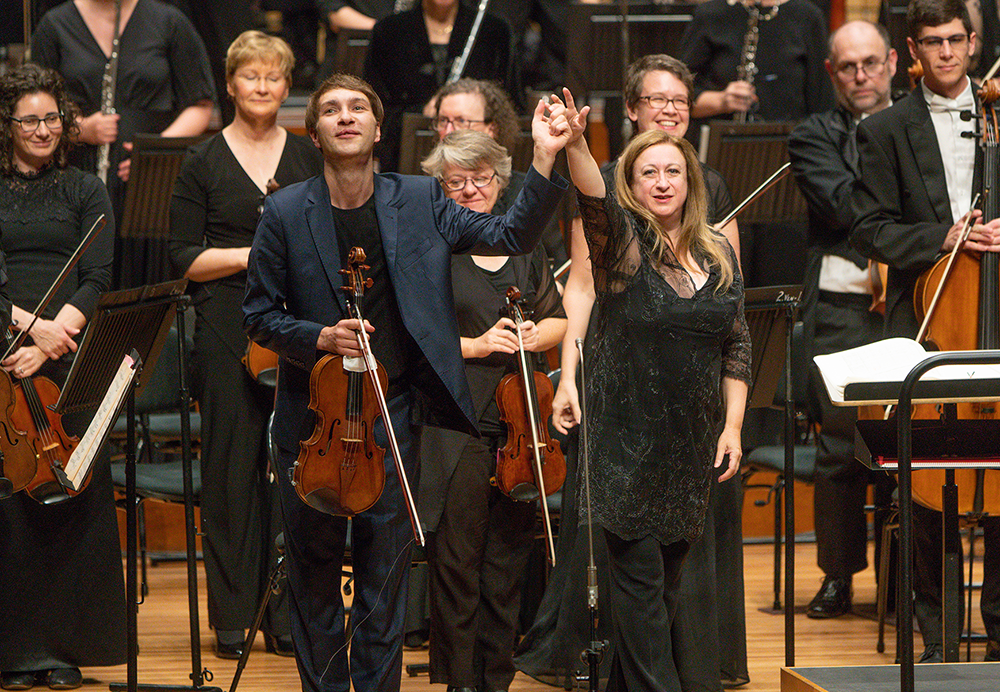 Nils Mönkemeyer and Simone Young, The Great Symphony - Simone Young Returns (Queensland Symphony Orchestra)
About Schubert's Grand Symphony George Bernard Shaw said, 'a more exasperatingly brainless composition was never put on paper'. Now it's regarded as a ground-breaking, important symphonic drama that revels in the classical symphony's architecture yet points the way towards the Romantic era's rich lyricism and fondness for epic proportions. Beethoven was Schubert's hero; before he died prematurely from syphilis, Schubert was driven to create a Symphony on the scale of Beethoven's Ninth. The highly motivated QSO willingly committed to Young's detailed direction on this occasion. The Symphony – ambitious, bombastic, demanding – boasts endless dynamic contrasts, with some highly energised stretches. Because it's repetitive it requires inspired expression.
There was inspired execution from the horns, which open the work, accomplished woodwind ensemble, lovely cello lines heard not long after the beginning of the second movement, and skilled brass and percussion in general. Young and the players excelled in the first movement and captured the marching template of the second movement, the Scherzo's dancing exuberance, and the Finale's relentless exhilaration, with its explosive outbursts and thrilling grandeur. This challenging Schubertian journey, admirably and memorably rendered, concluded a stunning concert, the applause prolonged and appreciative.
---
The Great Symphony: Simone Young Returns was performed by the Queensland Symphony Orchestra at the Queensland Performing Arts Centre on 20 July 2019.