Art
David Goldblatt: Photographs 1948–2018 (Museum of Contemporary Art)
Perhaps the best way to influence the thoughts of another is to do so without intent. South African photographer David Goldblatt once said he did not believe that 'any photograph of mine would ever influence anybody in the slightest degree'. Yet his photographs of his country's apartheid era reach down into the very heart of human existence to invite us to look at ourselves, at our values, and to enter into a conversation that isn't always comfortable.
David Goldblatt: Photographs 1948–2018 is currently showing at the Museum of Contemporary Art (MCA) in Sydney. The word 'legend' is used liberally in writings on photographers of a certain age and ilk. I usually abhor the use of prosaicisms, but in the case of Goldblatt the label is more than justified, though, by all accounts, the self-deprecating artist would have rejected the title, preferring the focus to be on his pictures.
Before considering his photographs, it is worthwhile sharing some insights into the man himself, as his personal journey is very much reflected in his subjects. The grandson of Lithuanian-Jewish migrants who had fled religious persecution, Goldblatt was born in 1930 in Randfontein, a whites-only mining town west of Johannesburg and the site of South Africa's largest gold producer. Even though apartheid was not made law until 1948, segregation and a widening inequality between the races was already entrenched.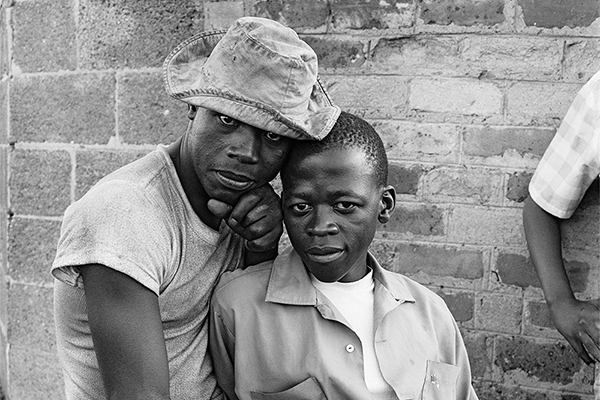 Young men with dompas (an identity document that every black South African had to carry), White City, Jabavu, Soweto. 1972 silver gelatin photograph on fibre-based paper. Image courtesy Goodman Gallery, Johannesburg and Cape Town © The David Goldblatt Legacy Trust
Goldblatt came to photography in his late teens, inspired by the American pictorial magazines such as Life and influenced by the work of Ansel Adams. Goldblatt quickly became obsessed with the medium, training his camera on the black workers who toiled in the gold mines of his hometown. Mining became a significant focus and was the subject of his first book, On the Mines, published in 1973, a body of work that is one of the highlights of the MCA exhibition. More on this series later.
It wasn't until 1963, after the death of his father, that he abandoned his place in the family clothing business and took up photography full-time. He began shooting for The New York Times, The Boston Globe, Tattler, and Vogue. These jobs allowed him to pursue his personal projects, and the two occasionally intertwined. He spent his adult years in Johannesburg, but his photography is as expansive as the country he set out to document. Goldblatt defined himself as 'a self-appointed observer and critic of society into which I was born, with a tendency to doing honour or giving recognition to what is often overlooked or unseen'. His innate belief in equality is a constant presence in his photographs.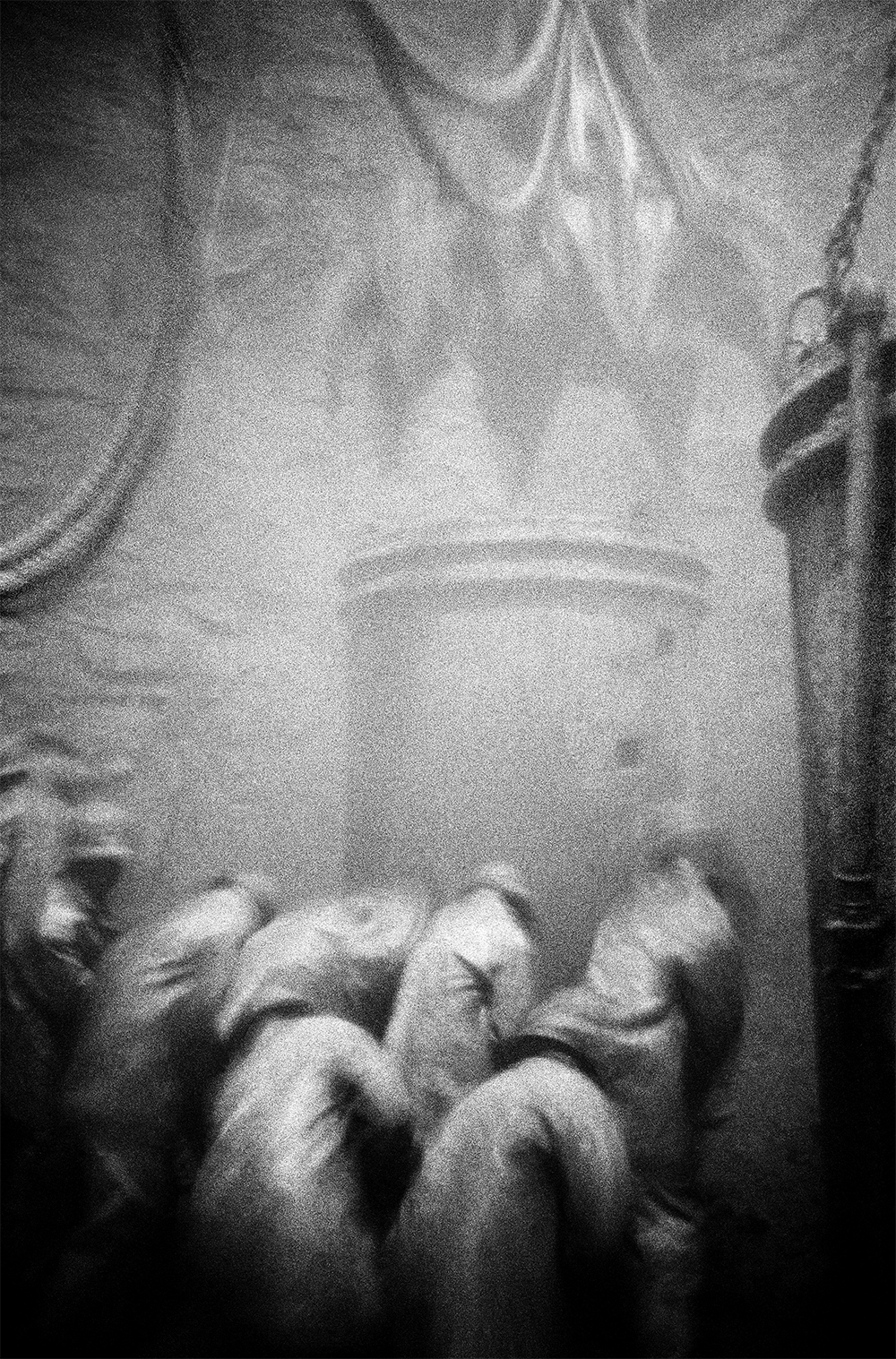 Shaftsinking: the cactus grab has dumped the last load of big rocks in the kibble, now the men clear the smaller rocks from the bottom, lashing the kibble with shovels. President Steyn No. 4 Shaft, Welkom, Orange Free State. 1969 silver gelatin photograph on fibre-based paper. Image courtesy Goodman Gallery, Johannesburg and Cape Town © The David Goldblatt Legacy Trust
Goldblatt was most interested in capturing quotidian life. He rarely felt the need to look beyond South Africa. One notable exception was a trip to Australia in the late 1990s to photograph the ghost town of Wittenoom, infamous as the site of Australia's asbestos mining industry. While South Africa mined ninety-seven per cent of the world's asbestos, Australia was also complicit in what Goldblatt rightly saw as a wanton abuse of power by governments that continued to allow its extraction despite overwhelming evidence of its toxicity.
Goldblatt's insistent focus on his own country resulted in an extraordinary oeuvre that reveals the depth of his visual investigation, one that is both historical, with the photograph as an artefact of record, and contemporary in his exploration of the tropes of racial and class divide. These themes emerged early in his work. At the age of twenty, his social consciousness was further elevated by Nadine Gordimer, a fellow South African whose writings, he said, 'made explicit to me, to the point of pungency, my own then vague awareness of our milieu'. Gordimer and Goldblatt struck a friendship that saw the pair collaborate on various projects, including On the Mines, a copy of which is also on view at MCA.
From 1965 to 1967, Goldblatt toured the Witwatersrand, the basin where South Africa's gold rush had begun eighty years earlier, and from where Johannesburg grew to become the country's largest city. After two years, Goldblatt said he felt he had enough work for a 'worthwhile essay', which became On the Mines. As one of his best-known series, this body of work has a significant presence in the MCA retrospective. These pictures capture a dying industry in representations of men and machinery, the segregated mining settlements, and portraits of miners, the vast majority of whom were black, and their white bosses.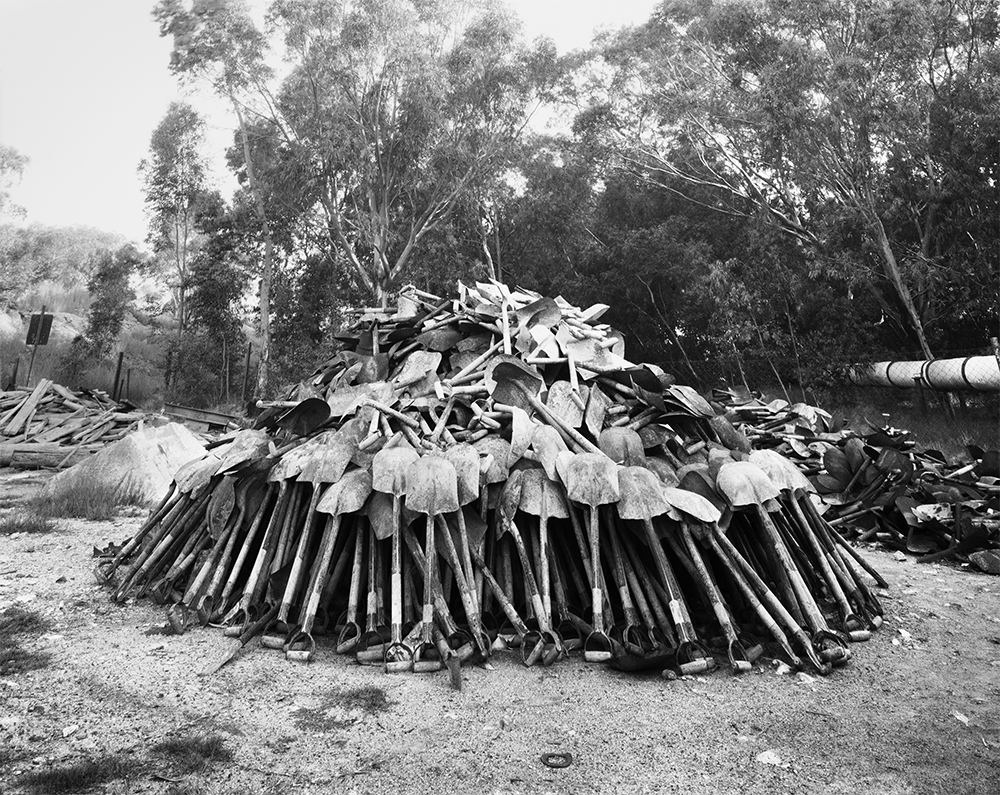 'Lashing' shovels retrieved from underground. Every grain of sand in the yellow tailings dumps that made the Witwatersrand landscape and every grain of gold that made its wealth, came from a rock off a black man's shovel underground. Central Salvage Yard, Randfontein Estates, Randfontein, 1966. Silver gelatin photograph on fibre-based paper. Image courtesy Goodman Gallery, Johannesburg and Cape Town © The David Goldblatt Legacy Trust
Particularly captivating are the pictures of the 'shaft-sinkers', one of the most perilous jobs in mining, where explosives and brute force are used to create subterranean shafts. Goldblatt was fascinated by these teams, which comprised around seventy black workers and two white 'bosses' who toiled in the heat, dust, and wet deep below the earth's surface. He wrote: 'to thrust so hugely and so deeply and yet so precisely into the density and blackness of the earth is surely an act of supreme audacity'. Even the miners thought the shaft-sinkers 'mad', so dangerous was the job. Goldblatt's grainy and diffused pictures capture the constant movement of men, rock, and earth. They evince the immensity of the mineshaft soaring above workers who are, in comparison, but specks clad in white overalls and hardhats, toiling in the pit of the beast.
These pictures hum with the undercurrent of humans as cogs in the wheels of industry. The 1966 picture of hundreds of shovels piled up in a salvage yard on Randfontein Estates talks to the back-breaking work these miners undertook to make fortunes for the few. Another photograph shows a shaft-sinker using one of these shovels as a shield while the bottom of the shaft was blown over to uncover misfires, explosives that failed to fire in the previous round. While Goldblatt is on record as saying he was not brave, one imagines his camera offered little shelter in such 'hellish places'.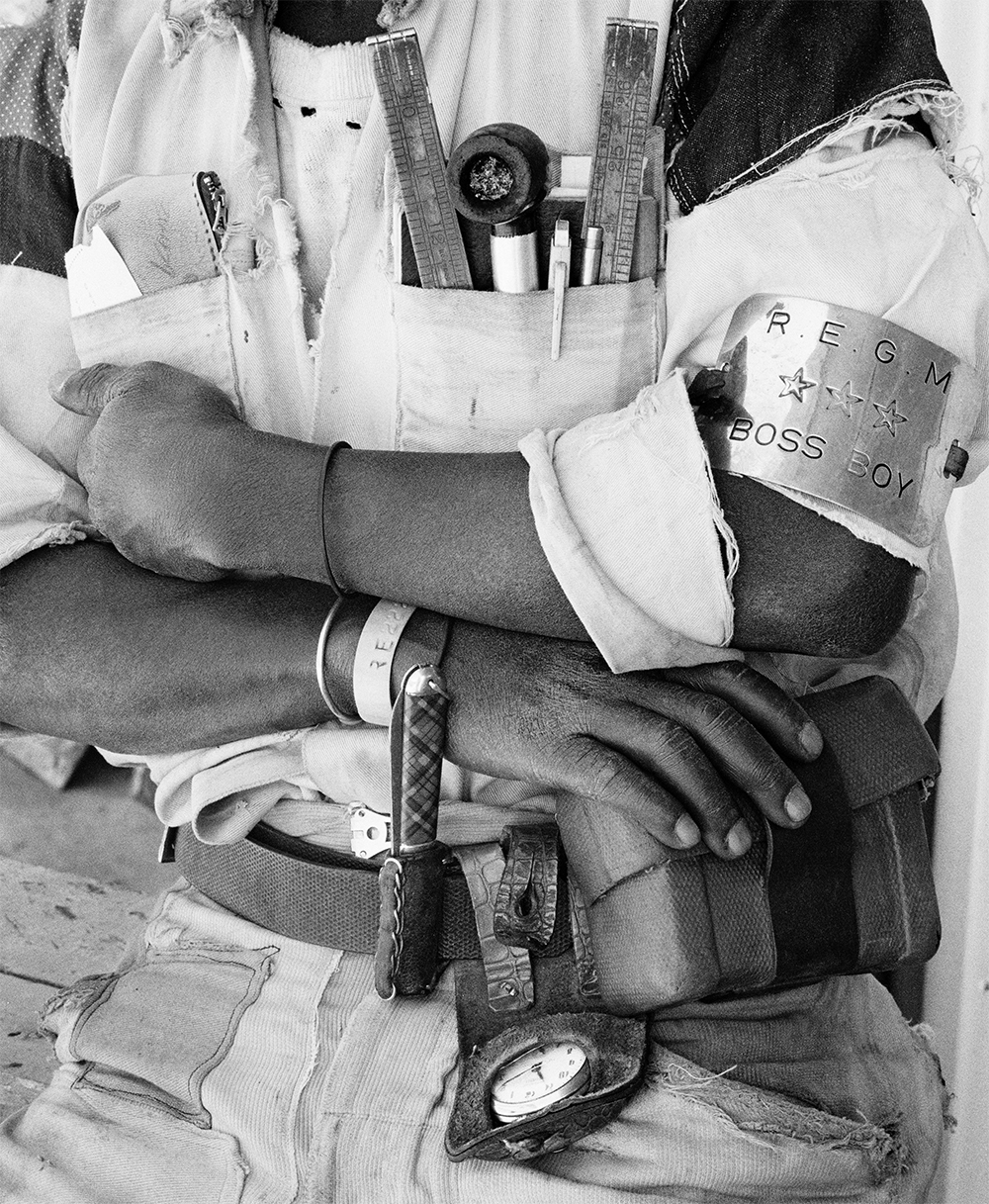 Boss Boy, Battery Reef, Randfontein Estates Gold Mine, 1966. 1966 silver gelatin photograph on fibre-based paper. Image courtesy Goodman Gallery, Johannesburg and Cape Town © The David Goldblatt Legacy Trust
Goldblatt's pictures also show how racism was normalised. Boss Boy, taken in 1966, features a man's torso. It's a cluttered image, and there are various tools filling the shirt pocket and hanging around his waist, but the eye is immediately drawn to the metal armband he is wearing, which covers his bicep as would a clasping hand. It has three stars above the words 'Boss Boy', which denotes he is a 'Mine Overseer's Boss Boy'. The contact sheets for this image are fascinating and give insight into Goldblatt's mindset. He took a number of portraits of this man, including shots that featured the sitter's face, but none is as profound as the image of the torso, for it is in anonymity that its potent narrative is found; in the stripping of identity lies the power of control. In another, a sign instructs mine office officials: 'WHEN RINGING FOR BOY PLEASE INSERT YOUR CARD HERE.' The mining photographs are only one example. The picture Holdup in Hillbrow limns a young white boy pretending to hold up a well-dressed black man on the street with a toy pistol. The scenario is innocent enough, but when read in the context of the country's apartheid regime, the power relationship is evident and this young child is aware of his social position.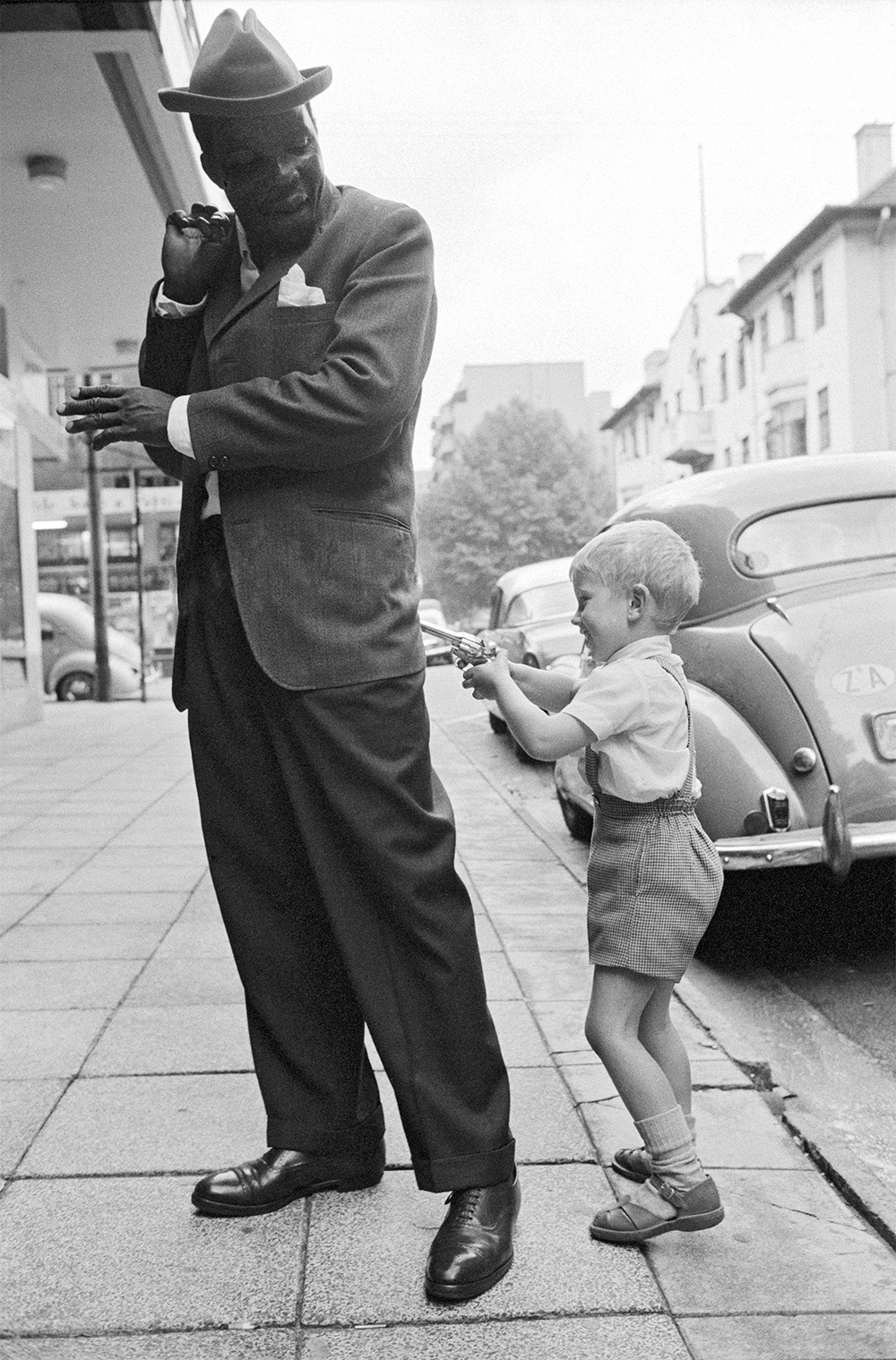 Hold-up in Hillbrow, Johannesburg. 1963 silver gelatin photograph on fibre-based paper. Image courtesy Goodman Gallery, Johannesburg and Cape Town © The David Goldblatt Legacy Trust
Claiming not to use his camera to engage in political debate or as a means of airing his own political views, Goldblatt said 'the camera was not a machine-gun' and 'photographers shouldn't confuse their response to the politics of the country with their role as photographers'. While he may have eschewed the idea of his pictures being overtly didactic, preferring to consider his view 'oblique', they are unequivocally political in their interrogation of apartheid. Even his decision to shoot only in black and white is infused with personal dogma. 'During those years colour seemed too sweet a medium to express the anger, disgust and fear that apartheid inspired,' he said in an interview in 2005.
His photographs of South Africa during apartheid lay bare the cruelty inflicted by this regime. In Goldblatt's gaze the individual's experience becomes the collective, a conduit to the pain and suffering of the country and, more broadly, of humanity. Consider the body of work The Transported of KwaNdebele, which documents the daily bus journeys of black South Africans. Segregated by the government into tribal Bantustans, black South Africans were sent to live in underdeveloped regional 'homelands' that were over-populated and economically unviable. In order to survive, many Bantustans commuted to Pretoria for work. Some travelled up to eight hours a day, leaving home at 2.45 am and returning at 10 pm, leaving little time for family, friends, lovers – for life.
Goldblatt took the first pictures of what he called this 'half-life' in 1983. The scenes of people crammed into buses trying to sleep are sobering. For Goldblatt riding those buses was 'a profound experience.' He admits this body of work was 'a direct confrontation with apartheid … this is what apartheid did to people, and it was a terrible existence'. On initial viewing, it may appear that these are historical documents, but we are also looking at the broader global narrative of extreme racism that exists today. In 2012, Goldblatt returned to find the buses still running; photographs from both eras are on show. It is here, in the spaces of Goldblatt's photographs, that those uncomfortable questions emerge: how can people behave like this to other human beings? What Goldblatt wants the audience to do is to move beyond that initial thought, which is wrapped neatly in the condemnation of others, to think about their own complicity.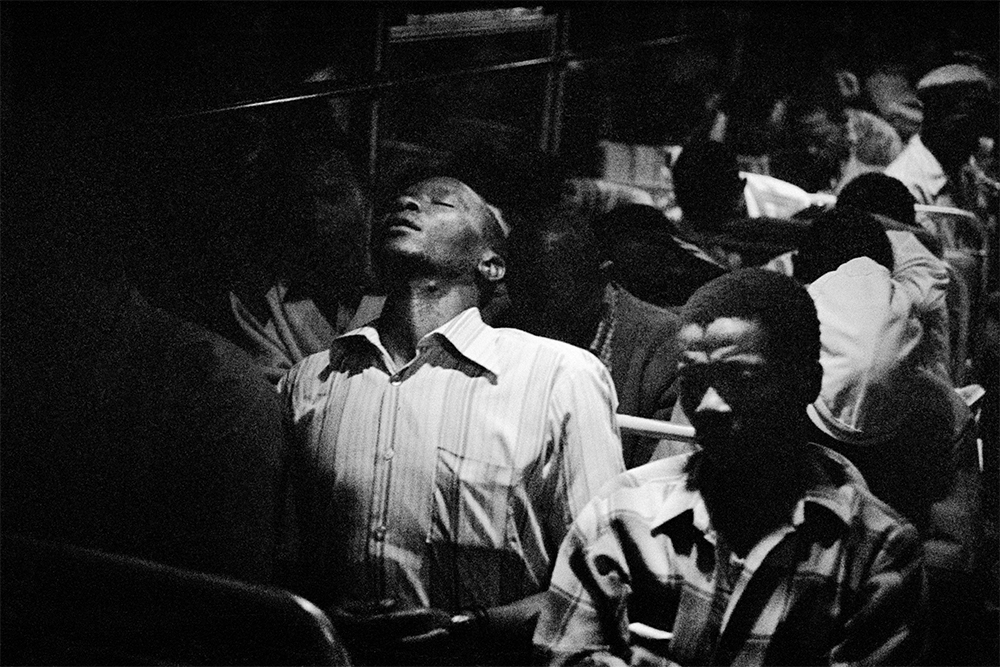 Going home: Marabastad-Waterval route: for most of the people in this bus, the cycle will start again tomorrow at between 2 and 3 am. 1984 silver gelatin photograph on fibre-based paper. Image courtesy Goodman Gallery, Johannesburg and Cape Town © The David Goldblatt Legacy Trust
Curated by MCA Chief Curator Rachel Kent, in close collaboration with Goldblatt, who died in June 2018, the exhibition canvases seven decades and is the first major retrospective of his work in the southern hemisphere. Kent writes, 'David worked with me every step of the way. We also took a road trip about 18 months ago where we drove from the top to the bottom of the country, from Johannesburg to Cape Town. It was incredible and we revisited a lot of the key sites and locations where he made some of his most celebrated photographic series. He wanted to show me the country through his eyes, to contextualize this history.'
The retrospective features more than 360 photographs, plus Goldblatt, a feature-length documentary film, and material from his archive that has never been exhibited. Starting with Goldblatt's earliest work in the 1940s, the exhibition unfolds in chronological order. Visitors can either follow the arc of his career or can dive in and out of the rooms that interest them. There are rooms dedicated to particular bodies of work, including some of his most significant portraits made in Soweto, Johannesburg, and Boksburg. There is also the incredibly moving In the time of AIDS, where in a single picture of a woman and her twin toddlers, the ravages of this epidemic are revealed. The portrait of Victoria Cobokana and her son and daughter was taken in 1999. Within twelve months, all three were dead.
In various rooms, there are short videos where Goldblatt walks the viewer through particular photographs discussing the scene: 'this was taken in winter … on a Saturday afternoon … it must have been warm because the man mowing the lawn has no shirt …' He is telling us what was happening at the time in the picture and, more broadly, the country. As Goldblatt speaks to the image on the table in front of him, we are literally looking over his shoulder, seeing the picture from his perspective. In taking us on a personal tour, the normalness of apartheid becomes apparent, as does the treacherous undercurrent that dragged people asunder.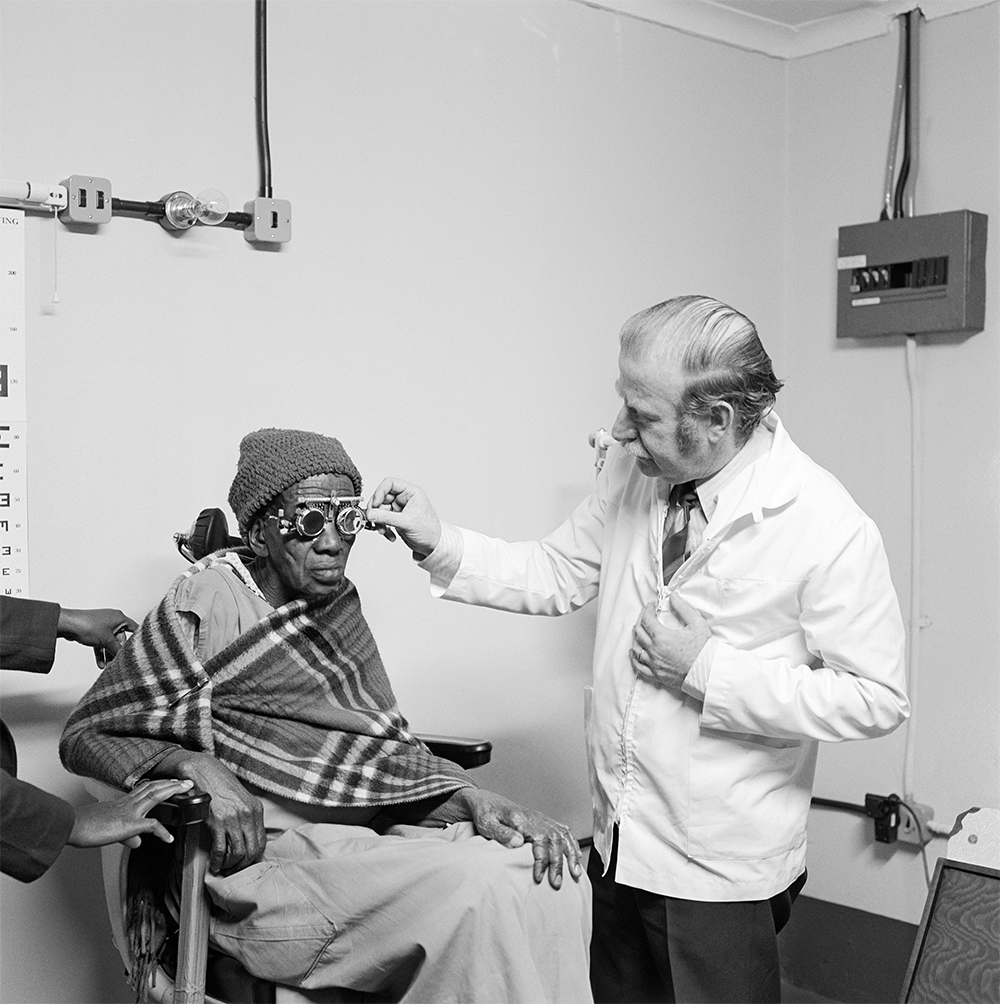 Eyesight testing at the Vosloosrus Eye Clinic of the Boksburg Lions Club. 1980 silver gelatin photograph on fibre-based paper. Image courtesy Goodman Gallery, Johannesburg and Cape Town © The David Goldblatt Legacy Trust
Goldblatt's colour work is also featured. Buoyed by the celebratory mood of the country, he turned to colour photography in the early years of the dismantling of apartheid and the rise of Nelson Mandela. He also used colour to capture the blue of the asbestos tailings, and the work he shot in Wittenoom is on display courtesy of the Art Gallery of Western Australia. Yet, in his final works, where he addresses the failures of the new regime, unimaginable poverty, and crime, he returned to black and white, which is undoubtedly his strength.
Gordimer once said that Goldblatt's photographs of apartheid 'explain how such a heinous system not only excludes the black population from any equal opportunities but also successfully insulates the white population … It is easy for liberal minded people to be lulled into a false sense of security but real democracy is more than just a voting system and needs constant vigilance if the equality of opportunity it promises is not to be compromised.' Her words are as relevant today as are Goldblatt's images.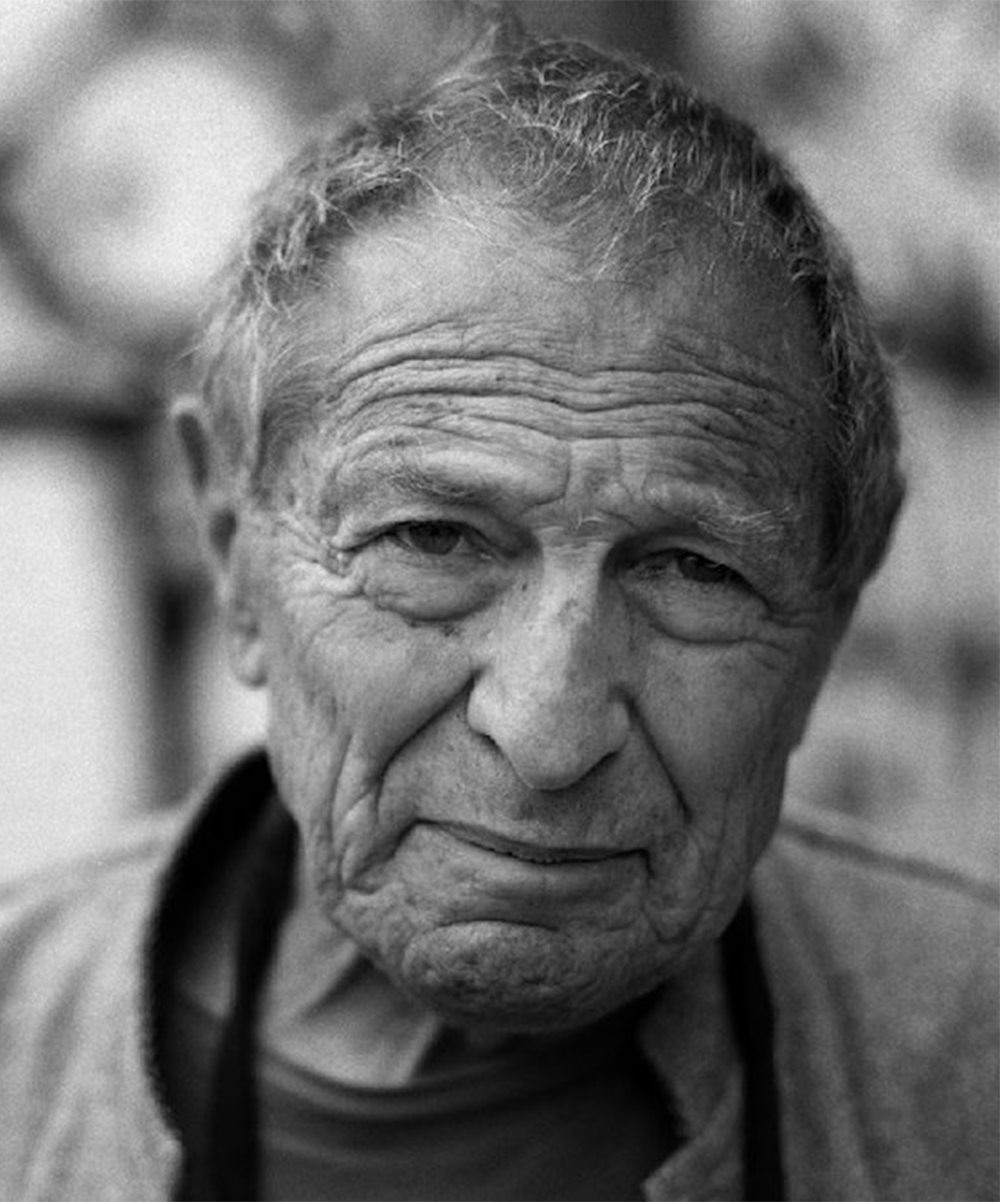 David Goldblatt (photo by Warren van Rensburg)David Goldblatt: Photographs 1948–2018 is an exhibition you need to plan for, and is not designed for a quick whip-around. Across an entire floor there are fourteen separate bodies of work. Some are intensely emotional and quite frankly warrant time-out to process and recover from. The full-length feature film delivers important insights and is definitely worth watching, but, again, it takes time.
In the film, Goldblatt says: 'I am particularly interested in values, the values that we hold and how we express those values. These to me are the vital questions.' Goldblatt's photographs are not passive documents. He wants viewers to react, to move beyond looking and meditate on their own relationship to what is pictured. In inviting this contemplation, the essence of Goldblatt's purpose as a photographer is found: to ask, what does this picture tell us about our humanity?
---
David Goldblatt: Photographs 1948–2018 continues at the Museum of Contemporary Art (MCA) until 3 March 2019.
ABR Arts is generously supported by The Copyright Agency's Cultural Fund and the ABR Patrons.