In introductory remarks that neither added to nor subtracted from the generously proportioned recital to follow, András Schiff – back in Melbourne for the first time in more than twenty years – explained that an entire program of Brahms would have been too morose, so instead he had put him alongside composers Brahms 'admired and knew and loved'.
This included Felix Mendelssohn, an 'underrated genius' whose case, alas, Schiff did not prosecute particularly convincingly. It is not that Schiff isn't a thoughtful musician: he often advocates ugly-duckling composers or works, telling us why and where we need to look just that bit harder. Nor is it the fault of the cavernous Hamer Hall, full of people, young and old alike; though birthed in the sort of small, private salons still popular in Paris at the end of nineteenth century, this repertory can work perfectly well in the large concert halls that sprang up throughout Europe after Mendelssohn's death in 1847 – not least to accommodate the great pianos of the industrial age, as instrument makers scrambled to keep up with that wizard Henry Steinway Jr. It is more that in Mendelssohn's Fantasy in F sharp minor, Op. 28, Schiff gave the impression that he hadn't read either the hall or the excessively bright piano from the same Steinway company. Although it is an unfashionable line of argument, this hall is actually an intimate space, working best when audiences are invited into the world of the performers on stage rather than them demanding our total obeisance.
Next to Chopin, Beethoven is arguably the composer whose piano pieces have changed the most in sound since his death in 1827. And they work completely well when fleshed out in these bigger spaces and on these bigger instruments. They are in essence a conversation, though in this performance of the Sonata in F sharp, Op. 78, it was a fairly shouty one. The final movement unfolds like clockwork, though no one would have minded if just occasionally it lost a beat. Schiff likes to get out of the way of the music, to let it speak for itself, but this can leave only speech, no rhetoric.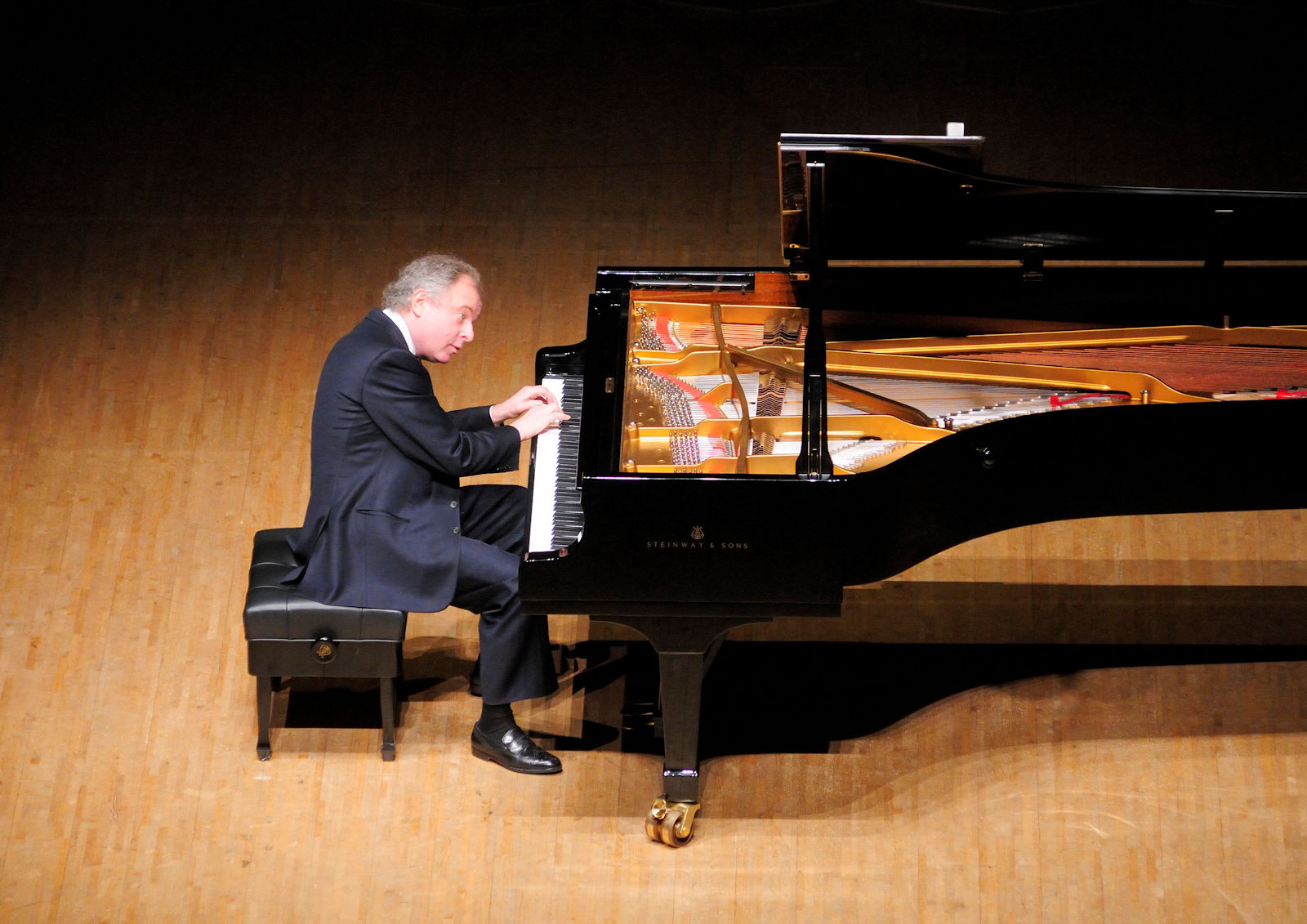 András Schiff (photo by Yutaka Suzuki)
Schiff's expanded chamber playing was at its most vulnerable in the two large collections by poor, morose Brahms, which bookended the interval. In much of his music, Brahms stitches together melodies from chains of fast-moving passages, lassoing specific notes together to form big-boned phrases, often at the top of the texture. In a small space it is easy enough to ping these notes, attend to the whirligigs beneath, and maintain the illusion of a perfect legato phrase. In bigger halls it's harder to pull off; the melody can lose its gorgeous shape. In the Eight Pieces, Op. 76, Schiff initially showed he was equal to the task. In the second Capriccio, he flicked in the offbeat accents with perfect nonchalance. Yet the nursery-rhyme melody in the Intermezzo in A flat would have kept infants awake, while the following Intermezzo had no real sense of interiority. The final piece was far more successful in evoking a sense of introspection, but he brought the whole thing to an end in such a rush that the perfume did not linger long.
Op. 116 is one of Brahms's greatest mature works, and it here inspired some of the evening's greatest playing. There were real pianissimos in the delicate Intermezzo in A minor – sumptuous, crystalline sounds that filled the hall – which unfolded with organic beauty. The Intermezzo in E (No. 4) was a masterclass in poetry and restraint, and the following Intermezzo an outstanding demonstration of Schiff's control. In the chorale it introduced, Schiff was so tender with the voice leading (and piano) that the earlier infelicities were rendered all the more incongruous. This was exquisite playing.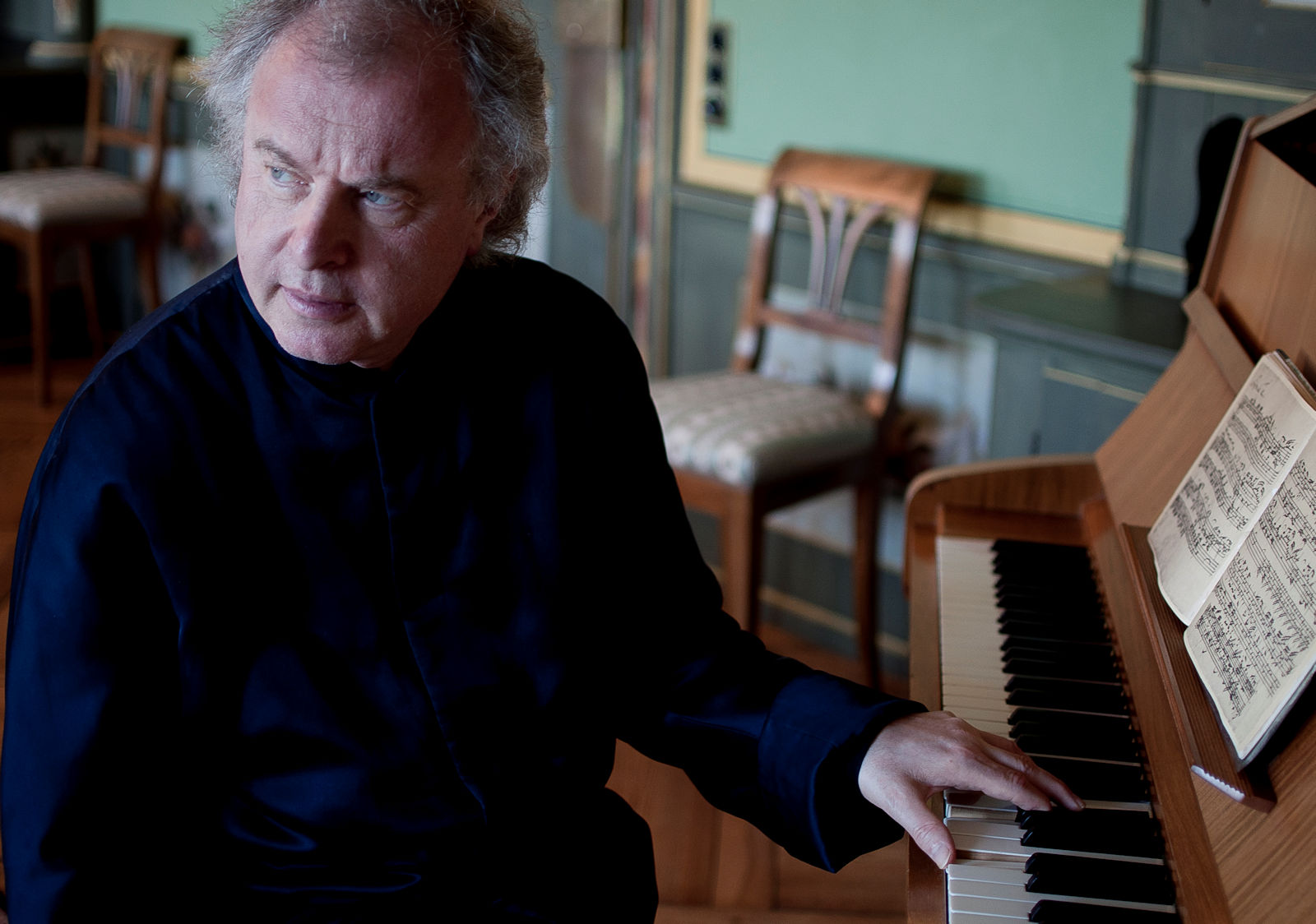 Andras Schiff (photo by Nadia F. Romanini)
In both these collections, Brahms was answering the keyboards suites of Bach; the inclusion here of Bach's English Suite No. 6 was a welcome underlining of the territory Schiff has so successfully occupied these last decades and how far keyboard repertory had evolved in the hundred years or so separating the two composers. This kind of rapid harpsichord fingering suited Schiff and the space: melodies were more even, less forced, and the bright sound seemed more corralled. He didn't really change the sound of each dance movement, relying instead on metre and gesture for differentiation, but the Double was beautifully realised, the left hand picking out a completely dry, even pizzicato line, above which he placed roulades and brilliant figurations. The final Gigue unwound menacingly, like a demented two-part invention, though again it ended too abruptly.
There was more outstanding playing in the encores Schiff generously served – bonnes bouches at the end of a hearty meal. Bach's Italian Concerto was plated up in two servings, almost as though he was not initially convinced we were still hungry. In the slow movement, the left-hand ostinato was delicately and evenly chimed while the melody above seemed to come from nowhere. This was the playing I remember so well and often from András Schiff, but which was frustratingly elusive in this recital.
András Schiff performed at Hamer Hall on October 20 and at the Sydney Opera House on October 22, a Musica Viva production in association with the Melbourne International Arts Festival. Performance attended: 20 October 2018
ABR Arts is generously supported by The Copyright Agency's Cultural Fund and the ABR Patrons.