Theatre
Scenes from a Marriage (Sydney Opera House) ★★★★½
Local interest in Scandinavian film and theatre seems to be rising, helped perhaps by the popularity of recent Scandinavian television noir. In the past two years, Belvoir Street Theatre has produced Henrik Ibsen's Ghosts (1882) and An Enemy of the People (1883).
Ibsen is actually mentioned in Ingmar Bergman's Scenes from a Marriage, adapted from film to theatre by Joanna Murray-Smith and premièred by the Queensland Theatre in 2017. The centenary of the great Swedish film director's birth inspired two full-length documentaries (Searching for Ingmar Bergman, directed by Margarethe von Trotta, and Bergman: A Year in a Life, directed by Jane Magnusson, both in 2018), neither of which has yet been seen in Australian cinemas.
The Sydney Opera House, best known as a multi-venue performing arts centre, is also an arts organisation. In a major coup for its recently established Contemporary Performance program, the Danish Royal Theatre's production of Scenes from a Marriage is being staged at the Playhouse. Like Bergman, Jørn Utzon, architect of the Opera House, Danish architect of the Opera House, was born in 1918. This coincidence was celebrated with a beautifully curated exhibition in the foyer of the Playhouse, with photographs and memorabilia from Utzon's life.
Bergman created Scenes from a Marriage at the height of his career in 1973, immediately after Cries and Whispers (1972). It was conceived as a six-part television series, with Liv Ullmann and Erland Josephson. The international success of Cries and Whispers inspired Bergman to construct a shortened film from the television series. Various theatre adaptations followed, including an Off-Broadway production in New York (2014), directed by Ivo van Hove, where the constantly mutating relationship between husband and wife was presented by three different actors and actresses.
The semi-autobiographical film consists of six scenes (inexplicably changed to seven in the Danish production). All named and labelled, they present the joys and turmoils of the Johan and Marianne, married academics, effusive and sagacious, with jobs and cars and two daughters. Their almost righteous view of themselves dissipates after the first scene, when cracks first appear in their relationship. Their journey from domestic bliss to marital hell over the first five scenes is as upsetting as it is familiar. Only the last scene brings something like redemption; many years after being divorced, the couple derives solace from each other's familiar words, gestures, and company.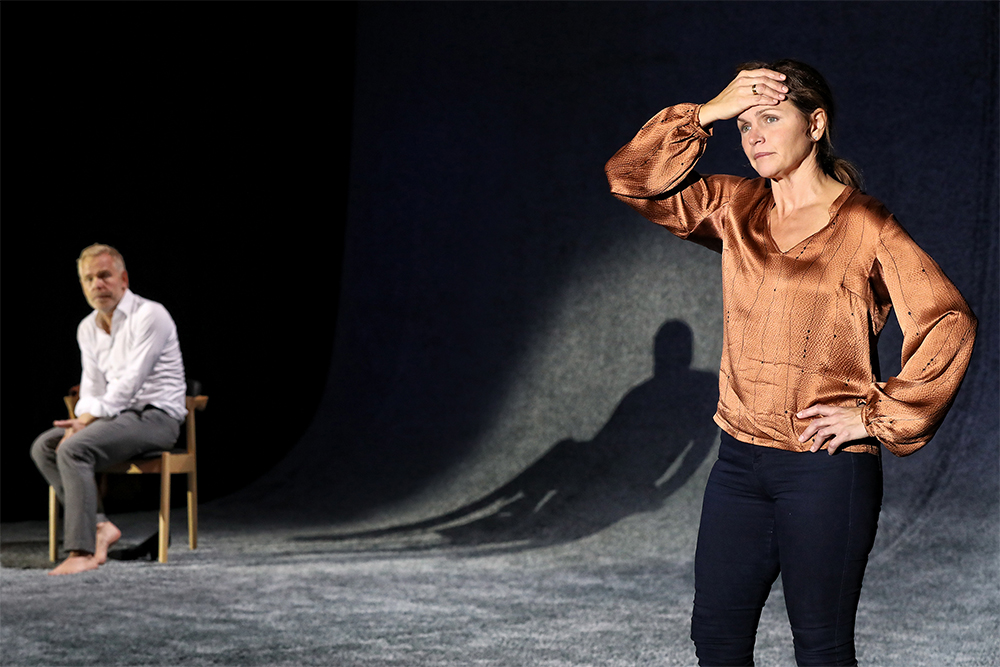 Morten Kirkskov as Johan and Stine Stengade as Marianne in Scenes from a Marriage (photo by Prudence Upton)
The Danish Royal Theatre's production, first seen in 2012, applies one major, thought-provoking twist to the story: the gender roles are reversed. Thus, Johan's lines are given to Marianne, while her sentences, persona, and problems are presented by Johan. This change (problematic only on a few occasions) required few adjustments to the text: one example, Johan's lover in the film, Paula, becomes Paul in the Danish version. The switch also provided an interesting challenge. Despite having historically been questioned in the dramas of Scandinavian playwrights such as Ibsen and Strindberg, gender roles were much less topical in the 1970s than they have become in the twenty-first century. Bergman's stereotypes were never as obvious as they were in the opening scene of the film, when a journalist, interviewing the successful dream couple, gets a detailed list of professional and personal achievements from Johan, while Marianne describes herself simply as the wife of Johan who has two daughters.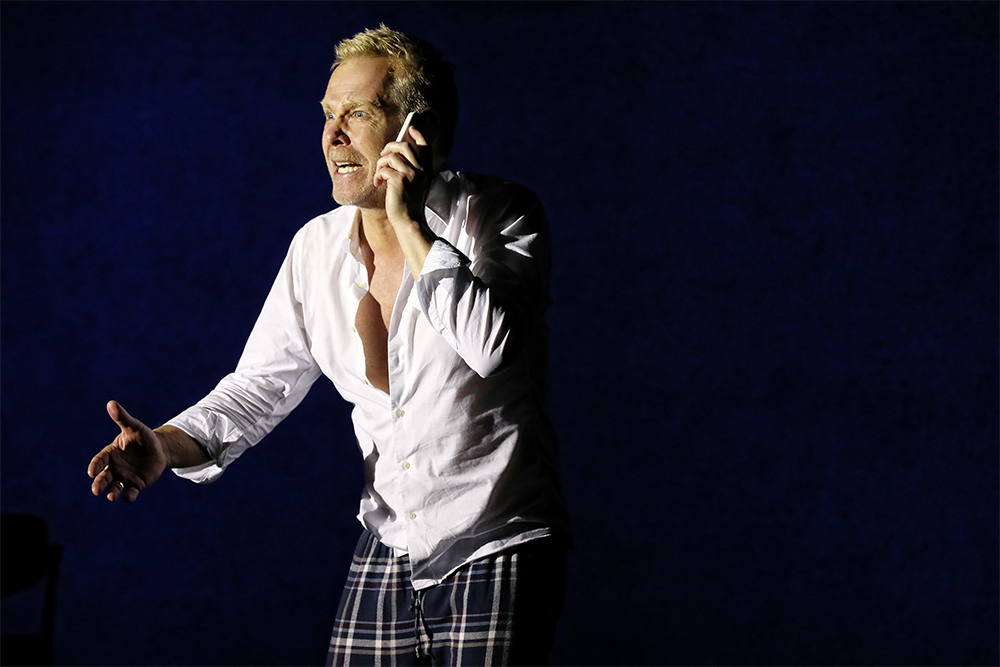 Morten Kirkskov as Johan in Scenes from a Marriage (photo by Prudence Upton)
Swapping the husband and wife resulted in a different approach to the two roles from director, Thomas Bendixen, and the outstanding protagonists, Stine Stengade (Marianne) and Morten Kirkskov (Johan). Marianne has the stronger personality now; she is the one asking the provocative questions; the one who drops the emotional bomb by announcing that she is moving out to live with her young lover. Stengade is brilliant as the fidgety, exciting, and excitable woman. With her sly, cheeky smiles, she dismisses all taboos, keen to understand herself and her changing world. Kirkskov is equally appealing in the role of the quiet, effeminate husband, somewhat subdued but no less active in their relationship; he offers to pack his wife's bag when she leaves him. Their verbal and physical fight in the penultimate scene is truly frightening; their bittersweet reconciliation at the end heart-warming. They are holding each other 'in an earthly imperfect way', as Marianne puts it. These two actors proved their talent to Australian audiences as protagonists in the television series Borgen; and the chemistry between them is obvious. Their acting is subtle but detailed in the extreme.
This touring production, inevitably, is minimalistic. The back wall is covered by a grey carpet that rolls gently onto the floor and extends to the front. The only props are two chairs; the marital bed is suggested by a doona almost casually dropped down from the loft. What makes the staging ingenious is the constant use of two spotlights from both sides, each of them following one of the protagonists. Their shadows on the carpet wall are relentless and disturbing – whatever you do, you can never escape yourself. On the other hand, when the actors stand together, their shadows split in two; the triple images of Johan and Marianne might almost be a nod to the influential New York performance.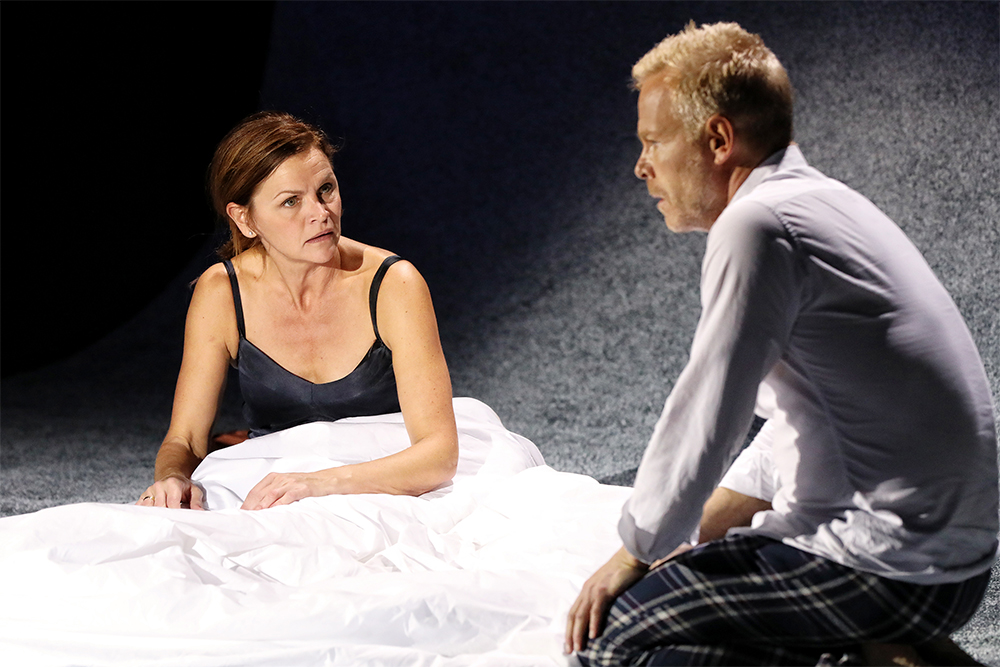 Stine Stengade as Marianne and Morten Kirkskov as Johan in Scenes from a Marriage (photo by Prudence Upton)
I have a few small regrets. There is much dialogue in this play, and every word is significant. Because the performance is given in Danish, subtitles are needed. Unfortunately, these are placed quite high, forcing the audience to divert their eyes from Stengade and Kirkskov's supreme acting. The subtitles must summarise several sentences in one or two lines, often with less than satisfactory results. The film's heavily abridged text was cut further in the Danish production; some essential scenes were discarded. Admirable as it is, this stage version struggles to preserve the artistic and emotional arch of the original film.
All in all, though, Scenes from a Marriage is a memorable theatre experience.
Scenes from a Marriage is being performed at the Sydney Opera House from 17 to 21 October 2018. Performance attended: October 17.
ABR Arts is generously supported by The Copyright Agency's Cultural Fund and the ABR Patrons.