Opera
Otello (Melbourne Opera) ★★★★
More than two centuries after its first performance, Gioacchino Rossini's Otello (1816) has finally been staged for Australian audiences thanks to the inspired selection of director Bruce Beresford and the enterprise of Melbourne Opera. But beware, if you come to the theatre expecting a faithful adaptation of Shakespeare's play or with Verdi's 1887 opera in mind, you are likely to be disappointed. Rossini's Otello is a revolutionary opera in its own right, and one that still has the potential to reward opera audiences, as witnessed by its numerous international revivals and recordings over the past half century.
Conceived in one of the most creative periods of Rossini's life, during a year that also saw the composition of Il barbiere di Siviglia and La Cenerentola, Otello exploits the possibilities on offer to the composer in post-Napoleonic Naples. Renowned for its professional orchestra, the San Carlo theatre had an incredible roster of singers, including the Spanish soprano Isabella Colbran (Rossini's future wife), for whom he wrote the role of Desdemona.
Rossini collaborated with a fellow liberal, the erudite nobleman Francesco Maria Berio di Salsa, who drew on a range of Otello sources (possibly including the Cinzio story, which was Shakespeare's model) in shaping a libretto that alludes to the despotism and treachery associated with the recent political upheavals in Naples. The text also evokes questions of race and the geopolitics of the Mediterranean, already present in Rossini's earlier operas, but here we find the comic Turk displaced by the tragic Moor. Most shocking for early nineteenth-century audiences was the tragic ending culminating in murder–suicide, and Rossini's remarkable setting of the final act casts a long shadow. Giacomo Meyerbeer thought it 'godlike' with its 'first-rate declamation, ever-impassioned recitative, mysterious accompaniment full of local colour' and its use of folk-like melody.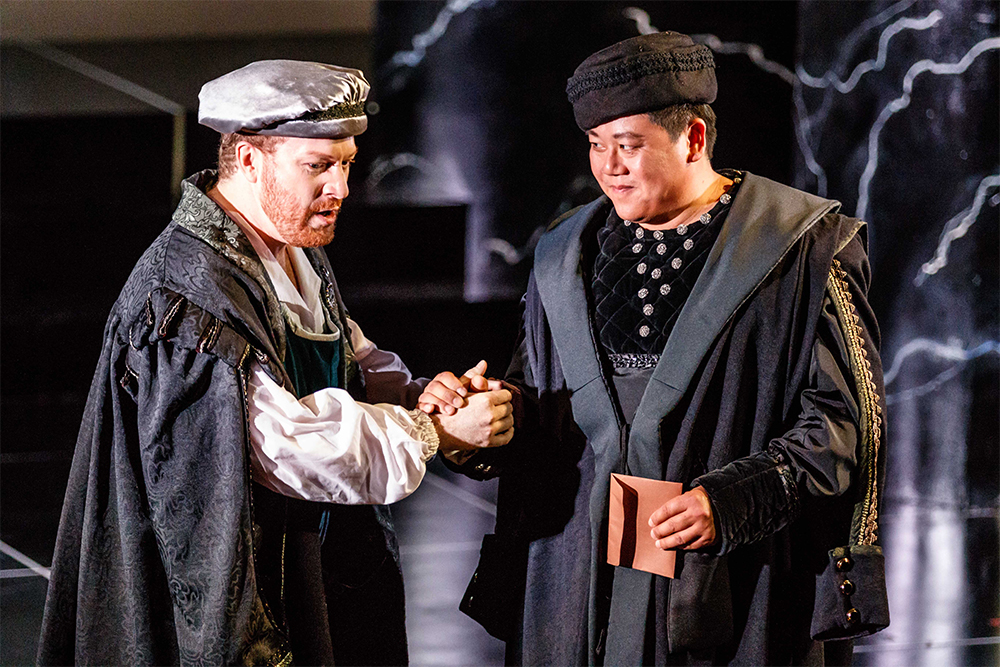 Boyd Owen as Rodrigo and Henry Choo as Iago in Otello (photo by Robin Halls)
It is a real treat to hear an opera of this era in the intimate and historic surroundings of the Athenaeum Theatre. The immediacy of the human drama was enhanced by Melbourne Opera's decision to present this unfamiliar work in English, using a new translation by Geoffrey Harris. Although occasionally awkward, Harris's replication of the rhyming schemes of the original libretto suited the musical conventions of the genre.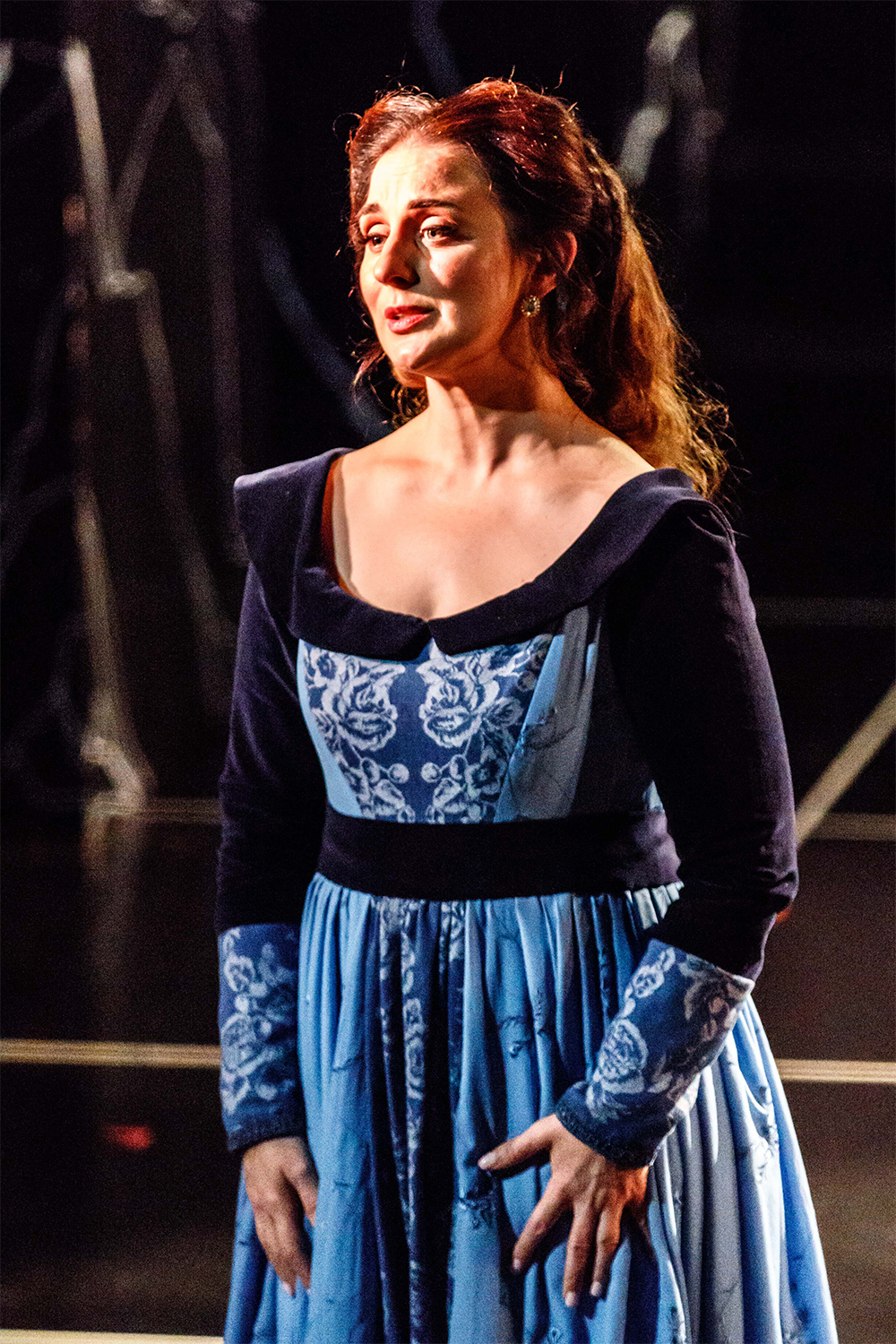 Elena Xanthoudakis as Desdemona (photo by Robin Halls)The integrity of the production's visual design realised Beresford's desire to retain the opera's original setting in Renaissance Venice and focused our attention on the unfolding drama. Framed by monumental black marble columns, Greg Carroll's versatile set was enlivened by dynamic projected backdrops created from historic artworks by video artist Liliana Braumberger. Images of Venice and contemporary warfare situated the action of Acts I and II, while Act III played out against an atmospheric cloudscape, encompassing sunset, starlit night, and a beautifully lit electrical storm. Simple and elegant period costumes from Rhiannon Irving underlined the individuality of each character.
Beresford recognised the tension between the innovative structures of the drama and the music's play with convention, particularly in the inventive and dramatic finales of Acts I and II, where Rossini and Berio di Salsa toy with audience expectations, and successive false endings are followed by the arrival of new characters and plot developments. By eliciting naturalistic performances from the cast, effective use of mime, and well-paced reconfigurations of the stage groupings in the long ensembles, Beresford maintained audience interest and ameliorated some of the artifice that can create longueurs for modern audiences. The lengthy duel scene in Act II was imaginatively stylised as Rodrigo and Otello feigned sword-fighting while their vocal lines embodied the real contest, an ambitious staging that nearly brought the singers undone on opening night.
Rossini's orchestral writing demands precision, clarity, and occasional virtuosity from the instrumental ensemble, challenges that exposed some weaknesses in Melbourne Opera's orchestra, although these receded in the course of the evening's performance. Rossini uses his orchestra for a range of musical roles from the punctuating chords of recitative accompaniment (an innovation in this work) to the underscoring and at times subversion of the dramatic action, most notably in the complex finales of Acts I and II. The chorus plays a small but integral role in Otello, and Melbourne Opera's male chorus opened Act I acclaiming Otello's heroism with real conviction and a warm sound, while the dramatically crucial choral interventions in each act were confidently sung and effectively staged.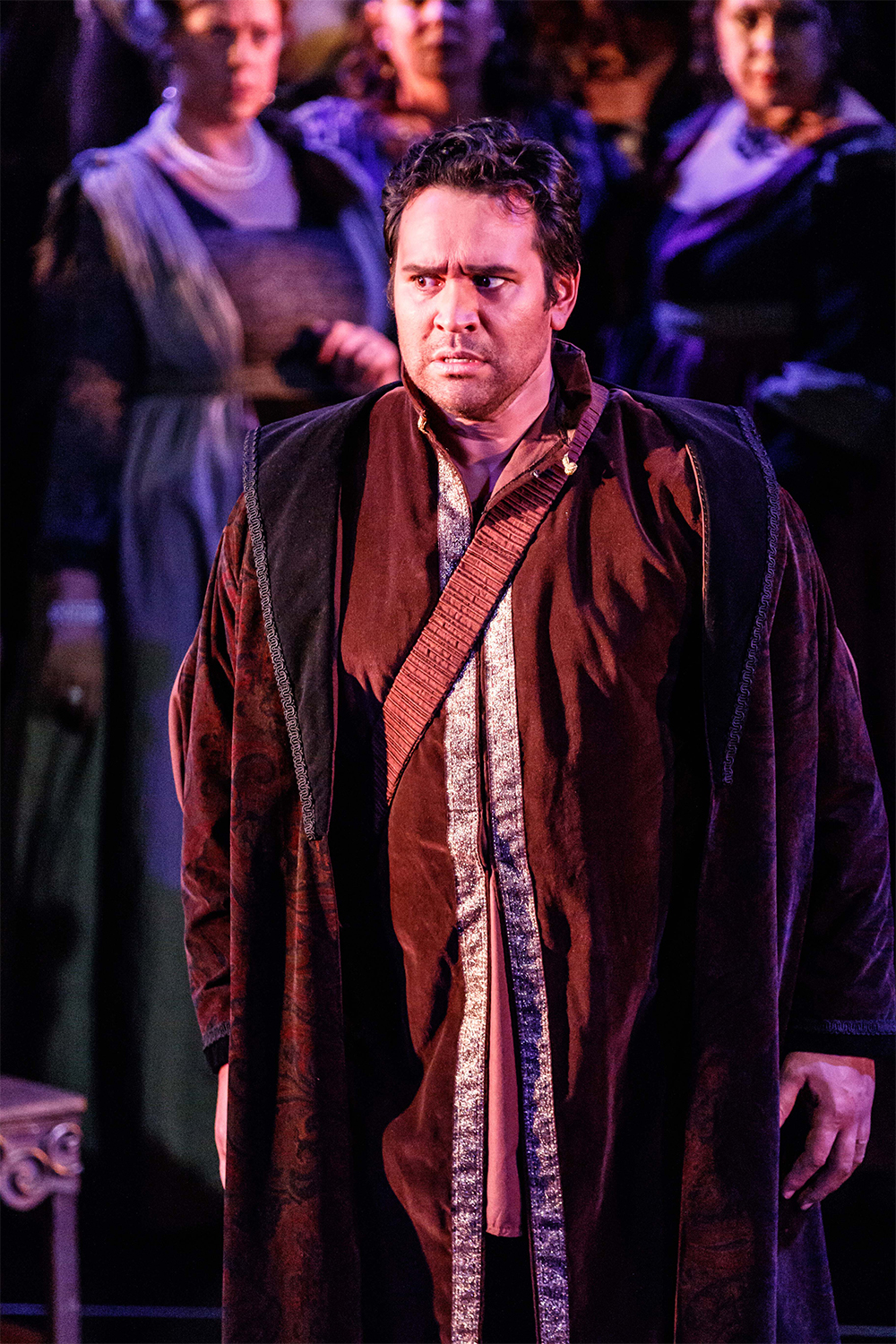 Stephen Smith as Otello (photo by Robin Halls)Astute casting of the three main tenor roles – Otello, Rodrigo, and Iago, and the two mezzo soprano principals, Desdemona and Emilia – offered pleasing contrasts of vocal timbre and stage presence. Stepping in for the indisposed Roger Howell, baritone Peter Tregear brought a commanding presence to the paternal figure of Elmiro. Dimity Shepherd's rich tone and warmly empathetic portrayal of the devoted Emilia provided a strong vocal and dramatic partner for Desdemona, who turned to her friend repeatedly in desperation and dismay. As the scheming, vengeful Iago, Henry Choo's mellifluous tenor combined insinuating, understated malevolence with great beauty of tone. Boyd Owen embodied the barely controlled jealousy but more open character of Rodrigo with a brighter voice and energetic performance, although occasionally showing some strain in the upper register. As Otello, Stephen Smith's dominating physical and vocal presence were impressive, and his vocal execution gained power and confidence through the opera, culminating in a deeply affecting performance of the gamut of emotions in Act III's devastating bedroom scene.
Elena Xanthoudakis excelled both vocally and dramatically, personifying Rossini and Berio di Salsa's characterisation of Desdemona as a courageous woman in an impossible situation; it is in truth Desdemona's opera. She performed Rossini's demanding coloratura with consummate artistry, especially in the bravura display in the final scene of Act II. Her acting encompassed every nuance of this emotionally charged role, culminating in the lyrical intensity of Act III, with a superb rendition of the Willow Song as its centrepiece.
All credit must be given to Melbourne Opera and Bruce Beresford for introducing Rossini's Otello to Australian audiences. We can only hope that this remarkable opera will attract further productions in the Antipodes.
Otello is being performed at the Athenaeum Theatre by Melbourne Opera on October 17, 20, 24, and 27. Performance attended: October 17.
ABR Arts is generously supported by The Copyright Agency's Cultural Fund and the ABR Patrons.