Music
Travelling Tales (fortyfivedownstairs) ★★★★
Travelling Tales is the third instalment in a series of five concerts, entitled 'The Usefulness of Art', by multi-instrumentalist Adam Simmons, all taking place at fortyfivedownstairs. The first, Concerto for Piano and Toy Band, was performed in March this year, and the second, The Usefulness of Art, in August. The final two instalments are scheduled for May and July 2018.
Travelling Tales was initially composed and performed for the 2013 Piraeus Festival in Athens, and performed by the Intrarti Orchestra. For this, its first Melbourne performance, Simmons collaborated with the Arcko Symphonic Ensemble – on this occasion a twenty-piece string orchestra – founded in 2008 by Artistic Director Timothy Phillips. The Ensemble specialises in performing Australian works, particularly those that have received a première, but not – as is all too common – the opportunity of a second or third outing.
Simmons's love of travel – whether to Europe, Japan, or road trips round Australia – underpins his extended suite, made up of nine pieces, each considered as a musical postcard. Each 'postcard' bears a title followed by a brief statement, the latter almost constituting a series of prose poems: 'The city that never slept: New York, Prague, Barcelona, Szczecin, Paris, Tallinn, Melbourne, Wangaratta ... some of the cities where I have seen the sun come up.' Opting for a stark theatrical setting – broken only by a single row of chairs hanging from the ceiling – the seated musicians, dressed in black, were each draped by a sheet of white crepe, a nicely ambiguous variation on the usual orchestral attire.
The musical suite functioned as a journey, capturing something of the capriciousness of travel, the volatility of our emotions as we pass through the world. The opening sections featured short staccato bursts from the strings, over which Simmons's tenor saxophone lushly meandered, at times calling to mind Michael Nyman's work with John Harle, or the more lavish minimalism of composer John Adams. The music conjured the excitement of setting out, the ground receding from the plane window, the rhythmic rush of train wheels, landscapes unfolding. As it progressed, the suite embraced more sombre inflections, particularly when Simmons switched to bass clarinet, with its dark woody tones. Throughout, the music summoned an array of moods, embracing the quietude and loneliness of travel, the calm and meditative moments, and the inevitable reflections on self.
Simmons's concerto for saxophone intentionally drew upon exotic locales, arguing for a universality of music and of our common bonds across borders. At one point, Simmons removed himself to the darkened fringes of the stage, his soprano sax just one more voice in the crowd. While his playing dominated the first half – at one point he whispered to the audience 'I might get a bit loud in a moment, if you need to stick your fingers in your ears, that's okay', prior to unleashing a torrent of shrieking notes – the strings incrementally added urgency and drama to the final sections.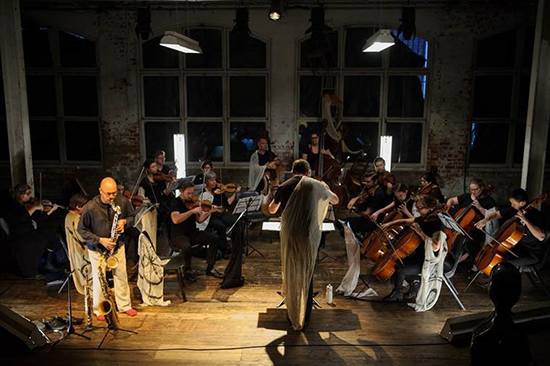 Travelling Tales at fortyfivedownstairs (photograph by Sarah Walker)
With three projects in the series now completed, Adam Simmons's 'The Usefulness of Art' can increasingly be viewed as a major musical statement by a mid-career artist. The radical decision by a musician most often associated with jazz to conceptualise these large-scale performances – each in collaboration with a different ensemble – as artworks rather than club gigs is testament to the broad-ranging ambitiousness of Simmons as a composer. For Travelling Tales, the Arcko Symphonic Ensemble provided admirable support, performing their task with extraordinary precision, an impressive feat given that it followed just two rehearsals.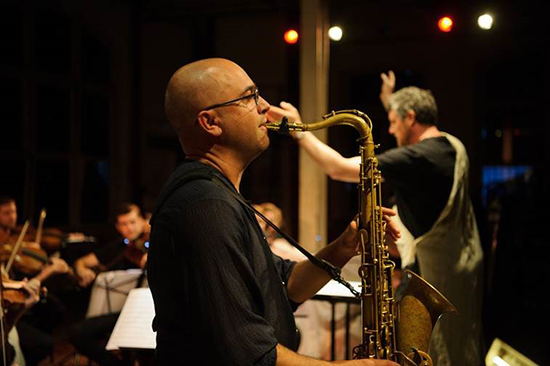 Adam Simmons performs Travelling Tales at fortyfivedownstairs (photograph by Sarah Walker)
Having taken his series title from an essay by Auguste Rodin, Simmons, on opening night, confessed to being more and more convinced that art is not just 'useful' in today's political and cultural climate, but is in fact a 'necessity'. Such a sentiment finds echo in the words of that great writer on Rodin, poet Rainer Maria Rilke: 'A work of art is good if it has arisen out of necessity.'
Travelling Tales (fortyfivedownstairs), was performed by Arcko Symphonic Ensemble, conducted by Timothy Phillips, and Adam Simmons from 7 to 10 December 2017. Performance attended: 7 December.
ABR Arts is generously supported by The Ian Potter Foundation.