Theatre
Muriel's Wedding: The Musical (Sydney Theatre Company/Global Creatures) ★★★★★
On Monday night I attended a performance of the Australian Ballet's The Sleeping Beauty where the audience gasped in wonder as the curtains parted on the final act: three massive chandeliers were lit then raised above a cream and gold confection of a set which put Versailles to shame. On Thursday night, I was at Muriel's Wedding: The Musical where the sets and costumes are bright and garish, adding a satiric commentary of their own to the show's cheerfully vulgar view of contemporary Australia. Gabriela Tylesova designed the sets and costumes for both productions – from Aurora's wedding to Muriel's wedding – with equal flair. The talent has gathered around Muriel's Wedding.
At its centre is Simon Phillips, who must be one of the most gifted directors of musical comedy and comic opera in the world. He can find wit and good-natured humour in the strangest places, and brings out the best in every production he touches (look out for his production of The Turk in Italy in AO's 2018 season). He has gathered a brilliant team of creators around him, not just Tylesova but P.J. Hogan to adapt his original script, choreographer Andrew Hallsworth, and Kate Miller-Heidke and Keir Nuttall to write the music and lyrics for new songs. This is no jukebox musical but a wonderfully original creation.
To fans of the 1994 film, a musical comedy Muriel's Wedding may have always looked like a winner. The main questions were how the story would hold up after more than twenty years, and whether anyone could write popular music that might stand alongside the greatest hits of ABBA. The answers are clear. Hogan has revised his screenplay to create a tighter, fast-moving story that appears to be more relevant to the social media, mobile phone, 'married at first sight' world of the present than it was in the 1990s. Even more impressively, Miller-Heidke and Nuttall have managed to write songs that invoke contemporary popular music, taking their cues not only from ABBA but from a range of current popular styles, adapting to each character and dramatic moment. They are tuneful and catchy; some of them, such as the more reflective 'Strangely Perfect Stranger' or Muriel's eulogy for her mother, quite beautiful. Others, like 'Shared, Viral, Linked, Liked', sung by the Porpoise Spit girls with their devices in hand, or the chorus rendition of 'Sydney', are superbly witty.
We are engaged from the moment a lone surfer in bright board shorts appears on stage to sing to us about the perfection of life in Porpoise Spit. He is joined by an energetic chorus who manage to maintain their zest through a series of character and costume changes right through the show. The couch potatoes at the Heslop house sing cheerily enough about their moronic lives, in contrast to the bright harmonic chirping of the bitchy girls of Porpoise Spit, led by Christie Whelan-Browne as Tania Degano. Muriel, the hapless, clueless, thieving dreamer, appears in the form of Maggie McKenna with a winning smile. Who could not love her, despite her stupidity and adolescent dreams?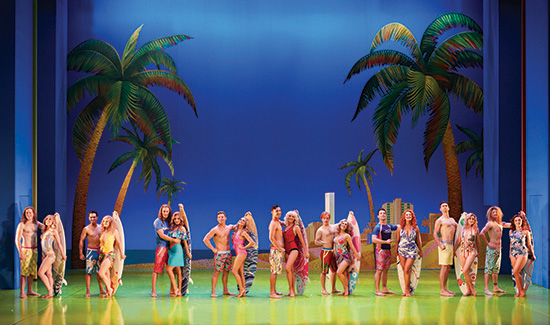 The cast of Muriel's Wedding: The Musical (Sydney Theatre Company/Global Creatures)
The production hilariously incorporates ABBA into the show by transforming them into guardian angels, appearing in white satin and sequins to console Muriel at her darkest moments and, with a credible acknowledgment of generational change, to act as her mother's source of comfort, too. These theatrical elements are so right they make the film look like a trial run for the story's full emergence on stage. In the theatre all the absurdities of Muriel's story can be presented with economy – songs fill out the background and emotion; Battling Bill Heslop's development plans are presented as ludicrous models on a table (a high-rise building like a half-peeled banana); Sydney, its underworld and bridal shops, can be celebrated with theatrical excess (a mighty Harbour Bridge overhead, a revolving shop-window for the frocks).
Just at the point when it might become too implausible – Muriel's discovery of a handsome young swimmer as a marriage partner – the show diverts our attention with one of its most brilliant effects, as the chorus becomes a row of swimmers on the blocks across the back of the stage. When the pace and mood drops, as it must when Rhonda moves to a wheelchair and the Heslop family disintegrates, it is not long before Muriel's eulogy song for her mother brings it to a new level.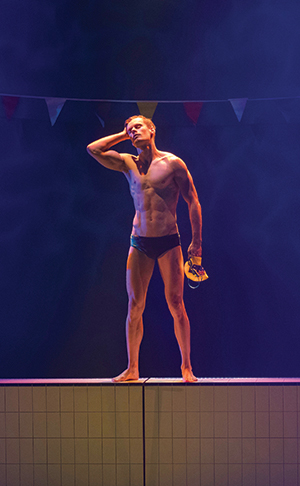 Stephen Madsen as Alexander in Muriel's Wedding: The Musical (Sydney Theatre Company/Global Creatures)Gary Sweet, Justine Clarke (yes, she is now old enough to play Muriel's mother), and Helen Dallimore provide solid support as they demonstrate the failures of the last generation, but the show belongs to the young performers, the versatile dancers and singers, including the comic turns of Ben Bennett as Muriel's parking inspector admirer, and Madeleine Jones as her saviour, Rhonda Epinstall. The songs, and the energetic performance of them, leave the audience bouncing with pleasure.
What can it all mean given the recent endorsement of marriage equality by Australian voters? Perhaps it is a celebration of Australian tolerance and the right of anyone to get married, though friendship wins out in the end. If there is a message, it is to enjoy yourself, but not be mean about it. The show enacts this commitment by its generous gift of music, fun and humour.
Muriel's Wedding (Sydney Theatre Company/Global Creatures) continues at The Roslyn Packer Theatre until 27 January 2018. Performance attended: 23 November 2017.
ABR Arts is generously supported by The Ian Potter Foundation.