Art
Opera: Passion, Power and Politics (Victoria and Albert Museum)
Opera is not a small artform. It is labyrinthine, multi-faceted, fraught with things that can go disastrously wrong (Wagner, especially), and it can be dreadfully expensive, formidably divisive, and astonishingly complicated. At the same time, opera is so necessarily crucial to culture as a reflection of history, thought, and society that one simply cannot imagine a world without it.
The question, though, is how to contain four hundred years of European opera when it is the subject of a major and exhaustive retrospective occupying the entirety of the Victoria and Albert Museum's new basement-level Sainsbury Gallery? Opera: Passion, Power and Politics, a masterly and magnificent show that demands to be seen as well as heard, is at once a reduction and an expansion. Just like Google Earth, what you see depends on your point of view. At its furthest point (imagine Europe from space), the exhibition condenses the opera world to just seven operas and the seven cities where they received their premières. Zoom in, and the landscape becomes more and more detailed. Instead of highways, towns, and coffee shops, there are manuscripts, documents, portraits, landscapes, objets d'art, original instruments, bric-a-brac, sets and costumes, hats, busts, effigies and caricatures: the very symbols and ephemera of opera, but enriched by the re-creation of its various ages and the chronological and cultural continuity that link the seven composers, works and traditions on display.
The places, times, operas, and their composers are:
Venice 1642, L'incoronazione di Poppea, Monteverdi;
London 1711, Rinaldo, Handel;
Vienna 1786, Le nozze di Figaro, Mozart;
Milan 1841, Nabucco, Verdi;
Paris 1861, Tannhäuser, Wagner;
Dresden 1905, Salome, Richard Strauss;
Leningrad 1934, Lady Macbeth of Mtsensk, Shostakovich.
These seven works and places may be appropriate staging posts, but the exhibition itself is far from a static museum piece. Opera: Passion Power and Politics is not a one-institution show, but a remarkably inspired collaboration between two of London's most venerated cultural bodies: the V&A and the Royal Opera House, Covent Garden. 'It has made a lot of sense for us to embark on this journey together,' writes Covent Garden's former director of opera, Kasper Holton, who helped create the exhibition. Moreover, as Holton says, the aim has been to 'look at how opera, with its story-telling, theatrical effects and ever-changing expressions, could inspire an involving and immersive exhibition'.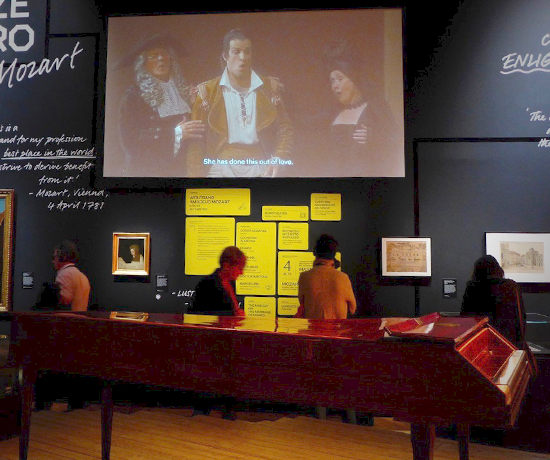 Opera: Passion, Power and Politics installation (photograph by Michael Shmith)
It wins on both counts. But the overall sense of involvement and immersion requires sound, and this is where the exhibition truly triumphs. The audio guide is obligatory, a crucial part of the whole experience. Through the headphones, the narrative and various extracts happen automatically and seamlessly as one moves from age to age, opera to opera. Sometimes, out of the cacophony of gunfire or a chorus rehearsal, there is the spoken voice –and who better, and who more passionate, a guide than the Royal Opera's music director, Antonio Pappano? Then, at other times, extracts from the operas themselves. Sometimes, as with the immortal comedic sextet from Act III of Le nozze di Figaro, verbal and vocal dexterity combine in one's ears, while the eyes take in various but always relevant visions. With Figaro, that most holistic of operas, one sights Mozart's mellowly gleaming fortepiano in the foreground and, on the wall beyond, a video loop of the sextet and, positioned below, just like a postage stamp, Josef Lange's famous unfinished portrait of the composer (1789), on loan from the Mozarteum, Salzburg. In fact, the entire exhibition is a series of hugger-mugger yet flawless juxtapositions that compare or contrast time and space, music and words, political and social revolutions and church and state. It is a hybrid of Grand Tour and Tour de Force.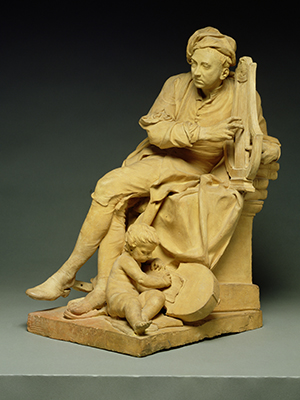 George Frideric Handel, Louis Francois Roubiliac (1702-62), pre 1738, The Fitzwilliam Museum, University of Cambridge, M.3-1922 (© Fitzwilliam Museum Bridgeman Images)Before the Figaro Room, in Handel's London, we have seen the artificial lavishness of Rinaldo in a replica of the Queen's Theatre stage, complete with a small ship jerking its way through rolling waves. Before then, in Monteverdi's Venice and the birth of opera, the sex life of Ancient Rome and Nerone and Poppea provides the ideal, glittering beginning. After Figaro, we morph into Risorgimento Milan, with Va, pensiero sounding in our heads, and Verdi's original score on display in front of a photographic installation of 150 Italian opera houses: the chorus of Hebrew slaves is, after all, now a universal anthem.
After that, Wagner cannot be too far behind. The 1861 performances of Tannhäuser in Paris said as much about the city as they did about the renegade composer. Both were revolutionary, but still tradition-bound in certain aspects. But it is thanks to the French insistence on a ballet (and Wagner's acquiescence) that brought into being what I have always regarded as preferable to the composer's earlier version of the opera for Dresden, in 1845.
Dresden comes into its own just around the corner, sixty years after its Tannhäuser. In 1905, Dresden's Semperoper staged the world première of Salome, which, despite teething troubles, was a critical success: a watershed in early twentieth-century opera. As Richard Strauss himself said, after Kaiser Wilhelm II remarked that Salome would cause its composer 'terrible damage', 'It was from this damage that I built my villa in Garmisch'.
Dmitri Shostakovich's Lady Macbeth of Mtsensk might be the last milestone in the exhibition, but it was among the century's most enduringly notorious operas, particularly in the view of Josef Stalin, who denounced the work: 'Muddle instead of Music' was the headline in Pravda in January 1936. The composer withdrew the work, eventually substituting a milder version, Katerina Izmailova, and it wasn't until the mid-1990s that the original was performed again in Russia. It is fascinating to track the work's progress along with that of its composer, whose image, playing the piano very fast, is projected on the wall of an empty room and desk fenced in by a criss-cross of red tape. Such tableaux sometimes say more than words or music ever can. So, too, can the original scores on display: compare Strauss's immaculate manuscript of Salome to Shostakovich's frenetic scribbles and strikings-out in the draft score of Lady Macbeth.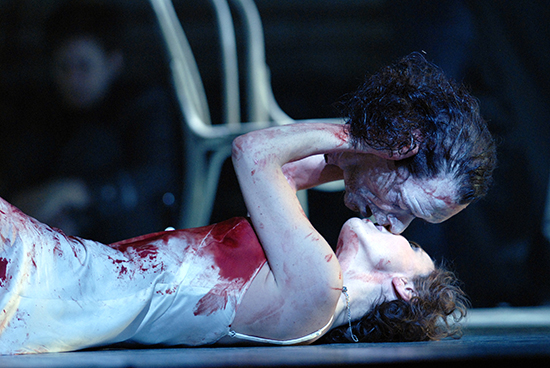 Nadja Michael as Salome (Royal Opera House, London, © Robbie Jack, Corbis Entertainmeny, Getty Images)
The final section of Opera: Passion, Power and Politics is devoted to opera today and tomorrow, with excerpts from more contemporary works, including Philip Glass's Einstein on the Beach, and George Benjamin's Written on Skin.
By exhibition's end, I was enlightened but not exhausted. Instead, if I had had the chance, I would have gone back the other way: from St Petersburg back to Venice via 400 years of wonderment, beauty, provocation, and glorious creativity.
Instead, I reflected on two things. First, that the catalogue is essential reading. Not only is it copiously illustrated and beautifully designed, it furthers the experience for those lucky enough to have attended the exhibition. For those who haven't, the book is an expert and succinct summation of opera's form, function, and appeal. In addition, there are excellent introductions to each work by various essential creators: soprano Danielle de Niese; director Robert Carsen; Antonio Pappano; Plácido Domingo; designer Michael Levine; conductor Simone Young; and director Graham Vick.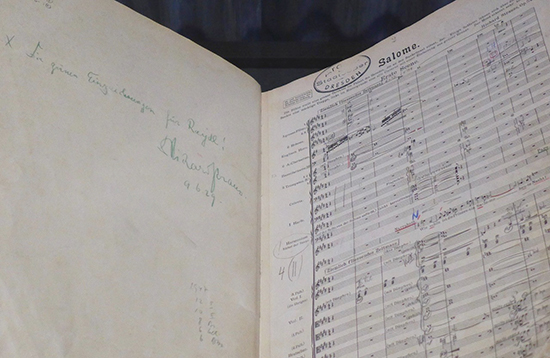 The original music notes for Strauss's Salome (photograph by Michael Shmith)
My second reflection was more of a game: which operas should have been included for the same cities? A rough attempt at parallel-universe making resulted in the following:
Venice 1951, The Rake's Progress, Stravinsky;
London 1947 Peter Grimes, Britten;
Vienna 1762, Orfeo ed Eurydice, Gluck;
Milan 1904, Madama Butterfly (original version), Puccini;
Paris 1979, Lulu (première three-act version), Berg;
Dresden 1911, Der Rosenkavalier, R.Strauss;
St Petersburg 1862, La forza del destino, Verdi.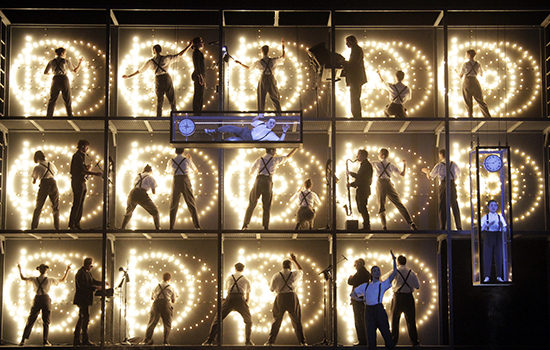 Einstein on the Beach by Philip Glass (© Lawrence K. Ho, Los Angeles Times, Getty Images)
One could go on at Wagner-length with might-have-beens and why-nots – for example, the omission of such reforming geniuses as Gluck and Puccini. And what about Janáček or Dvořák? Or, further afield, Gershwin? But they could well be fodder for similar exhibitions in other places, perhaps Europe and beyond. For the moment, however, the V&A and the Royal Opera House have provided something that deserves the highest praise, and sets new standards for quality, accessibility, and the gaining of knowledge. Bravi!
Opera: Passion, Power and Politics continues at the Victoria and Albert Museum, London until 25 February 2018.
ABR Arts is generously supported by The Ian Potter Foundation.