Advances
The Update - November 21, 2017

Recent ABR Arts reviews
Liveable palaces
There are some outstanding art exhibitions on offer at present, especially the elegantly installed Mapplethorpe show at the Art Gallery of New South Wales which Helen Ennis will review for ABR Arts (we will also run this in our January–February double issue).
The National Gallery of Victoria has several linked exhibitions at The Ian Potter Centre: NGV Australia. They are: The Highway is a Disco (Del Kathryn Barton); Our Knowing and Not Knowing (Helen Maudsley); Palace of the Republic (Louise Paramor); Ensemble (Mel O'Callaghan); and Transformer (Gareth Sansom). Sophie Knezic is our reviewer.
The NGV exhibitions were launched on 16 November by the Victorian governor, Linda Dessau, who presented like a junior minister in the state government, extolling the 'liveability' of Melbourne and the 'caring' nature of all art (tell that to Francis Bacon). Her Excellency even tried to revive the old Sydney–Melbourne divide. It was cringe-making. If we must have these expensive vice-regents in their palaces, they should do better than that.
SOA and SSO
Three musicians from the Shanghai Orchestra Academy (SOA) have arrived in Australia to participate in a performance residency with the Sydney Symphony Orchestra (SSO) from 19 November to 3 December 2017. Minxian Sun (violin), Kuan Liu (viola), and Kaixuan Zhang (double bass) will perform in Belshazzar's Feast and Bluebeard's Castle: with Bach and Brahms with the SSO and David Robertson conducting. The musicians were selected by audition by SSO Concertmaster Andrew Haveron and Principal Cello Umberto Clerici during SSO's 2017 China tour.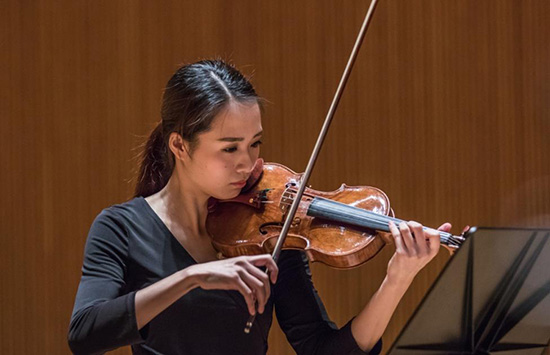 Minxian Sun (image courtesy of Sydney Symphony Orchestra)
'This opportunity has allowed young Chinese professionals to expand their performance horizons, and understand a different culture,' said Doug He, Executive Director of the SOA. The SSO and SOA signed an agreement in 2015 'to signify their commitment to ensure the success of classical music in China through training the next generation of musicians'.
The ACO at Milton Court
The Australian Chamber Orchestra will commence a three-year residency as International Associate Ensemble at Milton Court with the Barbican, London, from the 2018–19 season. The residency follows ACO Artistic Director Richard Tognetti's tenure as the Barbican's first ever Artist-in-Residence during the 2016–17 season.
The ACO will join two other International Associate ensembles also commencing three-year residencies: the LA Philharmonic, led by Music and Artistic Director Gustavo Dudamel, and the Jazz at Lincoln Centre Orchestra, led by Artistic Director Wynton Marsalis.
'To be invited as International Associate Ensemble and to have a home in London for the next three years is an extraordinary honour,' said Richard Tognetti. Programming details will be announced at the Barbican's classical season launch in January 2018.
Charles and Barbara Blackman named as Heide Modern Art Fellows
The Board of Directors at Heide Museum of Modern Art have acknowledged the ongoing support of Charles and Barbara Blackman by naming them the Heide Museum of Modern Art Fellows for 2017. The Blackmans have gifted artworks to the museum's collection since its founding, and provided assistance to Heide projects such as the recent Charles Blackman: Schoolgirls exhibition and the book Modern Love: The lives of John and Sunday Reed by Lesley Harding and Kendrah Morgan (reviewed by Jane Grant for ABR, 12/15).
Past Fellows have included Albert Tucker, Mary Nolan, and David Walsh.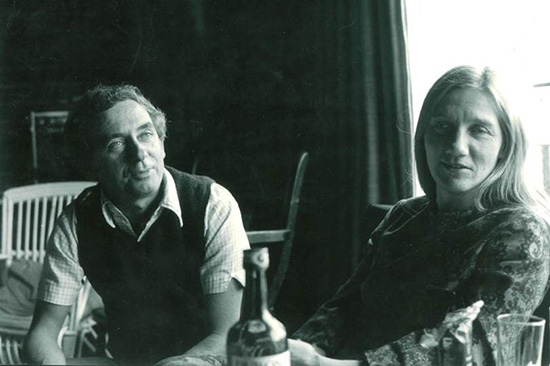 Charles and Barbara Blackman (image courtesy of Heide Museum of Modern Art)
Fortyfivedownstairs January

–

June season
Melbourne's fortyfivedownstairs has launched its January–June 2018 season. Highlights include Tommy Murphy's Strangers in Between as part of the Midsumma Festival, starring Simon Burke, Guy Simon, and Will King; Paul Capsis as the raconteur Quentin Crisp in Resident Alien; and the fourth instalment of Adam Simmons's The Usefulness of Art series, The Calling, which was inspired by his recent visit to Sri Lanka. Des Cowley described the third instalment, performed in August this year, as 'a triumph in every way' (ABR Arts, 8/17). New exhibitions encompassing 'painting, photography, printmaking, sculpture, and more' will be presented in the gallery space. Visit the fortyfivedownstairs website for more information and early bird ticket prices.
Copyright Agency and Viscopy merger
Members of Copyright Agency and Viscopy have overwhelmingly voted to support the merger of these two rights management organisations, which represent around 40,000 direct and indirect members, including 'visual artists and illustrators to journalists, cartoonists, suvreyors, educational authors, and publishers'.
'The Copyright Agency will continue to champion visual artists at a time when creators' rights have been threatened by ill-considered proposals to change the Copyright Act, undermining the framework that ensures artists and creators continue to control the rights of their work and receive fair payment for its use,' said Copyright Agency CEO Adam Suckling. The organisations will formally merge on 30 November 2017.
Viscopy was recently appointed by the Namatjira Trust to act as its agent in the management of the copyright for the works of Indigenous artist, Albert Namatjira.
Giveaways
Thanks to Queensland Theatre, two new or renewing subscribers to ABR will receive double passes to Scenes From a Marriage at 3 pm on Sunday 3 December 2017 at Playhouse, QPAC.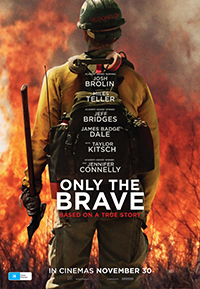 Thanks to Studio Canal, we are giving away ten double passes to Only the Brave, directed by Joseph Kosinski and starring Josh Brolin and Jeff Bridges. In cinemas 30 November.
To be eligible for these giveaways, you must be a current or new paid subscriber to the print edition of ABR or to ABR Online. To be in the running please email Grace Chang at This email address is being protected from spambots. You need JavaScript enabled to view it. with your full name and contact details. Preference is given to subscribers who have not received a giveaway in recent months.