Music
Que Reste T'il (What Remains?) ★★★★
The idea of joining Robyn Archer – arguably the greatest cabaret artist in the country – for a night of French chanson that harks back to her seminal 1991 show Le Chat Noir was inspired. While Archer is most closely associated with German Kabarett of the Weimar, she is no slouch when it comes to interpretations of the Gallic variety. She certainly convinced the French themselves, who made her a Chevalier de L'Ordre des Arts et des Lettres in 2001. The difference between the two forms is largely academic; German cabaret, while more aggressively political, came directly out of the French cabaret that was established by Rudolphe Salis in 1880, mixing bawdy and sharply satirical songs with speeches, sketches, and dances that lampooned social and political mores of the day.
Archer – performing in the bowels of the Arts Centre in Melbourne, followed by the City Recital Hall in Sydney – encourages us to imagine Salis's club Le Chat Noir, with its wooden tables, its gloomy lighting and shimmering green glasses of absinthe. This isn't ideal: atmosphere is central to the effect of cabaret, where performer and audience member are so close the sweat begins to mingle. Archer has to work hard to establish a locus of associations, complicated by the fact that her opening numbers are by far the most obscure of the night. Her initial inspiration is Aristide Bruant, who is famous as Toulouse-Lautrec's poster-boy but not so much as a singer–songwriter. The songs are mildly diverting rather than raucously entertaining, and Archer has to rely on some fairly daggy call-and-response audience participation techniques to keep us engaged. Some welcome notes of melancholy are sounded amid the rather arcane social satire, but the first twenty minutes are a bit of a slog.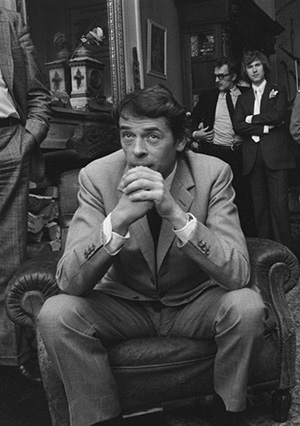 Jacques Brel, 1971 (photograph by Rob Mieremet, Anefo, Nationaal Archief, via Wikimedia Commons)The show improves markedly as Archer's voice warms up and the songs become more familiar. A slightly deranged and desperate rendition of Edith Piaf's 'L'accordéoniste' is terrific, and gives the actual accordionist, George Butrumlis, a chance to shine. This is when those mournful notes of longing really kick in, and the night gains some needed gravitas. Archer will return hilariously to Piaf in the encore, but this small smattering is enough to demonstrate the little sparrow's enduring influence on the very concept of French chanson.
Archer capitalises on this surge of energy with two renditions of Jacques Brel songs that have to be heard to be believed. If it is true that no one can do Piaf like Piaf, it's doubly true that no one can do Brel like Brel, and yet here she is, this stout, cherubic woman, channelling all the angst and pain of waning love. A performer's sexuality is, of course, irrelevant until it becomes relevant, and here it renders Brel's exquisite subjugations as statements verging on the outright political. 'Ne me quitte pas', a harried cry to a lover halfway out the door, taps deeply into the abject powerlessness of unrequited love, but in Archer's throat it takes on wider and more contemporary resonances. This sensation is cemented by the most extraordinary song of the night, Brel's crazed and looping 'Carousel'. Ostensibly a number concerned with the existential horror of being alive, with its merry-go-round madness, nightmarish carnival imagery, and relentless increases in tempo, it is here performed as a kind of cri de coeur that plays directly into the current and thoroughly acrimonious marriage equality debate. Of course, Archer is far too gentil to trade in outright provocations, but these subtle hints at local satirical targets helps lift this divertissement into something positively thrilling.
Archer's duet of 'Bonnie and Clyde' with pianist and translator Michael Morley – he improbably stepping in for Serge Gainsbourg, she even more so for Brigitte Bardot – is a comic delight but also a musical powerhouse. Archer is a formidable acoustic guitarist, and the concert benefits from this injection of rock. Archer closes well, with that previously mentioned return to Piaf (via Michael Morley) that suspiciously manages to cram 'Amélie Mauresmo', 'ménage à trois', and 'bon appétit' into the same number, and a rousing rendition of 'Aloutte, Gentille Aloutte' that gets seriously weird.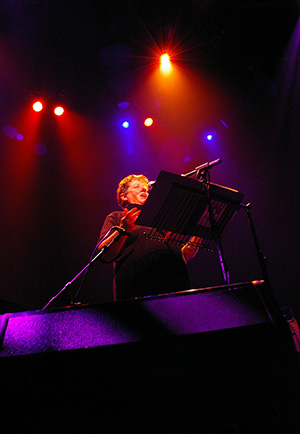 Robyn Archer performs Que Reste T'il (What Remains?) at the Arts Centre, Melbourne, (photograph by Peteris Ciemitis)Other cabaret artists exude more of the dirty glamour and sexual aggression we associate with the form: performers like Ute Lemper and our own Paul Capsis, who carry that danger and unpredictability in their very personas. But there is also something utterly authentic about Robyn Archer's Que Reste T'il (What Remains?). The title comes from a Charles Trenet song, 'Que Reste T'il de Nos Amours', which translates as 'what remains of our loves'. It's a love letter to the past, an envoi to a lost world, and a perfectly fitting tribute to a number of extraordinary careers.
If you aren't familiar with Robyn Archer's oeuvre, you should grab a ticket; if you are, you'll have one already.
Que Reste T'il (What Remains?), with Robyn Archer, was performed in the Playhouse, Arts Centre Melbourne on 10 and 11 November 2017, and will be repeated at City Recital Hall, Sydney on Friday, 17 November. Performance attended: 10 November.
ABR Arts is generously supported by The Ian Potter Foundation.