Film
The Killing of a Sacred Deer ★★★
One can pinpoint the moment at which The Killing of a Sacred Deer gets stuck, like a train between stations. It happens midway through the film, during a scene set in a hospital cafeteria, somewhere in Cincinnati. A greying, bearded cardiologist (Colin Farrell) sits opposite a teenage boy (Barry Keoghan) whose gormless, sweaty countenance conveys an undertone of menace. The boy, whose name is Martin, explains to Steven, the cardiologist, what is going to happen to Steven's wife, Anna (Nicole Kidman), and their two children, Kim (Raffey Cassidy) and Bob (Sunny Suljic). One by one these family members will become paralysed – suddenly, and incurably – and then they will die, unless Steven determines to kill one of them first, as a sacrifice.
Advance knowledge of a character's fate is a requirement of tragedy, but The Killing of a Sacred Deer isn't one. 'Don't get hysterical, it's not that tragic,' Kim counsels her mother, as she succumbs to the foretold paralysis. Nor is the film funny in the bleak way that previous films by the same director, Yorgos Lanthimos, have been – in particular, The Lobster (2015), a kind of satire on the notion of true romance, onscreen or off. Shorn of catharsis and short on laughs, The Killing of a Sacred Deer becomes a chilly and ultimately inert rumination on the collapse of a bourgeois family. But the film's first half, before we know how or why the ruin will occur, is effective.
It begins with a close-up of open-heart surgery – not for the squeamish. A viewer may later have cause to wonder if this particular scene is connected with Steven's downfall, but for the time being we are denied any explanatory context. After surgery, Steven and his colleague Matthew (Bill Camp), an anaesthesiologist, walk through the hospital, discussing wristwatches. Their conversation is competitive in its detail – brands, types of strap, water resistance – but the tone is wooden. This is Lanthimos's mode, and it suits Farrell in particular, whose Irish burr carries with it an echo of his absurdist countryman, Samuel Beckett.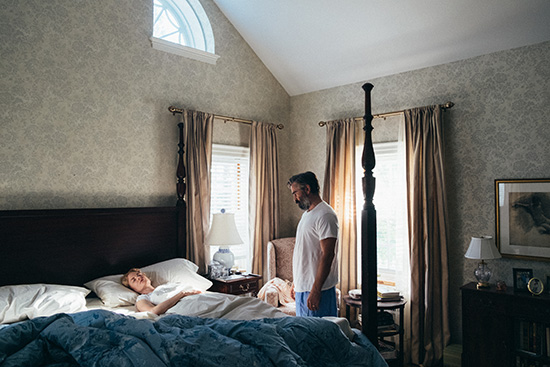 Nicole Kidman and Colin Farrell in The Killing of a Sacred Deer (Madman Films)
As in Beckett's plays, the characters in Lanthimos's films – credit must also go here to screenwriter Efthymis Filippou – appear empty of interior life. ('You approach Yorgos with a back story, and he'll cut you off – he doesn't want any of that,' remarked Keoghan, in a recent interview.) They are more like puppets, subsumed to the will of their puppeteer. Lanthimos's visual grammar, too, is strict. Working with cinematographer Thimios Bakatakis, he favours three types of shot: a slow push-in; a medium close-up from an exaggeratedly high or low angle, and a long, symmetrical tracking shot as his characters move through corridors (there are lots of corridors). It's Kubrickian to a fault, and the style, alongside the child characters and the bloodiness that eventually ensues, cannot but recall Kubrick's own psychological horror masterpiece, The Shining (1980). But The Killing of a Sacred Deer is without its predecessor's occult power.
What it does have is a suite of strong performances, from Farrell, Kidman – who excels at the self-restrained acting style that Lanthimos demands – and especially Keoghan, the enigma and then the torment at the heart of proceedings. The young actor has a bearing that feels suited to another kind of film altogether – something by Shane Meadows or Andrea Arnold, say, dogged and gritty – and his trace of streetwise wisdom brings to an otherwise highly artificial atmosphere the sense of something genuine. Wristwatches crop up again, early on; Martin receives one as a gift from Steven. There is clearly an intimacy between the younger and older man, though of what kind, and to what end, we can at first only speculate. Martin visits Steven's family, he is polite to them, he brings flowers. There are more competitive conversations, this time about bodily parts and functions: underarm hair, chest hair, menstruation. Nobody is discomfited by it, apart from the viewer.
But as the connection between Martin and Steven is gradually revealed, and the machinery of the plot laid bare, that uneasiness recedes. The formal techniques that Lanthimos employs also yield diminishing returns. The pattern of his shots becomes obvious; his direction of the actors begins to feel unduly restrictive.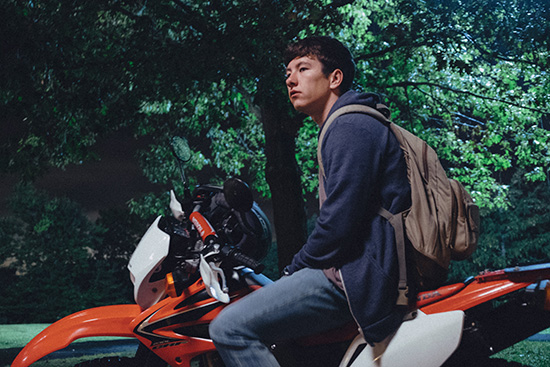 Barry Keoghan in The Killing of a Sacred Deer (Madman Films)
Perhaps these frustrations are deliberate; perhaps the point is that, in this airless contemporary universe that exists at only a short remove from our own, real feeling is impossible. Only mordantly ironic gestures remain, not tragically ironic ones. The analog to Steven and his expendable family is, of course, the myth of Agamemnon and his daughter Iphigenia, whose sacrifice was demanded by the goddess Artemis as a payment for Agamemnon's slaughter of a deer. Agamemnon needed a wind in order to sail his ships to Troy. Steven just wants to get on with his comfortable life. In both cases, someone else has to pay the price. The emotional stakes are lowered in Lanthimos's world, but the operation of power is much the same as it ever was.
The Killing of a Sacred Deer (Madman Films), 121 minutes, directed by Yorgos Lanthimos. In cinemas 16 November 2017.
ABR Arts is generously supported by The Ian Potter Foundation.