Theatre
Three Sisters (Sydney Theatre Company) ★★★
After decades of English-language Chekhov productions following in the footsteps of Stanislavsky and Komisarjevsky in which historically accurately costumed actors wandered around a stage awash with gloom and torpor declaiming Constance Garnett's constipated translations, directors finally discovered that the plays were strong enough to be removed from their original place and period. Janet Suzman's magnificent Cherry Orchard (1997) transported the play to contemporary South Africa and Michael Blakemore, in his film Country Life (1994), showed that Uncle Vanya could work if it were transposed to Western Australia. Recently, Benedict Andrews's modernised Three Sisters at the Young Vic (2012) was well received. Now the Sydney Theatre Company is presenting its own updated version. One is as unlikely to see a samovar in a contemporary Chekhov production as a horned helmet in a modern production of Wagner's Ring.
Although Three Sisters, first performed at the Moscow Art Theatre in 1901, is arguably Chekhov's dramatic masterpiece, it had a difficult gestation period. Ill and isolated in Yalta from his friends and colleagues, Chekhov was nevertheless for the first time in his life seriously in love, with the actress Olga Knipper. The play he intended to write was to be a joyous comedy. Soon he got bogged down. Writing to Olga he said: 'I am writing slowly; that's something I didn't anticipate. If it doesn't come out as it should, I shall put it away till next year.' To his sister Masha, Chekhov wrote: 'I find it very difficult to write Three Sisters, much more difficult than any of my other plays.' He put this down to the fact that as a celebrated author he was constantly being interrupted. But the impediment probably had more to do with the fact that in this play he was attempting something new. Three Sisters fits into neither of the dominant dramatic forms of the era: the popular, tightly constructed, well-made play or the impressionist dramas of writers like Maeterlinck.
Chekhov treats his story of the Prosorov siblings, three sisters and a brother, marooned in a provincial town and dependent on the more cultured members of the military for amusement and support, more like a novel than a traditional play. The original criticism of the play was that it was plotless, but in fact it brilliantly interweaves several plots, all of which have in common the way in which we try to shield ourselves from the ultimate meaninglessness of life.
In his conversation in the program, Kip Williams picks up on this and comments on the play's thematic similarity to Beckett's Waiting for Godot. Williams even provides a Beckettian tree in the final act. Accordingly, his production's setting is vague. We are somewhere in Russia, given that the doctor, Chebutikin, is at one stage reading a newspaper with Cyrillic lettering, and it might be the late 1970s or early 1980s, since Natasha, the ghastly wife of Andrei, the Prosorov brother, constantly produces polaroids of her equally ghastly children.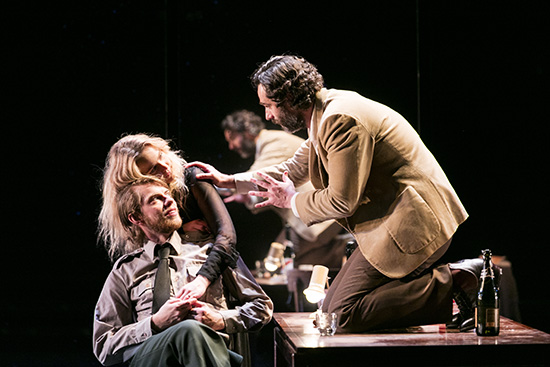 Harry Greenwood, Eryn Jean Norvill, and Mark Leonard Winter in Sydney Theatre Company's Three Sisters (photograph by Brett Boardman)
Liberating the play from a specific setting was presumably intended to emphasise the universality of its themes. But in doing so it places an extra burden on the actors, who have to make their characters believable in a vacuum. Even in Godot we must believe in Vladimir and Estragon as people. In the first two acts, Williams seems determined to keep us at a distance from this group. He has his actors play in a broad superficial style, rather like a slightly watered down version of the style he so brilliantly used in the first act of Caryl Churchill's Cloud Nine. But whereas the Churchill piece was designed to be played that way, Chekhov's characters are three-dimensional people whose layers are revealed gradually. Dazed by a frenzy of mugging, at the interval we were no closer to understanding the Prosorovs and their friends than we were at the start. It is true that when Chekhov first saw a run-through of Stanislavky's gloomy original production he is supposed to have exclaimed: 'But what I wrote was a vaudeville.' I doubt that this was the sort of vaudeville he had in mind.
The third act takes place in the bedroom of two of the sisters Olga and Irina. The town is on fire and, although chaos is occurring outside the room, this is paradoxically the quietest act in the play. Here Williams at last allows his actors to calm down and actually relate to one another. Suddenly, Alison Bell as Olga, Miranda Daughtry as Irina, Eryn Jean Norvill as their sister Masha, Brandon McClelland as Andrei, and Anthony Brandon Wong as Chebutikin show what they could have achieved in a more sympathetic production. There are other actors who come out more or less unscathed. Peter Carroll makes the council dogsbody, Ferapont, here bizarrely rechristened Philip, endearingly believable. Rahel Romahn is a marvellous combination of creepy and pathetic as the inadequate, self-hating Solyony hopelessly in love with Irina. But it is Chris Ryan as the pathetic, cuckolded, eternally cheerful schoolteacher Kulygin who comes closest to the spirit of Chekhov.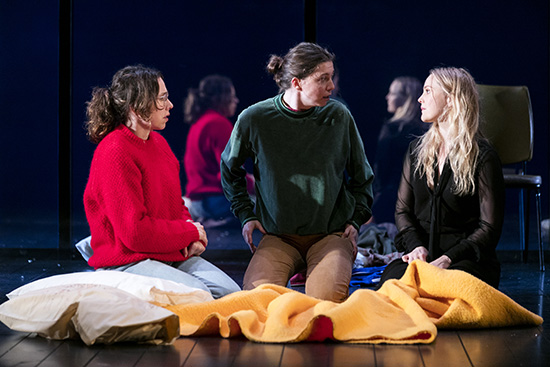 Alison Bell, Miranda Daughtry, and Eryn Jean Norvill in Sydney Theatre Company's Three Sisters (photograph by Brett Boardman)
Neither actors nor director are helped by Andrew Upton's now standard assault on Russian drama. Completely tone deaf to Chekhov's subtle music, he rampages through the play, coarsening its texture. By allowing the sisters to swear and giving Masha an extraordinary speech in which she explains to her sisters that love is a hard cock, he undercuts Chekhov's point that it is the sisters' refined sensibilities that make them the ineffectual victims of the uncultured Natasha. Upton's trio would surely have made mincemeat of her. But by making Natasha out to be simply a vulgar tart, he also misses the humour in her character. In the original play, Natasha grows from being an overwhelmed unsophisticated girl into a monster who, with her bad French, considers herself to be the height of elegance. She is the epitome of that untranslatable Russian word 'poshlost', a mixture of bad faith, banality, petty evil, and philistinism, which Chekhov sees as overwhelming all that is good in Russia – and which we can see on the rise here.
Most unforgivably, Upton cuts Olga's final speech, which, in its tragic irony, sums up the whole play. Or it would have been unforgivable if by that stage we still had any interest in his characters.
Three Sisters (Sydney Theatre Company), written by Anton Chekov and adapted by Andrew Upton, will continue at Drama Theatre, Sydney Opera House until 16 December 2017. Performance attended: 10 November.
ABR Arts is generously supported by The Ian Potter Foundation.