Opera
Roberto Devereux (Melbourne Opera) ★★★★1/2
Melbourne Opera's latest production is Gaetano Donizetti's 1837 lyric tragedy Roberto Devereux, the last in his so-called Tudor trilogy. The company staged Mary Stuart in 2015 and Anna Bolena in 2016, to considerable acclaim. However, this airing of Roberto Devereux, an Australian première, is something else. Put simply, it was one of the most thrilling nights at the opera I have ever experienced – an opinion shared by many in the enthusiastic audience. If you haven't heard of Melbourne-born soprano Helena Dix (Queen Elizabeth I) yet – you will. This is the most exciting voice I have heard since Joan Sutherland.
Devereux's tragedy was a triumph for Donizetti, yet it was composed at a time of immense personal grief. In twelve months, Donizetti had lost his parents, a stillborn child, and his wife. It is as if the themes of the opera – rage, despair, jealousy, betrayal, and love set against the background of the ageing queen's awareness of her imminent demise, court intrigues, and her infatuation with Robert Devereux, second earl of Essex – echo Donizetti's inner turmoil.
High drama has been brilliantly brought to life in this production utilising a new English translation by Geoffrey Harris, intelligent direction from the estimable Suzanne Chaundy, and a set design that focuses psychologically on the four central characters.
Danielle Calder as Sara, duchess of Nottingham, deployed a beautiful, flexible soprano voice to illustrate the impact of despair as she realises that her secret love for Essex has led her to betray her husband and the queen. Calder's duet in Act Three with Phillip Calcagno as the duke was particularly affecting. Calcagno is a fine actor, as we saw in his portrayal of Figaro in The Barber of Seville (2015). His excellent diction and resonant baritone served him well in encompassing the trajectory from loyal friend to mortal enemy of Roberto. The trio with the queen and Roberto was a highlight of the night.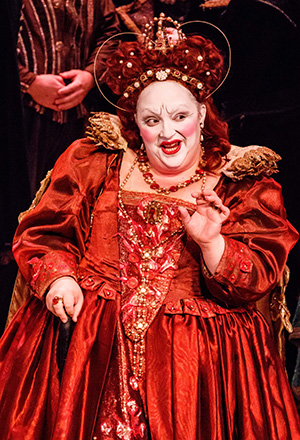 Helena Dix in Melbourne Opera's Roberto Devereux (photograph by Robin J. Halls)Henry Choo as the luckless Devereux had the unenviable task of relaying the role of a man not in control of his own destiny. For the most part, Choo's clear diction conveyed his dilemmas convincingly. He sang sensitively in the Act Three prison scene, notwithstanding the jaunty theme that Donizetti gave the condemned man.
As for Helena Dix, what a tour de force this was. She has a soprano voice that ranges from the delicate to the overwhelming, soft declamation alternating with coloratura fireworks, and excellent comic timing. If that's not enough, Dix can really act. Her portrayal of the ageing queen's hopes, uncertainties, rage, and jealousy was riveting. Clever costume design from Jennie Tate, and fine make-up by Julz Mayberry and Taylor Elliot, heightened the drama of the old, lethal, red-bewigged queen. They used ethereal white for the final scenes, when the queen is at her most vulnerable, conscious that her reign is about to end.
The role of Elizabeth is famously taxing, but Dix grasped every opportunity with energy and verve, travelling from the high to lower registers with extraordinary ease. In the final scene, Dix gave a stunning display of controlled, forceful singing. The moment when Elizabeth ripped off her wig and all the accoutrements of monarchy was a showstopper.
Greg Hocking conducted on opening night (Raymond Lawrence will step in later). Hocking conducted with the lift and rhythmic control essential in the bel canto repertoire. The overture provided by Donizetti after the first production in Naples included variations on 'God Save the Queen'; Victoria ascended the throne in the year of the opera's debut. The audience seemed surprised when these were played. As always, the smallness of the Athenaeum's orchestra pit was a challenge, but this was ably overcome by the Melbourne Opera orchestra. The chorus sang strongly, with pertinent attack. The static staging, invariably in a triangular formation, gave a Greek tragedic effect when the chorus commented on the unfolding drama. This was particularly striking at the opening to Act Two as the court awaits the news of Essex's fate.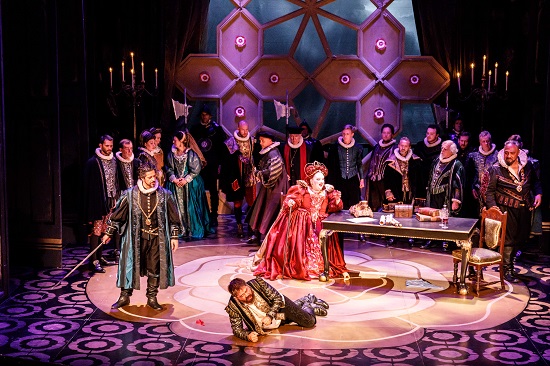 Helena Dix, Henry Choo, Phillip Calcagno, and the chorus in Melbourne Opera's Roberto Devereux (photograph by Robin J. Halls)
Having waited many years to see a production of Roberto Devereux, I was excited by its vitality and its validity as a work of art. At times there were clear hints of the Verdi of Ernani and Trovatore.
Melbourne Opera has created a following with its brave stagings of less celebrated operas. Please note: Pacini, Mercadante, Myerbeer all warrant exploration.
Admirers of mid-nineteenth century Italian operas are exhorted not to miss this production. Bravo to Melbourne Opera, and brava to Helena Dix.
Roberto Devereux (Melbourne Opera), composed by Gaetano Donizetti and directed by Suzanne Chaundy, continues at the Athenaeum Theatre until 18 November, 2017. Performance attended: 11 November.
ABR Arts is generously supported by The Ian Potter Foundation.