Festivals
2017 Wangaratta Festival of Jazz & Blues
It was always going to be a risky decision. Earlier this year, the Board of the Wangaratta Festival dispensed with the services of Adrian Jackson, the artistic director who shaped the style and content of the Festival since its inception in 1990. In recent years, a combination of reduced funding and unfortunate weather conditions led to a drop in visitor numbers, and there was clearly a sense that something had to give. Even so, the decision felt very much like a roll of the dice. Understandably, there was an outcry from the jazz community who feared that Jackson's vision for the Festival as a forum for the best in contemporary jazz might be compromised. The subsequent announcement of a new artistic direction team – which included high-profile and respected musicians Adam Simmons and Zoe Hauptmann – did much to allay those fears. In the end, the proof was in the pudding; and it was the resounding success of this year's Festival, which both acknowledged and built upon Jackson's impressive legacy, that confirmed that the gamble paid off.
The international acts scheduled for 2017 proved an eclectic mix. The Kari Ikonen Trio, an acoustic piano/bass/drums unit from Finland, emphasised group dynamics and conversational interplay, reminiscent of the new wave of Scandinavian jazz pioneered by Manfred Eicher's ECM label. Leader Kari Ikonen displayed a delicate touch on piano, accentuating individual notes, the trio's music veering between gentle grooves, jaunty rhythms, and occasional off-beat humour, evidenced in Ikonen's homage to Debussy: 'L'avant-Midi D'une Elfe'.
New Orleans trumpeter Christian Scott's heavily amplified quintet melded jazz with contemporary beats. Playing over a funk backbeat, the electrified horn's generated dense layers of sound by way of loops and samples, recalling the 'dark magus' phase of Miles Davis's electric music of the early 1970s. Like contemporaries Robert Glasper and Kamasi Washington, Scott's music can be deemed one vision of jazz's future.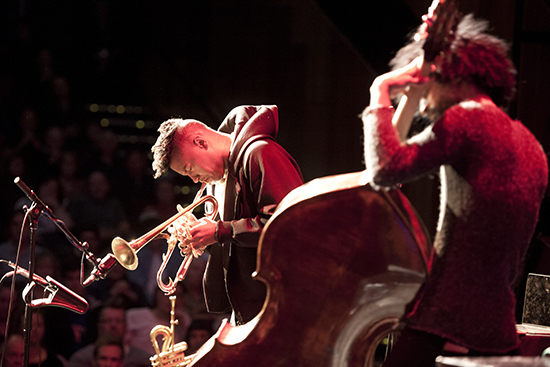 Christian Scott performs at the 2017 Wangaratta Festival of Jazz & Blues (photograph by Adrian Vaughan)
American experimental vocalist, musician, and dancer Jen Shyu has previously collaborated with a range of jazz luminaries, including Steve Coleman, Anthony Braxton, and Mark Dresser. Performing her recent work Song of Silver Geese (2017), a music drama drawing upon her Taiwanese and East Timorese heritage, Shyu variously played piano, violin, moon lute, and percussion, all the while singing and reciting stories in seven languages.
The Festival has always provided a forum for the best in Australian jazz. The ensembles led by Barney McAll, Phil Slater, Jonathan Zwartz, and Sam Anning each delivered fine performances, testifying to the extraordinary depth of talent in this country's jazz scene. McAll, Slater, and Anning are all previous winners of the National Jazz Awards, and their respective ensembles featured many other past winners and finalists, including Julien Wilson, Matt McMahon, Steve Magnusson, James Greening, Mike Rivett, and Carl Morgan. The most arresting of the four performances was the Phil Slater Quintet's extraordinary hour-long suite of music, a single-piece flow that used near silence as a means to build musical tension. With its slow-burn accretion of musical voices, the ensemble managed to imbue this music with great drama and emotional weight. It felt as though we were observing a great edifice taking shape, conjured out of space and silence.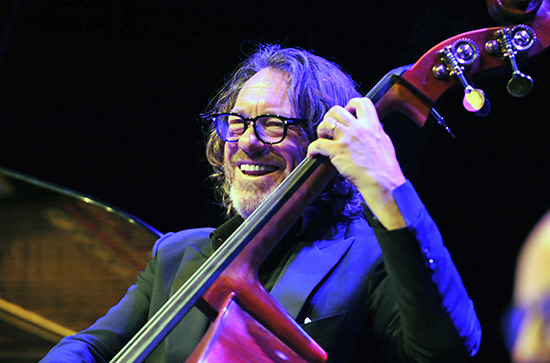 Jonathan Swartz performs at the 2017 Wangaratta Festival of Jazz & Blues (photograph by Adrian Vaughan)
The Festival has regularly featured one-off musical collaborations. This year's most anticipated event, without doubt, was the unlikely 'supergroup' made up of trumpeter James Morrison, pianist Paul Grabowsky, and Spiderbait drummer Kram. From the get-go, these unlikely sparring partners, performing under the moniker The Others, forcefully stamped their personalities on the music, a wild mix of rock drumming, electronics, and blistering trumpet. Has Morrison ever played so 'out there'? The results were exhilarating, a sustained blast of energy – almost all of it improvised on the spot – that took the audience with it.
Paul Grabowsky performs at the 2017 Wangaratta Festival of Jazz & Blues (photograph by Adrian Vaughan)
Scott Tinkler's Drub, a take-no-prisoners improvising trio, delivered one of the most exciting sets of the Festival, an hour-long noise-fest powered by guitarist Carl Dewhurst's sonic outbursts and Simon Barker's thundering percussion. Tinkler's trumpet sent rapid-fire blasts through the hall, his sustained flurries of notes the musical equivalent of 'speaking in tongues'.
New Zealand-born pianist Aron Ottignon, based in Paris and Berlin in recent years, has been expanding his jazz roots to embrace pop, dance, and electronica. His performance, heavy on electronics and percussion, highlighted tracks from his newly released Blue Note album Team Aquatic (2017). Supported by electrified percussion and Samuel Dubois's steel pan drums, Ottignon's piano built up layer upon layer of pulse-driven rhythms. Like Christian Scott's music, Ottignon's is another vision of how jazz in the twenty-first century might evolve.
I was pleased to see that co-Artistic Director Adam Simmons managed to find time to insert himself into the program. His trio Origami, joined by Wang Zheng-Ting playing the sheng (Chinese mouth organ), performed Simmons's extended suite Wu Xing, based on the ancient five elements underpinning Chinese philosophy. It was a masterful performance that journeyed from Simmons's near-silent breathing on bass clarinet to his raucous and spirited dance on alto sax. Zheng-Ting's playing was a highlight, adding rich colourful tones to the music, while at the same time anchoring its Chinese roots.
The National Jazz Awards have always played a significant role in Festival's history – the list of past winners and finalists reads like a who's who of contemporary Australian jazz. This year's featured instrument category was brass, with first prize awarded to Melbourne trombonist James Macaulay.
I only found time to briefly venture to the Hume Bank Blues Stage to catch Spiderbait in performance with the Horns of Death. The Horns, comprising dozens of children of various ages playing an array of trumpets, saxes, trombones, and tubas, pumped out killer Spiderbait riffs throughout. Kram performed with demonic energy, looking every bit like Animal from the Muppets, while Adam Simmons manically conducted and blew his sax, all-the-while egging on the Horns. This unique pairing of Spiderbait with the largest Horns of Death ever assembled took place before a massive, appreciative crowd, who were clearly caught up in the infectious mayhem.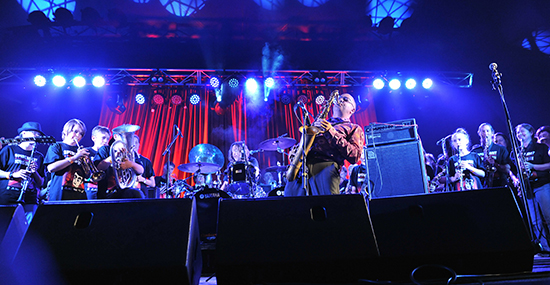 Adam Simmons and The Horns of Death perform at the 2017 Wangaratta Festival of Jazz & Blues (photograph by Adrian Vaughan)
This year saw a number of improvements to the Festival set-up. The move of the Blues stage to Merriwa Park, along with the relocation of the food, wine, and free community stage to Ford Street adjacent to the Wangaratta Performing Arts Centre, created an easily manoeuvrable precinct that allowed festival-goers easy access to the six major venues. Visitor numbers were up on the past few years, and the Festival, thankfully, was graced with sunny weather, giving the whole affair a street party atmosphere. In reaching its twenty-eighth year, the Wangaratta Festival of Jazz & Blues has attained the sort of longevity we associate with the Montreux or Newport jazz festivals, something of which the city can be proud. More tellingly, despite a change in the guard, the Festival demonstrated its ongoing commitment to innovation in jazz, as well as honouring the legacy that helped establish it into one of the pre-eminent music events in Australia. There is every reason to be optimistic about its future.
The 2017 Wangaratta Festival of Jazz & Blues ran from 3 to 5 November 2017.
ABR Arts is generously supported by The Ian Potter Foundation.