Opera
Lucia di Lammermoor (WA Opera) ★★★1/2
When John Copley's production of Lucia di Lammermoor is remounted, it often comes with the marketing phrase 'a piece of Australian operatic history'. The production was created for Joan Sutherland in 1980, giving Australian audiences a second opportunity to see her in the role that caused a sensation when she first performed it at Covent Garden in 1959 (she also sang it during the legendary 1965 Sutherland–Williamson tour).
Sutherland had all the requirements for a Lucia: a dramatic coloratura fach with the acting technique and vocal agility to surmount Lucia's celebrated mad scene. It is a massive challenge, more so for Sutherland's successors in Copley's production, wearing costumes designed for her: big shoes to fill.
WA Opera's decision to dust off the old Copley warhorse as part of their Fiftieth Anniversary season was a nod to Sutherland, the company's first patron. Sutherland (who recorded the role twice for Decca) is rightly venerated. But opera isn't just about history; if a production doesn't question or illuminate our times, perhaps it should stay mothballed. The big question, then, wasn't whether the soprano in the WA Opera production could fill Sutherland's shoes; her challenge was to make Lucia's story connect with the audience today. Happily, Emma Pearson did this and more, revealing to her Perth home-town audience the skills she has acquired during her decade as a principal singer at Hessisches Staatstheater, Wiesbaden.
Lucia (last seen here in April 2016 when Jessica Pratt sang the title role in the Victorian Opera's production, itself based on the original Copley one) was Gaetano Donizetti's forty-sixth opera, written in his prime in 1835. It was the first of seven collaborations between Donizetti and librettist Salvadore Cammarano. The libretto launched Cammarano's career; he would become the most sought-after librettist in Italian opera. His libretto capitalised on the fashion for everything Scottish with its setting of Walter Scott's The Bride of Lammermoor (1819), a gothic romance about feuding families and a victimised heroine. Cammarano focuses on Lucia and Edgardo, lovers separated by politics and scheming relations. The heroine, deceived into believing her lover is unfaithful, submits to a political marriage. Ultimately, she murders her husband and dissolves mentally. Cammarano's fast, clean plot paired, with Donizetti's constantly driven score, gives the work dramatic intensity. Musically, Donizetti moves further away from Rossini's reliance on set forms and comes closer to the continuously flowing dramatic music of Wagner, anchored by two powerful set pieces: the Act One sextet and Lucia's mad scene.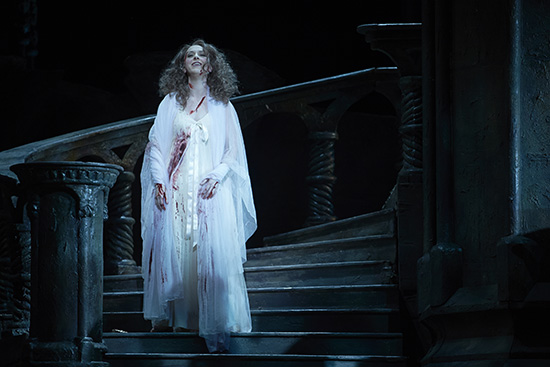 Emma Pearson in WA Opera's Lucia di Lammermoor (photograph by James Rogers)
Remounting a traditional production such as Copley's poses questions about interpretation. The seventeenth-century setting (ruined castle, mist-shrouded tombs, tartans, swords) makes a feminist reading counter-intuitive, but the traditional 'fragile flower' portrayal of Lucia presents a heroine with a distinct lack of intelligence and spunk for today's audiences.
Not not that the plot is unbelievable. Self-determination remains a challenge for many women in the twenty-first century. Multiple versions of this story have been uncovered in the Harvey Weinstein scandal: an attractive woman persuaded to offer sexual services in return for career advancement or, in this case, her brother's financial security. Lucia could have tagged #metoo as she held her ground against the man taking her to bed.
Pearson opted, wisely, to explore Lucia's inner world via Donizetti's music. Pearson's sweetly blooming voice in Act One presented a besotted girl already peppered with moments of terror and fragility. She was well-matched by the gleaming tone of Aldo di Toro as Lucia's brother Edgardo. Di Toro's voice expanded with resplendent fullness as the opera progressed, although his performance felt one-dimensional compared to Pearson's multi-hued characterisation.
Lucia's anger-fuelled brother Enrico was given a fiery performance by the bristling Samuel Dundas, with a dramatic last-minute transformation from striding oppressor to sobbing repentant. Wade Kernot was the sympathetic but flawed priest Raimondo, singing Donizetti's long imploring phrases with gravitas and seemingly endless breath control. His Act Three 'Ah! Dale stanze ove Lucia' with the chorus in chorale accompaniment was a highlight, as was 'Chi mi frena', which built from a confrontation between Enrico and Edgardo into a magnificent six-part ensemble counterpoint.
The epicentre was undoubtedly the mad scene which opened with a ghostly soft flute solo and evolved as a gripping twenty-minute musical and dramatic crescendo. Pearson delved deep into Lucia's psyche, alternating between vocally seductive projections of her fantasy marriage to Edgardo with tremulous, vibrato-laden expressions of deep pain as she rocked and scurried in circles about the stage. Lucia's blood-stained veil became a cradled baby, a nearby soldier her beloved Edgardo. Finally, Pearson's increasingly brittle coloratura literally cracked as the heroine collapsed. It was a stunning performance by a deeply committed artist. Pearson's nuanced, evolving Lucia breathed life and meaning to this vintage production; a Lucia for a new generation.
Aldo di Toro and Emma Pearson in WA Opera's Lucia di Lammermoor (photograph by James Rogers)
Brad Cohen steered an initially reluctant WA Symphony Orchestra into a cohesive team (the overture was spattered with pitch and balance issues) and supported his singers attentively. Under rehearsal director Matthew Barclay, the cast moved naturally around the stage and the story was delineated clearly. The WA Opera Chorus was in good form, as were supporting artists Fiona Campbell as Alisa, David Woodward as Arturo, and Matthew Lester as Normanno.
Lucia di Lammermoor (WA Opera) continues at His Majesty's Theatre, Perth until 4 November 2017. Performance attended: 28 October.
ABR Arts is generously supported by The Ian Potter Foundation.