Imagine, if you can, an elderly white man, Michael Caton, stretching his arms wide and performing an Indigenous dance as part of a traditional welcome at a summer, country-town folk festival, before delivering a sermon on the virtues of acceptance and multiculturalism to a smiling, nodding, ethnically diverse circle of music lovers.
The saddest thing about this scene, from writer-director Ben Elton's new romantic comedy, Three Summers, is that it is not played for irony. The film contains not a smudge of the shadowy humour that made Elton's early sitcom Blackadder such an iconic and subversive part of Britain's Thatcher-era cultural landscape. Rather, Three Summers is an ensemble comedy set across three consecutive instalments of 'Westival', a hippy enclave to which thousands of summer holidayers escape every year. It's here that Queenie the community radio host (Magda Szubanzksi in sharp comedic form) narrates the events. There is a misfit romance between sassy fiddle-player Keevey (Home and Away's Rebecca Breeds) and folk-shunning theremin devotee Roland; Keevey's dad Eamon (John Waters), who is battling with his alcoholism at AA; a family struggling to absorb adoptee Baktash (Mahesh Jadu), just out of a detention centre; and grouchy Henry (Michael Caton), who glare across the campsite at a bunch of Indigenous kids, including Jack (Kelton Pell).
See how many demographic boxes I just ticked? The campground setting is bluntly designed as the heart of the nation: typical Australia in microcosm. It is a rich tapestry. Yes, Three Summers is another film in the Australian canon that takes as its theme the tension between different kinds of outsiders and the dominant, Anglo culture. To its credit, the script questions the insider status of Anglo people. Caton's character is a British migrant whose story begins with his hypocritical rejection of new migrants who haven't arrived the 'right' way, while the Keevy and Roland's Irishness (she grew here, he flew here) is shown to be a variation of migration rather than a default setting of White Australian identity.
In this, his second feature film, British-born Perth resident Ben Elton puts himself forward as a storyteller interested in Australianness – but with very little to say about it today. The film's brand of inevitably happy, inclusive Australianness comes from a particularly rosy and wishful mode of thinking, a desire to create the kind of Australia Elton wants to see. This kind of Australianness is born of progressive politics, but it makes no sense. Any racism that pops up is only included so it can be easily resolved. As the film maneuvers doggedly and blandly toward its neat finale, you realise that its mandate is to create a world in which all its multicultural members can live harmoniously. A feel-good film about racism? Okay.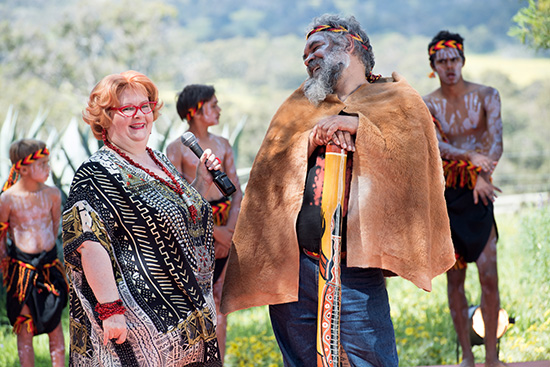 Magda Szubanski and Kelton Pell in Three Summers (Transmission Films)
This isn't the only recent Australian film to wilfully let reality slide away. Radio National's Jason di Rosso described the way that Ali's Wedding (2017), this country's first Muslim rom-com, told of an unproblematic adopted country in which racism barely registers, where the only pressures that arise originate from inside the Muslim community. Within Ali's Wedding and Three Summers, there is a lack of confidence when it comes to tackling issues of diversity with nuance and sophistication: cheery conclusions are the directive, warm-heartedness the grim decree.
Perhaps a truer if slightly weirder parallel is to be found with the facelifted miniseries Wake in Fright, another recent work glibly preoccupied with What It Means To Be Australian. Though these words sound as if they come straight from a HSC textbook, they reflect a brand of liberal nationalist storytelling routinely explored by director Kriv Stenders in his growing body of work (Red Dog [2011], Red Dog True Blue [2016]). Remaking the original 1971 film Wake in Fright – a terrifying arthouse classic of mythological status that brutally critiqued Australia as an alcoholic, gambling nightmare, into which John Grant (now played by Sean Keenan) irredeemably vortexes – for commercial television was never a good idea. In some ways, the broadcast method of distribution is suited to the story, squeezing the narrative demands of a miniseries into two cleaved parts and then regularly stabbing it with ads. But at least the new version knows what it is: an old-school telemovie in the commercial broadcast tradition. It has no grand cinematic aspirations, and humbly settles for a televisual aesthetic and story arc of empathetic character back-stories and pat conclusions.
Like Wake in Fright 2.0, it is also impossible to talk about Three Summers outside the context of its distribution – the format in which we experience it. And the format is all wrong. Elton has really made a three-part internet miniseries masquerading as a piece of cinema. The thing about this film is that it's not a film. It's three acts (three summers) are carved into perfect half-hour instalments. You can sense where the ad breaks will fall, how the rhythm of the plot and gags and the depth of its characters drop in the manner of a commercial family show like Packed to the Rafters (another Caton artifact). The question is why a Screen Australia-funded product like Three Summers is getting a theatrical release – with all the expense of marketing and distribution that goes with that – rather than the modest but effective broadcast or video-on-demand release that would help it reach its family audience in the mythical Australian heartland?
We once consumed national cultural products like miniseries and family films on Sunday evenings on broadcast channels, but the current wave of small-screen stories – newly culturally anointed with the gleam of global prestige television – seem destined to play out on our laptops: this year has seen the announcement of teleseries reworkings of Romper Stomper as a Stan Original and Picnic at Hanging Rock on Foxtel's cable and VOD services. In all likelihood, a many viewers will watch Wake in Fright on catch-up television as on broadcast.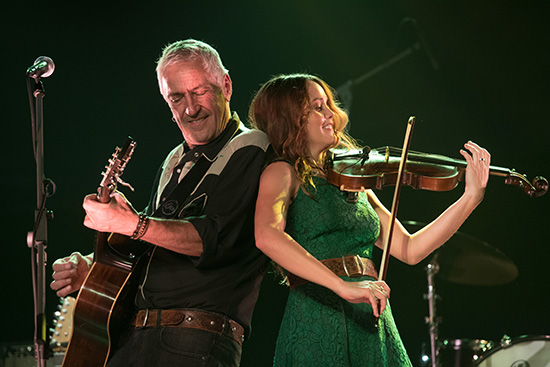 John Waters and Rebecca Breeds in Three Summers (Transmission Films)
Three Summers should have belonged to this influx of 'content'. It certainly would have been greeted with critics more kindly (it received generously tepid reviews on début at the Melbourne International Film Festival).
The particular flaws of Three Summers tell us something about a deeper pattern of commercial and cultural mismatch between many Australian films and the places they are viewed. I'm talking about small-screen projects (small in budget, in cinematic scope) that aren't art films and wouldn't have found homes in the now-mainly-shuttered arthouse cinemas like Glebe's Valhalla when single- and double-screen theatres hadn't been multiplexed into closure. Films like Down Under (2016), Spin Out (2016), That's Not Me (2017), and Joe Cinque's Consolation (2016) are in many ways closer to small screen projects – in the kinds of storytelling conventions they use like melodramatically soapie plot devices and in the lack of a uniquely cinematic language. But although video-on-demand has opened up a new pathway to audiences' homes, they are still released in cinemas. There is a space for all different kinds of stories in screen culture, including these ones. Increasingly, as broadcast television shifts toward video-on-demand and cinemas are colonised by comic book figures, that space seems to be online.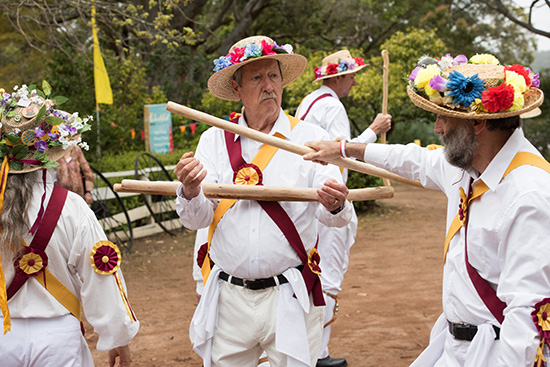 Michael Caton in Three Summers (Transmission Films)
In its crowd-pleasing mode, its 'let's get together' pitch to middle Australia, its desire to speak to the widest possible audience and to alienate none, Three Summers befits the small screen. It isn't especially awful, it just isn't what it says it is, and it seems destined for a short life at the cinemas but a long one at home on catch-up television and video-on- demand. When it finally gets there.
Three Summers (Transmission Films), 100 minutes, written and directed by Ben Elton. In cinemas 3 November 2017.
ABR Arts is generously supported by The Ian Potter Foundation.